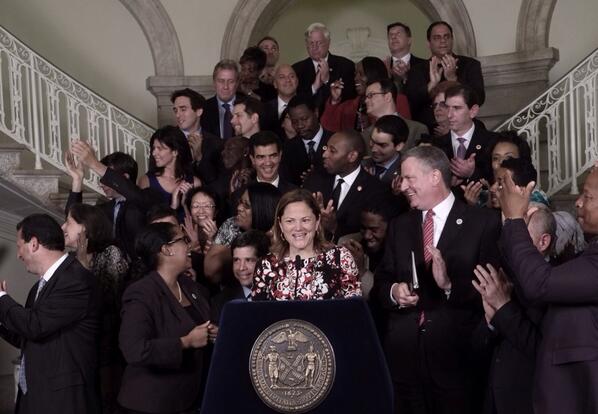 Council members and the mayor celebrate a budget deal (photo: William Alatriste)
---
Horse carriages, chokeholds, and plastic bags. Legislation on these topics has recently been introduced to the New York City Council and shown marked division among its members.
"We look forward to a spirited debate," Council Member Rafael Espinal said in response to the introduction of a bill to outlaw horse-drawn carriages in New York City at the most recent full-body city council meeting, on December 8.
Espinal's comment came after he expressed his disapproval of the ban and on the heels of several other council members, including the bill's lead sponsor Danny Dromm, speaking either for or against the legislation. Dromm introduced the much-hyped bill at the request of Mayor Bill de Blasio.
The horse carriage bill will not be voted on until 2015, if at all, but it could provide for one of the rare instances when a bill comes through a council issue committee (it will be evaluated in transportation) and to the full council without near-unanimous support of the Council's 51 members, 48 of whom are Democrats.
The City Council has also recently seen the introduction of several bills related to NYPD practices and one outlining a fee on plastic grocery bags that could all also lead to closer votes than any the legislative body has taken in all of 2014.
Dozens of bills have been passed this year by the New York City Council, a total of 72 through December 8, and the most opposition any single bill has seen is six 'nay' votes. Even this level of opposition, six against, has only occurred on three of those 72 bills.
(Note: six of the 72 were overrides of vetoes by Mayor Michael Bloomberg; four of the 72 have not yet been signed by Mayor Bill de Blasio)
None of this means that there hasn't been strong opposition to bills, of course. In its first year under the leadership of Speaker Melissa Mark-Viverito, and with more than twenty freshman members via term limits and the 2013 election cycle, the new City Council has seen a total of 590 bills introduced thus far in 2014. The vast majority of bills do not come to a full council vote.
To round out the year, several more of those 590 may be voted on during the Council's final full-body, or "Stated," meeting of the year set to take place on Wednesday, Dec. 17, and there is also likely to be new legislation offered. Many bills, such as those regarding the horse carriages and plastic bags, will be taken up in 2015.
With 2014 nearing an end, the new City Council has shown in its first year some similarities and some differences to previous iterations. A Gotham Gazette review, including conversations with the speaker and several other council members, as well as analysis of legislative data, indicates several findings:
As has been the practice for years, bills virtually never make it as far as a Stated meeting vote if there is any chance they will not pass. The vast majority of bills approved by the Council pass unanimously, or nearly so.
Council members openly express opposition to bills through statements, but there continues to be little public conversation between or among council members who disagree.
There has been a marked change in key aspects of the council culture: as Mark-Viverito and many of her colleagues promised, the City Council has become a more democratic entity, a new era ushered in by a change in leadership and important internal rules reforms.
The Council is largely dominated by its left wing, which is embodied by its Progressive Caucus, co-founded by Mark-Viverito in 2009 and officially including 19 members.
Mayor Bill de Blasio and Mark-Viverito are close allies and it is unclear how much the speaker is willing to disagree with the mayor or promote legislation that he has not signed off on.
Culture Change
Several council members, including some that were not initially supportive of Mark-Viverito's bid to lead the body, indicate that the Council has become more open and inclusive under her leadership. Reforms of the Council's internal rules passed in May have been roundly applauded by council members, good government groups, and others.

Council members say they no longer fear retribution for opposing the Speaker, as was alleged under Christine Quinn and her predecessors. This largely has to do with the rules reform enacted this year that changed the way discretionary funding is doled out to individual members. Under Mark-Viverito, member items are no longer allocated largely arbitrarily. Rather, there is a clear process that includes an objective formula through which disbursements are made.
"I was here in the last administration under the former speaker and there is not a question that this speaker is very welcoming in terms of discussion and debate," said Council Member David Greenfield, a Brooklyn Democrat who calls himself a moderate. "I think we have a pretty significant shift where in the past dissent was not tolerated and I think that under this speaker's leadership, if anything, she has embraced opposing viewpoints and has been very open to having conversation about literally every issue coming in front of City Council."
"Most importantly, there is...no retribution, where in the past when individuals wanted to vote 'no' or wanted to speak out, there was fear of retribution that is not the case now," Greenfield added, stressing that implementation of rules reform was essential to this shift.
Mark-Viverito expresses pride over the changes she has helped spearhead, and many council members, including veterans like Greenfield, are quick to express praise, touting how refreshing they find the new normal.
"I'm very proud of the time that I've been the speaker in the change that we've implemented," Mark-Viverito said in an interview with Gotham Gazette. "There's been a lot of inclusive dialogue on any agenda we develop, how we discuss bills, a lot of healthy debate....A bit different than what it was when I was not speaker."
Among the key changes she has brought to the Council is the rules reform package, all but guaranteed during last year's speaker's race and passed in May. The measures aimed at greater transparency, public engagement, and empowerment of issue committees and individual members. The speaker has also made what many describe as an extraordinary effort to engage council members one-on-one, visit their districts, and create opportunities for robust discussion around policy.
"The speaker has gone out of her way to address concerns of individual members," said Council Member Mark Weprin, a Queens Democrat who ran for Speaker against Mark-Viverito. "She made good on her promise to baseline staff money. She has democratized and certainly has leveled the playing field for everyone."
The sense that emerges is that dissenting opinions, albeit not always effective in bringing change to bills, are at the very least being heard more than in the past. Mark-Viverito told Gotham Gazette that she has been very conscious to hear the Council's Republican members, including them in many deliberations and on the budget negotiating team that deals with the mayor and his team.
While council minority leader Vincent Ignizio declined to be interviewed for this article, his fellow Staten Island Republican Steven Matteo said that Mark-Viverito has been open to Republicans' feedback and to new legislation they have introduced. "There are times when we're going to agree and times where we'll disagree," Matteo said, "But we're always looking to work together on the Council."
Council Member Antonio Reynoso is a new face on the Council but has been around City Hall for years as an aide. He is also a member of the Progressive Caucus. "The reforms are the best thing that has happened to the Council and I am impressed with how the speaker has stuck to her word, " Reynoso said. "In the past, some people wouldn't be heard at all. [Rules reform] opened it up and brought less politics, especially with the discretionary funding. There will always be an element of politics, but we have done a good job of bringing more parity into the Council."
While it is clear that the Council has become more collegial and council members are much less fearful to express dissent, the Council is not necessarily a hotbed of internal debate.
Disagreement and Debate
"Given the nature of the City Council being so overwhelmingly Democratic and like-minded with the [de Blasio] administration, by the time legislation gets to the floor, there's not a lot of debate," said Queens Council Member Rory Lancman. "Everything's already been hashed out and negotiated."
Lancman, a Democrat who just moved from the State Assembly to the Council, added, "The City Council is also much less partisan and much more collaborative [than the Assembly]. The minority (Republican) members seem to be involved in the [Council] legislative process as much as Democratic members. I think their views and opinions are as valued and considered as anybody else's."
Most semblance of council "debate" tends to take place at committee hearings, and bills go through at least two hearings before being put to a vote - though the second hearing is often only the vote itself. During hearings, dissent is almost exclusively expressed by outside entities there to testify - whether they be representatives of the mayoral administration or advocates. At times, council members take pains to explain their dissenting votes on a piece of legislation when those votes are being tallied, either in committee or in front of the full Council.
"Debate rarely occurs on the floor of the Council," Weprin told Gotham Gazette, "it's usually done behind closed doors." He added about this new council, "But there hasn't been a lot of disagreement, there hasn't been a lot of discourse because there hasn't been a lot of opposition."
Lancman, who is often one of the most engaged and inquisitive council members at oversight or bill hearings, said he'd like to see members have time to question sponsors on legislation when they introduce bills at Stated meetings.
Naturally, the Progressive Caucus, which Mark-Viverito co-founded, seems to dominate the legislative process. Its members appear closely aligned with Mayor de Blasio and there has been the appearance of a nearly lock-step relationship between Mark-Viverito and the mayor - the two have heaped praise on each other on numerous occasions and the mayor was a key factor in the speaker's ascension to that role. But moderate Democrats have not shied away from challenging their more liberal colleagues.
Espinal, of Brooklyn, is one of the more moderate Democrats in the Council (though he and most others often align with progressives, whether they are part of that caucus or not). Espinal believes members' opinions are being taken into account - a theory which will, of course, be tested on the horse carriage ban which he opposes and Mark-Viverito favors. "The rules reform package was passed to make the Council more transparent and it's now a lot easier for members to express concerns on policy," Espinal told Gotham Gazette. "The speaker and bill sponsors do not take lightly their colleagues' opinions."
Espinal, who like Lancman joined the Council this year after time in the State Assembly, is becoming known to speak out against the issues championed by progressive caucus members, raising concerns over the proposed horse-carriage ban and now taking umbrage with a proposal to introduce a fee on plastic bags - something Greenfield and several other members have also expressed opposition to.
Espinal, Greenfield, and Lancman are among the more moderate Democrats who have at times dissented. Other Democratic voices of dissent have included Council Members Paul Vallone, Chaim Deutsch, and Vincent Gentile, each of whom also represents a district in the further reaches of the so-called outer boroughs. Council Member Dan Garodnick, of Manhattan, was one of six 'nay' votes against a bill to supplement school bus driver income and has shown no hesitation to ask tough questions regarding legislation, but Vallone, Deutsch, and Gentile have voted in the minority several times, usually alongside the Council's Republicans and often on bills related to law enforcement.
Vallone, Deutsch, and Gentile joined with the Council's three Republicans to vote against two bills sponsored by Mark-Viverito aimed at reducing New York City cooperation with immigrant deportation efforts by federal authorities. These two bills and the bus driver bill were the three to see the most opposition (six against) in 2014.
For his part, Gentile, who represents a part of Brooklyn that has voted Republican in the past, also says the Council is in a collegial place. "We all may not always agree, but everyone gets to voice their concerns in accordance with their position and what each member believes is in the best interest of their constituents," he told Gotham Gazette.
"Indeed, over the past eleven months, Speaker Mark-Viverito has led our body in a more democratic, transparent, and inclusive direction. It has been very refreshing," Gentile added.
2015: A Year of Discontent?
With a 48-3 Democratic majority in the Council and committees negotiating the nitty-gritty of each bill, there are few pieces of legislation that receive strident opposition when the votes are counted at a Stated Meeting. 2015 may hold some significant exceptions to this general rule, though, as the Council moves forward on the plastic bag bill, the horse carriage ban, a bill outlawing chokeholds, and the Right to Know Act, which deals with policing protocols.
It is still early for all of these bills and there is no guarantee that any of them will make it through committee to the full Council. Each will have a committee hearing (the plastic bag bill already has) and be the subject of much negotiation and speculation. There's always a chance that a bill more-or-less disappears, of course, which can happen when enough pressure is put on council members to drop their push of legislation. Again, only 66 of 584 new bills introduced thus far in 2014 have been voted on by the full Council (all passed).
A true test for Mark-Viverito comes on the Right to Know Act, a very similar version of which she championed in the prior council. Recently, Mayor de Blasio sidestepped questions about the two bills and Mark-Viverito said she would be considering them, but indicated that circumstances are different now than in the past, opening the door for her opposition. The bills are being pushed now by two of her fellow progressives, Reynoso and Council Member Ritchie Torres, of the Bronx. They require NYPD officers to identify themselves and to provide certain warnings when interacting with or attempting to search suspects under specific circumstances.
The plastic bag proposal that seems to have split the Council calls for a ten-cent fee on plastic and paper bags typically used at grocery stores and bodegas. The bill, spearheaded by Council Members Margaret Chin and Brad Lander, aims to reduce what they call single-use bags that wind up in the city's waste stream. Many outer borough council members, Democrats included, are calling it a tax and oppose what they see as a burden on middle-class families, lower income communities, and the elderly.
"Some putting forth this proposal say that it's not a tax and I respectfully disagree with my colleagues," said Matteo. "If it looks like a tax, smells like a tax, feels like a tax, it's a tax," he said in Council Chambers.
Matteo agrees that the progressives on the Council can push through legislation. "There are a lot of bills that are going to go through even if we (Republican members) have a dissent," he told Gotham Gazette. But Matteo also believes there is an atmosphere of cooperation. The Republican minority has been successful in passing legislation this year. Minority leader Ignizio, along with Matteo, sponsored and carried through a key bill offering property tax abatements after superstorm Sandy, and two bills dealing with building codes in terms of carbon monoxide detectors and mold-resistant construction materials.
The plastic bag hearing had certain Democrats on the same page as the Republicans, with Council Member James Vacca calling it a "hidden tax" and Greenfield calling it "outrageous."
Speaking to Gotham Gazette a few days before that hearing, Lander said there was ample support from the outer boroughs. "I respect the opposition," he said. "We worked very hard to craft a bill that works as well as it can for a wide array of stakeholders."
The sentiment was echoed by Chin, who said at a press conference just prior to the hearing, "This isn't an idea we came up with overnight. We did our best to incorporate feedback even before we introduced the bill."
The hearing saw robust dialogue from supporters and opponents representing the public, advocacy groups, and small businesses. Public Advocate Letitia James, early on in the proceedings, underscored the importance of the debate. "I recognize that there is disagreement about aspects of this bill and I believe well-intentioned disagreement breeds better and stronger ideas," she said.
Council Member Jumaane Williams, a Brooklyn Democrat who has abstained on a couple of votes that have seen the most opposition this year, said he is still considering the plastic bag bill: "I am still undecided on where I stand with the bill," he told Gotham Gazette. "There has been a lot of discussion on this one." There appear to be quite a few council members undecided on several of these more controversial bills heading into 2015.
It is unclear what, if any, changes to these bills might be made before they come to a committee vote. As the new Council moves on the horse carriage and plastic bag bills and others that provoke more dissent than the typical legislation, watchers will note how much feedback is worked into bills as they move.
Many are watching to see what Mark-Viverito does about bills that she and/or the mayor are not behind. Many, including both the speaker and the mayor, were highly critical of former speaker Quinn for bottling up legislation that she or Mayor Bloomberg did not want to see come to a full council vote. Several council members indicate that because of the rules reforms, Mark-Viverito has a lot less leverage to do so even if she wanted to.
Speaking generally, Council Member Williams added, "I think we are in a good place [as a Council]...I think people genuinely agree upon most things. We need to see some genuine disagreement and I think we will be seeing that soon."
***
by Samar Khurshid and Ben Max, with reporting by Lisa Autz
@samarkhurshid
@tweetBenMax
@GothamGazette
Note: this article has been updated to reflect that CM Lancman voted against the confirmation of Mark Peters, not CM Garodnick, as originally stated. It has also been updated to remove a portion that incorrectly summarized a vote regarding confirmation of Mayor de Blasio's nomination of Mark Peters as DOI Commissioner - that vote was 48-2-1, with CMs Lancman and Palma against, with CM Williams abstaining.