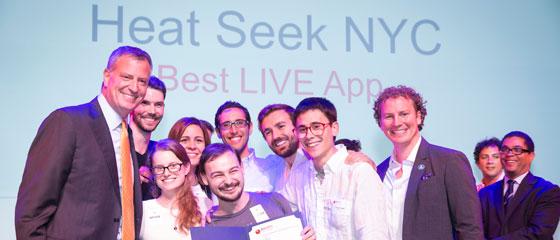 Mayor de Blasio with this year's NYC BigApps winner (photo: @NYCEDC)
---
Thanks to a robust civic technology community and plenty of open data, New York City is home to several great civic apps. Citygram, created by civic hacker and open government group BetaNYC, uses 311 and crash data provided by the City to allow users to get personalized crash alerts for any area of the city.
This year's winner of the City-sponsored Big Apps competition, Heatseek, will use 311 data to create Cold Map, which will show where tenants without heat are located. They are also piloting a program which puts devices in some of those apartments to create automated temperature logs, something required to take action against landlords who refuse to fix the heat.
While these apps (and many others not mentioned here) are great, there are countless apps being used in cities across the nation that would be excellent to have here in New York - some for quality of life purposes, some for improving government effectiveness. With Mayor Bill de Blasio building out his tech team, the City Council committed to revamping its website, and open-data advocate and software developer Council Member Ben Kallos aggressively leading the Council's governmental operations committee, there is some hope that more of these innovative apps will be utilized in New York.
In that spirit and the spirit of the holidays, we decided to create a civic app "wish list" with five such apps that we think would benefit New York City greatly and should be looked at for 2015.
By no means a comprehensive list, these are five that have caught Gotham Gazette's eye as we've reported on civic tech and open government in New York. Have a great app used in your city that is not on this list? Tweet at us and let us know!
Open Budget
There is no government document more important than the budget. It determines how money is spent which in turn means what services will be provided to city residents and thus what the city's priorities are. While New York City does publish its budget online, the document is in PDF form, rendering it virtually useless for data analysis. For the average New Yorker reading the documents to find out, for example, how much money is in the parks budget, it is nearly impossible.
Earlier this year software company Socrata launched Open Budget, an easy to navigate web platform that allows everyday citizens to see exactly how much expense money is budgeted for every agency in any city that utilizes the application. On the capital side of the budget, which deals with building and infrastructure, there is a nifty map that shows exactly where a capital project is located and how far along in the process the it is.
Boston adopted Open Budget this summer and while the app would only cost New York City $1,000 per month, it has yet to be adopted.
Councilmatic
The New York City Council holds hearing nearly every day and with 51 council members, more than 30 issue committees, and hundreds of pieces of legislation introduced each year, it can be difficult to keep up. The Council maintains a very detailed calendar on its website, but in the age of push notifications, checking a website daily is - or should be - an obsolete practice.
Civic hackers in Philadelphia built Councilmatic, an app that scrapes the data from the city's council website and presents it on its own. Councilmatic allows users to subscribe to see when legislation is updated, easily search, contextualize by seeing relevant information around legislation, and evaluate by seeing the pros and cons of legislation. The info is all sent via email whenever the topics you are following are updated. Information on Councilmatic also appears in Google searches, which is currently not the case with data on the New York City Council's outdated Legistar site.
Councilmatic became a huge hit and the open source software was used to build similar sites in Chicago and Oakland. New York City could grab the free code and get a version going here for a relatively low cost - something that has been recommended to the Council as it has committed to revamping its website. Gotham Gazette was told by Council Speaker Melissa Mark-Viverito that major changes to the Council's website are in the works for 2015, but she indicated that details were still being worked out.
CAPSure
The name would likely have to change if brought to New York City, but the service provided by CAPSure could certainly be beneficial. The City of Chicago requires their police precincts to have beat-based community meetings once per quarter. Since the meetings are not always on the same date, CAPSure sends a user an email when the meetings will take place. The idea behind the app is to allow Chicagoans to be more involved in community policing.
New York City regularly has Precinct Community Council meetings and, just like in Chicago, the dates are not regularly set. An app similar to CAPSure would be a great way to notify the public about important community-building meetings in user-friendly ways.
The code for CAPSure is free, however, the NYPD would need to put the meeting dates somewhere public for the app to pull from. In Chicago the meeting dates are pulled from the City's open data portal. The NYPD, though, does not currently post that information on New York City's parallel site.
Promptly
Imagine going to purchase food using EBT benefits only to have the card denied, not due to lack of funds but because your benefits expired. While New York has made it easier to get re-certified by allowing phone instead of in-person interviews, knowing when to set one up is not always easy.
San Francisco began using Promptly, a first-of-its-kind text messaging program for human services agencies. The app sends text messages to residents letting them know important due dates and termination of services deadlines.
The service could be modified here in New York City to include other benefits that need recertification.
Open Data City
When New York City's Open Data Portal was first released using the search function was a nightmare. Type in a phrase and the results were often limited and not what you were looking for. The issue took two years to fix.
Despite complaints, the City was at the mercy of Socrata and its proprietary software. Even if the City had hired the most talented developers, they wouldn't have been able to make changes. It's akin to your wanting to change something in Microsoft Word to meet your workflow - even if you can code, you can't do it, the software is proprietary.
Recently, governments at various levels, including the federal government with its data.gov site, have switched to CKAN, which provides open source software. The benefit of open source software is customizability. Open Data City provides the expertise to develop the software without locking you into a contract.
In addition, Open Data City seeds the City data with census, labor, and other publicly-available data to deliver ready-made maps. This makes the data portal more user-friendly for those who would rather look at maps, graphs, and charts than spreadsheets.
And as an added benefit, the app is made right here in New York City.
Time to go civic app shopping, New York!
***
by Kristen Meriwether, Gotham Gazette
@MeriwetherK