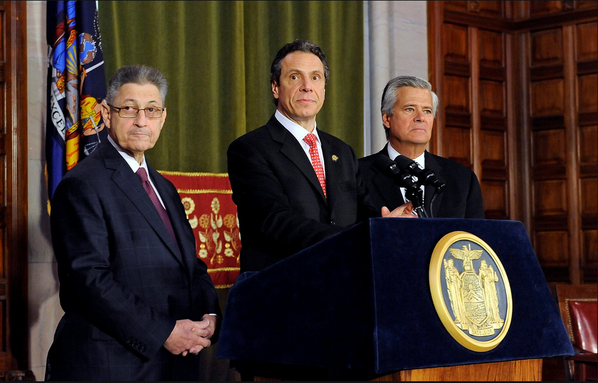 Three men in a room: Silver (left), Cuomo, and Skelos (photo: @GannettAlbany)
---
As 2014 nears an end, state lawmakers have already begun posturing for a number of major legislative battles in 2015.
Not all of them will be fresh, in fact a few of the biggest will be retreads of hot button issues from last year like Gov. Andrew Cuomo's Women's Equality Agenda and the DREAM Act, not to mention charter schools and campaign finance and ethics reforms.
But there are also new fronts opening up. Expect major debate over policies that particularly impact New York City, like several regarding police-community relations and the state's justice system; a struggle over the city's rent laws and vacancy decontrol; and renewed debate over how to fund the Metropolitan Transportation Authority (MTA) as it faces a $15.2 billion budget gap.
While Republican control of the state Senate means that anything passing through the Albany gauntlet will have to be a compromise among their leadership, Assembly Democrats, and Gov. Andrew Cuomo, the governor has shown an ability to push through items that he prioritizes. Perhaps the largest question heading into 2015 is what will make that list. Our preview of the major issues on the table:
Criminal Justice
Gov. Cuomo called for a full review of the state's justice system in an effort to restore faith after the a grand jury decided not to indict Police Officer Daniel Pantaleo in the chokehold death of Eric Garner despite graphic video evidence in which Garner repeatedly pleads "I can't breathe" as he dies. Cuomo has said there seems to be something incongruous when considering the video and the grand jury decision.
The governor has put off proposing specific ideas until the legislative session begins in January, saying that he will first convene a panel, but legislators are already posturing for the upcoming debate. Senate Democrats support Attorney General Eric Schneiderman's proposal to have Cuomo give him the power to investigate police killings of unarmed suspects in the interim before any legislation is passed. They unveiled a comprehensive platform on December 9th that is being met with firm resistance from Republicans and law enforcement unions.
Senate Democrats proposed creating a permanent special prosecutor for cases where unarmed civilians are killed by police, and they want state funding for body cameras for police.
A number of district attorneys have voiced opposition to losing jurisdiction over police brutality cases and Senate Republicans have already indicated they have no interest in creating a special prosecutor.
Other proposed legislation would allow for the release of the evidence reviewed by a grand jury after it has made its decision - New York law currently prohibits release of most information seen by grand juries without appeal, something that has been a sticking point in the Garner-Pantaleo case.
There are a slew of other criminal issues that are less likely to take up as much airspace. One such issue is decriminalization of the possession of small amounts of marijuana. Advocates continue to press the issue despite there being less of a legislative and media focus on it since the deescalation of stop-and-frisk and Mayor Bill de Blasio's implementation of a program that has the NYPD ticketing many marijuana offenders rather than arresting them.
A number of assembly members are concerned with prison issues - including violence at Rikers Island and how the mentally ill are treated in state prisons.
Cuomo's social reentry council began meeting this summer and it is expected it will begin making recommendations on how the State can help former inmates find housing and jobs and avoid recidivism sometime in the new year. Cuomo's office has touted its Work For Success program that encourages employers to hire the formerly incarcerated, but it ran into a wall with the Legislature when it pushed reestablishing a free college for inmates program in some state prisons.
Civil Rights
Three of the biggest issues from the last few legislative sessions will return with a vengeance next session. Supporters of the DREAM Act, the Women's Equality Act, and the Gender Expression Non-Discrimination Act (GENDA) are looking to Cuomo to deliver on his campaign promises, despite the fact that the Senate is now firmly in Republican control.
Cuomo had to publicly reaffirm his support for GENDA before receiving the endorsement of The Empire State Pride Agenda this summer after advocates worried Cuomo was taking them for granted.
Cuomo's failure to pass all 10 points of the Women's Equality Act led to his creation of the Women's Equality Party - which was met by steep criticism from advocates and pundits who said it was a trite political move aimed at several other goals. While Cuomo put major resources into the issue the odds of all 10 points passing this year may be worse than ever with Senate Republican in full control of the chamber. Some advocates blame Cuomo very directly for failing to do more for Senate Democrats and Cuomo could face major political backlash from women's groups if he fails to deliver the act. But, the governor is known for getting bipartisan agreement on tough issues that matter to him and after the 2014 campaign one would have to think this is one of those issues. If not, he might be faced with the tough decision of whether to accept passage of the nine of ten measures that Republicans have supported or continue to get none.
Meanwhile, Cuomo repeatedly pledged to pass The DREAM Act during campaign stops in the city this summer and listed it as a priority during his victory speech. Latino legislators feel their districts showed strong support for the governor when voters in other areas of the state were tepid in turning out for the governor. They expect Cuomo will include the legislation that would provide tuition assistance to undocumented students in his budget proposal. But even then it is sure to meet resistance from some Senate Republicans.
Housing
The city's rent laws are set to expire on June 16, 2016. The real estate lobby poured millions of dollars into senate races across the state to sure up backing before a session that could determine housing policy for years to come.
Tenant advocates are bracing for the worst as they feel Cuomo is likely to weigh in on the side of real estate because he has been a major beneficiary of their largesse. They are warning tenants that if they lose this fight they could see the end of affordable housing in the city.
Education
Mayor Bill de Blasio's efforts to win funding for universal pre-k and moves to scuttle charter schools expansion in the city ignited the education fire in Cuomo's heart last year. Cuomo refused to allow de Blasio to raise city taxes to pay for pre-k, but found the funds in the state budget. And, he quickly positioned himself as the charter school messiah, thundering away at a pro-charter Albany rally, pledging to protect and expand charters across the state. Cuomo and the Legislature used the 2014 budget to strengthen protections for charters and strip away some of de Blasio's power over them.
Cuomo had nothing to lose with teachers unions that he already had a terrible relationship with and Cuomo enjoys major financial backing from charter groups. Pro-charter PAC New Yorkers For a Balanced Albany took in millions from financial industry donors who have taken a particular interest in education reform and used the money to help Senate Republicans win full control of the chamber.
This sets the stage for 2015, when Cuomo and the Legislature will look at things like teacher evaluations, the cap on charter schools, and mayoral control of New York City schools. Some suspect that Cuomo and Senate Republicans will look to reduce or even eliminate mayoral control of New York City schools in an effort to strengthen charter schools, as well as perhaps eliminating the charter cap. Cuomo referred to traditional public schools as having a "monopoly" late in his campaign, angering the Working Families Party and other labor interests. Funding for city schools will also be a major point of contention as groups and lawmakers continue to push Cuomo to fulfill the State's obligation from the Campaign for Fiscal Equity decision.
Education fights could pit Cuomo and de Blasio against each other in a major power struggle.
Meanwhile, the Catholic Conference of New York will be back pushing Cuomo to enact a tax credit for those who donate to private schools. One version of the bill applies the credit to charter school donations as well. Public education advocates say the bill will take public funds that should be going to public schools and instead send them to the private sector. Critics also worry that rich donors will eat up the pool of credits before average donors get a shot. Cuomo appeared to waffle on the issue last session, so his influence will likely decide the outcome.
Transportation
The MTA says it needs $32 billion to keep its aging infrastructure in good repair. The problem is that it is short around $15.2 billion and Cuomo has indicated he thinks the MTA may be exaggerating its need.
The MTA board proposed raising fares and tolls by 4 percent next year but things could get worse if it decides to borrow cash to fill its budget gap. Chair Thomas Prendergast has repeatedly mentioned that legislators need to find new ways to fund the MTA so that it doesn't load up on already precarious levels of debt.
Any taxes related to the MTA aren't particularly popular in Albany but the return of the commuter tax conversation may happen this session.
The Budget "Surplus"
If there is one thing legislators love doing it is spending money. While the governor has positioned himself as a prudent fiscal steward who has instituted tax caps, it just so happens that the State finds itself temporarily flush with $5 billion in cash thanks to a number of major financial settlements.
Expect the debate over how to spend the cash to be time consuming and bitter.
Cuomo has said he does not want to use the windfall on recurring budget items which makes budget watchdogs happy. Instead Cuomo has indicated he wants to use the cash on infrastructure projects across the state. The Independent Democratic Conference has put forward a plan that would see the creation of two programs to hire New Yorkers to work on infrastructure repairs. The Empire Public Works program would take $3.5 billion and focus on major infrastructure projects. Sen. Jeff Klein estimates the plan would create 97,000 jobs. The Community Jobs program would use $1.5 billion for smaller repair projects and is estimated to create 40,000 jobs.
Cuomo likely has his own plans for the cash, as do the other houses of the legislature.
Campaign Finance and Ethics Reform
A massive overhaul of the system seems totally unlikely given Republican control of the Senate. Public financing of elections is all but dead. As a special session was bandied about, Cuomo said he was pushing legislative leaders to implement reforms on the use of campaign cash and limits on outside income in exchange for pay raises. But as the year comes to a close and no special session materializes, its unclear where these reforms may come from.
***
by David King, Albany editor, Gotham Gazette
@DavidHowardKing