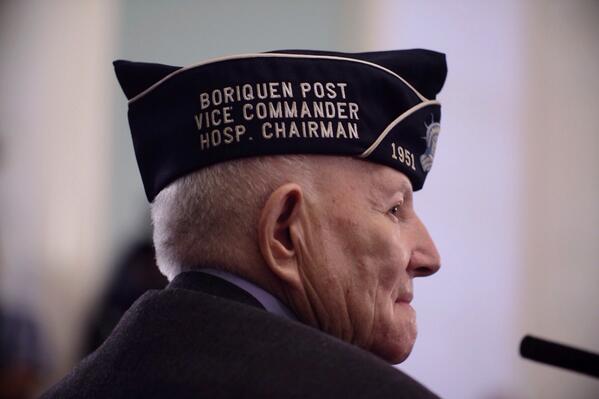 Korean War veteran Tommy Lopez at a City Council hearing (photo: William Alatriste)
---
The New York City Veteran's Advisory Board (VAB) has come under increased scrutiny in recent months, but reform may be on the way.
On Wednesday two bills will be introduced by City Council Member Eric Ulrich, chair of the Veterans Committee, and Council Member Mathieu Eugene which aim to professionalize the VAB to better serve the city's veterans.
The VAB acts as a policy liaison between the New York City veterans community and the Mayor's Office of Veteran's Affairs (MOVA). But some veterans have argued their voices are not being heard because of the secretive nature of VAB meetings.
"There has been no real measure of accountability in how and when the board meets with the community in their respective boroughs, who they report to with issues, how those issues make it up the city's chain of command, or even how the public can give input into the board," Joesph Bello, a Gulf War veteran and advocate who runs NY Metro Vets, said at an October hearing.
Ulrich's bill aims to quell that concern by requiring the VAB to provide public notice and email veterans organizations of when and where it meets. In addition, the bill would increase the number of required meetings from four to five per year, with a requirement that one meeting be held in each borough. Ulrich's bill would also require the meetings be recorded and re-broadcast online for those who cannot attend.
"The Veterans Advisory Board does great work and strengthens the lines of communication between city government and local vets," Ulrich said by email Tuesday. "This legislation will allow for greater public input that will enhance the ability of the Board to meet the challenges facing veterans and their families in our city."
Eugene's bill would increase the number of VAB members from nine to 11, with the Council Speaker and the Mayor getting one more appointment each. In addition, Eugene's bill would ensure all members of the VAB get a city email address, something board members requested at a recent hearing. The bill would require those email addresses be made public, likely on the MOVA website.
The bills are expected to be heard in committee in early 2015.
[Related: read our look at the major policy issues around New York City services for military veterans in 2014 and what to watch for in 2015]
***
by Kristen Meriwether, Gotham Gazette
@MeriwetherK