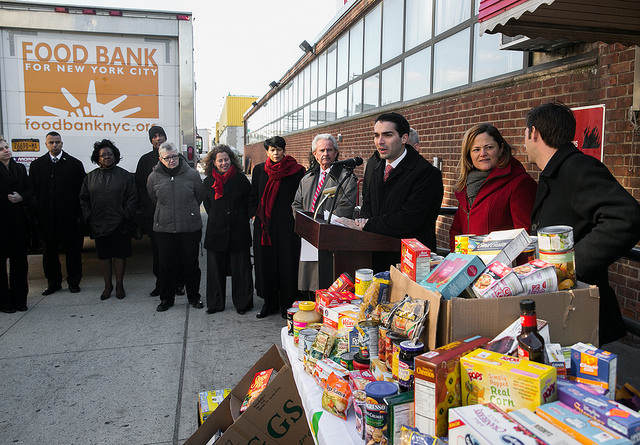 CM Ulrich speaks at the Council's veterans food drive event (photo: William Alatriste)
---
New York City Council Member Eric Ulrich finds great purpose in standing up for military veterans. The Republican from Queens comes from a patriotic family that has nearly every branch of the military represented over three generations.
Ulrich's great grandfather served as an MP in the Army during World War II, his grandfather served in the Navy following the Vietnam War, and his brother is currently in the process of enlisting in the Marines. Ulrich himself pondered enlisting when he was younger, but decided it wasn't the best path for him.
His career eventually led him to politics where he won his City Council District 32 seat in a 2009 special election. He became the youngest member of the Council at the time, taking over a district with a large veteran population. Ulrich's district, as well as his personal military connections, have made him a perfect fit to be a leading voice for the city's more than 200,000 veterans as chair of the Council's Committee on Veterans.
"I think I have one of the best committees in the Council. I wouldn't trade my committee for any other committee," Ulrich said from his legislative office during a recent interview with Gotham Gazette. "My job is really unique in that the stuff we do, the bills we pass, they are really going to make a difference in helping people who really don't get the help they deserve."
The city's military veterans community has been in dire need of a strong voice at City Hall as their issues have spent years on the political backburner. Ulrich's unapologetic, outspoken brand of politics has proven particularly useful this year as head of the often overlooked veterans committee.
"I think that for a very long time the City thought they can do things a certain way and that would be enough," Ulrich said. "Then someone like me came along and said, 'This isn't enough. We have to do more. We should do more. And when we don't do more, I am going to call you out on it.'"
Over the course of 11 hearings in 2014, Ulrich has brought to light pressing issues in the veterans community such as jobs, homelessness, and hunger; and pressed the de Blasio administration on its handling of veterans affairs. Ulrich's efforts have earned him the praise of veterans advocates in the process.
"I think he has really elevated this committee," Jason Hansman, director of external relations for Iraq and Afghanistan Veterans of America (IAVA) said in a recent phone interview. "Not many people were participating and taking the lead, and Council Member Ulrich has brought new life into this committee."
Joe Bello, a Gulf War veteran who has been active with the Council's Veterans Committee since its formation in 2002 and is the founder of NYMetro Vets, an advocacy group, called Ulrich a "proactive and strong leader."
"He has been one of the better [veterans committee chairs] we have had in a long time." Bello said during a phone interview. "He has brought a seriousness and a focus to the position."
At the beginning of the year it was thought that a proactive focus from Ulrich would be an added bonus, not a necessity. When Mayor Bill de Blasio took office, the veterans community believed they would finally have someone in their corner for more than just parades and photo ops. De Blasio's father, Warren Wilhelm, served during World War II, losing part of his leg in the Battle of Okinawa. Wilhelm later took his own life after very difficult post-war years that included a cancer diagnosis.
De Blasio has discussed his father's service in several speeches and mentions his personal connection whenever questioned about veterans issues. The mayor has consistently expressed the same sentiment Ulrich stresses: that the city must do more for its military veterans. Veterans advocates believed having a mayor who personally understood the struggles of veterans would elevate their concerns to forefront. But in his first year as mayor, de Blasio's rhetoric has not been supported by action.
"When you look at what is going on on the Council side and what's going on on the mayor's side, it is really almost night and day," Bello said.
In his first executive budget, the mayor, despite urging from the City Council and veterans advocates, did not put in any additional money toward the Mayor's Office of Veterans' Affairs (MOVA). The five-member office tasked with serving the city's more than 200,000 veterans has a budget of just under $550,000, almost all of which pays staff salaries.
Requests for additional programmatic funding in the budget was also denied by de Blasio. Under the leadership of Council Speaker Melissa Mark-Viverito and Ulrich, the Council put $400,000 in discretionary funding toward job placement initiatives, and legal and mental health services for veterans.
De Blasio chose not to include $250,000 in his first budget to fund three benefits counselors MOVA utilized to serve veterans. The initiative was started under the Bloomberg administration and funded through a grant from the Robin Hood Foundation. The counselors trained veterans to navigate accessing federal VA benefits, a backlog for which has been a longstanding, well-publicized problem. The grant expired in late summer and without funding, the three benefits counselors were let go.
The move did not sit well with Ulrich.
"It is incredibly frustrating not only for me as an elected official, but for the 200,000-plus veterans who live in New York City...that in a $74 billion budget we only spend roughly $500,000 on veterans," Ulrich said.
More recently the mayor sent a letter to Gov. Andrew Cuomo urging him to veto bi-partisan legislation passed by the State Legislature that would allow peace-time veterans to buy back up to three years of pension credits for time served. Currently only combat veterans can do a buy-back. Just days after his re-election and right before Veterans Day, Cuomo vetoed the bill, citing a potential cost of $18 million for New York City.
"That was a terrible mistake to make and I think a lot of the advocates feel it was a slap in the face to those who have served our country," Ulrich said.
Ulrich and advocates had hoped the Legislature would override the veto during a special session, but it appears such a session, which must occur by year's end, is unlikely.
The one tangible move de Blasio has made on the veterans front has been his appointment of Loree Sutton, a highly regarded retired Army Brigadier General, as his new Commissioner for MOVA. Sutton, who recently moved to New York City, is nationally known for her work on mental health issues afflicting veterans, particularly PTSD. While Sutton's credentials stand on their own, the appointment was made more than eight months into de Blasio's first year, on August 18.
Sutton commenced a 90-day review of her department, which was due to the mayor on December 1. From that review, which will not be made public, Sutton will outline for the mayor her vision for moving MOVA forward. Any movement on this vision is unlikely to be announced until 2015.
"We want to be respectful of [the review period], but it is telling that it took this long to get someone appointed and the fact there is such a wait for him to put out this agenda," Hansman of IAVA said. "It is disappointing because most of the action around veterans has only been coming from the Council."
Gotham Gazette asked the mayor's office for comment on these topics several days prior to publication. Despite multiple emails promising a statement, one was not provided by press time.
A New Department
Ulrich has not let de Blasio's approach dictate his committee schedule. He has not been reactionary to the mayor, instead choosing to chart his own course based on the issues veterans bring to him. Ulrich said he realized early in the year that communication between veteran service organizations (VSOs) and the City was poor, so he decided to make his committee hearings a place where those groups could come, discuss problems, and—more importantly—talk solutions.
Ulrich sees the best solution to the communication problem (and others) as making MOVA its own department, and he has introduced legislation that would do just that. Currently MOVA is an office under the mayor with poor funding and limited oversight by the Council, a set-up Ulrich calls "structurally flawed."
When de Blasio appointed Sutton he appeared lukewarm to the idea of a separate department, saying, "we think the model we have now is an important and effective one and we think we can do a lot more with it."
Sutton, who had only been in her position 29 days on the day of the council committee hearing on Ulrich's bill, also did not put her support behind the bill, but added once her review was complete she would weigh in.
"There is no reason why veterans should be the equivalent of the mayor's office of film," Ulrich said. "This is really a way for the City to make a difference," he said of his bill and the new department it would create.
"I think this [bill] would be one of the best things to happen to veterans in a very long time," Ulrich added. "The mayor should get on board with it."
Hansman said the bill has picked up considerable steam among advocacy groups since its introduction and the fight to get it passed "won't be going away" in 2015.
More for 2015
With an active 2014 under his belt, don't expect for Ulrich to slow down in 2015. His "we can always do more" motto has been a staple at every veterans committee hearing and will be a driving force as he heads into what looks to be a busy next year for the committee.
In addition to continuing to push for MOVA to be its own department, Ulrich will move to get veterans treatment courts into all five boroughs. The treatment courts were introduced to New York City in 2009 and offer a veteran-specific drug and/or alcohol treatment program for non-violent offenders. Currently Brooklyn, the Bronx, and Queens have them and Staten Island has one in the works.
Despite its success, Manhattan hasn't jumped on board. Advocates have all pointed to District Attorney Cy Vance, although his office refuted that claim when asked by Gotham Gazette over the summer.
"I don't think we can legislate that, but if we can shine some light, maybe we can embarrass Manhattan into finally doing it," Ulrich said.
Reforming the Veterans Advisory Board (VAB) will also be a top priority for Ulrich in the new year. Six of nine appointments to the VAB have lapsed (four mayoral and two from the speaker) and the lack of transparency on the board has alarmed advocates and been discussed at several hearings.
When the Department of Small Business Services (SBS) and MOVA released a report recommending against the City establishing contract procurement goals for veteran-owned businesses (something recently passed at the state level), it did not go over well in the veterans community. Ulrich plans to hold a hearing early in 2015 on the report, although it appears better data collection may be a priority first, rather than drafting legislation requiring a procurement goal like ones the City has for minority- and women-owned businesses.
Ulrich also hopes to continue his work outside of the committee room. He's eyeing his Memorial Day veteran employment fair, which included 50 vendors this year, becoming an annual event. The Council's Veterans Food Drive, which was a joint venture between Speaker Mark-Viverito, Ulrich, and the New York City Food Bank, brought in 3,000 pounds of food, and he hopes to also make it an annual tradition.
Both legislatively and through community outreach, Ulrich promises to continue his assertive veterans advocacy - and veterans have learned they can count on him for it.
"I love, admire, and respect people who have defended our country," Ulrich said.
"I just don't think we have done enough for veterans in the City. I say it all the time because I mean it," he added. "Some people might disagree. They are wrong."
***
by Kristen Meriwether, Gotham Gazette
@MeriwetherK