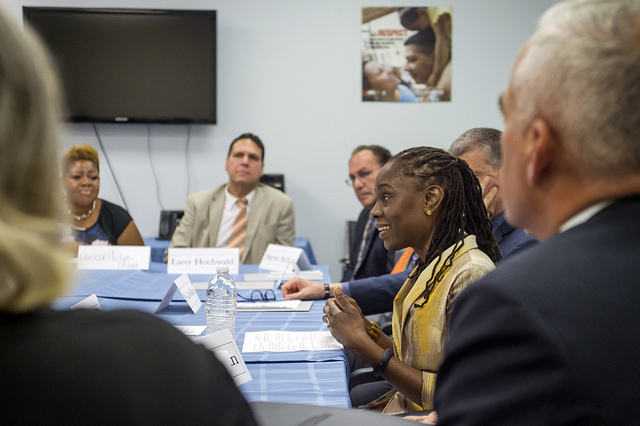 Chirlane McCray hosts a mental health roundtable (all photos: the Mayor's Office via flickr)
---
Over the past several months, New York City First Lady Chirlane McCray has had conversations with many of the city's service providers, non-profit organizations, and long-time advocates for mental health care provision. In preparation to unveil a "roadmap" addressing the "mental health crisis in New York City," McCray has spoken with a diverse array of constituents who will be directly impacted by new policies.
In collaboration with key departments of her husband's administration, McCray, who is Chair of the Mayor's Fund to Advance New York City, is leading a multi-agency effort to evaluate mental health care provision city-wide, particularly for low-income and at-risk communities, and chart a path forward.
"It is long overdue to acknowledge that our inattention to mental illness is a public health crisis that requires a public health solution," McCray wrote in a recent column at CNN.com, in which she discusses mental health care in a national context.
Key to the push behind the initiative is the notion that better mental health care can not only help people live healthier, happier, and more productive lives, but that an improved approach to mental health care can help the city's education, housing, criminal justice, and other systems.
Schools, homeless shelters, senior centers, and jails have been highlighted in the city's new fiscal year 2016 budget as targets of funding for improved mental health care services. In unveiling her roadmap, McCray is likely to follow up with additional initiatives supporting and tying together these and other sectors, "bringing more resources and better resources to those who need it most," as she writes. McCray's plan is due to be released this fall and is certain to discuss mental health as important to all aspects of life, and city services.
Gotham Gazette spoke with service providers and experts in anticipation of the release of McCray's roadmap and many applauded the work of the First Lady and Mayor de Blasio. There is widespread appreciation for their efforts to prioritize reforming mental health care in New York City - and relief that it is being spoken about so openly and with such urgency.
Regarding the roadmap, general suggestions were consistent, with experts and stakeholders saying that it should call for:
-Improved and sustained communication among service providers, city government and organizations for mental health care advocacy;
-Prioritizing mental health care in all aspects of city government policy;
-Reducing stigma of mental illness and promoting larger public education about mental wellness.
Last week, de Blasio's office announced that Richard Buery, Deputy Mayor for Strategic Policy Initiatives, will spearhead the implementation of the plan "to create a more effective mental health system." Over the past two years Buery has overseen and coordinated the rollout of de Blasio's ambitious and initially successful universal pre-Kindergarten program. Dr. Mary Bassett, commissioner of the city Health Department, is also sure to play a key role in implementing any new mental health programming.
"Mental illness touches the lives of most New Yorkers," McCray said in a statement, adding that there has long been two separate health care systems, "one for physical health and one for mental health."
"We can – and will – improve access to mental health care in New York City and bring mental health care services where New Yorkers live, work and study," McCray promised.
In drawing a "mental health roadmap" to accomplish those lofty goals, it appears that McCray will focus on reducing stigma around mental illness and treatment; conducting a detailed assessment of the current state of service provision city-wide; and, creating a comprehensive and sustainable plan for mental health care for all New Yorkers. Informing the entire plan will be the notion that both governmental and non-governmental service providers of all kinds can contribute to a better, more intertwined mental health care system.
Programming efforts will surely be tied with outreach and publicity campaigns pushing New Yorkers to seek treatment and ensuring that people are more aware of both warning signs of mental illness and available services. There will all but certainly be a focus on equity throughout the city's boroughs and neighborhoods, with a special focus on the poorest New Yorkers and those who do not speak English - aligning with the motivating theme of the de Blasio administration.
A few recent announcements regarding mental health care show key elements of the roadmap and give indication of what the larger plan will look like. McCray's map and contracts with service providers should provide indication of how the city will measure the effectiveness of its efforts.
On August 6 Mayor Bill de Blasio announced the NYC Safe program, "an evidence-driven public safety and public health program." NYC Safe, a $22 million program, centralizes oversight of efforts by public health and public safety officials to intervene or prevent violence from people with mental health challenges.
"This is a subset of a much bigger mental health reform plan that you'll hear about from the First Lady in the fall. This is just the first of many pieces," said the mayor.
Connections to Care (CTC), a $30 million program launched in a public-private partnership between the Mayor's Fund to Advance New York City, the federal Corporation for National and Community Service (CNCS), and private funders, seeks to expand access to mental health care for low-income and at-risk communities.
The Mayor's Fund announced the program on July 30, having successfully secured a $10 million federal grant, to be administered over the course of five years, from the Social Innovation Fund of the CNCS; an additional $20 million has been matched by the Mayor's Fund and selected service partners. CTC will expand mental health care access by collaborating with community organizations to integrate mental health services into existing programs, providing training and support for staff.
The program will also fund a study to assess the efficacy of service providers and the experiences of those receiving care. In the fall, proposals from service providers will be accepted for review.
In May, de Blasio announced his fiscal year 2016 Executive Budget, allocating a projected total of $132.7 million for mental health care during fiscal years 2016 and 2017. The City increased funding for mental health care services in the sectors outlined below. The investment is intended to "build a more effective and inclusive mental health system in New York City" and create a national model. It is sure to form much of the backbone to McCray's roadmap.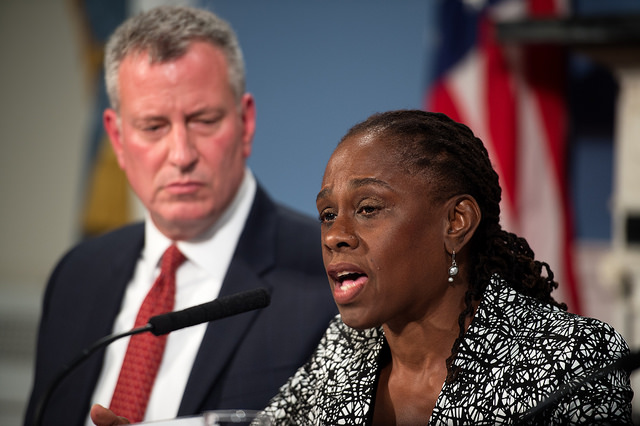 Schools
According to the Office of School Health, it is estimated that 9% of 6-12 years olds in New York City suffer from anxiety, depression and other mental health challenges. A survey conducted in 2011 reveals 8.4% of high school students have attempted suicide one or more times. McCray described the need to eliminate stigma around mental illness, citing statistics that 61% of adults and 35% of children in the city are not receiving the services they need.
More counselors and outside clinicians at city schools, especially in the "community schools" being opened by the de Blasio administration, are key to the effort of providing better mental health care to students.
Maria Astudillo, Director of Mental Health Services at the Children's Aid Society, asks "what are some of the universal interventions we can do [in schools]?" Given that every year students are required to have physical examinations, Astudillo believes there should be social and emotional screenings for students as well. "We have to be creative, we have to think outside the box," she said.
Jails
"What we effectively have seen in this country is that the largest mental health facilities in the country now are jails. And people who are mentally ill end up going through the criminal justice system in ways that are utterly inappropriate and hugely damaging and not at all helpful for community safety," JoAnne Page, President and CEO of The Fortune Society told Gotham Gazette.
Rikers Island jails, recently headlining news due to the deaths of Bradley Ballard, Kalief Browder and others, are under review by the de Blasio administration and outside entities for both immediate and long-term reform.
"Being at Rikers is trauma -- when you're talking about mental illness, both creation of it and exacerbation of it," Page added.
Most recently, the de Blasio administration announced in June it would not renew the contracts with two contracted for-profit Rikers health care providers, Corizon, Inc. and Damian Family Care Centers, Inc. New York City Health and Hospitals Corporation (HHC) will take over as the primary provider.
"We have an essential responsibility to provide every individual in our City's care with high-quality health services – and our inmates are no different," said Mayor Bill de Blasio in a June press release. "This transfer to HHC will give our administration direct control and oversight of our inmates' health services – furthering our goal of improving the quality and continuity of healthcare for every inmate in City custody."
John Boston of the Legal Aid's Prisoner's Rights Project noted, "It is especially appropriate to make this change with respect to mental health care, since the City is attempting to improve mental health treatment in the jails," adding that Corizon had a "track record" of failing to administer appropriate treatment.
Often anyone receiving treatment while in jail, juvenile detention centers, or homeless shelters has had "experiences with mental health services that were more about control than treatment," says Page of The Fortune Society.
Furthermore, Page says that policing policies such as adherence to the "broken windows" model leaves "people getting arrested for things like being mentally ill and homeless. So the criminal justice system is stigmatizing people even more."
In December 2014, the de Blasio Administration launched a $130 million, 4-year plan detailed in a report by the Task Force on Behavioral Health and the Criminal Justice System in order to "drive down crime while also reducing the number of people with behavioral health issues needlessly cycling through the criminal justice system."
First Lady McCray described the criminal justice system as "a maze [New Yorkers with mental health and substance use disorders] can never escape. The City has made a real commitment to addressing the root causes of this urgent problem."
Initiatives outlined in the Task Force's Action Plan -- fewer arrests for low-level crimes and, largely, more alternatives for police can use; better community-based treatment for mental illness; and better alternatives for incarceration or detention -- Page believes are a good start to implementing any sustainable change.
"People should be in jail as a last resort – not on low bail," Page says. "Not because nobody knows what to do with them, they should [only] be in jail because they've done something serious and there's no better alternative. We lock up way too many people."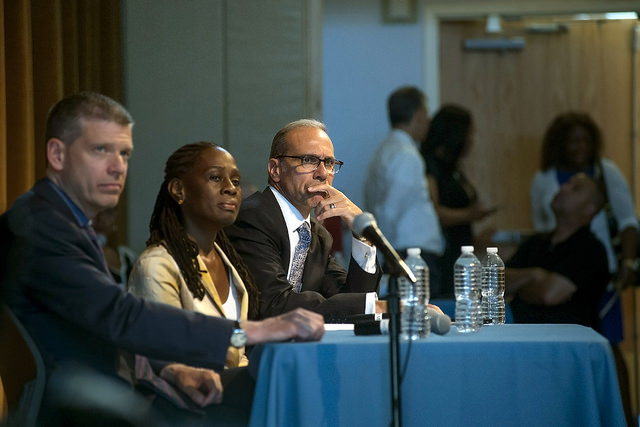 Homelessness
The Coalition for the Homeless reports that every night thousands of unsheltered homeless people sleep in the streets and other public spaces. The large majority of street homeless people live with mental illness or other health problems, according to the Coalition.
"Many cities have a troubling number of cases in which a person with mental illness is subjected to unnecessary arrest or unnecessary violence," said Alex Vitale, a sociology professor at Brooklyn College.
NYC Safe, the violence prevention program introduced in August by de Blasio, will partially assist in serving the homeless with "mobile treatment teams" and other resources for immediate care.
Though improved access to services and treatment is necessary, Vitale stresses that "ultimately, it is not just mental health outreach workers or a few targeted programs for violent offenders that is needed." To deal with chronic homelessness, to help mentally ill homeless people, "a supportive housing program" is essential, Vitale says. He wrote about such a need in a recent Gotham Gazette column.
Susan Wiviott, CEO of The Bridge, shares this sentiment. Wiviott believes McCray's roadmap will revolve around preventative care and access to mental health services in communities, which is needed, but the costlier programs of supportive housing and in-treatment services must be on the agenda as well. "If you really want to help people and change their lives so they're not living on the street, then there must be some access to a stable place to live."
McCray's outline could very well advocate for an increase of city funds toward supportive housing and renew de Blasio administration calls for the state government to significantly up its contribution to a new NY/NY supportive housing program, the source of recent controversy.
Seniors
Senior adults – 60 years and older – represent the fastest growing population in New York City. By 2030, one in five New Yorkers will be a senior adult. The Department of Health and Mental Hygiene (DOHMH) estimates that approximately 20% of New Yorkers 55 and older experience mental illness.
The de Blasio administration has allocated $800,000 in fiscal year 2016, which began July 1, to place clinical social workers in the city's 20 largest senior centers.
This is not quite enough, though, for some service providers. "You have to recognize that a good portion of the people who are older, who will need mental health services, are homebound. There has to be support for those services," Nancy Harvey, CEO of Service Program for Older People (SPOP), told Gotham Gazette.
"You can't just be at senior centers because a lot of the older populations can't get to senior centers," Harvey adds. "Forty percent of clients at my agency are homebound, they cannot get out so you have to be able to deliver the services to their homes, there has to be support and recognition for that model, which is more expensive, but certainly less expensive than them ending up in hospitals or nursing homes."
Harvey credits the First Lady for "bringing visibility to mental health" in New York City and is hopeful about the attention highlighting the need for greater services and treatment, especially for older adults. Senior centers cannot remain the sole focus, however, because "we need to have a broader view of how we're going to reach [homebound] people," she says.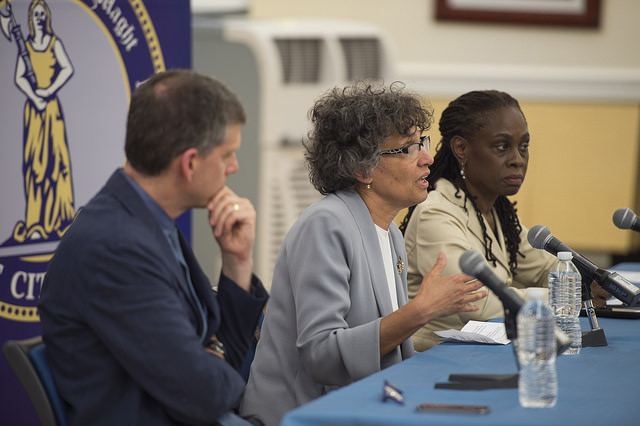 Building a Better Mental Health Care System
DOHMH created the Center for Health Equity in 2014 under the direction of Commissioner Mary Bassett, hoping to employ a community-based approach toward healthy New Yorkers.
Marlon Williams works at the center as Director of Cross Agency Partnerships at DOHMH. He uses a "health-in-all-policies" (HiAP) approach, focusing on promoting community health in the work of different city agencies.
In an interview with Urban Omnibus, Williams spoke of external factors affecting the health of New Yorkers.
"Very few health outcomes actually have to do with your access to healthcare services," Williams said. "Much of what determines your ability to live to your fullest health potential is about the physical and social context in which you live. Issues of race, discrimination, class, and poverty all have a tremendous impact on health and create specific health inequities."
As has been cited in the recent Legionnaires' Disease outbreak in the South Bronx, poverty and health care issues often overlap. The new Connections to Care program will soon be looking to contract with community-based organizations where vulnerable populations can be reached and people with symptoms or at risk of mental illness can be identified and helped. These can include people struggling with stable housing, employment, or sobriety; new or expecting parents; and out of work young adults.
McCray and her husband's administration have announced programming so far that reflect the complexities of health, particularly mental health, disparities. McCray's roadmap is all but certain to follow a HiAP model, including schools, jails, and other places where New Yorkers may access services and evaluating needs based on income, cultural background, and more.
Creating an effective and comprehensive mental health care system will require, Williams believes, that the city government figures out "place-based intervention to address, mitigate, or even prevent [health inequities] — so anyone anywhere in New York City has an opportunity for optimal health."
Essential to the city's efforts will be tracking its programs and the work being done by community organizatins, service providers, and city agencies. With more investment comes more scrutiny and the need to prove the efficacy of devoting resources to new work.
In her recent op-ed for CNN, McCray extended a call for action to other local and national leaders, urging them to commit the time and resources to implement needed mental health care services.
"Stigma, a lack of resources and the marginalization of mental health for decades have left us a fragmented and broken system that must be fixed. Too many people's lives are at stake, in New York City and beyond."
***
by Kaela Sanborn-Hum, Gotham Gazette
@GothamGazette