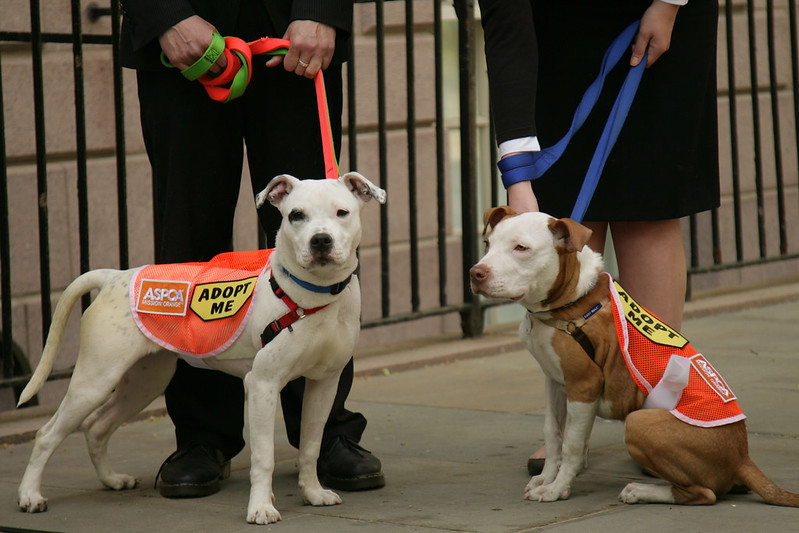 Dogs for adoption (photo: Edward Reed/City Council)
---
Animal issues were given short-shrift in the recent Democratic primary for New York City Mayor. In fact, most of the major Democratic candidates did not come out publicly in support of any important animal concerns. In 2013, the last open mayoral race, animal issues were front and center in the election. This included a mayoral debate on animal issues attended by almost every candidate jockeying for support from the animal protection community. There is little doubt that Bill de Blasio's promise to ban horse-drawn carriages on day one, a promise that was nevertheless broken, helped him win the election.
This year, the Democratic primary's focus was on crime, the economy, jobs, health care, housing, homelessness, children, and education. Important issues to be sure — however, major animal issues, a blight on our city, continue to be ignored.
The still-low turnout of voters this year was perhaps indicative of the failure of any of the candidates to put forth a truly bold platform. Eric Adams emerged victorious and is the Democratic nominee for Mayor. Among others, he faces Curtis Sliwa, the Republican nominee, who also managed to get an Animal Welfare Party line on the general election ballot — clearly an effort to appeal to New Yorkers who care about animal issues but who might not otherwise support a Republican.
The major Democratic candidates were contacted by animal protection organizations to ascertain their positions on various issues but only a few responded. New Yorkers concerned about the deafening silence surrounding persistent animal crises staring us in the face felt they were being ignored by most of the Democratic candidates.
The failing, archaic New York City animal shelter system is reputed by many as a 'hellhole for animals,' a place where many get sick, and others are designated as "behavior" risks, both of which are used to justify their killing. It is appalling and disheartening to know that thousands of healthy, treatable, adoptable cats and dogs continue to be destroyed in our dysfunctional and outdated New York City Animal "Care" Centers, even when life-saving alternatives exist.
These include legislation, the state-level Shelter Animal Rescue Act (SARA; bill A.7155), which offers practical solutions to these issues, and could save thousands of lives in our three New York City animal shelters, but is stalled in the State Assembly. While shelters around the country were emptied out by a flood of adoptions during the most difficult period of the pandemic, New York City shelters continued to kill homeless animals. Although money has been allocated by the city for critically needed shelters in the Bronx and Queens, as well as funding for desperately needed renovations in the Manhattan and Brooklyn shelters, these things have yet to happen.
Eric Adams was one of the few candidates who did respond to an animal issues questionnaire, circulated by NYCLASS, however his responses were not made public. And while some responses regarding the sale of fur, live animal markets, and a ban on horse-drawn carriages may not be entirely satisfactory to animal advocates, Adams has indicated that he is "open to further discussion" and said he will bring stakeholders together. Adams has a long history of positive actions on behalf of animals both as a State Senator and as Brooklyn Borough President. They include opposition to wild animals in circuses; opposition to the slaughter of geese; encouraging people to eat more plant-based food; and support of the Foie Gras ban. He has also advocated for pet adoptions, supported feral cat initiatives, and pet-friendly programs in housing and homeless shelters.
Sliwa, on the other hand, presents himself as an animal welfare candidate, but did not respond to the same NYCLASS questionnaire submitted in great detail by Adams. He has never gone into specifics about how he would make New York City "no kill," a challenging paradigm, at best. He has no history of supporting other animal issues such as bans on carriage horses, puppy mill dogs and cats sold in pet shops, the sale of fur, circuses, rodeos, etc. New Yorkers want to know that any candidate seeking the highest office in our city cares about these issues that matter to us.
There cannot be silence from candidates when it comes to the carriage horse issue, which is still dire. Since 2020, two carriage horses have collapsed in Central Park. One was forced to get up and continue to work. The other died. Politicians continue to look the other way but most New Yorkers care about animals and need a compassionate and savvy mayor to lead the way.
There is a new proposal by the Compassionate & Responsible Tourism group that would substitute electric, battery-operated carriages for horse-drawn carriages, saving jobs and finding homes for the horses, in addition to giving a shot in the arm to the tourism industry, which has suffered greatly this past year.
This is not about reliving past campaigns, but instead offers a practical solution to resolving the carriage horse issue. Electric, horseless carriages currently exist in a number of cities around the world, including Berlin and Cologne, Germany; Dubai, UAE; and Guadalajara, Mexico, where they have been a success since 2017 when they were introduced. This proposal is worthy of serious consideration by the next City Council and mayoral administration. It's a win-win for all.
As a long-time animal activist advocating for animal issues for over 30 years, I know that even though change is slow, it is inevitable. Animal Rights is the emerging social justice movement of the 21st century, as consciousness about animal sentience and the impact of animal agriculture on global climate change are raised, and justice and compassion take precedence over cruelty, indifference, and greed.
Anyone running for the second most important job in the United States -- Mayor of New York City -- must pay close attention to animal rights. Being a compassionate, visionary leader means caring for animals, and for those who care deeply about animals and vote!
***
Zelda Penzel is President of People for the End of Animal Cruelty and Exploitation, or PEACE.
***
Have an op-ed idea or submission for Gotham Gazette? Email This email address is being protected from spambots. You need JavaScript enabled to view it.