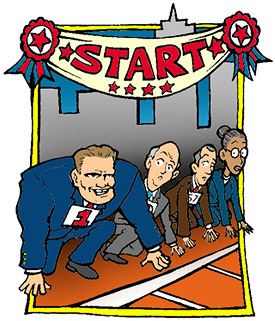 "In New York, politics is a blood sport."
This summer, Democratic City Councilmember Allan Jennings earned the distinction of being one of the few incumbent politicians in New York City ever to be kicked off the ballot by his own party.
The Queens Democratic Party, which has a history of conflict with the one-term council member and is supporting another candidate, challenged Jennings in court, claiming that the 3,300 signatures on his petitions were riddled with fake and fraudulent information.
Jennings acknowledged some minor mistakes, such as missing addresses or signatures from people who had recently moved, but denied any wrongdoing. In mid-August, State Supreme Court Justice Janice Taylor - who has received the backing of the Queens Democratic Party throughout her career - kicked Jennings off the ballot.
Jennings appealed and spent the next nine days in court. His campaign workers and volunteers were called on to testify about how, when and where they collected signatures. "All of my petition people were senior citizens and they don't remember things precisely," said Jennings.
A five-member panel of the Appellate Division eventually reversed the lower court ruling, citing "irregularities" in the petitions, but no fraud. The council member was put back on the ballot.
"I feel personally vindicated," he said later.
But Councilmember Jennings may not be the best standard-bearer for the principles of democracy. The council member himself sued all of his opponents in an effort to kick them off the ballot for the same kind of technicalities; he succeeded in narrowing the field of challengers from five to two.
"Using these type of shenanigans to deny the voters the right to choose is shameful," said Inderjit Singh, one of the two opponents who successfully defended their signatures.
In New York, which has some of the most complicated election laws in the nation, knocking your opponent off the ballot is a routine aspect of the political game. This year, dozens of candidates for City Council were eliminated on technicalities. And many more potential challengers did not even bother running, knowing that they would face huge legal bills and hours in court defending their right to run. (For a dozen council races worth watching this year, see Campaign 2003)
The process not only limits voters' choices, but it means the candidates spend more time in court than they do meeting the voters and hearing their concerns.
"In New York, politics is a blood sport," said election lawyer Henry Berger.
| | |
| --- | --- |
| | |
| | Candidates have been knocked off the ballot for such infractions as writing the abbreviation "St." instead of "Street" |
Battle To Get On
This summer, California has become the butt of political jokes with its recall election and a long list of candidates for governor including actor Arnold Schwarzenegger, activist Arianna Huffington, baseball commissioner Peter Ueberroth, child actor Gary Coleman - and a porn star, a boxer, and a sumo wrestler.
But if the race were suddenly to be governed by the election laws and practices of New York, it would become absurd in exactly the opposite way -- none of the candidates would even make it to the ballot.
In California, one need only gather 65 signatures and pay $3,500 to get on the ballot for governor. In New York City, a candidate for the far more lowly post of City Council has just a few weeks in the summer to collect at least 900 signatures from voters in their district who are also registered in their political party. And the candidates have to make sure that the petitions, the pieces of paper where the signatures are collected, adhere to every little rule. No fourth-grade penmanship teacher was ever as strict.
Most experienced candidates, knowing that they will end up in court defending their petitions, collect 2,000 to 3,000 signatures.
For Republican or smaller party candidates trying to run in areas dominated by Democrats, it can be a daunting task. Sal Grupico, a Republican running in district 45 in Flatbush, Brooklyn, had trouble finding enough Republicans to sign his petitions. "I think most of them are gone and dead," he said.
The concept of gathering signatures on petitions dates back to the late 19th century. It was supposed to help eliminate the political parties' control of the ballot, according to Douglas Kellner, a commissioner at the Board of Elections. (See timeline of New York election law)
Before that, there were no printed ballots in New York. Voters simply went to the polls and wrote down the candidates of their choice. To instruct voters on who was running, political parties printed up a slate of candidates, which the voters could take with them to the polls.
This system had many problems, one of which was that political parties often printed counterfeit lists of candidates to deceive supporters of the opposition. "A counterfeit ticket would list a few of the party's prominent candidates - just enough to fool the unwary - with the rest of the names coming from a rival slate," said Kellner.
To clear up the process, the government began in 1880 to print a uniform ballot that would be presented to voters to fill out at the polls on Election Day. Political parties were allowed to nominate their candidates to be listed on the ballot. But in addition, candidates not selected by the party could get on the ballot anyway if they could submit enough signatures from voters.
To ensure that the signatures were valid, a series of rules were put in place - many of which are still used today.
Ironically, these rules set up over a century ago to assure a more open, honest and democratic process of elections have become just the opposite -- a powerful tool for political parties and incumbents to maintain their advantage. To these New York politicos, the best elections are those in which there is only one candidate left on the ballot for voters to choose.
| | |
| --- | --- |
| | |
| | "It is not clear that any of these rules prevent fraud...It is incredibly trivial stuff that often trips up candidates." |
Devil in the Details
Many incumbents, backed by their political party, have teams of lawyers who will go over a challenger's signatures, line by line, looking for minor mistakes like missing zip codes, misspellings, and voters who have signed petitions not knowing whether they live in the district or not.
In the past, candidates have been knocked off the ballot for such infractions as writing the abbreviation "St." instead of "Street" or forgetting to staple a cover sheet.
If the person gathering the signatures - called a petitioner - makes a mistake such as forgetting to write the borough on the bottom of the page, all of the signatures that he collected can be thrown out. If enough signatures are declared invalid, a candidate is eliminated.
This year, in the district 48 race in Coney Island and Gravesend Brooklyn one candidate was kicked off of the ballot because he petitioned under his common name Tony Eisenberg, rather than under his legal name Anatoly Eyzenberg. The Russian immigrant who has been in the United States for 23 years said that when he came to New York, he "Americanized" his name. "My wife, everyone calls me Tony - I forgot my name was Anatoly," he joked.
The argument for such complex and obscure rules is to protect against fraud and allow only serious candidates on the ballot.
Every so often, the press gleefully reports some obvious example of fraud; a court challenge to the petitions of Manhattan City Councilmember Alan Gerson revealed that they included the signature of a dead woman. Elsie Roloan, who died on June 22, nevertheless signed Gerson's petition four days later.
Gerson, who serves lower Manhattan's district 1, denied any wrongdoing and told the New York Post that it is nearly impossible for a candidate to know what is happening during the signature gathering. "I have no control or oversight over the petitions in question," Gerson said. "This suit is a total waste of the judiciary's time. It's frivolous."
Even those who believe that dead people should not be involved in the political process have to agree that such litigation, and the rules that encourage it, do not accomplish their supposed big-picture aim: Surely, nobody really doubts that an incumbent like Gerson is a serious candidate. Experts say that the rules, while useful as weapons by political opponents, in fact do little to protect voters.
"It is not clear that any of these rules prevent fraud," said Columbia Law Professor Richard Briffault. "It is incredibly trivial stuff that often trips up candidates."
The Board of Election officials and judges ruling on the cases often owe their seats to the same party organizations trying to get rid of all challengers, and so are slow to accept reforms.
In the case of Councilmember Allan Jennings, the judge who knocked him off the ballot, Justice Janice Taylor, was backed by the Queens Democratic Party, which a decade ago helped her reach the bench despite a rating of "not qualified" by the bar association, according to a recent article in the Daily News.
And even for candidates who admit the system is a mess, ballot challenges become a necessary part of the political process.
After being knocked off the ballot in 2001, Washington Heights council candidate Victor Bernace, a lawyer who usually defends cab drivers, learned the complexities of election law and this year challenged a less experienced candidate, Pedro Morillo. Bernace set up a headquarters at his kitchen table with five borrowed laptop computers and friends who worked round the clock to look for errors in his opponent's signatures.
"You get hit by the system, then you learn, then you do it to someone else," said Bernace. "It's really a silly game."
| | |
| --- | --- |
| | |
| | "My wife, everyone calls me Tony," says Anatoly Eyzenberg, who was kicked off the ballot for using the name he has had since immigrating 23 years ago. |
National Embarrassment
New York's Byzantine election laws received national attention in 2000, when Arizona Senator John McCain, who was running against George W. Bush in the Republican Presidential Primary, was knocked off of the ballot by his own party.
At the time, New York's election law required that a candidate collect thousands of signatures from each of the 31 congressional districts across the state, including areas of the city with few Republicans. Governor George Pataki, who supported Bush, used the laws to keep McCain out of the running.
McCain, who had already won the New Hampshire Primary, denounced the state's "Stalinist politics."
A federal judge eventually put McCain back on the ballot, but not before dozens of editorials across the country mocked New York's political process. That same year, Republican Steve Forbes spent $750,000 just to get on the primary ballot.
After the national embarrassment, state lawmakers instituted reforms. But local races are still decided as much in the courtroom as in the voting booth. The battles make for some very bizarre tales.
Bumped By The Dead
Even after James Davis was shot and killed in City Hall in July, lawyers for the slain council member continued their challenge of Davis's opponent Anthony Herbert in district 35 in central Brooklyn.
The Board of Elections removed Herbert because dozens of the petition sheets failed to include the city and county of the person collecting the signatures. To avoid such problems, many candidates have the name of the city and county pre-printed on the petition sheet, but Herbert, who was running for the first time, overlooked the detail. Even though Herbert collected more than 2,000 signatures, he found himself with half the amount needed after the challenge.
"Anthony Herbert may go down in history as just another exhibit showing that you don't challenge insiders," said Herbert's lawyer Victor Bernace. "Even a dead man can kick you off the ballot in New York."
Herbert, reportedly enraged at being unjustly maneuvered off the ballot by his party, has announced that he will run for the seat in the general election on the Republican line.
Fighting the Family
Bronx Candidate Luana Rodriguez found herself fighting the most powerful political family in the Bronx when she tried to challenge 24-year-old Councilmember Joel Rivera in district 15.
Councilmember Rivera's father is Jose Rivera, State Assemblyman and chair of the Bronx Democratic Party. Joel's mother is the district manager of community board 6 and her son's former campaign manager. Joel's sister is the deputy chief at the Bronx Board of Elections.
The Rivera's used all their forces to work to knock her off the ballot, Rodriguez said. She was disqualified when two of her witnesses, those who collected and verified the petitions, were found to not be registered Democrats living in the district.
Rodriguez said she never stood a chance in challenging the ruling. "I counted 10 lawyers for the other side," she said.
| | |
| --- | --- |
| | |
| | "I counted 10 lawyers for the other side," said Luana Rodriguez, who was kicked off the ballot by the Rivera clan of the Bronx. |
Borough Park Brawl
In Borough Park, Brooklyn a former council member, Noach Dear, who was barred from running this year by the term-limits law, tried to sue his way onto the ballot. He even circulated petitions, gathering signatures from voters who had no idea that he cannot legally run again until 2005.
Incumbent Councilmember Simcha Felder filed a counter lawsuit to block Dear from appearing on the ballot and threatened to garnish his salary if elected. "If he's circulating petitions, he's deceiving voters," said Felder.
After months of legal wrangling, Dear was barred from running. Those who see this as a triumph for democracy, or at least for the rule of law, may find it bracing to learn that, this fall, Councilmember Felder is running unopposed on the Democratic, Republican, and Conservative party lines.
Worse Than The Worst Country Club
Even Republicans, who have a slim chance of winning in a Democratic district, wage fierce battles with each other before primary day.
In district 32 Republican Richard Iritano said he was locked out of the process when the party refused to even talk to him. Iritano was then knocked off of the ballot after the Board of Elections ruled that 521 of his petition signatures were altered. Iritano said that the claim was "complete nonsense because all of the petitions were collected by myself and my mother."
Republican Michael Mossa challenged Iritano's petitions, and when Iritano tried to defend his case in court, he said that the judge reprimanded him for wasting the court's time. "The whole campaign was an exercise in futility," said Iritano. "I haven't seen this kind of exclusionary behavior even in the worst country clubs."
Chances for Reform?
Reforming New York's laws is a nearly impossible undertaking given that political parties and incumbents in power see the system as working just fine. And most election-reform groups in the state work on other issues like same-day registration and poll worker training, not trying to rewrite election procedures that have been in operation since 1880.
There have been some minor changes in recent years, trying to cut down on some of the obscure regulations. A series of federal lawsuits have overturned some state rulings and some judges have been shamed into being more lenient.
Experts concede that these have not been enough. "There is a sense across the country that New York has the worst laws in the country," said Briffault.
These laws are not just bad for candidates, but for voters.
"Often it appears that candidates spend more time in court trying to knock each other from the ballot than they do explaining themselves to potential voters," Governor Mario Cuomo wrote in the New York Law Journal. "The State has no interest in denying qualified candidates an ability to be on the ballot and to be judged on their own merit. Unfortunately, New York's ballot access law does just that."
*******
Campaign 2003 -- Election Coverage:
• A Dozen Council Races to Watch
• A Brief History of Election Law in New York
• Gotham Gazette Looks at City Council Campaign 2003
*******
Series of Campaign Tangle articles from 2001:
• Campaign Tangle Begins
• A City of Challenges
• The Rejected Candidates
• Chaos and Confusion
• The Battle for District Attorney
• Disillusioned Candidates