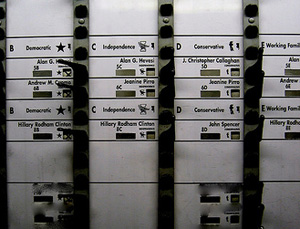 By the stroke of midnight on July 10, candidates for office in New York City had to submit literally hundreds of carefully documented signatures to get a place on this year's September primary or November general election ballot. The filing at the Board of Election on lower Broadway ends one chapter of Campaign 2008 and starts another: the challenge phase, a part of campaigning in New York that one prominent election lawyer has likened to "a blood sport."
For the next week, election lawyers and campaign organizations will pour over rivals' petitions in the hopes of finding fatal flaws that could knock an opponent off the ballot. The Board of Elections will review challenges starting July 29 and going until Aug. 1 if necessary. If past experience can serve as a guide, some candidates will then take their cases to the courts, which will have to review them -- both charges and countercharges -- in advance of the Sept. 9 election.
It is all part of a system designed to benefit party organizations and incumbents and leave it so the "voter has little or no choice," said Susan Lerner, executive director of Common Cause New York. "There is a persistent pattern that results in no competition" in many districts.
Looking for Signatures
To get on the ballot, a Democrat in a typical city Assembly district must collect 500 signatures; a Democratic State Senate contender 1,000. People hoping to be the candidate of other parties generally need fewer names. A Republican in the overwhelmingly Democratic 58th Assembly District (Brownsville) would have to garner only 112 signatures, and a candidate hoping to land on the ballot as the Conservative Party's pick there needs merely seven names.
The people signing must live in the district and be members of the party in question. They can only sign one petition for each office.
Then there are rules about the format of petitions. If the petition has more than 10 pages, for example, it must also include a cover sheet with information about the candidate, the office and a statement that the petition includes the required number of signatures.
To make the game more interesting, the state also demands the players beat the clock. This year, candidates could not begin circulating petitions until June 3 and had to hand them in by July 10.
New York's laws are particularly strict. In 2001, the state attorney general's office observed, "No other state imposes such hurdles on ballot access."
Unlike many states, New York does not allow candidates to pay a filing fee in lieu of getting the signatures. And it requires more names: California has demanded only 65 signatures of gubernatorial candidates, about half the number a Republican candidate would need to run for State Assembly from a part of Harlem.
Navigating the Process
Facing this process, some candidates give up before they even get started. Candidates who want to try to beat the odds pay people to go out and try to collect an excess of signatures and then hire lawyers to defend them, adding to the expense of campaigns.
Daniel Squadron, who hopes to defeat incumbent State Sen. Martin Connor in the Democratic primary has announced that his campaign collected 8,000 signatures, or more than eight times the needed number. In a release Squadron said he did this because Connor is "an election lawyer who has knocked countless candidates off the ballot and has pursued legal challenges against every serious opponent he has faced since 1980." (For the record, Connor denies he plans a challenge.)
Those who do manage to make it through then face the challenges. The political parties and their lawyers "lie in wait " to contest signatures and knock any challenges off the ballot, Lerner said.
In 2005, it was reported that six of the 11 candidates running for a City Council seat on Manhattan's Lower East Side faced challenges from the Coalition for a District Alternative, a political club that actively supported outgoing Councilmember Margarita Lopez and Rosie Mendez, her protégé who was seeking the seat (and won).
In 2006 Juan Pagan, a Democratic candidate for Assembly District 74, submitted 1,000 signatures -- twice the number required. He was challenged anyway, and the Board of Elections discarded hundreds of names on the grounds that some of his petitions spelled out his middle name, while others used only his initial. The courts eventually sided with Pagan, but he complained at the time that the challenge cost him time and resources. He lost.
Not all challenges revolve around signatures. Under state law, candidates for the State Senate or Assembly must live in the district they seek to represent for at least 12 months immediately prior to the election (interestingly no such requirement exists for members of Congress).
Connor, for example, alleged that his 2006 opponent, Ken Diamondstone, did not meet that requirement. The Board of Elections sided with Connor. Diamondstone prevailed in court but lost the primary.
In Queens in 2006, the Democratic Party organization's candidate for an open Assembly seat, Ellen Young, charged that rival Grace Meng did not meet the residency rules. Meng left the race, even though she said she did live in the district. "Although I believe I have the required proof, i.e., tax forms, driver's license, etc., I do not want my family, friends, neighbors and supporters to go through a lengthy trial. I also do not want my contributions to be used toward a legal battle," she said in a prepared statement.
This year, Meng has filed again to run against Young. No word, yet, on whether she will provoke another challenge.
Obstacles to Change
New York's ballot requirements have long had their critics. In 2001, then Attorney General Eliot Spitzer's office issued a report calling for cutting the number of signatures required by half, lengthening the amount of time it would take to collect them and letting citizens sign more than one petition per office. Such changes, the report theorized, could help provoke greater voter interest in elections by giving people more choices at the polls.
The system though, has resisted change. A proposal offered by Gov. George Pataki in 1996 to make it easier to get on the ballot faltered in the legislature.
"When you have as dysfunctional a system as we have [where] the whole process is controlled by the legislature and the legislature is controlled by the parties, how likely is it that we can change that," Lerner said. "The people who we are looking to make this change are the people" who benefit from the existing system.
Take Mayor Michael Bloomberg.
In 2004, he assailed the rules and the challenges. "You don't have to beat the other guy based on positions or your ability to serve, all you gotta do is beat him because you got a better lawyer who can get him thrown off the ballot," Bloomberg said. "It's time to end this 'gotcha' kind of technique, where lawyers comb petitions to find some technical violation.
A year later, Bloomberg's campaign workers combed through signatures filed by Thomas Ognibene, a Queens politician who was seeking to challenge the mayor in the Republican primary. They got Ognibene thrown off the ballot.
The mayor's staff denied any contradiction. "I don't think it's a game of 'gotcha' to make sure the minimum number of signatures is valid," Bloomberg aide William Cunningham told the Times.
One person has managed to get a modicum of change to New York's election rules: Sen. John McCain. In 2000, this year's Republican candidate was challenging George W. Bush for the GOP nomination. A technical error threatened to keep the Arizona senator off New York's ballot, casting a temporary spotlight on New York's arcane election procedures. Eventually a judge ordered that McCain's name appear -- and Bush won the primary anyway.
The furor prompted adjustments in rules that make it far easier for Republican presidential aspirants to qualify for the state's primary. The rules for lowlier office, though, remain unchanged.
Â