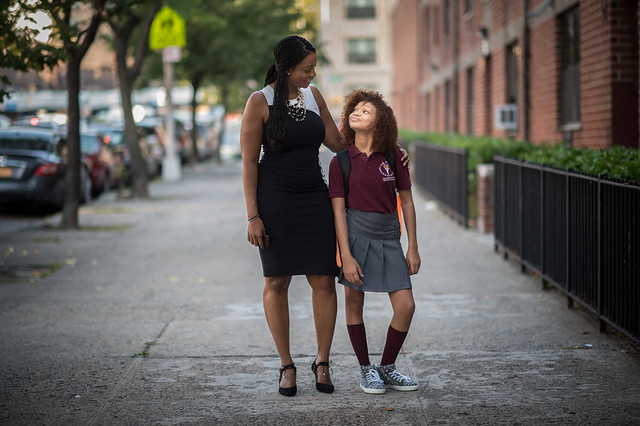 (photo: Michael Appleton/Mayoral Photography Office)
---
Recently, amid a debate about a jarring lack of diversity in New York City's specialized schools, jaw-dropping news broke. A RAND Corporation Report, commissioned by the Department of Education, showed that despite roughly $750 million spent on fewer than 100 "Renewal Schools," the needle fundamentally failed to move on student outcomes.
Extraordinary resources were expended. Real results never materialized.
Now, questions abound as to how the city should move forward to improve struggling schools. Was the problem rooted in faulty bureaucratic execution and implementation that hampered the Renewal program from the beginning? Do we begin closing more schools and reopening them anew?
We need answers as tens of thousands of children of color live in poverty, more than 100,000 students were homeless last year, and countless others don't know where their next meal is coming from. History has shown that complex social issues often yield equally complex – and exceptionally expensive – solutions, and policymakers seem to be focused on finding the sweeping, systemic "special sauce" for delivering meaningful student gains.
But the reality is that sometimes the most vexing issues can have simple answers. And what's so often overlooked is an elegant, bread-and-butter approach to setting our kids up for success: an adult mentor.
An adult outside of the home and classroom who cares for the student and asks for nothing in return. An adult who regularly checks in with the student, offers guidance, and believes in and encourages him or her. This makes a huge difference to young students. Offering mentoring programs for students in need is comparatively very cheap and replicable, and serves as a poverty-fighting tool.
And it's something that doesn't exist at scale right now.
We know all of this because our organization, Student Sponsor Partners, pairs students entering high school and in extreme need with professional adults who work with them. A full 100% of kids in our program have average to below-average test scores coming into high school, 100% live below the poverty line, and 76% live in one- or no-parent households. Yet, we couple robust mentoring with scholarships to private high schools, and our kids have an 85% on-time graduation rate and 92% college attendance rate.
And beyond the numbers are the stories that prove mentorship works. I am an example of just that. By the age of 12, I had been in and out of foster homes. That's when I met Peter Flanigan, founder of Student Sponsor Partners, who became my mentor and changed my life forever. He saw potential in me, and him believing in me and pushing me to be my best self helped me get to where I am today.
From NYPD officers to executives at Fortune 500 companies, mentors make a huge difference by committing to our program and guiding students in their spare time. Often, these relationships last through high school, college, and for the rest of their lives.
A citywide mentoring program can be an anti-poverty tactic – and a tool to help diversify top public schools. Every year, our program serves nearly 1,200 students across New York City.
But the sheer shortage of adults caring for students outside the classroom in our public schools is concerning. For every 1,000 students, there are only 4.9 support workers, far fewer than comparable cities. Nationwide, the average student-to-school-counselor ratio is a shocking 482-to-1. Our city's "single shepherd" program, aimed to address the lack of guidance counselors, came with a $50 million price tag yet officials are unable to say if it's made an impact.
Guidance counselors and school staff are doing what they can, but it's virtually impossible to give children and their parents personalized attention when a support worker is responsible for hundreds of cases.
It's no wonder that educational gaps persist.
So, as we have a citywide conversation about how to achieve equity and success, and give every student a fair shot at a great education, we may not want to search for a panacea. Instead, policymakers would do well to start by focusing on the basics.
The conversation about how to move forward after the Renewal Schools failure cannot just focus on how to achieve the right outcomes through a handful of schools or through an expensive policy. It also must focus on how we prevent a generation of children, who are deeply in need, from falling permanently behind, and how we give students most in need the academic tools to succeed long-term.
The city can start by launching a comprehensive mentoring program, linking adult New Yorkers who want to give back with kids who need support most.
It can make a world of difference to an individual child – and be game-changing across our school system.
***
Debra De Jesus-Vizzi is the executive director of Student Sponsor Partners in New York City. On Twitter @DebraVizzi & @sspnewyork.
***
Have an op-ed idea or submission for Gotham Gazette? Email This email address is being protected from spambots. You need JavaScript enabled to view it.