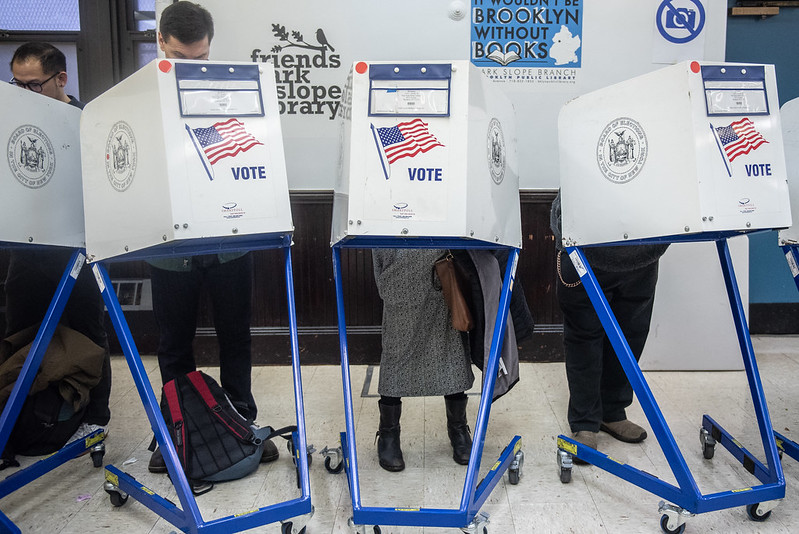 Voters (photo: Michael Appleton/Mayoral Photography Office)
---
A bill to restore the voting rights of people on parole is moving through the New York State Legislature and could land on Governor Andrew Cuomo's desk this spring, according to the bill's Assembly sponsor. Assemblymember Daniel O'Donnell told Gotham Gazette the legislation, which was passed in the State Senate in February, is likely to pass the Assembly "soon" after the state budget is finalized.
"I expect our house to take up the bill shortly. What does shortly mean or what does soon mean depends on when the budget is moved," said O'Donnell, a Democrat representing parts of the Upper West Side and Harlem, in a phone interview Monday. As of Tuesday afternoon, the Legislature appeared on track to pass all the necessary state budget bills by the following day.
The bill would codify a two-year-old policy, enacted through executive order by Governor Andrew Cuomo, to restore voting rights for New Yorkers on parole, reversing a longtime contributor to the mass disenfranchisement of Black and Latino people across the state. It would also require people leaving correctional custody be given notice of their rights and a voter registration form, and includes a public outreach program to educate criminal justice professionals.
"There is no justification for denying someone who is living a law-abiding life the opportunity to vote," O'Donnell said. Because of the strictures of parole supervision, "the reality is that if you are on parole successfully you are living a law-abiding life."
There were roughly 31,000 people on parole in New York last November, according to the Brennan Center for Justice, which analyzed state correctional data obtained under the Freedom of Information Law. Forty-seven percent of them were Black.
In a statement Tuesday afternoon, Cuomo announced his office had reached an agreement on the budget with Senate Majority Leader Andrea Stewart-Cousins and Assembly Speaker Carl Heastie, less than a week after the April 1 start of the new fiscal year. The last day lawmakers will be in session this year is June 10, according to the current legislative calendar, though that is subject to change.
Representatives for Cuomo and Heastie did not return requests for comment for this story. The Senate version of the bill, introduced by Sen. Leroy Comrie, a Queens Democrat, passed on February 24.
A version of the franchise restoration bill was first introduced in the State Legislature in the 2009-2010 legislative session, according to the Senate website, when Democrats briefly controlled the chamber. While a raft of long-stagnant voting reforms has moved forward under the new Democratic control, which since 2019 has extended to both houses of the Legislature and the governor's office, rights restoration has stayed on the back-burner.
In April 2019, Cuomo signed an executive order to do much the same thing. It restored voting rights to people on parole, but through a condit ional pardon system entailing a review and approval of each case by the Cuomo administration. By December, over 49,000 New Yorkers were re-enfranchised, though for roughly 8,000 of them in that initial eight-month span it was only to have those rights revoked either for a parole violation or a new conviction. At the time, officials wouldn't say how many eligible individuals still were not re-enfranchised after the administration's review. Black people in New York City are 12 times more likely to be locked up for parole violations than white people, according to the Center for Employment Opportunity, a reentry service provider.
From 2010 to 2020, the average length of parole was 2.5 years, not including individuals sentenced to parole for life, according to the Brennan Center.
"Part of restoration and second chances should also include your opportunity to participate in the complete civic process," said Victor Pate, an organizer with HALT Solitary, a successful statewide campaign to reform New York's use of solitary confinement. "Once you have been incarcerated and you have been released then it is considered your debt has been paid to society."
Voting rights are also "a core piece of a person's constitutional right to be able to participate wholly and completely in the process," said Pate, who since his release from prison over two decades ago has been an advocate for criminal justice reform including rights restoration legislation. He is part of a coalition of formerly-incarcerated New Yorkers and grassroots organizations pushing for other prison reforms as well, including a bill known as the "fair and timely parole" act to change parole standards and another called the "elder parole bill" to give people over 55 who have served more than 15 years of their sentence the opportunity for parole. "For me, I think there could be no better way to show that we are a system of forgiveness and redemption and second chances," he said.
Advocates like Pate say the re-enfranchisement legislation will improve upon the current executive order by making rights restoration permanent, seamless, and less discretionary, guaranteeing re-enfranchisement immediately upon release from custody. Currently, conditional pardons come with a lag time after release and the entire system could be dismantled by a future governor.
"It's not that this bill will give voting rights to a large class of people that are currently disenfranchised but it makes that policy more permanent...and it also makes the process for restoration more automatic, more transparent, and easier for folks to understand," said Sean Morales-Doyle, a voting rights expert at the Brennan Center, in an interview. The legislation is a top priority for voting reform groups and has for years been on the agenda for the Let NY Vote coalition, a group of organizations pushing statewide election changes.
There is some urgency to enact the legislation now, he said, noting the upcoming June primaries in New York City, when the next mayor of the heavily-Democratic city will likely be chosen. The last day to register to vote before the primaries is May 28. "One of the main benefits of this bill passing is to give clarity and to give people an opportunity to participate. It's important that we not let elections continue to pass by without that clarity," he said -- especially when there seems to be a philosophical agreement across the branches of state government.
The bill requires the state to provide notice to individuals about when their voting rights are revoked and reinstated following involvement in the criminal legal system.
O'Donnell told Gotham Gazette he does not believe the bill will come at a cost to taxpayers; though he did suggest the public education component could be conducted through advertisements on television or at government agencies.
Felony disenfranchisement has been a part of the New York State Consitution since the 19th Century when it was added to circumvent the 15th Amendment, which prohibited racial disenfranchisement following the de jure end of American Slavery. Before that, New York was the only state in the country that required Black men to own land in order to vote, according to a 2009 Brennan Center report entitled "Jim Crow in New York."
Another bill, introduced in 2019 by Senator Kevin Parker and Assemblymember Nily Rozic, both New York City Democrats, is intended to restore voting rights for people who are incarcerated. The legislation does not include a constitutional amendment, which means it could pave the way for the issue to be decided in the courts, if it is ever passed.
Morales-Doyle sees a symbolic element in passing re-enfranchisement legislation, on top of the practical one. "The effects that we are seeing now of a disproportionate disenfranchisement of Black and Latinx voters is exactly what was intended right from the start and it is a shameful relic of Jim Crow still on the books in New York," he said.
Many Black and Latino New Yorkers most directly harmed by racial disparities in policing and the courts "are legally locked out of participating through democracy. They are disenfranchised as a matter of law," he pointed out.
For some New Yorkers, having voting rights restored means having the chance to vote for the first time. Billy Davis, a Rochester resident who has been on parole for the past decade, was arrested when he was 17 -- before he reached voting age -- and spent the next roughly 20 years in prison.
"It feels like you're being left out," he said over the phone Monday. "It feels like you have no choice other than to do something negative as opposed to trying to do something the right way."
Davis' voting rights were restored two years ago under Cuomo's conditional pardon. He says he was told he had the right to vote "one day and I just went down and registered and I've been voting ever since. It gave me the opportunity. You can make a complaint about it or try to do something about it, you know?"
"It gives you a choice because it's always choices at the end of the day," he said. "That's how I think about life anyway -- making decisions, right or wrong."