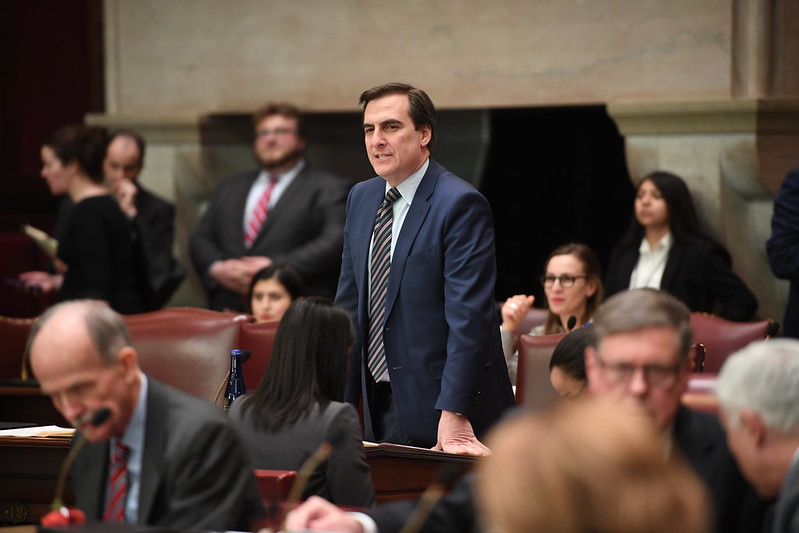 Senator Michael Gianaris (photo: NYS Senate)
---
Last week, with New York's executive branch embroiled in scandal and former Governor Andrew Cuomo set to resign, State Senate Deputy Majority Leader Michael Gianaris appeared on Gotham Gazette's Max Politics Podcast to reflect on Cuomo's reign and resignation, the political dynamics of Lieutenant Governor Kathy Hochul taking over as the state's first woman governor, and policy priorities ahead for the next legislative session.
"There's a lot of really important substantive things that have been put on hold because the governor's been distracted by his scandals," Gianaris told podcast host Ben Max, executive editor of Gotham Gazette, on Friday, August 20, three days before Cuomo's resignation went into effect.
Cuomo stepped down in the wake of an attorney general's report which concluded that he sexually harassed or groped 11 women, most of whom were state employees. On Tuesday, Hochul was sworn in as his successor, becoming the 57th governor of New York State.
On the podcast, Gianaris spoke about his work in the state Senate and his relationship with the disgraced former governor. He offered a damning analysis of what he described as Cuomo's autocratic, tyrannical leadership style, and said Cuomo used manipulative techniques to actively fight against the Democratic majorities in the state Legislature and sought political victories that he could claim solely for himself. And he expressed hope for newly sworn-in Governor Hochul, whose stated willingness to collaborate and consult with others might "correct a lot of the problems" of Cuomo's administration, he said.
"When you're dealing with a bully, the way he is," Gianaris said of Cuomo, "what tends to happen is the bully is very successful until it all falls apart and topples over, and I think that's exactly what happened here."
"He finally had done something and these courageous women came forward in a way that really grabbed a hold of public attention and then the flood gates opened, and everyone started saying, 'I knew this all along,' Gianaris added. "Well, some of us have certainly been yelling about this for ten years with moderate success."
After the Attorney General released her report, which also outlined a "toxic" workplace culture in Cuomo's executive office, Gianaris said that "the behavior finally was so beyond the pale that it penetrated public consciousness," adding, "it finally got through to people that this is not a good guy that we're dealing with."
After "being frozen" for months because of Cuomo's scandals, Gianaris said, "a lot of business of the state has been held up," and said he hopes to "get the state back on track" by moving forward with climate change, healthcare and transportation legislation in the next session.
For Gianaris, the sexual harassment allegations are indicative of the "manipulative" leadership style that made Cuomo a "hindrance to the state," Gianaris said. "You look at the harassment allegation, and that comes from someone who feels so entitled and is so arrogant about their power and their position that he believed he could do anything he wanted to and get away with it," he said. "Even to this day, even though he's announced his resignation, he's still defending his behavior and attacking the courageous women who came forward."
Gianaris called Cuomo a "Machiavellian manipulator" who worked against his own party to secure political victories that would stand as distinctly his own, and were not born of any collaboration with the legislative branch. He said Cuomo went so far as to fight against his party's majority in the state legislature to position himself as the mediator between parties. By encouraging fellow state Democrats not to run, withholding support from them, and even offering them jobs outside of the State Legislature – Gianaris said Cuomo offered him a job as head of the Department of Financial Services to get him out of the Senate – Gianaris described how Cuomo helped "facilitate Republican control of the Senate" so that he could "get the credit for overcoming the Republican Senate that he actually helped keep in place."
Gianaris pointed out that for the last decade, Cuomo has talked frequently about the same three issues that he accomplished under the Republican Senate – passing marriage equality, gun control regulations under the SAFE Act, and a $15 minimum wage. "We have done so much more in the last three years, but those are largely seen as legislative accomplishments," Gianaris said, referring to the period since the Democratic takeover of the State Senate, and thus both houses of the legislature. He cited the Legislature's enactment of the Gender Expression Non-Discrimination Act (GENDA), conversation therapy ban, codification of Roe v. Wade, increase in taxes on the wealthy, passage of strong tenant protection laws, and criminal justice reform. "He never talks about [these policies] because these are not things that he can somehow raise his flag and claim that he miraculously convinced Republicans to adopt," Gianaris said.
Beyond helping to divide the Legislature, Gianaris insisted that Cuomo held back the state's progressive agenda. "Even in his resignation speech, [Cuomo] said, 'We are the progressive capital of the nation.' Well he doesn't say that he tried to keep that from happening for most of the last decade," Gianaris explained. "He was against raising taxes, and then we imposed on him in the budget to agree. Even on the day we passed the Green Light law for drivers licenses for immigrants, he was talking about how he believed it might be unconstitutional to try and slow us down and keep us from passing it."
Despite Cuomo's bullying, he was always able to maintain deniability, Gianaris said, and no one, aside from the women who stepped forward to tell their stories of Cuomo's sexual misconduct, was willing to stand up to Cuomo's political tactics or the "huge war chest" of $18.5 million in campaign cash he raised for a potential fourth term run.
"When you're talking about something as in the weeds as control of the Senate, and he does things in such a manipulative way that you can't really put your finger on it and say he did this, that, and the other thing, he can deny it," like he is doing now with the harassment claims, Gianaris said. "There's things he's gotten away with for a long time because it was hard to prove and so on, but now that you've got multiple women stepping forward with the courage to tell their stories, I think it finally got through to people that this is not a good guy that we're dealing with."
At the time Cuomo announced his resignation, he faced an impeachment investigation by the State Assembly, which was examining the sexual harassment complaints against him, as well as several other issues including his administration's handling of Covid in nursing homes and his alleged use of state resources to promote his pandemic memoir. When Cuomo said he would step down, the Assembly suspended its investigation but still intends to release a report of its findings.
With Cuomo on his way out, Gianaris is somewhat optimistic for Hochul's time as governor. Hochul, in her first public address on Tuesday, promised to take a "fresh and collaborative approach" and pledged to undo damage done by her predecessor, including by instituting reforms to ethics and sexual harassment regulations.
"Many of us have had the same relatively positive experience with Kathy Hochul, which is to say she very much seems to be in favor of outreach and collaboration and consultation," he said. "Now that was all in the context of her as lieutenant governor and in an administration that shut her out of a lot of the important decisions they were involved in. So what she will do once she ascends to this important office remains to be seen."
[Fighting Covid, Distributing Aid and Changing Albany's Culture: Governor Hochul Outlines Priorities in First Public Address]
But Gianaris was careful not to throw his unequivocal support behind Hochul. Although he thinks Hochul's personality is promising for executive leadership, he's not sure where she will land on the substance of issues. "The bigger question for Kathy Hochul in my mind is how she is going to position herself," Gianaris said, adding, "we have a week and a half before the eviction moratorium runs out. Are we going to go back and do something about that or not? These are the questions that her answers on will help determine how people view her politically."
On August 12th, the U.S. Supreme Court struck down a crucial part of New York's eviction moratorium, which expires on August 31. On top of that, the state has doled out barely any of the $2.7 billion in emergency rental assistance available to New Yorkers struggling to pay rent in pandemic conditions.
Gianaris is unsure if the eviction moratorium will be renewed this month but said, "the Senate stands ready to go and do our work if we have willing partners," and spoke of the need to change the way tenants must prove loss of income to help them access funding.
Hochul has already announced an overhaul of the state's rental assistance program that includes protection from eviction for tenants whose applications for relief are under review, bolstered outreach to increase awareness of the relief program in underserved communities, acceleration of the application review process, and a release of county-by-county relief roll out data.
In the meantime, Gianaris is concerned with getting state government running efficiently after weeks of stalling brought on by the distraction of Cuomo's scandal. "Most notably," Gianaris said, "we have about $2 billion dollars in rent relief money that hasn't gone out the door. We are last in the nation for getting that money out."
There is also the NY HERO Act, which hasn't been fully implemented because the Department of Health hasn't certified COVID as a dangerous pandemic. Sponsored by Gianaris with Assembly Member Karines Reyes, and already signed into law by Cuomo, the law requires the Department of Labor and Health to enforce minimum workplace COVID protocols such as social distancing, PPE, testing, and sanitation.
In the coming legislative session, Gianaris hopes to see the implementation of the 2019 Climate Leadership and Community Protection Action Act (CLCPA) that aims to reach net-zero emissions in the state by 2050. He also wants to increase access to health care though he noted concerns from public employee unions and finding the money to pay for the program up-front would make achieving universal care increasingly difficult. And he wants to see his antitrust legislation advance, which he said would hold big tech companies accountable and create more competition in the marketplace. That bill has passed the Senate and awaits approval in the Assembly.
Mass transit also needs a revamp because "the governor played games with the MTA for so long that there's a lot of work to do to get that organization in shape and working for people,"
Gianaris said.
Gianaris said another item "at the top of my list" is getting Governor Hochul to implement the Housing Our Neighbors With Dignity Act (HONDA), recently signed into law by Cuomo, which gives the state funds to purchase distressed properties and turn them into permanent affordable housing.
Gianaris is very supportive of term limits, and said they might have even helped get people like Cuomo out of office sooner. "There comes a point in time when people get stale or out of touch with the people they represent. That was part of Andrew Cuomo's problem in the last couple of years as his circle got tighter and tighter, and the exposure to whether it's the public or other leaders in government becomes more restricted," Gianaris said.
When asked if he would consider a run for Attorney General if incumbent AG Letitia James runs for governor against Hochul, who was quick to announce she would pursue the governorship after finishing Cuomo's term, Gianaris said he would support James' "historic" candidacy and would wait to hear her official announcement before announcing his own intention. He said he wouldn't run against her in a potential attorney general primary.