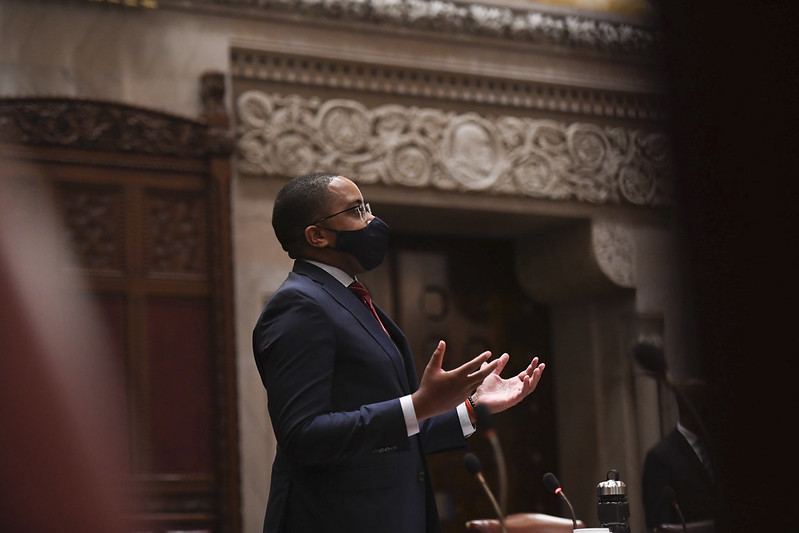 Senator Zellnor Myrie (photo: NY Senate)
---
After a novel round of public hearings throughout the state, the New York State Senate elections committee is gearing up to hold its traditional post-election oversight hearing, where the New York City and State boards of elections will have to answer questions about what went right and what went wrong in the primaries earlier this year.
On September 21, lawmakers will have their perennial conversation with representatives from the boards, as well as good government groups and other election experts, where the former will defend (or apologize for) their decisions and performance, and the latter will renew calls for reform. But this year's hearing will be different, according to Senator Zellnor Myrie, a Brooklyn Democrat and the committee chair, because it will be informed by the testimony of everyday New Yorkers, which the body gathered in four public hearings this summer.
"The previous hearings were really an attempt to listen first and ask questions second and that dynamic will be flipped in this hearing," Myrie told Gotham Gazette in a recent interview. "We will be asking more pointed questions and expecting answers because New Yorkers deserve a world class democracy and it is the boards' responsibility to deliver that."
The summer hearings were unusual because they centered on voters and their experiences, rather than the esoteric and often repetitive oversight hearings led by city and state election administrators and advocates that typically follow major elections. "We had regular, everyday voters just talking about their experiences and some of those were pretty alarming," Myrie said.
Among the issues voters (including some who were poll workers) raised were malfunctioning ballot scanners, absentee ballots that never arrived, and a lack of interpretation services at poll sites. There were also accounts of "poll workers who were incapable or refused to service voters with disabilities," Myrie said.
The hearings helped expose problems faced by upstate voters and election administrators, alike, which are frequently dwarfed in the media by blunders in the five boroughs of New York City, the largest election jurisdiction in the state.
The city Board of Elections' latest failures -- including the release of an inaccurate preliminary vote count in New York's first major ranked-choice voting election -- have reignited a push to reform the state's election administration structure, which advocates say contributes to inefficiency and a lack of accountability. But in some upstate county boards, where the operations are smaller and resources thinner, administrators claim the bipartisan format, where the two major political parties hold equal power, is the only thing maintaining checks and balances.
"Our Bi-partisan board structure allows for a system where results are not questioned like we see throughout other states," wrote Dustin Czarny, the Democratic commissioner of the Onondaga County Board of Elections, in an email to Gotham Gazette. He said the boards need minimum staffing requirements, mandatory training, standards for data transparency, and the authority to discipline "non-compliant boards," all of which would come from the State Board of Elections, which has oversight and regulatory power over county boards and the New York City Board of Elections.
"The structure of who runs the boards is often an easy target for those not as versed in the election process," Czarny wrote. "If you don't provide adequate resources, training, and accountability then it won't matter who runs the BOEs, they will be set up for failure."
A common theme of the statewide hearings, Myrie said, was "the notion that any wholesale reform to the boards shouldn't be one-size-fits-all and that there are varying needs throughout the state and various sources of problems."
Creating a non-partisan election administration system would require changes to the state constitution, which can take years. Myrie plans to produce a report in the coming weeks or months with an analysis of the hearings and recommendations for reform "large and small," including measures that can be taken without a constitutional amendment.
One bill in the Legislature, sponsored by Senator Liz Krueger and Assemblymember Nily Rozic, would require New York City's election commissioners to have professional qualifications and create standards for certain key functions like appointing co-executive directors and expending the budget, among other measures. These types of changes, which could be made statutorily, without a constitutional amendment, would help "professionalize" the New York City Board of Elections and add levels of accountability to its operations by removing political patronage from board appointments. That patronage, in which party leaders rather than elected officials choose the board's staff, in some cases down to the rank and file and rife with nepotism, has been diagnosed as the cause of much of the inefficiency and ineptitude plaguing election administration in the country's biggest city.
The pandemic has also exacerbated problems and in some places left commissioners struggling to balance the safety of voters with their right to access the ballot box. At one of the upstate hearings, "we heard stories of Black voters in Syracuse who had polling sites moved without their knowledge," Myrie said.
Czarny, whose county includes Syracuse, told Gotham Gazette that long-time polling locations at Toomey Abbott Apartments and Brighton Tower Apartments, two senior living facilities, had to be moved in the 2020 primary and general elections and the June 2021 primaries because of the risk of spreading the virus among the vulnerable populations living there. The Onondaga board notified residents by mail before each election, as well as campaigns, he said.
"It is unfortunate that we had to move those polling places but in the pre-vaccine portion of the epidemic we could not afford residents to be exposed," he wrote. "Our plan is to open polling sites back in those buildings this fall, however we are closely monitoring the situation with the rise in the Delta variant."
In total, 20 polling places at senior living facilities in Onondaga County were closed during the pandemic, he said.
Critically, the September 21 hearing will take aim at the structure of Board of Elections operations in New York City. "What I am hoping we gain out of this hearing on the 21st is really direct responses to why this structure has contributed to the failures that we see in every single election," Myrie said. "There is an accountability issue, particularly in the New York City structure, where the bipartisan nature actually in certain instances is farcical."
At the New York City hearing this summer, which took place at Medgar Evers College in July, for example, lawmakers heard testimony from "Democrats who were working as poll workers under a Republican nametag and only doing so to meet this requirement of bipartisan administration," Myrie said.
"The Board stands ready to participate at the upcoming hearing before the New York State Senate," wrote Valerie Diaz, a spokesperson for the New York City Board of Elections, in response to Myrie's comments.
The Senate has also sent invitations to testify to the board of elections involved in the calamitous general election in Congressional District 22 last year. In that race, the Oneida County Board of Elections failed to register 2,400 potential voters ahead of a highly competitive contest, leading to the resignation of both elections commissioners. That House seat, with the victory of Republican Claudia Tenney over incumbent Democrat Anthony Brindisi in a rematch from two years prior, was the last in the country to be certified.
"I'm very interested in hearing what their response is going to be to what went wrong and how we can do better," Myrie said.
The Senate elections hearing will take place on Tuesday, September 21 at 10 a.m. in the Legislative Office Building in Albany (the proceedings will be streamed live on the Senate's website and recorded). Oral testimony is by invitation only.