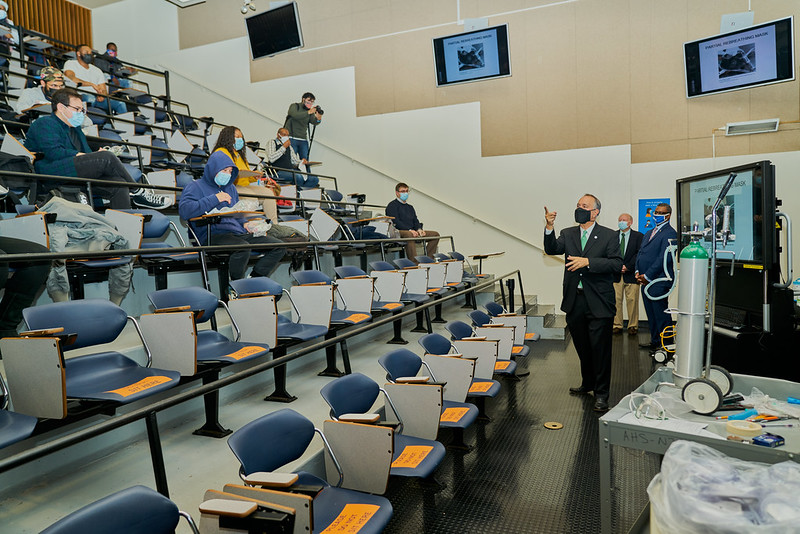 A CUNY classroom (photo: @cunyedu)
---
During a hearing this past Friday, November 12, the New York City Council sought new information about the use and treatment of adjunct faculty at the City University of New York (CUNY), a controversial topic that has become more fraught amid the COVID-19 pandemic.
The virtual hearing, held by the Council's higher education committee and chaired by Council Member Inez Barron, a Brooklyn Democrat, included testimony from two main CUNY officials: Interim Executive Vice Chancellor and University Provost Daniel Lemons and Senior Vice Chancellor and Chief Financial Officer Matthew Sapienza. Other members of the CUNY community also testified.
In her opening statement, Barron -- a former educator for the New York City Department of Education -- stressed the importance of adjunct faculty, who are not full professors but teach courses, to CUNY and students' education. She said she wanted to learn more about the university's decision to let go 486 full-time teaching positions and 2,800 adjunct faculty members and some of the school's financial challenges, including a $52 million loss in revenue due to lower student enrollment and $75 million in unplanned emergency costs. Some of those issues have been at least partially addressed by federal COVID-19 relief funds.
"At today's hearing, I am interested in learning about current adjuncts, laid off adjuncts, and rehired adjuncts, as well as the status of continuing education teachers. I want to take a deep dive into what is driving the school's decisions and to know how it is impacting all students," Barron said of her objectives during opening remarks.
Vice Chancellor Lemons acknowledged the impacts of the COVID-19 pandemic on New York City and CUNY, and said that the university could not rehire some of the adjunct part-time professors due to lower student enrollment and budget constraints. He reaffirmed CUNY's commitment to value its adjunct faculty members' contributions and said he and others helped ensure part-time instructors have enough teaching hours to prevent adjunct faculty from losing their health benefits. Lemons also emphasized the importance of philanthropic donations, such as the $10 million gift from Andrew W. Mellon Foundation, to help CUNY reinstate some of the adjunct faculty members who were laid off, Lemons said.
Lemons also talked up the university's achievements, including newly-implemented health measures to ensure the safety of faculty members and students in accordance with COVID-19 federal guidelines. He noted that as the result of the school's transition to online teaching and learning, the CUNY School of Professional Studies received the 2020 University Association for Professional, Continuing, Online Education Mid-Atlantic Region Award for Faculty Development.
Addressing CUNY enrollment of students of color in community colleges, Lemons said the pandemic has exacerbated some of the systemic problems for those who wish to access higher education. He emphasized the importance of tackling these issues, citing a major pilot initiative, called the Bronx Self Demonstration Project, launched by CUNY to create a comprehensive approach to tackle students' well-being and help boost the enrollment rate of students of color. The university also ran the largest debt-forgiveness program in the country, according to Lemons, easing as much as $95 million of students' debts, in large part thanks to CUNY's use of federal relief funds.
Vice Chancellor Sapienza also discussed contributions from adjunct faculty and highlighted the university's commitment to support its members. These commitments, as laid out in the university's contract, include increasing adjunct faculty salaries, integrating part-time faculty members to the CUNY campuses, and connecting adjunct faculty with students.
"We value very much the critical contribution of our adjuncts, which is underscored in the Collective Bargaining Agreements that were announced in October 2019," Sapienza said. "An agreement that called for adjuncts' pay-per-course be historically increased. The contract with the Professional Staff Congress was agreed to within the first six months of Chancellor Matos Rodriguez's administration and reflected his and the university's resolute commitment to tens of thousands of our staff."
Along with enrollment and financial challenges for CUNY, the pandemic has created additional problems regarding the health and education of the university's students and staff, requiring CUNY to offer more services around mental health and educational support.
[Read: CUNY Confronts Series of Challenges as University System Nears In-Person Reopening]
Under questioning from Barron, Lemons said there are now about 12,000 adjunct faculty members at CUNY. But CUNY has not broken down the demographics of these faculty members and representatives said they would follow up with Barron on that information.
Sapienza said the number of adjunct faculty has been stable this year after last year's cuts. Lemons also mentioned that faculty changes are complex due to a number of factors, including student enrollment, course offerings, and more.
Barron asked about how many adjunct faculty members who were laid off last year were not reappointed, but Lemons said they did not have that data. Barron emphasized the importance of these numbers in order to keep tabs on which faculty that lost work had or had not regained it.
Barron also asked specifically about the financial impact of COVID-19 on adjunct faculty employment at CUNY. Sapienza acknowledged a variety of financial burdens that CUNY has been facing, such as uncertainty about the state's and city's funding and the opening of school's facilities, leading to cuts. He emphasized that, through the establishment of CUNY's Vacancy Review Board, the university is continuing to monitor its budget and faculty numbers.
According to Sapienza, CUNY gradually reduced its full-time staff numbers from 19,000 to about 18,000 from April 2020 to September 2021, saving the school $71 million annually going forward. The university also saved $3 million in the 2021 fiscal year by reducing the number of adjunct faculty members. CUNY's financial plans will be contingent on the level of state and city funding, as well as the universities' and community colleges' enrollment rates, Sapienza said.
When questioned by Barron, Lemons said that the university estimated that there were about 155 faculty members who lost their health insurance in 2019-2020 and 135 members in 2020-2021. The university worked to ensure that part-time instructors always have enough teaching hours to be qualified for health insurance benefits during the pandemic, Lemons said. He pledted that CUNY is working to minimize the number of staff members who lose health benefits going forward.
Discussing the correlation between the size of the faculty and the number of majors or courses offered by CUNY, Lemons admitted that there is a correlation, including demands for classes' sections, courses, or majors that the university could not address with a smaller faculty. According to Lemons, most of these instances happened in community colleges. Lemons said the administration is working to find the number of courses and majors that are not offered due to the reduction of adjuncts and would follow up with Council Member Barron.
Barron also questioned how CUNY's current class size compared to the pre-pandemic class size. Lemons said that the class size depends on the demand for certain courses, how the instructors organize the class, and the type of courses that were offered. He reaffirmed that the university has not seen a dramatic increase in class size because of the pandemic.
Asked by Barron, Lemons discussed the self-sustained programs in CUNY's Continuing and Professional Education that aid students beyond their college education. These programs are funded by other stakeholders, including the union CUNY Professional Staff Congress or from city, state, and federal levels, that can address the professional needs of CUNY students.
Toward the end of the hearing, Barron inquired more about CUNY's use of federal funding, especially from the CARES Act, and how it was distributed to help CUNY's Continuing and Professional Education programs.
Sapienza explained that, when determining the size of grants for colleges across the country, the federal Department of Education used a formula that was based on the number of students in specific degree programs. This formula did not account for the number of students who took CUNY's Continuing and Professional Education programs, so the university has not distributed federal funding for these programs. According to Lemons, the university maintained its commitment to support the administration of these programs.
Barron also raised questions about CUNY's plan to use $100 million of federal allocation it received from the state budget. According to Sapienza, the university is working to develop plans to use the funding and bring these plans for state approval. Sapienza also highlighted the different needs that each college within CUNY could lead to different funding requests.
CUNY is also requesting an additional $416 million in the next city budget plan for fiscal year 2022, which begins July 1, 2021. Sapienza said he would follow up with Council Member Barron on the details of the money requested so that the City Council can better understand how CUNY plans to use this requested funding. According to Sapienza, CUNY is planning to offer 500 full-time teaching positions for its adjunct faculties.
James Davis, President of PSC-CUNY, also testified at the City Council hearing. He praised CUNY's requested budget as "worthy of its students' needs as well as of faculty's and staff's." Davis especially highlighted CUNY's plan to provide a career pathway for part-time faculty to become full-time professors while discussing the hardships that adjuncts face, including low wages and larger class sizes. He called on CUNY and the City Council to continue to tackle these issues.
[Read: CUNY Confronts Series of Challenges as University System Nears In-Person Reopening]