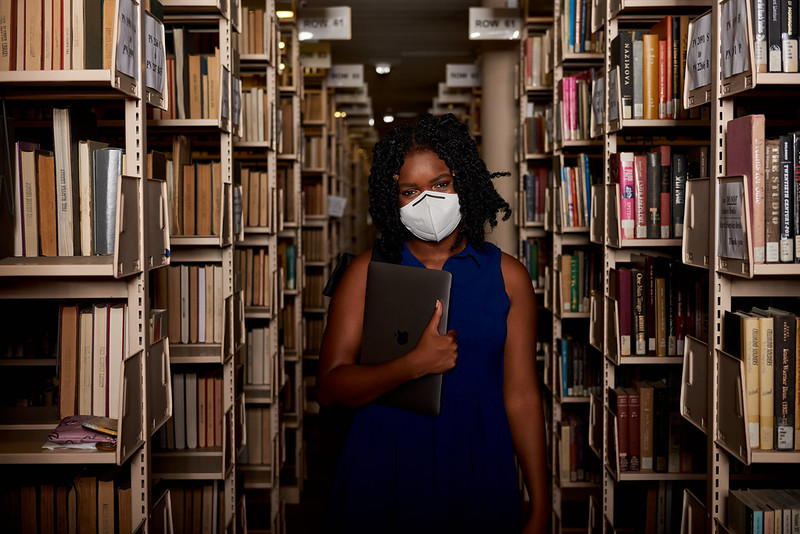 On campus at CUNY (photo: @cunyedu)
---
The City University of New York, CUNY, is facing budget constraints, student enrollment questions, union demands, covid vaccination pressure, and other challenges as its long-awaited in-person reopening approaches. COVID-19 and the Delta variant that has been spreading in the city has heightened concerns about those reopening plans, while university leadership, faculty, staff, and students continue to plot and implement ways to improve the academic, economic, and mental health of the student body that has endured significant hardship over the past year-and-a-half.
In an announcement to faculty and staff on July 26, CUNY said it will be delaying its return to in-person work, which was previously scheduled for August 2, by two weeks, citing the need for additional time to prepare campuses for reopening.
With the August 16 staff return drawing near, the Professional Staff Congress at CUNY (PSC-CUNY) — which represents some 30,000 faculty and staff — is raising concerns about the state of CUNY facilities and advocating for additional safety measures to prevent an outbreak of COVID-19 on campuses. And while a major influx of federal funds did come through, the city's public university system is also dealing with concerns about city and state budget allocations amid a pandemic that devastated the entire city, its schools, economy, and more.
Each school's reopening plan, made in accordance with university-wide policies and varying some among the campuses, must be approved by CUNY prior to the August 16 reopening date. Students are due back to campus in late August, and CUNY's range of in-person, hybrid, and virtual classes officially begin on August 25.
All students attending fully in-person or hybrid in-person/online classes at any CUNY campus must submit proof of vaccination against COVID-19 by August 10, and unvaccinated students must opt for virtual courses only. Not all courses will be offered virtually, CUNY has said. CUNY Chancellor Félix V. Matos Rodríguez has urged faculty and staff to get vaccinated, but it is not required to return to the workplace.
"As I'm sure you are aware, Governor Cuomo announced this week that all CUNY and SUNY students will be required to be vaccinated to attend in-person classes in the fall," Matos Rodríguez wrote in an update to faculty and staff in May. "That mandate does not include faculty and staff but getting vaccinated is the most important step that each of us can take to protect our collective safety moving forward."
In an internal survey of nearly one-third of CUNY students, faculty, and staff, 59% of students, 87% of faculty, and 70% of staff report being fully or partially vaccinated as of early July. Sixteen percent of students, 3% of faculty, and 9% of staff indicated that they did not plan to get vaccinated, while another 8% of students, 7% of faculty, and 14% of staff said that they preferred not to answer if they were vaccinated.
"Put simply, getting the vaccine remains the single most important thing that we can do, individually and collectively, to advance and sustain our forward momentum," Matos Rodríguez wrote in an update about the survey. "Everything about this pandemic remains situational and fluid, and all decision-making will continue to reflect the most up-to-date guidance from local, state and national public health authorities in the interest of safeguarding our community."
Like many other colleges and universities across the country, CUNY has seen a recent decline in enrollment, especially troubling for a system that serves so many low-income New Yorkers and is a major engine for socio-economic mobility.
"There was a 5.1 percent enrollment dip in Fall 2020 compared to Fall 2019 reflecting nationwide impacts of COVID-19 on higher education," a CUNY spokesperson wrote in an email to Gotham Gazette. "We don't have Fall 2021 figures yet."
On July 28, Governor Andrew Cuomo announced the CUNY Comeback Program, which plans to eliminate $125 million in unpaid debt for at least 50,000 CUNY students. The program will also be distributing another round of student emergency grants for those who experienced financial hardships during the pandemic but did not accrue debt. CUNY has already distributed many of those grants funded through federal aid packages, such as over $230 million in relief to students.
"This compassionate action will allow CUNY students and recent graduates to move ahead in pursuit of their educational and career objectives without the specter of unpaid tuition and fees," Chancellor Matos Rodríguez said in an announcement with the governor. "This landmark measure will also enhance CUNY's important contributions to New York's economic recovery."
At a New York City Council oversight hearing in June, Interim Vice Chancellor for Student Affairs and Enrollment management Denise Maybank reviewed CUNY's various enrollment campaigns that target certain underrepresented demographics.
For example, in response to decreased enrollment of Black and Latino men, the university launched the CUNY Black Male Initiative to provide additional academic and social support to those traditionally underrepresented populations, according to Maybank.
Maybank also praised CUNY's Accelerated Study in Associate Programs (ASAP), which aim to help students get their associate degrees as quickly as possible and graduate at least 50% of students within three years.
CUNY's Tutor Corps launched its summer 2021 program — formed with support from the Center for Youth Employment, Department of Youth and Community Development, and the Mayor's Fund to Advance New York City — in July of this year. In the program, high school and college students work as tutors and teaching assistants to middle schoolers in STEM classes across the city. More than 250 undergraduate students from CUNY's 18 campuses are participating in the program this year, according to a University release.
"It's a great thing for the seniors who graduated from the DOE," Rodríguez said in a July 23 interview with Spectrum News on Friday. "It's a way for our students to earn some money, have a sense of worth, and it gives the new students friends immediately in the new campus. So it's a win-win for everybody"
During a July 6 CUNY Board of Trustees meeting, Rodríguez outlined CUNY's budget for the 2022 fiscal year, which runs from June 30, 2021 to July 1, 2022. CUNY will have a total operating budget of $3.8 billion for its 25 different campuses and central offices. The budget is a $36.3 million, or about 1%, increase from the 2021 fiscal year. Most of CUNY's revenue comes from tuition and state funding — some $753.8 million and $2.01 billion, respectively.
New York City also funds CUNY, largely the community colleges, though that fell some $67 million for the 2022 fiscal year. About 14% of CUNY's budget consists of city funds, Matos Rodriguez said in the Board meeting. State support in the operating budget increased by 3%, or some $61.2 million, and CUNY's federal aid totaled $691 million, an enormous pandemic-relief amount that has helped CUNY to aid students, pay faculty and staff, and prepare its campuses for a covid-era reopening.
Back to Campus
During the June 23 hearing held by the City Council's Committee on Higher Education, the committee heard testimony from CUNY administrators, faculty, and students regarding CUNY's return to in-person operation. The hearing largely centered on CUNY's use of federal funds and Fall 2021 campus reopening plans.
"It is imperative that CUNY's return to campus is not just about returning to business as usual," said Brooklyn Council Member Inez Barron, who chairs the committee. "The university must be responsive to the heightened needs of its community as well as committed [to] closing the gaps exacerbated by the pandemic."
As New York City emerged as a global epicenter of the COVID-19 pandemic in March 2020, some 270,000 students and 20,000 faculty members at the nation's largest public university system began virtual and distance learning. The City Council hearing came just over a month before CUNY staff are expected to return to their workplaces for in-person operations.
"While the state has significantly relaxed COVID protocols…CUNY is committed to continue to increase in-person activities in a gradual and strategic manner that will ensure the continued health and safety of our community," Hector Batista, CUNY's executive vice chancellor and chief operating officer, said in his testimony.
In line with Governor Cuomo's announcement that COVID-19 vaccines would be required for all students attending in-person classes, the CUNY Board of Trustees approved a COVID-19 vaccination mandate for all students registering for in-person classes for the upcoming Fall term. The mandate, which was approved in the July 6 Board meeting, requires that students get their final vaccination shot by August 10.
Daniel Lemons, interim executive vice chancellor and university provost, said in the June Council hearing that regardless of student vaccination requirements, there will still be mandatory weekly testing and masking requirements for all unvaccinated faculty and staff beginning in the fall.
"We'll have a combination of testing and vaccines, but again the message is, and we've seen it with the rise of the variant, you know, please vaccinate, vaccinate, vaccinate," Rodríguez said in the interview with Spectrum News on Friday.
CUNY has also launched a campaign to encourage members of the CUNY community to get vaccinated as soon as possible. The campaign, which is called #VaxUpCUNY, hopes to ease vaccine hesitancy and anxiety in communities of color particularly.
Students who are not vaccinated must show evidence of a negative COVID-19 test within seven days prior to visiting campus in order to access facilities and other services, according to CUNY's vaccination policies.
"So we'll have this mixed population of vaccinated mostly and unvaccinated population on the campus," said James Davis, PSC-CUNY president and an English professor at Brooklyn College, in an interview with Gotham Gazette. "And so in that circumstance we just want to really make sure that measures are being taken to prevent the introduction of the virus onto the campus and then the spread in case the virus does go on the campus."
Another complication arises in the approval of different campuses' reopening plans — though all reopening plans have been submitted to CUNY, not all of them have been approved, Davis said. Other campuses have been asked to revise and resubmit their reopening plans. The University has also agreed to allow labor unions to conduct walkthroughs of the facilities that their members will occupy.
"And the issue we're running into now is a kind of bottleneck between, on the one side, the approvals for the reopening plans are delayed longer than I think anyone wanted, and therefore our ability to accompany management on these pre-occupancy walkthroughs has also been delayed," Davis said. "So we're just very concerned at this point about being able to conduct the walkthroughs with management, identify any potential issues or trouble spots and raise questions that we might have as a labor union, get timely responses and remediation, and have that all be done in time ..."
Ventilation standards, accommodations for remote work, and easily accessible reopening plans and inspection reports are among many of PSC-CUNY's health and safety demands. At the City Council hearing, Diane Banks, chair of PSC's health and safety committee and assistant professor of biological sciences at Bronx Community College, recommended funding to update and install HVAC systems in poorly-ventilated CUNY buildings, as well as a delay in the reopening of buildings that do not meet ASHRAE safety standards.
Jean Grassman, one of PSC's lead coordinators for its Health and Safety Watchdogs committee and associate professor of Environmental, Occupational, and Geospatial Health Sciences at Brooklyn College, said in an interview with Gotham Gazette that the health and safety committee is concerned by CUNY's campus entry policy.
"We would like to have CUNY require to show either vaccination status or indication of…a negative PCR test within the last seven days, or rapid tests within the last six hours," Grassman said. "And they would like to do something more relaxed, which is the vaccination status, and then covid test within the last week, and that really worries us."
Another concern, Grassman said, is the lack of a central mask requirement for all CUNY campuses in the fall. The idea that unvaccinated individuals will wear masks and adhere to an honor system is unworkable, she said, so PSC-CUNY is advocating for universal masking at all schools.
"Also, students will be on campus who aren't necessarily taking [in-person] classes," Grassman said. "They come in to use the library, to, you know, do things with the bursar. Students may be taking remote courses, but they will extensively be coming onto campus, and if there is a relaxed system…they will be on campus and potentially infectious."
Grassman said that PSC-CUNY's list of demands are not excessive and necessary to ensure safety on campus. The union is not seeking a vaccine mandate for faculty and staff.
"We just don't want any rush into facilities that you know haven't really been cleared in terms of ventilation occupancy standards," Davis said. "...There's going to be a lot of troubleshooting and we're just expecting it's going to be an iterative process and we'd like to see the University show some flexibility with their reopening targets."
In the Friday interview with Spectrum News, Rodríguez emphasized that CUNY will be following the guidelines outlined by the Centers for Disease Control, the city, and the state as it resumes in-person work and learning.
"We're always going to have to keep our ears close to the ground," Rodríguez said. "I think we learned that in the last year. … Right now, the guidelines state that individuals who are vaccinated do not have to wear a mask. I mean that is their choice. But individuals who are not vaccinated do have to wear a mask. So far that's the approach that we're taking."
"Treading Water"
In a June 15 op-ed in City & State, prior to the passage of New York City's $98.7 billion "recovery budget," as Mayor de Blasio called it, Chancellor Matos Rodríguez argued that rectifying demographic disparities in higher education and ensuring an equitable economic recovery from COVID-19 require investment in the city's public education. Outlining CUNY's important role in the city's overall recovery, he urged the next mayor, which will likely be Democratic nominee Eric Adams, to restore any impending reductions to CUNY's budget. Two weeks later, the City Council and de Blasio agreed to a budget for the next fiscal year that cut CUNY's funding by $67 million.
CUNY, which has long been recognized as one of the most diverse university systems in the United States, has a student body that is 30% Hispanic, 25% Black, 23% White, and 21% Asian and Pacific Islander. According to the 2021 U.S. News & World Report rankings, CUNY campuses make up four of the top five most diverse regional universities in the country.
During the City Council hearing, Mojubaolu Olufunke Okome, a political science professor at Brooklyn College and University Faculty Senate representative, emphasized the importance of returning to campus with equity in mind. She suggested reforms ranging from job security for adjunct faculty and staff to increasing funding for ethnic studies programs.
"CUNY is involved in building human capital, and has been noted to be a powerful engine of socioeconomic mobility in our city, state, and country," Okome said. "Now more than ever, it should be adequately funded, and it should be given the material conditions that it needs to succeed in its mission."
Lemons said at the hearing that, in line with existing societal inequities exacerbated by the pandemic, many CUNY students who worked either full or part-time in the service industry were impacted by the wide-ranging layoffs at the onset of COVID-19.
"Such an immediate and unexpected loss of income was devastating for our students, many of whom are supporting a family while earning their degree," Lemons said. "A survey revealed last year that over 40% had lost their jobs during the pandemic. In response, CUNY worked assiduously to secure and equitably distribute close to $118 million to 198,000 of our students through emergency relief funds through the Coronavirus Aid, Relief, and Economic Security package, CARES."
The CARES funding was followed by a second round of relief payments in early May, where CUNY distributed another $118 million in federal pandemic emergency funding to 161,000 of its students, according to its website. The funding had been secured through the federal Coronavirus Response and Relief Supplemental Appropriations Act, and provided grants averaging $750 to aid student expenses. CUNY will also distribute additional federal funds to the majority of students during the upcoming fall term, Lemons said.
City Council Member Helen Rosenthal said during a period of questioning at the June hearing that the many messages she has received from CUNY students who cannot afford to return in the fall paint a different picture.
"What I'm hearing from students is the demand is overwhelming," Rosenthal said. "And I'm not saying it's easy and I'm not saying it's a slam dunk, you know, y'all are doing God's work, but this is part of the job. [It] is meeting all of these students' needs and meeting the moment."
A third round of federal funding, secured through the American Rescue Plan Act, will provide CUNY with an additional $399 million in relief this year. Matos Rodríguez said in the July 6 Board meeting that they estimate about 10% of the funding was spent in the fiscal year that ended on June 30. The rest of CUNY's federal relief funds — some $684 million over several packages — will be spent over the next two years.
In fiscal year 2022, according to the chancellor on July 6, CUNY plans to spend $136 million to cover projected revenue losses, $125 million on student support and retention, $20 million to ensure the safe reopening of campuses, $8 million for online program development, $5 million on mental health services, and $4 million on faculty professional development.
The $5 million for mental health services will be used to expand clinical staff at CUNY's campus health and wellness centers and increase virtual counseling services, according to a University release.
Over the next two years, an additional $386 million of CUNY's federal funding will be made available for CUNY colleges to create campus-specific proposals.
"We're incredibly grateful and so fortunate that we've received these federal stimulus funds and we'll have the use of them over the next two years," Rodríguez said at the Board meeting. "But as I pointed out earlier, these are one-time funds and once we spend them, they're gone. They're not part of our baseline, ongoing budget."
Rodríguez also said that in the 2021 third quarter financial report released in May, most of CUNY's community colleges and several senior colleges showed structural deficits as a result of the pandemic.
CUNY Board member Henry Berger expressed frustration at the city and state funding for the upcoming fiscal year. The state funding is only enough to keep CUNY "treading water," he said, and the city funding has also not done CUNY any favors.
"We got $67 million less from the city," Berger said. "That comes out of our operating budget. We have to make that up. The only good news is that in the financial plan going forward, it's proposed to be restored next year. This year, we're still down $67 million. This means there's pressure on all the campuses."
The federal funds are great, Berger said, but they cannot be used for a lot of the things that CUNY's operating budget requires. He suggested starting an organized campaign as soon as CUNY returns in the fall to make sure their voices are heard when state and city budgets are created in September and January, respectively. The state and city funding this year is very disappointing, Berger said, and CUNY has to work hard to make sure it doesn't happen again.
"We have to get together," Berger said. "It's the Board, it's the students, it's the faculty, it's the staff. If we don't ask, we ain't gonna get."
Note- this article has been updated.