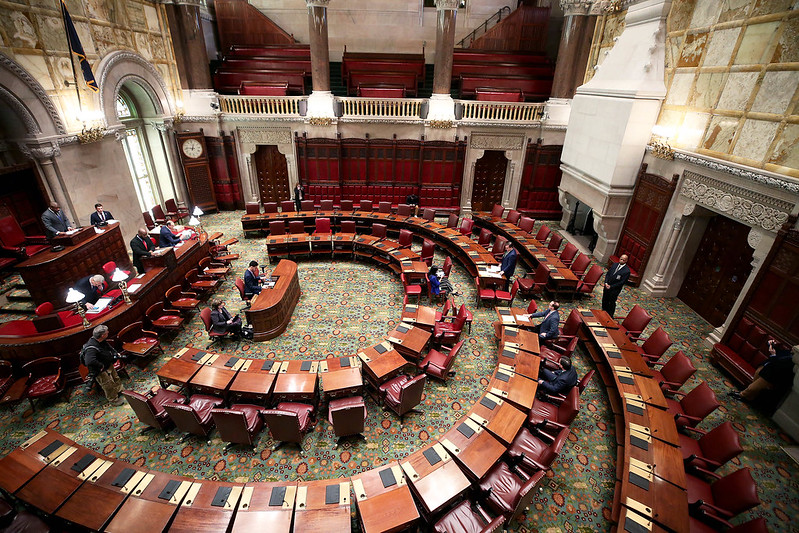 The New York State Senate (photo: NY Senate Media Services)
---
For years the Democratic majority of the New York State Assembly advanced bills its members knew the Republican-controlled State Senate wouldn't pass. Still other legislation, especially related to government ethics, transparency, and elections, stewed on the backburner with neither majority moving it forward. Those were the days of two-party rule in Albany, of a group of breakaway Democrats who buoyed Republicans, and a governor happy to straddle the middle.
Since Democrats took over the State Senate in 2019 those dynamics have shifted. The floodgates opened to a stream of progressive and reform legislation that had long been blocked by Republicans, aided by the Democratic faction known as the Independent Democratic Conference (IDC), or remained on the Assembly's cutting room floor of one-house bills. But for the last three years of one-party rule, even as they passed a long list of priorities, a new sticking-point has emerged in the path of several reform efforts: Assembly Democrats.
"The Senate has its foot on the gas and the Assembly has its foot on the break, generally speaking," said Blair Horner, executive director of the good government group NYPIRG. "Now of course that's not always true," he added, "and sometimes there are good reasons to have your foot on the brake."
In the first week of the 2019 session, lawmakers passed major changes to elections and gender discrimination statutes that had been in the offing for years. Since then, both chambers have passed a slew of weighty legislation dealing with climate change, reproductive rights, rent regulation, bail and discovery, and campaign finance, to name a few.
Yet, for many other bills — including reforms in the face of government scandal — the Assembly has been a tempering force amidst the gusto. In the most recent session, January-June 2021, the State Senate passed a raft of legislation aimed at addressing government ethics, workplace harassment, domestic violence, human trafficking, gun control, clean water, and street safety -- all without movement in the Assembly.
Even on some bills that have passed in the 'new' Albany, like a major new campaign finance system with a public matching component, the Assembly almost torpedoed reform while the Senate wanted to go further. More recently, as the Senate has appeared inclined to pursue significant reforms to the dysfunctional New York City Board of Elections, the Assembly Speaker has indicated no such sense of urgency.
Governor Andrew Cuomo was known for pitting political blocs against one another and wielding his immense power over the budget and legislative process to sink or float most measures. One Democratic leader, Senator Michael Gianaris of Queens, recently called him a "Machiavellian manipulator." Governor Kathy Hochul, who took office in August after Cuomo's resignation amid scandal, has signaled support for a more collaborative culture in Albany and has taken administrative steps to improve government ethics and transparency. Her full impact on the interplay between the Senate and the Assembly, once an epicenter of Cuomo's politicking, will become clearer as the next legislative session approaches.
Senate Majority Leader Andrea Stewart-Cousins did not deny a divide with the Assembly when asked about it in a September interview with Gotham Gazette. "I'll leave that analysis for others," she said, noting the last three legislative sessions were "the most productive that this state has seen in its history," which couldn't be done without both houses passing bills.
Asked why Assembly Democrats aren't moving as fast on reform legislation, like an omnibus bill to overhaul the maligned Joint Commission on Public Ethics (JCOPE), Stewart-Cousins demurred. "You'd have to ask them," she said. "Sometimes it's just working the details. Sometimes it's things that are more significant than that. But I'm not in a position to speak for them." The Senate passage in May of the ethics reform bill was one of the rare times a bill passes one house without having been introduced in the other.
In a May interview on Spectrum News' Capital Tonight, Heastie said the Senate had not coordinated with the Assembly, though he did not say he supported the bill. "We will always be open to making sure that New Yorkers feel that their government is functioning in an honest and open and transparent and in an efficient way...but this was a bill the Senate passed that they really did not engage with the Assembly on," he said.
Heastie's office did not respond to requests for comment for this story.
The explanations for the Senate outpacing the Assembly on reform are a mix of structure, culture, and ideology. The Senate is a smaller body, roughly a third the size of the Assembly, where lawmakers say it is easier to build consensus. Many of its Democratic members, long the minority during the IDC era, are now in power and eager to score legislative wins under a leader known for independence and few ties to party machinery. The newer electees -- six of whom defeated IDC incumbents -- ran largely on progressive and reform platforms buoyed by anti-Trump, anti-IDC, and anti-Cuomo sentiments in 2018.
The Assembly, on the other hand, is a more "hierarchical" body, according to insiders, with control over lawmaking held tightly by Heastie and his central staff. Having run the Bronx County Democratic Party until he was selected as speaker, Heastie has been emblematic of New York machine politics, with stronger links to Cuomo and the Democratic establishment than Stewart-Cousins and a far more skeptical eye toward ethics and transparency reforms. He was chosen by Assembly members to replace longtime Speaker Sheldon Silver in 2015, after Silver was arrested on federal corruption charges.
With Assembly Democrats having held the majority for over four decades, "a sort of pattern" has taken shape, according to Senator Liz Krueger, a Manhattan Democrat who has been in the chamber since 2002. The Assembly is governed by strict procedures dictated by committee chairs, each hand-selected by the speaker. The model is "you wait your turn," Krueger said, an apparent reference to leadership controlling the flow of legislation and who can advance it.
"I do think the Senate from time to time is a smaller body and is able to act more effectively," said Assembly Member Robert Carroll, a Brooklyn Democrat who, with Krueger, sponsors a state constitutional amendment to scrap JCOPE entirely, along with the Legislature's own Legislative Ethics Commission, and replace both with a more independent government ethics oversight body.
"Or because it doesn't have as many institutional members they're just ready to forge ahead, which can sometimes be frustrating from the Assembly perspective," he added.
Senate Democrats "are essentially insurgents that took power," said John Kaehny, executive director of Reinvent Albany, another good government group, while Assembly Democrats have been in power for much longer. According to Horner of NYPIRG, who previously worked in Cuomo's attorney general's office, "it's historical institutions that often act as a brake."
Responding to Scandal
The omnibus JCOPE reform bill is one of several pieces of legislation intended to address some of the behavior that led to Cuomo's resignation in August.
JCOPE's members have largely been seen as under the influence of those who appoint them -- the governor and legislative leaders -- and have the ability to shield them from ethics inquiries. The body was the origin of a leaked secret 2019 vote related to an ethics probe of a former top aide to Cuomo. More recently, its staff conditionally approved Cuomo's pandemic memoir, later revealed to have been written using state resources, and its newly-constituted board subsequently revoked that approval after Cuomo's resignation, new appointments by Hochul, and a public backlash.
The bill would change some of the body's most obstructive partisan strictures -- namely the ability of one party to unilaterally stop an investigation. "Not even having an Assembly sponsor shows you the gap" between the Senate and Assembly, Kaehny said of the legislation.
Senator Alessandra Biaggi, a Bronx Democrat who chairs her chamber's ethics committee and sponsors the bill, said she had asked the Assembly's ethics chair, Brooklyn Democrat Jo Anne Simon, to carry it in her chamber. "She said yes," according to Biaggi, but "was never given a bill number" by the Assembly's bill-drafting staff.
"That obviously makes it impossible to pass a bill," said Biaggi, who ousted IDC leader Jeff Klein in the 2018 election, in an interview with Gotham Gazette.
According to a spokesperson, Simon had introduced a similar bill after the 2021 session with the hope of reconciling it with Biaggi's in 2022. The spokesperson denied that the bill had been refused a number by the Assembly central staff, but noted Simon had difficulty getting a number assigned to another JCOPE-related bill, also carried by Biaggi, because it was introduced too late in the session.
At least six bills aimed at preventing and punishing sexual harassment -- the linchpin of Cuomo's downfall -- passed the Senate but not the Assembly earlier this year. One would require JCOPE to conduct anti-harassment training for lobbyists. Another would extend the statute of limitations to file workplace discrimination claims. A third bill would bring the staff of elected officials and judges under the anti-discrimination provisions of other government employees. Yet another would ban settlements in discrimination cases that include financial penalties when victims break non-disclosure agreements.
"There's nothing that makes sense," Biaggi said, "about a year in any legislative body where a governor has acted as unethically as many times as our previous governor has and we don't...see it as an opportunity to make our laws and systems better."
Legislation that bucks old and explicitly partisan government structures, like JCOPE or the Board of Elections, are especially subject to assasination in the Assembly. Heastie, as former head of the Bronx County Democratic Party and now one of the most powerful officials in the state, is still closely tied to the political establishment that appoints election commissioners and patronage hires, while he makes appointments to JCOPE.
One bill that has been gaining momentum would help to "professionalize" and bring some accountability to the New York City Board of Elections. In an October panel hosted by DemocracyNYC and Women Creating Change, Krueger lauded the support the bill has received in her chamber, while the Assembly co-sponsor, Nily Rozic, indicated the body was unlikely to pass it without more cosponsors and a concerted grassroots movement.
"We need people, especially in the Assembly, to show that there is a groundswell of support for this. It's going to be an uphill battle," said Rozic, a Queens Democrat.
Even more simple election changes, like one to require poll sites on college campuses, have passed the Senate repeatedly without the Assembly. In 2020, the measure was scheduled to come to the floor only to be pulled by Assembly leadership in the final moments of session, according to Horner. "You would think that wouldn't have much of a fuss but it's the Assembly that kills it," he said.
It is not only bills around government ethics, discrimination, and voting that fail to gain traction in the Assembly.
A bill aimed at holding weapons vendors and manufacturers accountable for public harm caused by gun violence and one enacting a waiting period for firearm purchases also failed this year in the lower chamber after passage in the Senate.
As did two bills for clean water: one requiring testing for lead contamination in public park drinking water and another prohibiting polluters from receiving state assistance for pollution remediation.
Gotham Gazette identified at least four bills related to domestic violence, seven to improve traffic safety, and three to curtail human trafficking that also stopped in the Assembly while being passed in the Senate.
'A Very Strict Process'
Some Assembly members have defended the slower pace of their house.
Assemblymember Daniel O'Donnell, a long-serving Manhattan Democrat, said there is often a lack of communication coming from the Senate about when the majority will pass a bill, leaving the Assembly unprepared when they do.
"It's not as if we're going slowly intentionally. It's that we're not always provided with the information," he said.
Part of the reason that communication is so important is because the Assembly has more bureaucracy, O'Donnell told Gotham Gazette. "We have a very strict process. My domain needs [a bill] to go through four committees before it gets to the floor. How about you tell me you're going to do that so I could line up those committees," he said of the Senate passing legislation. "They don't always do that."
Lawmakers in both houses have pointed to the Assembly's size and the diversity of its members as an explanation for the differing paces. The Assembly has 150 seats with close to 110 members in the majority caucus. The Senate majority has roughly the same proportions but with fewer members: 63 seats, 42 of which are held by Democrats.
"When they deliberate on an issue it takes them three hours," said Assemblymember Ron Kim, a Queens Democrat and member of the party's progressive wing. "It takes us three days of debate."
"It's hard to just sometimes come together to a consensus...and that can be frustrating but it's also democracy," said Carroll, a progressive Democrat from Brooklyn. "I get that we need to get 76 members and there are some of these bills that I would like to see passed. Some of them are my bills."
'Wandering in the Desert'
When Democrats took over in 2019, the backlog of progressive causes and the momentum from the "blue wave" 2018 election led to a long series of lawmaking that has slowed but not subsided.
"I do think that the Senate Democrats, having been wandering in the desert for 40 years, are very, very hungry to move major legislative changes," Krueger said.
On her first day passing legislation as majority leader, Stewart-Cousins riffed on the old order of business under GOP control and her old mantra in the minority. "Certainly I want to thank the members of the press for coming today as we urge our Republican colleagues to take up our bills," she said, before adding with a laugh: "I'm just kidding."
But some legislation, historically supported by Assembly leaders under a split government, ran into friction once Democrats controlled both chambers.
That was the case of the statewide public campaign financing system, which, despite having the support of Silver, the former speaker, received heavy push-back from Heastie. It ultimately passed in 2019 under significant grassroots pressure, over the objections of Assembly leaders apparently concerned it would make it easier for incumbents to be unseated.
"Throughout the entire process the Senate provided the driving energy behind it," said Kaehny of Reinvent Albany, which lobbied in support of public campaign financing.
Potential political repercussions for controversial proposals are lesser when a bill is "a one-house special" with no prospects of passing both chambers, Horner said. When both houses are in partisan alignment, he added, "the legislation runs into more trouble."
Some sweeping bills that Democrats from both houses have called major priorities in the past remain stuck.
One example is the New York Health Act, which would institute a single-payer health care system in the state and has 33 sponsors in the State Senate and 87 sponsors in the Assembly. It hasn't moved in either house despite passing multiple times in the Assembly prior to 2019. Another is the Climate and Community Investment Act, a bill to help the state meet environmental goals codified in the landmark Climate Leadership and Community Protection Act of 2019. It has 29 sponsors in the Senate and 54 in the Assembly but is stuck in committee.
Assembly Speaker's Control
With fewer members and a different majority leader, observers say, individual senators are able to stretch their legs outside of the leader's will. The Assembly leadership, on the other hand, has tightened its grasp on the chamber's central staff and bill drafting process over decades of Democratic control, even through the shift from Silver to Heastie. When replacing Silver, Heastie won the role over a push from a group of reform-minded Assembly members but made some concessions to their demands in the process.
The culture can make it difficult for members outside of Heastie's good graces to pass legislation, according to Kaehny. "Senators want to find [Assembly] sponsors who can actually pass things and are not in Heastie's doghouse," he said.
"The Senate doesn't seem to have a Democratic doghouse," he added, citing the example of Senator Diane Savino, the Staten Island Democrat who once shared power with Republicans as a member of the IDC. Savino has been involved in numerous bills and was a key player in the state's push to legalize marijuana. "If she was in the Assembly, she'd probably be on her own island," Kaehny said.
Silver was one of the most influential men in the state after consolidating power as speaker for more than 20 years -- a position he exploited for personal gain while stifling a variety of reforms, covering up sexual harassment, and contributing to a culture of government secrecy meant to protect incumbents and their political allies. Assemblymember Kim, who has been pushing for term limits for the governor, said he was supportive of term limits for legislative leaders too.
"I think there will be a time in the near future when you will see institutional changes that not only speak to limiting how many terms leadership can serve but personnel and staffing power that's deeply linked with seniority," Kim told Gotham Gazette.
He hopes to alter the Assembly rules to change how legislation gets introduced in a way that is "much more open, transparent, democratic." Part of that is ensuring "every member gets the same amount of money," he said, noting administrative pursestrings and pork barrel funding are another way the speaker maintains power.
"Even this year, we've had internal working groups trying to push certain reforms under Carl that didn't go anywhere," Kim said. "But he had to engage with us because we had enough votes to make an impact." Kim said there were about 11 or 12 members of the working group. "We're only going to get more votes as time goes."
Cuomo's Heavy Hand
During his tenure, Cuomo's influence, with his control over the budget and other levers, was widely felt in the Legislature. That was especially true after both Silver and Senate Majority Leader Dean Skelos, a Long Island Republican, stepped down amid corruption charges in the mid-2010s -- leaving Cuomo the most senior politician in the room.
"Did Governor Cuomo heavy-hand trying to stop any of this from going forward, reforms? Yes he did," Krueger said of reforms like Biaggi's JCOPE bill. "I think the question is, now that he's not there to bully and intimidate and threaten, will we see a change in how both houses move forward with important reforms?"
Some of Heastie's power came from his apparently close relationship with Cuomo, according to observers. "Part of that was Heastie appearing to marginalize critics of the governor," Kaehny claimed.
Most recently, after the governor resigned, the Assembly Judiciary Committee began motions to shutter its impeachment probe and kaibosh its report into Cuomo's behavior, only to finish and release the report after a public backlash.
On the other hand, after Stewart-Cousins became Senate leader she maintained people in leadership that were outspoken against Cuomo, including Deputy Leader Michael Gianaris of Queens.
How much Hochul's new governorship will change the dynamics of the two chambers is anybody's guess.
"To the extent that Governor Hochul does want to do things in areas where Governor Cuomo didn't want to do it, there may be more movement," said Horner. "But then again there may be areas where she is reticent for action and one of the houses will react to that."
"I think you will see a much more muscular legislative policy development in a way that you didn't see when Governor Cuomo was there," Horner said. "This will be a time where the Legislature gets a chance to assert itself in a way that probably hasn't been seen since the first year of Governor Paterson."