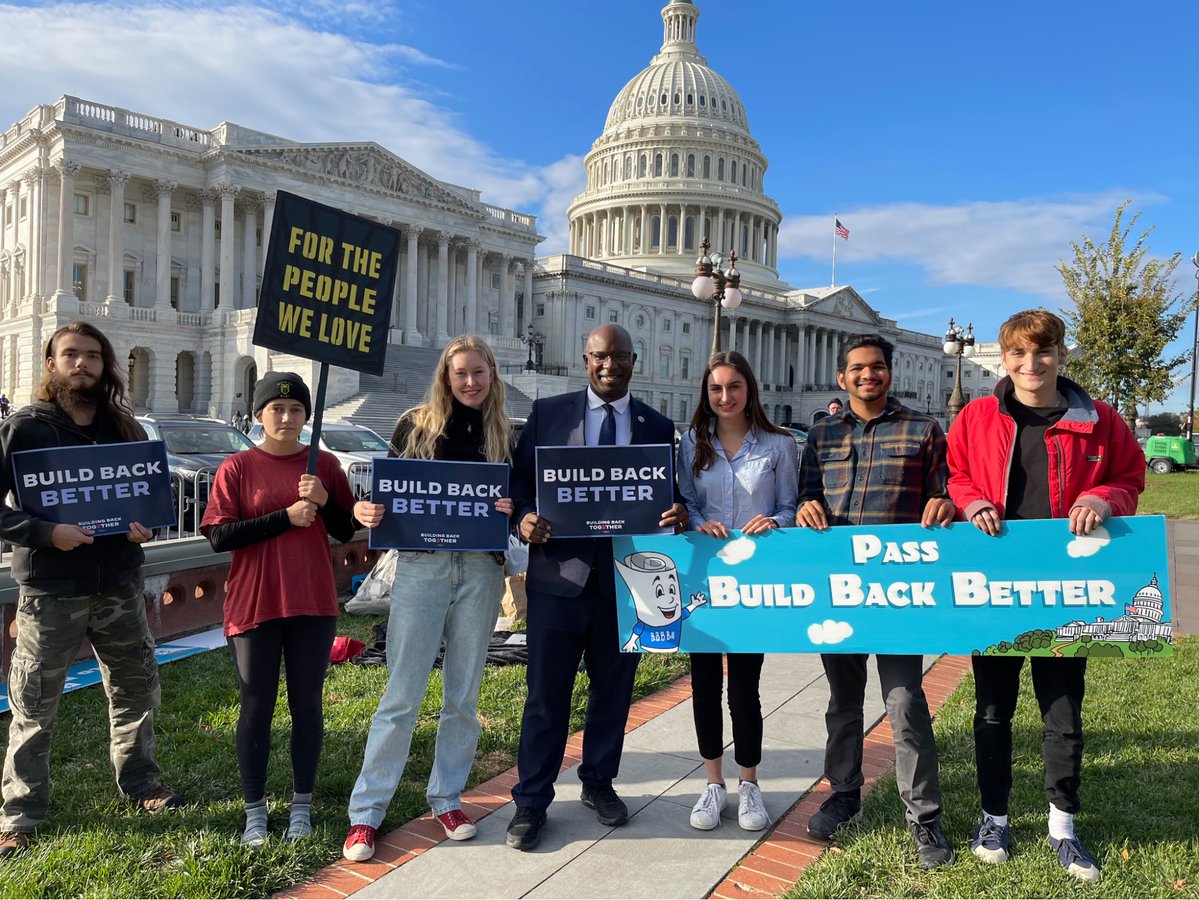 Rep. Jamaal Bowman in Washington, D.C. (photo: @RepBowman)
---
U.S. Rep. Jamaal Bowman says he is optimistic about the incoming mayoral administration, even going so far as to say Eric Adams has the potential to be "one of the best mayors in New York City history," but he's less bullish about the state of Build Back Better in Congress, owing to what he describes as donor-driven obstruction by West Virginia Senator Joe Manchin.
Bowman, a freshman legislator who represents the Bronx and Westchester in Congress after defeating longtime incumbent Eliot Engel in a Democratic primary last year, appeared on a recent episode of the Max Politics podcast from Gotham Gazette for a wide-ranging discussion touching upon President Joe Biden's $2 trillion Build Back Better agenda, Manchin's obstruction of that social and physical infrastructure package, and his thoughts on the incoming administration of Mayor-elect Adams.
Bowman, a former school principal, is a card-carrying member of the Democratic Socialists of America who has allied himself with fellow Bronx Rep. Alexandria Ocasio-Cortez, and the progressive "squad" they are both part of. Bowman, Ocasio-Cortez, and other members of the squad voted against the president's bipartisan infrastructure bill that passed Congress and was signed into law earlier this year, arguing they could not support the measure unless it was coupled with the Build Back Better package, lest Manchin (and other moderate and conservative Democrats) be ceded leverage that he wouldn't have if they were voted on at the same time.
Bowman has been highly critical of Manchin, who represents West Virginia, a heavily red state, for blocking Build Back Better for what he describes as underhanded reasons, at the behest of his donors and against the interests of his constituents.
"People just want things to get done for them, for their families, for their children, for their community. And what Manchin is doing right now is he is stopping progress," Bowman told Gotham Gazette editor Ben Max in the podcast interview, just a few days after Manchin had announced on Fox News that he was not in favor of moving ahead on Build Back Better. "He is stopping the progress of his own party. He is stopping the progress of those who are most vulnerable in our district and in our country. And…he seems to be more responsive to donors and dark money and special interests than he is to the people of West Virginia."
Manchin has reportedly offered a counterproposal to the Biden administration, which includes the White House's goal of universal pre-K and, crucially, hundreds of millions of dollars in money to address climate change. But it eliminates the child tax credit (Manchin reportedly believes, despite no evidence, that families spend money from the tax credit on drugs), a crucial lifeline for many families living in poverty, and which Bowman believes is not something he and other progressive Democrats should be forced to compromise on.
"I'm very frustrated that progressives are consistently the ones who are asked to compromise," Bowman said. "I don't want to compromise on anything, just to be clear. But where we are now, there's going to be some compromise. I hate -- and I never use the word hate for anything -- but I hate that we are compromising on childhood poverty."
Bowman highlighted the climate investments, but also noted that Build Back Better includes a massive influx of funding for public housing, including NYCHA, as well as childcare, pre-K, violence reduction, workforce development, capping insulin costs, paying home-care workers livable wages, and more. "The largest so-called social investment in U.S. history but one that is equitable...is the game-changer that we need right now," he said.
While Bowman sounded somewhat cautiously optimistic that some compromise agreement can be reached in 2022, he believes that Biden used most of his political capital getting the $1 trillion infrastructure bill, and is worried that the Democrats may not be able to pass various other priorities, including Build Back Better, the George Floyd Justice in Policing Act, immigration reform, gun safety regulations, and protection of reproductive rights.
"It's not just on Manchin, it's on [Senate Majority Leader Chuck] Schumer and Biden, who all represent a sort-of old-guard status quo of Congress that is not moving any of these pieces of legislation forward," Bowman said. "And then when you see declining approval rating numbers, then you wonder why, and you get upset and the administration doesn't seem to know what to do about that."
"Biden ran on these things, and these things aren't moving," Bowman said. "Don't run as a progressive and then get in and don't do anything, or do very little to move the progressive agenda forward."
"Hopefully we can hit the ground running in January. Because if we don't, then we don't have a shot," he said of Democrats retaining their slim House majority in the 2022 elections. "It's gonna be hard to keep the majority if we don't come out swinging in early January."
"We need historic leadership from Biden," Bowman said, "and we need historic leadership from Schumer," he added of his home-state senior senator who ascended to Senate Majority Leader of the 50-50 Senate this year.
Bowman, who endorsed civil rights attorney Maya Wiley in the Democratic primary for mayor earlier this year, had positive things to say about the potential of the incoming administration of Eric Adams. The congressman, a former middle school principal, said that he has been in communication with Adams and his choice for schools chancellor, David Banks, who founded schools for boys of color in the Bronx, in a sort of advisory role on education issues.
He said that Adams is "very comfortable" taking advice from others on issues he doesn't claim expertise in, like education, and sees lofty potential in the Adams administration if he can "get education right." He also said he's keeping a close eye and talking with Adams about the next mayor's approach to public safety, trying to ensure it is a holistic effort. Bowman expressed optimism there, too, given that Adams sent a representative to a recent roundtable the congressman hosted on community safety.
"I think Mayor Adams, despite not being as quote-unquote 'progressive' as me, has a chance to be one of the best mayors in New York City history," Bowman said. "If he gets education right."
Bowman thinks Adams is off to a good start by picking Banks as chancellor; he was effusive in his praise of Banks' network of Eagle Academy schools, which specifically focus on the empowerment of young African-American men. Both Bowman and Banks founded schools in the Bronx. He worries that Adams' willingness to listen could backfire somewhat if charter school backers get his ear, but said he's been reassured by Banks that that won't happen.
"David was very clear to me when I spoke to him, he was like 'this is a public school system man,'" Bowman said, though Adams has been a supporter of public charter schools for years. "There's space for optimism and hope, but also being diligent to make sure that most of our attention is going to our public school system."
[LISTEN to the full conversation: Rep. Jamaal Bowman on Max Politics]