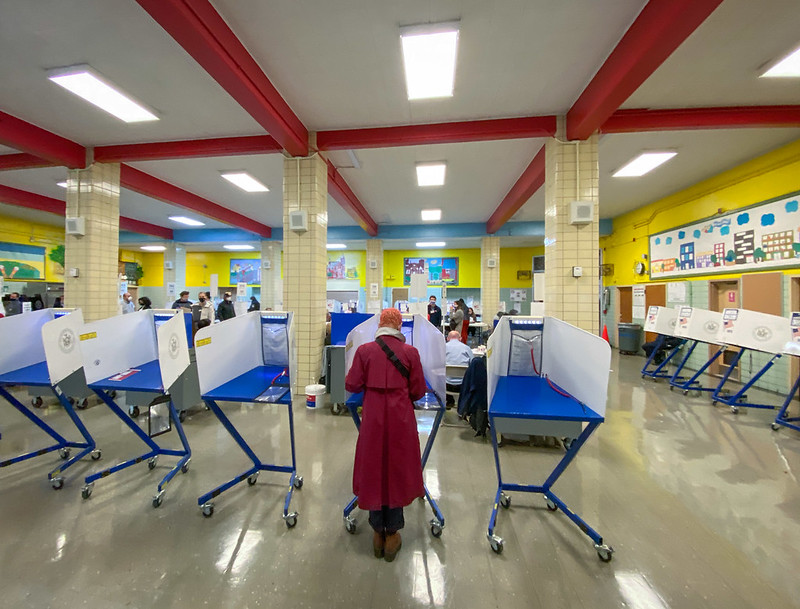 Voting in NYC (photo: Michael Appleton/Mayoral Photography Office)
---
State lawmakers are amending a bill that could change the make-up and management structure of the New York City Board of Elections in an attempt to make the troubled agency more effective and accountable.
"We've been working with both the State Board of Election for guidance, many election lawyers, many people familiar with the problems that the city has had forever with their elections. And I think that we've come up with a good model," said the bill's State Senate sponsor, Senator Liz Krueger, a Manhattan Democrat, in a Wednesday interview on Gotham Gazette's Max Politics podcast.
Krueger said that she and Assembly sponsor Nily Rozic, a Queens Democrat, plan to introduce the new version of their Board of Elections reform legislation in the coming weeks and expressed cautious optimism about passing it this legislative session.
The New York City Board of Elections has been criticized for years for recurring calamities that have plagued New York City elections cycle after cycle – poor interpretation services, long lines at the ballot box, misprinted absentee ballots, an illegal voter purge; the list goes on. In many cases, a tradition of political patronage and nepotism has led to incompetence, enabled by the Board's explicitly partisan structure, lack of professionalization, and weak oversight from city and state officials.
The Krueger-Rozic legislation would give the New York City Council more leverage in appointing commissioners and give city officials greater insight into budgetary matters. It would also set qualification standards for Board members, and outline some of their duties in more clear terms.
New York City has ten elections commissioners who are selected by the Democratic and Republican party leaders from each borough and confirmed perfunctorily by the New York City Council. The Krueger-Rozic legislation would reduce that number to two commissioners, voted on by the City Council from nominations by each of the county parties. The change would streamline and clarify leadership roles and give lawmakers a greater voice in who ultimately runs local elections, but the Council would still have to pick one Democrat and one Republican because of a bipartisan requirement in the state constitution.
The bill also replaces the current executive director with Democrat and Republican co-executive directors hired by the mayor with approval of either the City Council Speaker or Public Advocate from lists of candidates provided by the Board.
Justin Flagg, a spokesperson for Krueger, said amendments to the bill had not been finalized but could give the Council more input in the appointment of commissioners. The office is considering "refining the number of commissioners," requiring public hearings on board nominations, and giving the Council the authority to remove commissioners – a power currently held only by the governor, and rarely used. Krueger's office is also looking into a requirement that a nationwide search be held for the board's co-executive directors, something good government groups had pushed for.
"We will likely introduce amendments in the next few weeks, though any more action will most likely be after the budget," Flagg said, referring to the upcoming hearings and negotiations around the state budget, which is due by the April 1 start of the new fiscal year. Krueger, the chair of the Senate finance committee, co-chairs budget hearings and helps negotiation the budget.
"Those ideas for improving the bill sound encouraging, and align with some of the best practices and recommendations we've identified in our research into election administration across the country," said Chisun Lee, an elections expert at the Brennan Center for Justice at NYU Law School, in an interview with Gotham Gazette. "They're a good starting point for transforming our elections agencies in a way that New York's voters really need."
The bill focuses only on the New York City Board of Elections, by far the largest and most complicated local elections board in the state, covering 5.6 million registered voters. A recent report from State Senator Zellnor Myrie, a Brooklyn Democrat who chairs the Senate elections committee, recommended a number of election reforms but avoided calling for sweeping changes to the make-up of boards of elections statewide. It followed a series of hearings he held in which a number of voters, administrators, and experts testified to the success of some upstate elections boards.
"There are counties that have more cattle than voters and do not have a parallel storyline to New York City's," said Krueger, who represents some of the country's densest neighborhoods on Manhattan's East Side. She said she has been working on the bill "in coordination with Senator Myrie, who is in support of our trying to accomplish this for the city of New York, which so desperately needs reform and modernization of how we run our elections."
"When we announced these hearings last year, we committed to look at every aspect of election administration in New York and we are having conversations with the entire conference about the universe of ideas for reform," said Matt Baer, a spokesperson for Myrie, without saying whether Myrie specifically supports the Krueger-Rozic bill.
The legislation has the support of Senate Majority Leader Andrea Stewart-Cousins and is expected to pass after working its way through the Democratic conference. "We're definitely looking at getting more voting reforms done this year. And both of these bills are highly likely to be part of that package," said Mike Murphy, a spokesperson for Stewart-Cousins, referring to the Krueger-Rozic bill and the John Lewis New York State Voting Rights Act sponsored by Myrie, which would require election-change preclearance, language assistance, and other protections.
But reforming the City BOE may face an uphill battle in the Assembly, where it has few co-sponsors and where leadership is closely tied to the Democratic Party apparatus. A spokesperson for Assembly Speaker Carl Heastie, Michael Whyland, did not say whether the bill was expected to move in his chamber. "We review all issues with our members," he wrote in an email. Heastie, the former head of the Bronx Democratic Party, and his majority conference have been far cooler toward government reform than the State Senate Democrats led by Stewart-Cousins.
A spokesperson for Rozic did not return a request for comment.
"Governor Hochul is committed to restoring faith in government and elections, which is why she expressed her support for election reforms in her State of the State, and she will review the legislation if it passes," wrote Avi Small, a spokesperson for Governor Kathy Hochul, in an email.
"I don't know how successful we will be with this because there are many political issues tied in to, obviously, who controls the Board of Elections," Krueger cautioned Wednesday.