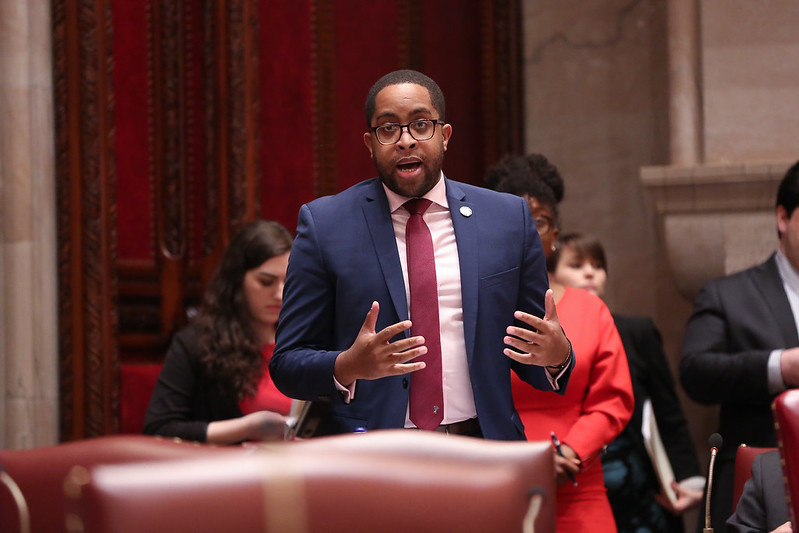 State Senator Zellnor Myrie of Brooklyn (photo: NY Senate)
---
With the failure of federal voting rights legislation this month in the U.S. Senate, advocates in New York are redoubling a push to pass a sweeping state bill that would shore up voting protections for historically disenfranchised groups.
Legislators introduced the John R. Lewis New York State Voting Rights Act in 2020 to fill at the state level some of the holes left in the federal Voting Rights Act after successive defangings by the U.S. Supreme Court in the past decade. The bill would enshrine a range of protections against voter dilution, require language access, and give the State Attorney General preclearance authority over potentially-discriminatory voting policy changes. But it has not yet advanced in either house of the Legislature.
Governor Kathy Hochul, a Democrat, supported the concept in her State of the State agenda earlier this month but did not include it in her Executive Budget last week, setting the stage for negotiations over the next several months and tempering optimism about the bill's prospects for passage in the current legislative session, which runs until June. That same month, New Yorkers will vote in state and federal primaries.
In a statement last week, State Senator Zellnor Myrie, who chairs his chamber's elections committee and sponsors the bill, called the failure in Washington "an insult to all Americans, especially to Black and Brown voters who are most often targeted by discriminatory and racist state laws."
"States must now urgently move to protect and expand voting rights, and New York can lead the way," Myrie said in a statement. "My bill, the John R. Lewis New York State Voting Rights Act, would enact the strongest voter protections in the country."
"This legislation is exactly what is needed for this time," said Lurie Daniel Favors, executive director of the Center for Law and Social Justice at Medgar Evers College in Brooklyn. "[It] really does set a model for how we have to return to the states in order to secure protections that the federal government is unable to provide."
U.S. Senate Democrats this past week fell short in an effort to move toward advancing major voting legislation – the Freedom to Vote: John R. Lewis Act -- that would set ballot access standards, restore parts of the federal Voting Rights Act, and scale back Republican-led voting restrictions in many states. Before and after the (anticipated) defeat in Washington, New York lawmakers positioned themselves to take up the voting rights mantle locally, part of a three-year wave of progressive changes to the state election law since Democrats took control of both houses of the Legislature in 2019.
The New York bill would make it easier to sue the state and local governments for violating the voting rights of racial, ethnic, and language minority groups. It also contains language access requirements, protections against voter intimidation and deception, and would require the state to create a database of voting and election information to help the public track potential rights violations. Among its most significant measures, the bill would give the State Attorney General "preclearance" authority over elections changes in areas with a history of discrimination – an instrument that covered the Bronx, Brooklyn, and Manhattan before it was stripped out of the federal VRA by the Supreme Court in 2013.
That could include anything from the drawing of district maps to the placement of poll sites to what interpretation assistance is offered. California and Washington also have state-level voting rights acts, but New York's would be the first with a preclearance provision.
"Having preclearance on the state level and putting this in the New York State Attorney General's office puts the burden on the local government, the state government, and the board of elections to show that the changes they are making will not have a significant impact on marginalized groups," said L. Joy Williams, president of the Brooklyn NAACP.
At a Martin Luther King Day event hosted by National Action Network in Manhattan, Hochul called voter suppression an "insidious virus." In her State of the State policy book, the governor promised to advance "a state-level voting rights act" that roughly aligned with the provisions of the New York State Voting Rights Act, carried by Myrie and Assembly Member Latrice Walker, who like Myrie is a Brooklyn Democrat and elections committee chair.
"Practices that suppress voter turnout can still be found in our elections, and the legacy of voter suppression can be seen in the persistent gap between white and non-white New York voter participation," reads Hochul's State of the State policy book.
In the 2020 general election in New York, 63% of Black citizens of voting age voted, well below the 69% of white eligible voters, according to Census data cited by the governor. The turnout rate among eligible Latino voters was 55% and 52% among eligible Asians voters. Civil rights advocates and reformers say the problems can be even worse in local elections, like for school boards, water and sewer districts, and village elections.
"What we have seen unfortunately in some of those elections is that minority voters rarely get to elect representatives that look like them," Myrie told Gotham Gazette. "Those [New York] districts can sometimes mirror the worst gerrymandering problems that we see on the national level."
Upsetting local power structures could also pose one of the biggest challenges to getting his bill passed. "There will be implications on local races and local political dynamics that I think have to be fleshed out," he said.
In the last 25 years, there have been 14 documented cases of federal voting rights violations in New York, according to a report for the U.S. Senate Judiciary Committee by the Leadership Conference on Civil and Human Rights. These include instances of Black and Latino voter dilution in at-large school district and town board elections, and minority fracturing in the drawing of district lines, among others. Had the federal voting legislation passed, New York would be one infringement short of falling, statewide, under its preclearance provision, the report states. Suffolk, Westchester, Albany, Orange, and Bronx Counties have some of the most documented violations.
When Hochul released her Executive Budget, advocates who had applauded her State of the State nod to voting rights were surprised to see the Voting Rights Act left out, despite the sizable funding it would require and the fact that she wrote many other policy priorities into bill language for the budget documents. The governor's office would not say whether Hochul supports the current bill or if there are potential concerns about it.
"It's unclear to me why it was dropped from the Executive Budget but I don't take it to signal the governor's lack of support or that there is some other nefarious reason," Myrie said. "I think there's a whole universe of reasons why that may have happened. We'll continue to talk with the governor's office to ascertain what that was."
"There is absolutely no reasonable explanation for why it wouldn't be [in the Executive Budget]," said Daniel Favors. "We have a legacy of unfunded mandates in this state that make voter protection extraordinarily difficult."
The fiscal implications of the Myrie-Walker bill are significant. Under the bill the state would be responsible for the cost of building a comprehensive election database and attorney's fees in successful voting rights cases. The additional staffing in the Attorney General's Office could be significant by itself. Between 1998 and 2010, the U.S. Department of Justice employed between 31 and 45 attorneys in its voting section working on preclearance submissions.
"The bill will require resources, there's no doubt about that. The Attorney General's Office has never done this before," said Sean Morales-Doyle, a voting rights expert at the Brennan Center for Justice at NYU Law School. "A preclearance process is not helpful if there is no one there to do the preclearing."
The governor and legislative majorities will be negotiating Hochul's $216-billion Executive Budget ahead of the April 1 start of the fiscal year. Budget agreements often include a great deal of policy, especially when those policies have fiscal implications. Either or both houses of the Legislature could decide to pass the bill before, or after, April 1.
The bill has 31 sponsors in the 63-seat State Senate and Majority Leader Andrea Stewart-Cousins, a Westchester Democrat, has said voting rights are a priority. But it appears to have a longer road in the Assembly, where only 18 sponsors have signed on.
"We're definitely looking at getting more voting reforms done this year. And both of these bills are highly likely to be part of that package," said Michael Murphy, a spokesperson for Stewart-Cousins, referring to the Voting Rights Act and another bill that would change the structure and management of the New York City Board of Elections.
"I think it's incumbent on us to kind of lead the way and show what can get done if Democrats work together," he added.
"We review all issues with our members," wrote Michael Whyland, a spokesperson for Assembly Speaker Carl Heastie, a Bronx Democrat, in an email.
Assembly Member Walker is optimistic. "A number of colleagues recently signed onto the bill and others continue to do so, indicating a wave of support for the New York Voting Rights Act," she said Monday through a spokesperson. "There is the political will to get this done in New York, especially in the wake of last week's derailed efforts of Senate Majority Leader Chuck Schumer."
Asked about Hochul's approach to the bill thus far, Walker said, "As we work in the Legislature to protect voting rights in New York, we will continue to call on Gov. Hochul and other elected officials across the country to enact meaningful laws that make it easier to vote. The laws must include a preclearance provision to stop discrimination before it starts and provide penalties for voter suppression, intimidation and the intentional dilution of minority voter strength."
Especially if federal efforts continue to come up short, a state-level voting rights act would be a particularly notable achievement to top a stack of major voting and election reforms in New York in recent years. The slew, beginning in 2019, includes early voting, consolidated state and federal elections, automatic voter registration, expanded pre-registration, and others. That momentum came to halt this past November when voters rejected state constitutional amendments to enact no-excuse absentee voting and same-day registration.
Lawmakers have vowed to reintroduce those amendments this year. So far the Senate passed an initial 2022 package of voting rights bills, including related to counting affidavit and absentee ballots, requiring poll sites on college campuses, and reducing the voter registration deadline to the constitutional minimum of ten days before an election, among others. And both houses of the Legislature quickly passed a temporary extension of universal absentee voting – which has been allowed during the COVID-19 pandemic – while several other bills, including the state Voting Rights Act, remain on the table.