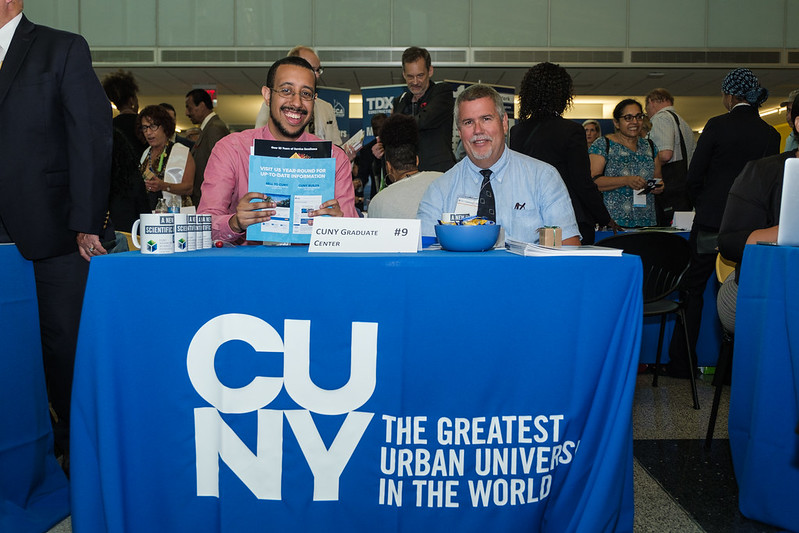 City University of New York (photo: CUNY)
---
The $220 billion state budget passed by Governor Kathy Hochul and the state Legislature over the weekend included a significant increase in operational and capital funding for CUNY, the City University of New York that educates roughly 275,000 students across 25 schools.
The new funding will help cover student tuition assistance, faculty hiring, child care programs, fringe benefits for staffers and more. But while significant, the increase of roughly $240 million in CUNY funding falls short of the "New Deal for CUNY," a massive infusion of billions of dollars over several years that legislators and advocates say they will continue to fight for in order to reverse years of underinvestment in the public higher education system.  
"The opportunity to pursue a quality education is the silver bullet for so many New Yorkers," Governor Hochul said in a statement, touting the budget's investment in education. "With this budget we are going to unleash the power of higher education to lift up the people of our state by investing in our institutions and our teachers."
The $240 million in increased state budget operating support for CUNY includes $53 million to hire more full-time faculty at four-year colleges and community colleges, funds to cover fringe benefits for CUNY staff (which the system had to previously pay for itself), about $69 million to expand the Tuition Assistance Program for part-time students. The budget deal also includes $965.8 million in capital funds for CUNY facilities, many of which are in disrepair.
Another $15.6 million was allocated to help CUNY and SUNY campuses create child care centers. The budget also froze tuition at CUNY colleges for another year and averted about $80 million in cuts at community colleges that would have resulted from declining enrollment, a trend officials are hoping to reverse coming out of the pandemic. 
CUNY Chancellor Félix V. Matos Rodríguez called the budget a "transformative spending plan" for the system. "The adopted budget includes a $1.2 billion increase for CUNY over FY 2022, the largest and most consequential expansion of public support for postsecondary education in years, and will enable the University to make major strides for our students," he said in a statement.
He estimated that the expansion of the TAP program would aid thousands of students and that additional operating funds would help the system hire 540 full-time faculty members, helping to reverse the "adjunctification" trend at CUNY.
The increased funding was broadly hailed by elected officials and advocates as a good first step towards achieving the New Deal for CUNY, which is a proposed five-year plan to make CUNY free of tuition and fees for New York residents.
The lead sponsors of the legislation are Brooklyn State Senator Andrew Gounardes and Bronx Assemblymember Karines Reyes, and it is backed by CUNY Rising Alliance composed of student groups, advocates, and unions, including CUNY's Professional Staff Congress (PSC-CUNY).  
The budget was "all in all, a pretty big win for CUNY and one that I think helps set the stage for future investments and future fights in the years ahead, but something that we're very happy with right now," said Gounardes, in a phone interview.  
In total, the New Deal for CUNY calls for a $1.47 billion increase in operating funds over five years, or about $294 million each year. That includes $1.14 billion for senior colleges and universities and $331.5 million for community colleges. Additionally, it includes a demand for $5.1 billion in capital funds over the same period, including $3.79 billion for senior colleges and $1.41 billion for community colleges.
The New Deal plan lays out several goals for operational funding including increasing the ratio of full-time faculty to students, professionalizing compensation for adjuncts, increasing the ratios of mental health counselors and academic advisors to students, and more.  
"The biggest takeaway of this entire campaign for me has been that, for the first time in a very long time, people have been talking about public education as they have not been in the past," Gounardes said. "So I think we've succeeded on that front, to elevate the importance of a strong public higher education system both at the city and state levels." 
"The New York State legislature has solidified its commitment to changing course on years of disinvestment in CUNY," said Reyes, also a CUNY graduate, in a statement. "The 2022-2023 budget addresses the most urgent of CUNY's needs, allocating funding to repair crumbling infrastructure, hire more advisors, faculty, and mental health counselors. It paves the way for the New Deal for CUNY that we, alongside our dedicated and passionate advocates, will continue to fight for."
Despite this year's budget achieving the biggest year-over-year increase for CUNY in decades, senior colleges will continue to have per-student funding that is below 2009 levels, said James Davis, president of PSC-CUNY, the union that represents CUNY staff and faculty.
"We have a budget now that is probably the best state budget for CUNY since the 2008 recession, if not longer. So that is really important," he said in a phone interview. "The general contours of the budget adhere pretty closely to the priorities that are in the New Deal for CUNY. But they don't get us all the way there." 
Davis did note that the budget doesn't advance the goal of eliminating student tuition, which would require additional revenue raising measures which weren't taken up this year. The state is flush with cash from federal pandemic relief funds and better-than-expected tax revenues and the governor was opposed to any new taxes. 
"But for now, anyway, none of these major advances that have been made in the budget are on the backs of our students, which is important," said Davis, insisting that the fight for a New Deal for CUNY "still continues." 
Davis pointed out that Hochul dispensed her predecessor's tradition of limiting increased state spending at an arbitrary 2% (though even that was accomplished through budget gimmickry). "I think having torn that up, we're just on different terrain now," he said. "Of course, we're always concerned…the economy changes, the federal stimulus evaporates, and where are we? But I think we now have a really important reset this year to work from."
The next immediate challenge he pointed to was New York City's ongoing budget process. Mayor Eric Adams has proposed a $98.5 billion preliminary budget, which includes a 3% cut in spending at most city agencies and departments, including millions cut from CUNY, where the city is typically largely responsible for funding the community colleges. "We don't just need a break-even budget on the community colleges. So we'll need the city to come through with additional investments there," Davis said.