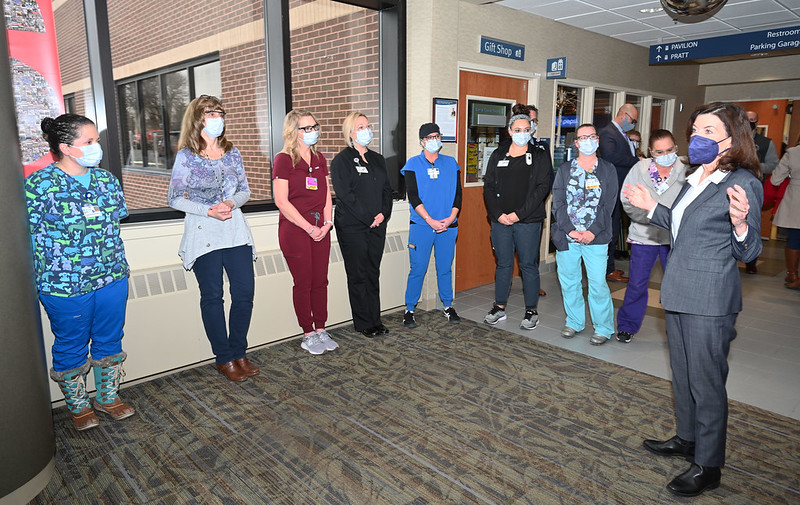 Gov. Hochul speaks to health care providers (photo: Kevin P. Coughlin/Office of Governor Kathy Hochul)
---
Embedded in the $220 billion state budget lawmakers adopted this past weekend is a controversial expansion of Kendra's Law, which allows judges to mandate mental health treatment, including inpatient commitment, to people with mental illness deemed a danger to themselves or others.
The change to the state's mental hygiene law, one of a handful of contentious final proposals pushed by Governor Kathy Hochul, was among the last questions lawmakers labored over before delivering an overdue budget for the new fiscal year, which began April 1.
The expansion of Kendra's Law, which makes it easier for people to petition courts and for judges to impose treatment, comes after a fatal subway attack in February by an alleged assailant reported to have long-suffered from serious mental illness. In response to that and other incidents, a rising chorus, led by Mayor Eric Adams and Hochul, called for both the expansion of Kendra's Law and its more frequent use. Others, however, say the power to coerce mental health treatment comes with due process concerns and should be used only in rare circumstances with robust guardrails in place.
There are currently 3,440 people under an AOT order, including 1,496 in New York City, according to data from the state Office of Mental Health. 
The expansion of Kendra's Law is one of several components in the state budget meant to bolster New York's mental health crisis response system. Money is also going to create a suicide hotline, psychiatric beds, homeless outreach teams, supportive housing, and a loan forgiveness program for psychiatrist and psychiatric nurse practitioners.
The budget includes $55 million in state and federal funds to restore up to 1,000 inpatient psychiatric beds to hospitals that had been taken offline as part of the pandemic surge plan.
"When it comes to the safety of New Yorkers, we cannot go backward - we must move forward toward a safer and more just state, and I applaud Majority Leader Stewart-Cousins and Speaker Heastie for this collaborative process that led to meaningful and significant changes to our public safety laws," Hochul said in a statement after signing the budget legislation, referring to her fellow Democratic state leaders with whom she negotiated the budget.
"By putting an end to the trafficking of illegal guns, protecting victims of hate crimes and domestic violence, stopping the cycle of repeat offenders, and investing in our mental health infrastructure, we are proving that justice and public safety are not mutually exclusive," said the governor.
Kendra's Law
Kendra's Law allows the courts to order a person to receive supervised mental health treatment in the community, or "assisted outpatient treatment" (AOT), if they meet certain criteria including a standard of dangerousness. Under the conditions of the law, if a person fails to comply with the treatment order, they can be temporarily committed to a psychiatric hospital.
To be eligible, a person must be exhibiting violent behavior and have a recent history of repeated hospitalization after refusing treatment for a mental health disorder.
In the recently-passed state budget bills, lawmakers extended the law, which would have expired in June, for another five years. They also expanded its reach to also allow officials to seek new AOT orders within six months of the expiration of a previous order. That can now be done without the previous criteria of violence, if a person's mental illness "substantially interferes with or limits one or more major life activities."
They also expanded its parameters in two other significant ways: allowing doctors to make virtual court appearances and requiring hospitals to share patient records with the county health officer supervising the AOT.
According to a statement from the governor's office, the state will conduct "an independent study" comparing outcomes for people on AOT versus people receiving treatment voluntarily. The study will be conducted by June 30, 2026.
Proponents see Kendra's Law as a measure to ensure people with severe mental illness are receiving the care they need while protecting public safety and diverting them from the criminal legal system.
Critics have raised concerns that Kendra's Law, especially with its new expansion, is subject to abuse and should be used only in narrow circumstances. They stress the importance of abundant proactive services over coercion, while also noting that only a very small percentage of people suffering from serious mental illness become violent. They also allege racially-biased enforcement.
People on both sides of the issue said the new changes were rushed through the budget negotiations with little input from practitioners, leaving language that is vague or inconsistent and likely to be challenged in the courts.
Adams and Hochul rallied for the idea when they announced the mayor's "Subway Safety Plan" in February after the killing of Michelle Go, who was pushed in front of a train by Martial Simon, who reportedly has a history of schizophrenia. That week, State Mental Health Commissioner Ann Sullivan issued guidance to law enforcement and emergency personnel that said they may take into custody "persons who appear to be mentally ill and who display an inability to meet basic living needs, even when there is no recent dangerous act" – a similar standard to the new AOT criteria. Hochul included a version of that in her proposal to expand Kendra's Law in the budget – part of a 10-point public safety agenda revealed two weeks before the April 1 start of the fiscal year that also included controversial changes to the state's bail, discovery, and Raise the Age laws.
"Governor Hochul has made the development of a comprehensive behavioral health crisis system in New York State one of her administration's key priorities, and worked closely with the legislature to enact a State Budget with significant investments in mental health crisis infrastructure as well as the most substantial changes to Kendra's law in nearly two decades," Jim Urso, a spokesperson for Hochul, told Gotham Gazette.
Assembly Speaker Carl Heastie, Senate Majority Leader Andrea Stewart-Cousins, and Assembly Mental Health Chair Aileen Gunther did not respond to requests for comment on Kendra's Law or other crisis response measures.
In a statement, Senate Mental Health Chair Samra Brouk, a Rochester Democrat, lauded the budget's mental health investments but did not mention Kendra's Law specifically. "This budget marks progress towards larger investments in mental health services and living wages for workers in this field," Brouk said. "My next priority will be passing legislation that will bring more behavioral health professionals and peer advocates into the workforce to help individuals in crisis and those who need ongoing services."
When asked for comment on the changes to Kendra's Law and the crisis response system, a spokesperson for Mayor Adams referred Gotham Gazette to a part of his statement on the adopted the state budget: "The budget also reflects our call to action on a number of public safety measures and elements of our 'Blueprint for Public Safety,' including improvements to the discovery process, gun and mental health laws, and judges' ability to keep repeat offenders off the streets."
Of the nearly 3,500 people currently under an AOT order in New York State, 38% are Black, while Black people make up 17% of the statewide population. About 70% are diagnosed with schizophrenia and 15% with bipolar disorder, according to the data. Roughly half have "coexisting alcohol and/or substance use."
Assemblymember Thomas Abinanti, a Westchester Democrat, chairs the chamber's Committee on People with Disabilities and raised concerns on the Assembly floor last week that Kendra's Law could mistakenly capture people with intellectual and developmental disabilities, like autism. He ultimately voted for the expansion but told Gotham Gazette the proposal opened his eyes to the risks of people with intellectual disabilities in the state's crisis response system. Abinanti said he was introducing legislation that would divert Kendra's Law cases to the Office for People with Developmental Disabilities when they are believed to fall into that category.
"I can't vote against the budget because it does too many good things but this is a clear defect that needs to be remedied," he told Gotham Gazette, adding that the final Kendra's Law expansion was a step in the right direction.
Critics say the language of the new criteria, especially the reference to "major life activities,'' is ambiguous and overly broad, likely leaving it to later interpretation by the courts. The language leaves unclear whether courts will have to make their own determination of a person's mental illness or rubber stamp that of county officials seeking to extend an AOT, lawyers told Gotham Gazette. Much of the discussion around Kendra's Law has related to apparently homeless people on the city's streets and subways, and that the expanded definition has been touted by officials as allowing more removal of people who appear to be unable to care for themselves
"I don't think any of our 'wins' here are going to be very helpful in our work to expand the use of Kendra's Law unless we have an opportunity to clean them up in subsequent legislation," said Brian Stettin, policy director of Treatment Advocacy Center, who drafted Kendra's Law in 1999 when he was a New York State assistant attorney general. At the time officials sought to respond to the death of Kendra Webdale who, like Go, was fatally pushed in front of a moving subway train by a man with schizophrenia. Stettin supported Hochul's call to expand Kendra's Law last month but said the ultimate agreement with the Legislature "has the potential to really muck things up."
Assemblymember Andrew Hevesi, a Queens Democrat, was outspoken against the Kendra's Law proposal but ultimately voted for the much larger budget bill containing it. "Giving any government the right to lock up people with diagnosed or presumed mental illness, is one of the most dangerous red flags in human history," he said in a statement earlier this month. "I implore all of my colleagues and Governor Hochul to not endanger who we are as Americans and New Yorkers by adopting this dangerous and functionally useless proposal."
A spokesperson for Hevesi told Gotham Gazette that while he voted in favor of the budget legislation, he was "dissatisfied" with the inclusion of Kendra's Law.
Beth Haroules, a senior staff attorney at the New York Civil Liberties Union who has been working on Kendra's Law, said its expansion was riddled with due process concerns. She also said the law was hastily written, basing its new criteria (i.e. interfering with "major life activities") on the federal Americans with Disabilities Act rather than existing definitions in state law. She said that made it hard to reconcile with the rest of the procedures established by Kendra's Law.
"I've never seen the ADA used as a sword against a person. Generally the ADA is intended to be a way by which society has to accommodate the needs of people with disabilities," she told Gotham Gazette.
Haroules also said the new information-sharing provision could jeopardize private medical records and believes the state should issue more guidance around information sharing. "A person's entire mental health and medical record could be shared with law enforcement," she said due to changes in Kendra's Law that appear to circumvent existing privacy shields. "Basically they're getting a potpourri of access to people's private information outside the due process protections that the state law previously has provided."
James Plastiras, a spokesperson for the Office of Mental Health, disagreed with that assessment. "There is nothing in the new amendments to Kendra's law that would allow law enforcement access to a person's medical records," he wrote in an email to Gotham Gazette.
Other Mental Health Spending
The enacted state budget contains other mental health crisis services, including others aimed at getting people with mental illness off the street.
That includes $55 million (half state, half federal) to restore up to 1,000 inpatient psychiatric beds that were taken offline and converted to treat COVID-19 patients at the height of the pandemic. That move has put a strain on local hospitals and mental health systems throughout the state. As part of that process, hundreds of patients were rushed from hospitals into state psychiatric institutions where some languished.
The state Office of Mental Health would not provide a timeline for bringing the beds online.
"OMH and DOH will continue to actively engage with hospitals across the state to ensure that adequate inpatient capacity is available and hospitals bring beds back online as soon as operationally possible," wrote Plastiras.
State lawmakers also added $10.2 million in recurring annual funding to OMH to staff and resource psychiatric beds that, according to Plastiras, were slated to be cut in previous budgets. Another $9 million will go to a loan forgiveness program for psychiatrists and psychiatric nurse practitioners to help recruit needed staff.
The budget includes $12.5 million for 500 supportive housing beds for people experiencing homelessness along with the promised state creation of 10,000 more units of supportive housing over five years, part of the governor's $25 billion housing plan.
Hochul secured $11.3 million this year and an annual investment of $21.5 million starting next year for the Safe Options Support (SOS) homeless outreach teams she announced alongside Adams in January. The teams are supposed to deploy mental health specialists to direct people experiencing street homelessness to shelter and other services.
The budget allocates $35 million this year and $60 million next year to bring 9-8-8, a national suicide prevention and crisis hotline, online. According to the Hochul administration, another $10 million will go to "crisis response infrastructure." As it is written in the budget, that could go to "intensive crisis stabilization centers, intensive mobile treatment, low barrier housing, supportive and reentry transitional housing and inpatient alternatives to detention and treatment."

Update: This article was updated to include a statement from Office of Mental Health spokesperson James Plastiras on medical records access under the Kendra's Law amendments.