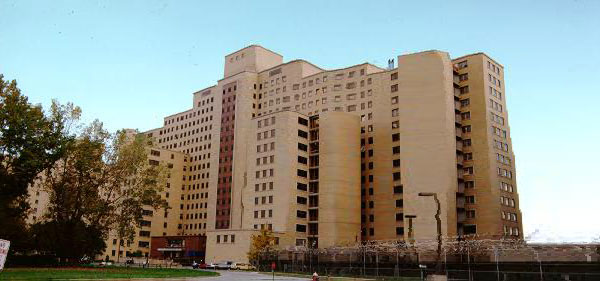 A state psychiatric hospital (photo: Office of Mental Health)
---
As New York State hospitals began to fear the worst last spring -- that the pace of the coronavirus would overtake their ability to discharge patients and clear beds -- they had to decide what to do with people being admitted for acute psychiatric care.
In the second week of March 2020, only 325 New Yorkers had tested positive for COVID-19 but images from abroad and the pace of infection outlined a worrying forecast. By the end of the week, New York would confirm its first casualty from a virus that has deeply strained the health-care system and claimed more than 51,000 lives statewide.
At the time, Governor Andrew Cuomo and state health officials were pressuring hospitals to increase capacity, suspending rules and regulations and certain patient protections to help them do it. Among the lifted statutes was Section 517 of the state's Mental Hygiene Law, which gives due process rights to psychiatric patients: namely that they be given notice before being transferred to another facility and a chance to appeal the decision. It was an obscure addition to a long list of suspended laws contained in one of the governor's first emergency orders. It would be two months before it was quietly reinstated.
While Section 517 was suspended, Gotham Gazette has learned, at least 366 patients were admitted to state-run psychiatric institutions, where check-in can be a black hole and the length of stay is dictated by doctors and a judge. Many of them were transferred from hospitals scrambling for beds, sometimes infected with COVID-19, according to people with knowledge of the situation. The true total is almost certainty greater based on exceptions to the data provided to Gotham Gazette.
The flow of patients from hospitals to psychiatric institutions represented a 10% increase in admissions to the latter from the same period -- March 12 to May 8 -- the year before, and a 22% increase from the two-month span immediately prior, according to data provided by the New York State Office of Mental Health (OMH) after a Gotham Gazette inquiry. OMH only provided admissions data for adult, non-criminal institutions, and did not include nine of its children and so-called "forensic" facilities, which are not covered by Section 517.
"What is the surge capacity? Getting the existing hospitals to hold more people," Cuomo said at a press briefing broadcast from the State Capitol on March 17, 2020. "Right now there are rules and regulations about how many people can be in a hospital, how many people per room, how many square feet per bed, et cetera."
"That's for normal operating conditions. These are not normal operating conditions," he said, flanked by his health commissioner, Dr. Howard Zucker, and other top aides.
The operation to move patients to state-run psychiatric facilities spanned multiple city and state agencies and private health-care providers. Under state guidance, people with mental health needs from public and private hospitals and the New York City Department of Correction were offloaded to OMH institutions. A quarter of the 366 admissions came from New York City Health + Hospitals, the city's public hospital system.
During that time, the virus festered in psychiatric institutions. It tore through wards, killing at least 30 patients and seven staff by the end of April; by February 2021, 58 patients in state psychiatric institutions (49 confirmed, 9 suspected) had died. Rates of death and infection in the facilities far outpaced other congregate settings, like prisons, where the virus was known to thrive. Studies show people with mental illness are more susceptible to getting infected and having worse outcomes than the general population. People entering inpatient settings often have underlying illnesses, skew older than people in prison and have fewer restrictions, which posed particular challenges for patients and public health officials.
"Since the start of the COVID-19 pandemic in March 2020, OMH implemented numerous infection control measures and safety protocols to protect the health and well-being of our patients and staff," said OMH spokesperson James Plastiras, in an email to Gotham Gazette. "These measures allowed us to prevent serious outbreaks at our facilities, even while we doubled admissions during the peak surge of the pandemic, including accepting COVID-positive psychiatric patients, to help general hospitals repurpose psychiatric beds to treat COVID-19 patients."
Plastiras would not say how many transferred patients had COVID-19 at the time, nor provide information on patients' ages. It is unclear if any people were transferred into psychiatric institutions who otherwise would not have been. OMH and New York City Health + Hospitals say all transfers were 'clinically appropriate.' Also unknown is how many patients objected to being moved because OMH does not keep those records. A Health + Hospitals spokesperson wouldn't say either but told Gotham Gazette that staff tried to ensure patients understood what was happening to them.
There has been no oversight of OMH inpatient facilities by the State Legislature's committees on mental health since the start of the pandemic. Assembly mental health chair Aileen Gunther and Senate chair Samra Brouk (who entered office in 2021, after the first covid peak) did not provide comment for this article despite multiple requests. Inquiries to the state Department of Health were referred to OMH.
While a typical psychiatric stay at a general hospital can last up to two weeks, it usually takes more than a year to secure release once admitted to a state psychiatric hospital run by OMH. Being institutionalized comes with stigma on the outside and it is often considered in future psychiatric evaluations as a factor in holding someone.
The average length of retention at psychiatric institutions for patients discharged in 2020 was 429 days, or 14 months -- 60 days longer than the 2019 average. Lawyers representing OMH "clients," as they are sometimes referred to, say patients often fight to secure their release from the moment they arrive. It is unclear how many patients admitted during the peak are still in OMH facilities.
Contact with people inside institutions can be difficult. It's common for wards to only have one or two phones shared among dozens of patients, congregating endlessly (a potential source of covid spread during the peak) to contact the outside. At least at some facilities, lawyers for Mental Hygiene Legal Services, a branch of the state court system that represents OMH patients, are still not allowed to visit their clients in person, even as other services have resumed, which some say can hamper cases and lead to delays in patient release.
Inpatient psychiatric institutions like the ones run by OMH are intended for people with severe mental illness, like schizophrenia or bipolar disorder, who are unable to manage symptoms or who may be a danger to themselves or others. While the goal of a general hospital setting is stabilization, OMH facilities are meant to provide chronic care. They also house people who are found unfit to stand trial in criminal court, or who plead guilty by reason of mental illness. Admission may be voluntary or involuntary, and sometimes doctors seek transfers as a stepping stone to securing a limited number of state outpatient residences, which come with supportive services. But once admitted, even voluntarily, it is difficult to get out. Judges, after listening to a doctor's recommendation, can prolong retention for increments of six months or longer until the next hearing is scheduled. The process can go on indefinitely.
'Once You Get in'
"This place is not going to help me," thought Emily when she was admitted to Pilgrim Psychiatric Center, an OMH facility in Brentwood, Long Island, in January 2020 as she recalled the scene in an interview a few months later. She had sought a voluntary transfer to the inpatient facility from St. Catherine's Hospital, a general hospital nearby where she had been in recovery for months following a suicide attempt that put her in a coma. (Gotham Gazette has changed her name here to protect her privacy.)
It was shortly after New Years Day, weeks before widespread fears of the novel coronavirus. Emily would be held for ten more weeks under the orders of a judge and at the behest of a physician, acting as an expert witness, who she said had seen her only once, for 15 minutes, before rendering his opinion that she was a danger to herself and depressed enough to need to be committed.
During her time inside, the pandemic engulfed the institution. Pilgrim, one of the facilities that took patients from New York City hospitals, saw at least ten patients die from COVID-19 by June, the most of any OMH center.
Emily said the conditions were worse than at St. Catherine's. She spent most of her time sleeping or sitting in a chair with occasional therapy sessions and little else but the incessant light of a television set. When the pandemic hit, from what she could see, patients were quarantined per ward but hospital staff travelled between units and to the outside world.
"Once I got in Pilgrim I realized it really wasn't a better place to be and I wanted to get out. And then they said, 'No, you can't leave,'" she said over the phone a few weeks after she was released last April. "You can go in voluntarily and then they'll decide to change you to involuntary, and that's what happened."
"Once you get in they don't just all of a sudden let you out," she said.
Within 72 hours of admittance, Emily had requested to be discharged. Instead a court date was scheduled two weeks out, she remembered, and she was given a lawyer from Mental Hygiene Legal Services, the state-provided counsel.
"That's pretty much the system. They're going to decide when you leave," she said later. Pilgrim discharged Emily to an outpatient residence in early April without a second hearing. A ten week retention is one of the shorter psychiatric holds; it is not usually that easy.
Joseph and his mother have been trying to get his older brother, Pete, out of OMH institutions for close to a decade, after he was put under a criminal hold for trying to kill himself by setting his bed on fire in 2010. Joseph has maintained the suicide attempt was due to a change in antipsychotic medications that Pete's doctors quickly reversed. After a few years they secured a transfer from Rochester Psychiatric Center, a forensic facility, to Buffalo Psychiatric, a civil one. Since then, they have struggled to make progress. (Their names have been changed for privacy.)
Joseph said the hospital has sometimes increased Pete's medication before hearings, making him appear enfeebled -- something lawyers working with OMH clients have confirmed doctors and staff do, ostensibly to reduce the risk of outbursts in court. "Now they got him sitting there and he's drooling. It's like they're deliberately overmedicating him just for the court hearing," Joseph said, recalling an episode. "I mean we visited him every week and he never drooled."
They worry about Pete's ability to navigate conversations with his attorney, who Joseph said has done as much to keep him institutionalized as the prosecutors on his original charges. The Mental Hygiene Legal Services attorney appointed to his case had not gotten an independent medical exam for Pete at three separate hearings, Joseph said, instead relying on testimony from the doctors at Buffalo Psychiatric and patient records. Joseph and his mother want to find a private attorney but they don't know how they will pay for it. The pandemic has only made his situation more difficult, closing Rochester Psychiatric to visitors and cutting most contact with his brother.
At the last hearing Joseph attended before he spoke with Gotham Gazette last April, he recalled the judge saying, "Well, I listened to your testimony," addressing Pete directly, "and I've listened to the expert. I have to listen to the expert."
To Joseph, the system was operating backwards. "Why even have a hearing if you don't have your own expert, which is what the [independent medical exam] does for you? That was just a joke," he told Gotham Gazette.
Due process issues like the ones Joseph has alleged appear common for mental health patients under state custody. Those problems have persisted during the pandemic.
Norman Siegel -- the civil rights attorney who has represented high-profile psychiatric cases -- believes having judges, OMH representatives, and MHLS attorneys all employed by the state creates conflicts of interest and means orders of retention are often rubber-stamped. "You have a right to request a hearing...But the hearings themselves are not really fair," he said in a phone interview.
"The script is already written. The doctor -- and in some cases the doctor relying on information that was provided on the [medical] record by a non-doctor -- sometimes gets up and reads what's in the record for the court record. And the patient who was challenging it, even if they have a Mental Hygiene Legal Services lawyer, very rarely has a doctor, a psychiatrist to counter that situation," Seigel said.
"If you're going to be independent to represent people against the state and the state's funding you, that's a problem," he added after acknowledging the positive impact MHLS lawyers had in previous cases he's been involved in.
No Mental Hygiene Legal Services lawyer would speak on the record for this article; a spokesperson said they have a policy of not talking to the press beyond basic explanations of what the agency does.
Judges often ask patients to be taken from the room before a reading an unfavorable verdict. At a day of hearings last June (after Section 517 had been reinstated) for patients at Gracie Square Hospital, a private inpatient facility attached to New York-Presbyterian health-care system on the Upper East Side, New York State Supreme Court Judge Douglas Hoffman asked a patient to leave before remanding them.
"I always felt that that practice itself showed a bias because if that's in your mind, that the patient sitting there is a danger to themselves or others, how can you be really neutral and objective," Siegel told Gotham Gazette.
Transparency in these types of proceedings is limited. Even in noncriminal psychiatric cases, judges can act punitively with little recourse from patients. With hearings held virtually because of COVID-19, court actions were able to unfold in the shadows.
The hearings, which are supposed to be open to the public, that day in June were held virtually with a conference call option. In the afternoon, after Judge Hoffman apparently realized there was an audience, he disconnected callers he didn't recognize as hospital staff and patient lawyers.
"I want to make sure that people's privacy is protected," Hoffman told the court clerks. "We have to find a way of preserving people's privacy because this whole day people were on the call and we have no idea who they are."
Some of the hearing spectators told the judge they were attending on behalf of a particular patient who had yet to go before the judge. When it was the patient's turn, Hoffman punished him.
"OK, you know what, it's totally improper they've had access to this. Your case is going tomorrow. Next case," he growled, not letting the patient speak. "Totally improper to be on the line while these other hearings are taking place."
Sometimes patients are held as a matter of housing, which for the most marginalized New Yorkers became harder to secure during the pandemic.
Daniel Rosen, an attending psychiatrist at Gracie Square, sought a brief extension of custody for one patient during that day of hearings in June. "The problem is that she's homeless and we need to discharge her to shelter," he explained to the judge. "We've had a lot of difficulties with shelters taking patients from hospitals because of the covid situation and it takes a few days normally and to have a shelter referral. Sometimes it gets pushed back and a third day is reasonable to have."
Often patient holds are much longer and can be extended indefinitely. Arthur (his middle name) has been on a forensic ward in Rochester Psychiatric since 2019, having accepted a plea deal for 2016 charges of contempt and conspiracy. The charges -- the most serious of which involves making a phone call in violation of a restraining order -- are class E felonies for which the maximum sentence in New York is four years imprisonment. Between an Erie County jail and his court-ordered hold at Rochester Psychiatric, Arthur has been in a carceral institution for five years now with no end in sight.
"The single worst mistake I've ever made in my life was taking this plea," he said in a phone interview from a unit in Rochester Psychiatric.
The Kafkaesque element of trying to get out of an institution that both holds people and catalogues their behavior can be maddening. "Its biggest problem is the bureaucracy...It's an almost impossible maze to get out of and it's just disheartening," Arthur said.
Last fall, a second COVID-19 wave moved through Rochester Psychiatric and other OMH facilities. Arthur was concerned about what precautions the staff was taking but said he could not do much to change his surroundings. "You can't really raise too much awareness to things that they don't really want you to raise awareness to because then you are symptomatic."
Arthur's hearings had been continually delayed throughout the pandemic but he had one scheduled for early May. He was hoping it would give him freedom. When he's out he wants to create a non-profit dedicated to raising awareness about mental illness and psychiatric institutions, he said.
The Scramble for Beds
Last March, as COVID-19 cases began ticking upward in New York, reports were widespread of Italian hospitals overflowing and turning away sick people to live or die at home. To prepare for the eventuality of an overwhelmed hospital system, Governor Cuomo declared a state of emergency and began signing tranches of executive orders to compel swift action from hospitals. Days earlier, at Cuomo's request, the State Legislature approved an expansion of the governor's emergency powers and had taken few, if any, public actions to block any executive order. (In March 2021, in the wake of multiple scandals involving Cuomo's alleged sexual misconduct and misrepresentation of nursing home residents' covid-related deaths, the Democrat-led Legislature voted to strip the Democratic third-term governor of some of that power.)
On March 12, five days into the state of emergency and before the state's first confirmed covid-related death, Cuomo suspended Section 517 of the Mental Hygiene Law -- eliminating patients' right to notice and appeal before being admitted to OMH custody. In an open letter to President Donald Trump published in The New York Times three days later, he laid out a frightening scenario: "You must anticipate that, without immediate action, the imminent failure of hospital systems is all but certain...States cannot build more hospitals, acquire more ventilators or modify facilities quickly enough," the governor wrote.
New York had 53,470 beds and only 3,186 of them were equipped for intensive care. If projections held, the state would need 110,000 beds -- more than double -- to treat people sickened or dying of COVID-19, Cuomo told reporters on March 22. The next day the State Department of Health cancelled all elective surgeries and mandated hospitals submit plans to increase capacity by at least 50% with a goal of 100%.
Hospitals, especially in urban areas, discharged the patients they could and converted any available room into bed space. As much as possible, hospitals would only admit the most critical patients.
People hospitalized with acute mental health challenges who could not be discharged -- either because they weren't stable or didn't have a safe environment to return to -- were sent to the state's psychiatric institutions, run by OMH, for long-term care, according to hospital administrators. Health + Hospitals and OMH officials claim patients referred to the state met OMH's admission criteria.
As intubation rates of covid patients rose, so did the pace of discharging patients. "Discharge rate...that by and large is going up. People come into the hospital, stay for a period of time, number of days, and then they move on," Cuomo said on March 30, the day the Javits Center emergency field hospital began taking patients.
Around this time, OMH created a centralized referral system run through its headquarters in Albany "[t]o streamline admissions at state-run facilities," Plastiras, the OMH spokesperson, told Gotham Gazette.
"All referring facilities in the NYC, Long Island, and Northern NYC suburbs submitted their referrals for review by the Central Office Admissions Team," he wrote in an email. "Accepted cases were then designated to Downstate Psychiatric Centers that could accommodate the clients." Patients had to be referred with a COVID-19 screening form with questions about exposure, test positivity, symptoms, and comorbidities. Plastiras said new admissions were isolated or quarantined depending on the patient's status.
Because of the scarcity of COVID-19 swabs at the time, widespread testing was not being conducted and there were no reported positive cases sent to OMH in March and April 2020 from New York City public hospitals, according to a Health + Hospitals spokesperson.
While patients normally spend two weeks in hospitals before being transferred, if they are transferred, he noted, patients were being moved much faster.
OMH institutions, especially in and around New York City and Rochester, filled up as hospitals discharged patients to them. At the same time, discharges from some OMH facilities, which usually require the availability of outpatient beds or a family member's supervision, were disrupted by the pandemic.
Cramped quarters and common spaces, where sometimes over twenty patients would gather, allowed the virus to spread, according to facility staff and patients at the height of the first peak.
"The movement of patients was a lot easier before the pandemic. It's not happening," said Darlene Williams, an occupational therapist at New York Psychiatric Institute, an OMH facility in Washington Heights, in an interview in April 2020. "Patients are coming in. Admissions are still happening but patients aren't going anywhere, so it's not like you have like before."
"Censuses are now always at the top because it's difficult to move patients out," said Williams, who is the downstate coordinator for Public Employees Federation, a union representing thousands of psychiatric workers in state facilities.
There was a push by OMH to discharge patients "but you can't move people out when you don't have places to move them," she said, referring to a shortage of outpatient beds.
Randi DiAntonio, vice president of Public Employees Federation, said the influx put a strain on hospital resources and staff. "Because they're taking in new patients from the city, they're having to open units and they don't have enough staff to open units. They are moving members that are in different titles -- clinical titles -- to do work where they'll be covering wards basically and supporting the very limited numbers of direct care staff that are now working because a lot of people are out sick."
Loose protocols and little systemwide continuity may have hurt efforts to stem the virus in facilities, DiAntonio and other people working with patients said. "Unfortunately, they didn't follow great quarantine protocols when they were doing that...They potentially put people into general populations, creating more of a potential for spread," she said over the phone last spring. At the time, PEF was urging OMH officials to adopt more rigorous screening practices.
Where Did They Go?
If New York City was the global epicenter of the pandemic in the spring of 2020, the city's public hospitals were the center of the epicenter.
New York City Health + Hospitals transferred 91 patients from psychiatric floors to OMH inpatient custody in March and April, when a majority of transfers took place, according to a spokesperson. The system's covid "surge management plan" included provisions for expediting patient transfers to OMH centers in accordance with guidance from OMH and the state Department of Health, which houses it. Officials in the health department's central office deny issuing guidance to hospitals related to moving psychiatric patients to OMH. Health + Hospitals has never published its surge management plan and would not share sections related to psychiatric transfers.
The transfers helped New York City public hospitals triple ICU capacity at the height of the first wave, even as they were being overrun -- especially in underserved Black, Latino, and immigrant neighborhoods like Elmhurst, Queens, and the South Bronx.
"NYC Health + Hospitals worked tirelessly to ensure critical mental health services and treatments weren't disrupted during the COVID-19 pandemic surges, while also extending life-saving care to the high volume of patients suffering from severe COVID-19 symptoms," said Health + Hospitals spokesperson Stephanie Guzmán, in a statement. "Our partnership with the New York State Department of Health's Office of Mental Health made transferring behavioral health patients to State facilities quickly, safe, and efficient for all of our patients, guaranteeing their continuation of care and comfort in the process."
The state health department did not track psychiatric discharges or transfers to OMH facilities and could not provide information on the covid status of mental health patients, according to spokesperson Jill Montag. A spokesperson for the city's Department of Health and Mental Hygiene, which is separate from Health + Hospitals, told Gotham Gazette the department did not have oversight over patient transfers and directed inquiries to OMH.
Private hospitals also sent psychiatric patients to OMH long-term care during the pandemic's early months in New York.
"As some of the psych services needed to be curtailed during the spring surge, I do know that some of the state psychiatric facilities, residential facilities and other facilities, took on more of those patients in order to meet patient need," said Jenna Mandel-Ricci, the vice president of regulatory and professional affairs at the Greater New York Hospital Association, in an interview with Gotham Gazette in November. GNYHA represents over 160 private providers in the area and Mandel-Ricci headed its emergency preparedness efforts.
"That was a really nice example of how the hospitals worked with the state facilities," she said.
Brian Conway, a spokesperson for the association, denied any direct involvement in psychiatric patient transfers. "GNYHA has never had a role in such transfers or discharges, including during the height of the pandemic last spring," he wrote in an email to Gotham Gazette.
Some people held at Rikers Island, the city's largest jail complex, who were awaiting trial and normally would have gone to a hospital for psychiatric care were instead sent directly to OMH facilities.
On April 2, 2020, Brian Belfi, the executive director of Kirby Forensic Psychiatric Center, an OMH facility on Randall's Island for people coming in through the criminal justice system, wrote an email to his staff obtained by Gotham Gazette.
"Next week we are going to be taking female admissions from Rikers Island who need a higher level of psychiatric care," he wrote. "These are inmates that would have historically gone to Elmhurst [Hospital] which is overburdened with COVID. The NYC DOC is discharging more inmates than ever before so we are hoping there is not going to be many admissions."
At the time, according to the email, Kirby Forensic had eight covid-positive patients on a single unit -- which can typically hold up to 30 patients -- and administrators were looking for space to put other patients they suspected of being positive.
The Department of Correction did not provide comment for this article.
Broadly, of facilities that OMH provided data on, Rochester Psychiatric Center and facilities in and around New York City had the biggest admissions upticks from March 12 to May 8, 2020, while Section 517 was lifted, compared to the same period in 2019. (OMH only provided data on 14 of the state's 23 facilities, not including Kirby Forensic.)
Admissions to Rochester nearly tripled from 2019 and doubled from what they were between January 12 and March 12, 2020, the two-month span just before 517 was suspended. Bronx, Kingsboro, and Manhattan psychiatric centers, all in New York City, also saw admissions at least double. South Beach, on Staten Island, and Rockland Psychiatric, located near New York's first coronavirus hotspot, saw smaller upticks (by the end of the season, Rockland had the third-most covid deaths of any facility, according to OMH, and possibly higher).
Many facilities in upstate New York, with the notable exception of Rochester Psychiatric, saw a downturn from 2019 in early 2020. Elmira Psychiatric Center, in the Finger Lakes region, saw its admissions cut in half between spring 2019 and the end of that year, only to see it double again in the spring of 2020. Buffalo Psychiatric experienced a similar fall and rise of smaller proportions.
Between March 20 and June 4, 2020, 38 psychiatric institution patients died from COVID-19, according to information from OMH. Three facilities had more than five confirmed patient deaths from COVID-19, though it is unclear when those deaths occured, whether these patients were recently transferred from hospitals, and where they contracted the virus. Creedmoor Psychiatric Center, in Queens, saw eight deaths, Pilgrim, 10, and Rockland, six, according to Plastiras in a June 5, 2020 email -- though an employee at Rockland Psychiatric told Gotham Gazette last April about nine COVID-19 deaths that had occurred and The New York Times reported that OMH had confirmed ten patients there had died. (Plastiras at the time told Gotham Gazette it was against policy to disclose facilities with five or fewer COVID-19 deaths in order to protect personal health information.)
Those three facilities are OMH's largest by population and had the highest numbers of patients over 65 as of April 19, 2020, according to data obtained through a Freedom of Information request. OMH did not provide a racial breakdown of the population because "disclosure could constitute an unwarranted invasion of personal privacy."
Creedmoor is the nearest adult OMH psychiatric center to Elmhurst Hospital, which saw some of the coronavirus' worst days in New York. It had the largest admissions drop of any OMH facility, despite having one of the highest death tolls by the end of spring 2020. The district is predominantly Latino and Asian.
Pilgrim, which had the most OMH-confirmed deaths of that season, increased admissions including patients from the city, according to people with knowledge of the facilities at the time, who spoke on the condition of anonymity. Sources say it is unusual for Pilgrim, which is in central Long Island, to receive city clients because people are usually admitted locally, where they can be near family and outpatient residences in their community.
(Data: New York State Office of Mental Health)
(Data: New York State Office of Mental Health)
(Chart: New York State Office of Mental Health)