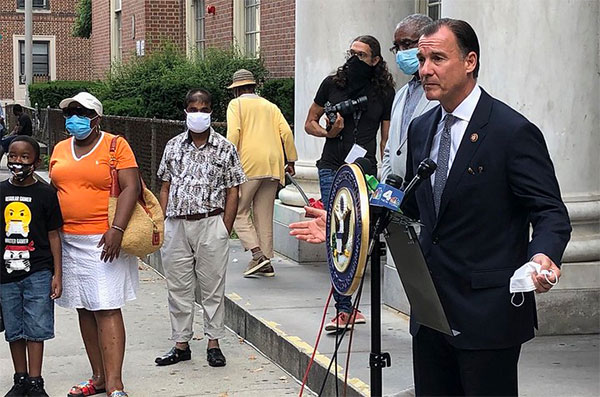 Rep. Tom Suozzi (photo: Suozzi's office)
---
As he runs for Governor of New York this year, U.S. Representative Tom Suozzi is offering his experience and approach as a "common sense Democrat" to voters in the fast-approaching primary. Suozzi, of Long Island, argues his more than two decades in elected office, including executive and legislative roles, record of accomplishment, and vision for the future of the state differentiate him from his opponents and demonstrate his ability to follow through on his campaign promises.
"Every politician says 'I'm gonna do this, I'm gonna do that'," said Suozzi, who represents New York's 3rd congressional district covering parts of Long Island and Queens, in a recent appearance on the Max Politics podcast from Gotham Gazette. "I've got a record of 16 years as a chief executive in government and five-and-a-half years in Congress of delivering money back to the state of New York and getting things done."
During the interview with Gotham Gazette editor Ben Max, Suozzi discussed his campaign, how he differentiates himself from his competitors, and a wide range of issues affecting New Yorkers including the baby formula shortage, reproductive rights, taxes and affordability, and the regional mass transit system.
Suozzi also reflected on his 2006 run for governor and how his loss that year to Eliot Spitzer has informed his current campaign. He addressed his personal finances and argued repeatedly that he would better serve New Yorkers than Hochul.
The Democratic primary for governor is scheduled to take place in June -- with early voting June 18-26 and primary day June 28. Suozzi is running against Governor Kathy Hochul, who took office less than a year ago after the resignation of Governor Andrew Cuomo, and New York City Public Advocate Jumaane Williams, who is running to the left of the more moderate Hochul and Suozzi. The congressman is courting many of the same voters Hochul is attempting to appeal to, and he is making a concerted effort to woo those further toward the middle and right of the political spectrum, especially on issues like crime and criminal justice reform.
New York's political calendar has gotten messy after the decennial redistricting process went awry. Along with the statewide primaries, those for state Assembly seats will also be held in June. But the primaries for State Senate and the U.S. House of Representatives that were also supposed to be in June were court-ordered to move to August when Democrat-drawn legislative maps were ruled unconstitutional by a judge. Suozzi said on the podcast that a consolidated primary would save money and secure higher voter turnout, but he predicted Hochul would leave the dates unchanged in order to prevent Cuomo from having more time to enter the primary.
Suozzi commented on how, if elected, he would address hot button issues like the baby formula shortage and access to abortion in a post-Roe United States, pending a Supreme Court ruling that is expected in June and, based on a leak draft majority opinion, could overturn 50 years of reproductive rights precedent.
Suozzi said he would harness the state's purchasing power to provide formula directly to New Yorkers. Discussing abortion, Suozzi said he would approach things similar to how Hochul has acted in the wake of the Supreme Court leak, but would put more emphasis on preventing unintended pregnancies by promoting education and contraception.
"We have to do everything we can to ensure that abortion remains safe, legal, and accessible in New York State," he said.
On what he's learned since his first run for governor in 2006, Suozzi said he better understands the inner workings of the press, relationships, legislation, and the bureaucracy, with deeper insights into the insider's game of New York politics as well as much more government experience.
Suozzi, who trails Hochul in the polls and in fundraising by wide margins, outlined his strategy focused on talking directly to voters, including a series of telephone town halls with registered Democrats.
"I'm losing my voice as you can hear because I've been talking so much," he said. He will have important opportunities in upcoming debates -- scheduled for June 7 and 16 -- to speak directly to voters while standing next to his opponents.
Throughout his campaign, Suozzi says he aims to communicate that he is a "common sense Democrat" who is "running on the issues that people care about" including crime, taxes and affordability, education, and government corruption, which he said he added to the list given that Hochul's first pick for Lieutenant Governor, Brian Benjamin, resigned after being charged with public corruption from his time as a State Senator.
Suozzi attributes New York's increase in net out-migration – more people leaving than arriving in the state – to crime and the high cost of living.
"When I was born, New York state had 45 members of Congress…Today we have 27 members of Congress, and it's going down to 26 in January because of the new Census," he said. "It's not sustainable. We can't survive this way."
Suozzi said it is possible to "serve people better and save money in the process" by increasing state aid to localities, especially for education, while cutting property and income taxes.
Asked how he would cut costs in government programs without reducing important services or lowering workers' wages, he emphasized his pro-union bona fides and referenced his previous work in Nassau County where, as county executive, he said he reduced the workforce through attrition, technology, and the consolidation of departments without cutting services or wages. He acknowledged he did raise taxes early on, but indicated the local economic and fiscal circumstances were far different than what the state is facing now.
When asked repeatedly, Suozzi did not note any specific improvement plans for the MTA, which runs the New York City subway and buses and the commuter rails, but said he would bring in "talented people" who "know how to get things done." He said that as a member of Congress he does not have the staff or time to focus in on all the details of how the MTA is run to have a plan in place for better execution and efficiency at the state-run authority where the governor holds immense sway, but promised that as governor he would be able to use his management skills to make significant improvements to the agency that is notoriously underperforming and wasteful.
The key to providing more affordable housing options for New Yorkers is to increase supply, he said. Asked particularly about increasing housing around Long Island transit hubs to undo the suburbs' significant lack of contribution to the state and metro region housing supply, Suozzi referenced the "cool downtowns" program he had implemented as Nassau county executive. He said he would revive and expand the program for suburban areas with more apartments near train stations to attract young renters and home-buyers.
Suozzi said he would also build more affordable housing units by offering tax incentives, limiting the rate of return to developers, and ensuring union workers are paid prevailing wages.
Toward the end of the discussion, Max asked Suozzi about his taxes and large stock portfolio. The Campaign Legal Center filed an ethics complaint against Suozzi in September for failing to disclose his stock trading activity, allegedly violating the Stop Trading on Congressional Knowledge (STOCK) Act. Suozzi has repeatedly said he did not know he needed to make additional disclosures beyond what he regularly did and that as soon as it was flagged he said he would start doing so.
Asked if he could guarantee New Yorkers he has never used his position to make gains in financial transactions (a form of insider trading), Suozzi said he could and took some offense to the question. He denied any involvement in the trades that his broker makes on his behalf. In fact, he said that the broker had recently made a trade he disagreed with but that it was the nature of the way he has set things up to avoid conflicts of interest.
He also said he would not release his tax returns before the June primary, but since his appearance on Max Politics, Suozzi reversed course, pledging to soon release his tax returns.
In making his closing argument on the podcast, Suozzi warned that if Hochul won the Democratic nomination she would lose in the general election.
"If Democrats want to keep New York state in Democratic hands, they should elect Tom Suozzi in the Democratic primary," he said. "I'll run [New York State] better, more effectively, more efficiently, and better for the taxpayers, with the people's interest at heart."
[LISTEN to the full conversation: Max Politics Podcast: Democrat Tom Suozzi on His Run for Governor]