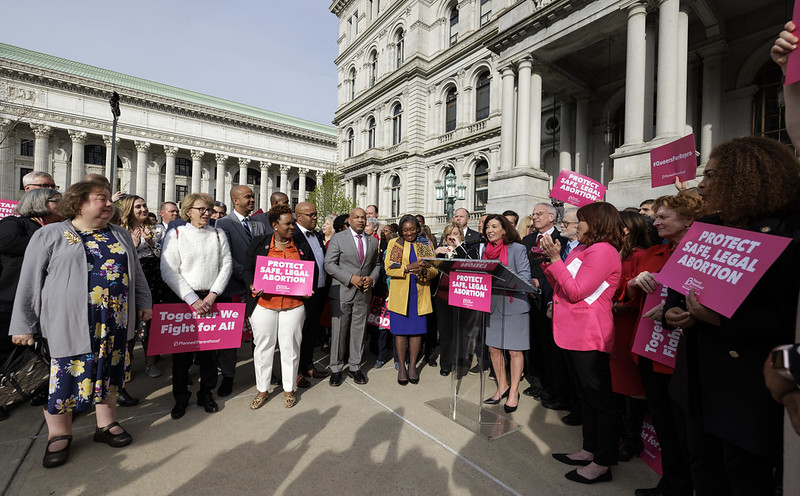 An Albany rally for abortion rights (photo: Mike Groll/Office of Governor Kathy Hochul)
---
State lawmakers voted on legislation late into the night Thursday, the scheduled end of the legislative session, and while the State Senate finished its business the Assembly continued passing bills throughout Friday and into Saturday.
A number of major deals were reached in the final week as the session came to a crescendo, while other marquee proposals fell by the wayside.
And as of Saturday morning, with the Senate on break but the Assembly still wrapping up business, the fate of at least two major pieces of legislation passed by the upper chamber was uncertain in the lower house. Neither wound up passing by the time the Assembly adjourned at about 8:30 a.m. Saturday.
With the end of the session, lawmakers return to their districts for campaign season ahead of the state primary elections — June for the Assembly and August for the Senate — and the fall general election. That doesn't mean they can't be called back into session to pass more legislation, which advocates for some failed measures have already begun calling for.
Legislators have been preparing for the final push on a host of bills since the state budget was finalized in April. This week saw the passage of a slew of legislation, driven by Democratic supermajorities in both houses, to strengthen voting rights, abortion access, gun control, street safety, and much more. Several New York City-focused bills passed, including an extension of mayoral control of city schools (with other changes attached), a new mechanism to allow NYCHA to raise funds for public housing repairs, and more.
Other proposals, like Good Cause Eviction protections for tenants, a replacement for the 421-a real estate development tax exemption, parole reform, a ban on gas hookups in newly-constructed buildings, and others appear dead, at least for the time being. Meanwhile, the Clean Slate Act — to seal most convictions after a sentence and parole period served — and the Build Public Renewables Act — to allow the New York Power Authority to finance renewable energy projects — were passed by the Senate but ultimately shelved by the Assembly.
Major Bills Pass Both Houses of the Legislature
The Assembly passed the New York Voting Rights Act Thursday afternoon, after the omnibus voter-protection bill passed the State Senate the day before. The bill is modeled on the federal Voting Rights Act, passed in 1965 to protect the rights of Black voters and largely defanged over the last decade by the U.S. Supreme Court. It is one of several moves Democratic majorities in both chambers are taking to respond to gaps or lapses in federal protections. The bill now goes to Hochul, who is expected to sign it after supporting the concept earlier this year.
"I am proud that New York is standing as a true bastion of voting rights despite the anti-democratic rollbacks being set forth by Republicans across the nation," said Senate Majority Leader Andrea Stewart-Cousins.
Lawmakers passed legislation to protect medical providers from misconduct charges and subpoenas for performing abortions in anticipation of a U.S. Supreme Court decision that would strike down Roe v. Wade. The Legislature fell short of passing a state constitutional amendment that would enshrine the right to abortion and civil rights protections based on sex, gender orientation or expression, disability, and other categories.
"I look forward to signing these bills into law," Governor Kathy Hochul, a Democrat, said in a statement on the abortion-related measures that were passed. "Make no mistake: for as long as I am governor, New York will be a safe harbor for all those who need abortion care."
The Legislature also passed a series of gun control measures in the wake of mass shootings in Buffalo and Uvalde, Texas, and on the heels of another Wednesday in Tulsa. The bills would raise the age to legally buy or own a semi-automatic rifle from 18 to 21, and require "microstamping" on new guns, which allows bullets to be linked to the weapon that fired them. Other legislation would disallow most people from purchasing body armor, bolster background checks, and make it possible for more people to file extreme risk protection orders to prevent certain people from purchasing firearms (thus strengthening the "red flag" law).
"The horrific mass shootings in Buffalo and Uvalde have shown us, once again, that our country needs to have a conversation about the national obsession with guns. But it has also shown us that we cannot wait to take action," said Assembly Speaker Carl Heastie.
A two-year extension of mayoral control of New York City schools was passed with additional caveats that have rankled Mayor Eric Adams. The extension comes with changes to the Panel for Education Policy and requirements to lower class sizes in city schools over five years. Adams criticized the legislation earlier this week, threatening that the mandate will mean reducing other school programs to pay for it if the state doesn't provide additional funding to the city — something disputed by the leader of the legislative effort, Queens State Senator John Liu, chair of the Senate's New York City education committee. Liu pointed to additional state education funding already set to head to the city that can be used for the class size reductions.
In a statement after its passage, the mayor expressed hope that cuts could be avoided.
"While there is more work to do to deliver on the priorities New Yorkers are asking for, we are optimistic that there is a way forward on key elements, including ensuring we achieve the shared goal of smaller class sizes without forcing the city into a fiscal crisis and impacting programs for our most vulnerable students," Adams said Friday.
Lawmakers passed legislation to renew New York City's School Zone Speed Camera program, championed by Brooklyn Senator Andrew Gounardes and Manhattan Assemblymember Deborah Glick, and expand its operation to 24 hours a day.
"Our life-saving speed cameras have proven to slow drivers down – but we can't operate this program when reckless driving occurs the most: overnight and on weekends," said New York City Department of Transportation Commissioner Ydanis Rodriguez. "We are using every resource available, from enforcement to street redesigns, to curb senseless traffic violence and we look forward to the Governor's bill signing."
Lawmakers passed legislation to create the NYCHA Preservation Trust, a public benefit corporation that could lease up to 25,000 public housing apartments and borrow money for repairs and maintenance. The bill, supported by Mayor Adams and championed by Brooklyn Senator Julia Salazar and Assemblymember Steve Cymbrowitz, is one mechanism experts have been looking to fund the tens of billions of dollars needed to fix New York City's crumbling public housing stock.
The Legislature also passed a bill sought by the mayor making it easier for distressed hotels to be converted into affordable housing. The legislation would build on the Housing Our Neighbors With Dignity Act, passed in 2021, which set aside $100 million for the conversions. Another $100 million was set aside for the same purpose in this year's state budget. The law passed this week would ease regulations to allow those modifications to take place.
Adams applauded the Legislature on a number of actions it took this week in a statement Friday: "The creation of a NYCHA Trust will funnel billions of dollars to residents for critical repairs. Legislation facilitating the conversion of vacant hotels to housing will deliver much needed relief to our homelessness crisis. And keeping pedestrians on our streets safe and allowing life-saving 24/7 speed cameras is a victory for us all."
The Freelance Isn't Free Act passed both chambers Friday. The bill, modeled after a law passed several years ago in New York City, would guarantee labor protections for independent contracts. The legislation, championed by Brooklyn Senator Andrew Gounardes and Rochester Assemblymember Harry Bronson, mandates timely payments and contracts for jobs paying over a certain amount, requires the state to provide some legal assistance to freelancers, and includes anti-retaliation measures, among others. The bill is one of several dealing with labor that were approved as session drew to a close, while others languished.
Both houses approved a nation-leading ban on the sale of dogs, cats, and rabbits by pet stores, as advocated for by bill sponsors Senate Deputy Leader Michael Gianaris of Queens and Manhattan Assemblymember Linda Rosenthal, the ASPCA, and many others.
In a last-minute change of heart, the Senate passed a two-year moratorium on cryptomining after the bill passed the Assembly in April. The bill would prevent the state from issuing new permits for carbon-burning plants used to power the servers used for some cryptocurrency. It also requires the state to study the impact of cryptomining on climate change. The legislation faced an uphill battle in the State Senate after months of lobbying and political spending by the cryptocurrency industry in opposition. It is unclear whether Hochul will sign the bill into law.
And there were many other bills passed by both houses in the final days of the 2022 session, on top of others approved previously, like the Adult Survivors Act.
Two Big Unknowns Shelved by Assembly
The Assembly was considering a vote on the Clean Slate Act, which would automatically seal the criminal records after a matter of years barring re-offenses and certain other criteria. But after passing in the Senate the Assembly declined to take it up before adjourning on Saturday morning. Civil rights advocates said the bill would help prevent discrimination in housing, employments, and other areas for formerly incarcerated individuals and reduce recidivism.
The Build Public Renewables Act to expand the development of alternative energy projects was also in limbo as of Saturday morning but not taken up by the Assembly. The bill, passed by the State Senate, would allow the New York Power Authority to create and own renewable energy plants and phase out fossil fuel-burning plants. The bill passed the State Senate, where lawmakers hoped it would help the state reach its climate goals of reducing greenhouse emissions by 85% by 2050 and have 70% of electricity come from renewable sources by 2030. The BPRA is seen by many advocates and legislators as a necessary follow-up to the landmark 2019 Climate Leadership and Community Protection Act, which set the state's ambitious carbon reduction and clean energy standards.
And while there was much less optimism that the Assembly would take it up, the lower house also declined to pass legislation approved by the Senate that would professionalize the New York City Board of Elections, home to notorious dysfunction, patronage, and nepotism. 
Other High-Profile Bills Not Passed by Both Houses
Deals on other high-profile issues like Good Cause Eviction and the replacement of the 421-a real estate tax exemption, used in the construction of affordable housing, have not come together. The two houses also did not come to agreement on a bill to ban gas hook-ups in new construction (as of certain dates in the near future), something New York City passed last year.
The two houses did not come to a deal for first passage of an Equal Rights Amendment to the state constitution that would protect abortion and many other rights and marginalized groups. Legislators also failed to follow through on a promise to re-introduce and pass state constitutional amendments for same-day voter registration and universal absentee voting — both of which passed two straight legislative classes but were defeated by voters last year. Any proposed constitutional amendment must pass two consecutive legislative classes in order to then appear on the general election ballot for voter approval or disapproval. If these measures are not passed this year, they would not be able to make the ballot before 2025 at the earliest.
Lawmakers also decided not to act on two parole reform bills long-sought by advocates. The legislation, known as the Elder Parole Bill and the Fair and Timely Parole Act, would help reduce the number of people in prison by requiring parole hearings for people over 55 who have served 15 years of a sentence; and by requiring release on parole after a minimum sentence is completed barring a current public safety threat.
"Today, New York State's lawmakers are leaving their posts and going on recess with full knowledge of the fact that people are needlessly dying every three days in the prisons they oversee," said Jose Saldana, executive director of the Release Aging People in Prison Campaign. "More than 70 people – disproportionately Black Elders – are projected to die behind bars by the time they return."
And though there was little optimism from supporters that it would move by the end of the session, the New York Health Act, which would institute a single-payer health care system in the state, again did not move in the Legislature though majorities in both houses have supported the bill in the past.
Ben Max contributed to this story.