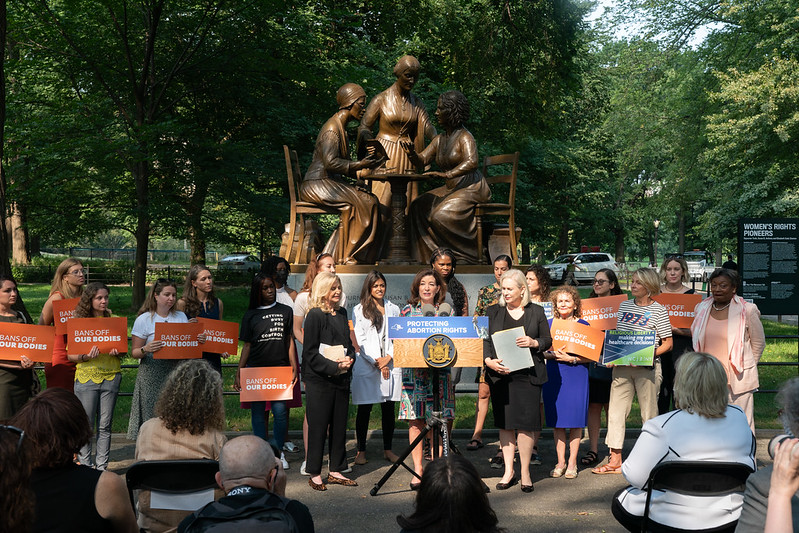 A rally for reproductive rights (photo: Don Pollard / Governor's Office)
---
Momentum is building behind an Equal Rights Amendment to the New York State Constitution that would enshrine reproductive rights and a range of anti-discrimination protections into the state's highest governing document.
Versions of the amendment have circulated in the Legislature for years without being reconciled among the two chambers, the Senate and Assembly. But it has gained new urgency with the expected U.S. Supreme Court demise of Roe v. Wade, as states look to shore up their own abortion rights.
On Thursday, the Assembly introduced a new version of the legislation that is substantively the same as the bill being discussed in the Senate, indicating lawmakers are approaching consensus.
The amendment's sponsors expressed optimism a version of the ERA will pass this legislative session, a requisite to getting it approved by voters before 2025. Previous attempts at passage in 2019 and 2020 failed because of disagreements between Senate and Assembly Democrats over the breadth of protected categories.
"It seems like where we were in disagreement was truly in the weeds of how different constitutional experts interpret how you write things into constitutions," Senator Liz Krueger, a Manhattan Democrat and the amendment's prime State Senate sponsor, told Gotham Gazette of recent discussions.
"The central staff are still in negotiation with each other," she said. "I think we've come much closer but I can't tell you it's soup yet."
Assembly Member Rebecca Seawright, another Manhattan Democrat and the Assembly sponsor, told Gotham Gazette in a statement, "I'm very optimistic that we will pass equal rights legislation this year."
Mike Murphy, a spokesperson for the Senate Democratic Majority wrote in an email, "we are still discussing and hope to have path forward."
Spokespeople for Assembly Speaker Carl Heastie, a Bronx Democrat, did not respond to requests for comment.
The current bill would prohibit discrimination based on sexual orientation, gender identity and expression, and pregnancy and "pregnancy outcomes." The latter would enshrine abortion rights in the state constitution, according Krueger and a legislative source in the Assembly. Both bills also protect against discrimination on the basis of ethnicity, disability, and national origin.
The state enacted a statute in 2019 to protect reproductive rights and the state Human Rights Law contains a number of the protections outlined in the ERA. Placing them in the state constitution would give those rights a higher standard of review and protections from challenge in the courts. A federal ERA to ensure equal rights for women was introduced in 1923 but has never been ratified, though a number of states have adopted their own ERAs.
The Krueger-Seawright ERA would make New York's one of the most expansive in the country. The bill would make the protections self-executing, meaning they would not have to be further clarified in future legislation. They would also prohibit actions that have a discriminatory impact, whether or not it was intentional – a step beyond interpretations of the U.S. Constitution's Equal Protection Clause, according to a legislative memo attached to the bill.
Constitutional amendments must be passed in two consecutive legislative sessions and then be ratified by voters in a ballot referendum. With this year being the second in a two-year legislative session, the amendment must pass both houses this year or be ineligible for a second passage in the next two years. The last day of the legislative session is scheduled for June 2, though there is always a chance of a special session before year's end. If an ERA passes this year and again next year (in the new Legislature based on this year's election), it could appear on the general election ballot across the state as soon as fall 2023.
Prior to 2021, the Assembly advanced a version of the amendment that was not self-executing and incuded protections only on the basis of sex, but not gender identity or other categories. Seawright's latest introduction would be self-executing and added language to protect sexual orientation, pregnancy and pregnancy outcomes.
In previous years, Krueger's ERA included protections on the basis of age – something the current iteration in both houses leaves out. Krueger told the Capitol Pressroom on Monday that she is still pushing for its inclusion in negotiations with other lawmakers.
There is also the question of a right to privacy, which Krueger has said is critical to ensuring other rights but which does not appear in the legislation she is currently working on.
She said the question is, "whether establishing right to privacy needs to be said separately or whether it's a de facto given," adding, "things like that are what seem to be holding up our ability to finalize, not fundamental disagreements over the purpose of this constitutional amendment."
Democratic Governor Kathy Hochul called for an Equal Rights Amendment as part of the "Equity Agenda" she released in January. She renewed those calls in the aftermath of the leaked draft Supreme Court decision that, if handed down, would eliminate federal abortion rights under the 1973 Roe v. Wade decision.
The ERA is "something we're looking at right now," Hochul said at a virtual press conference on May 10. "There are still a number of versions out there. This is something we actually looked at a number of years ago, and I supported this as lieutenant governor."
"At the time," she said, "we felt more secure that these rights would not be stripped away by the Supreme Court, but you had to be ready for anything, especially after the 2016 election. And now we're seeing the results of that."
When asked whether the governor would sign the legislation if it passed both chambers, a spokesperson for Hochul referred Gotham Gazette to the May 10 statement.
Former Governor Andrew Cuomo backed an ERA year after year in his policy agendas and budget proposals but it never passed before he resigned last year amid multiple sexual harassment and corruption allegations.
"We will pass an expanded, nation-leading Equal Rights Amendment so that no matter what happens at the federal level, all New Yorkers will be afforded the complete and unequivocal protections they deserve," Cuomo said in a statement as part of his 2020 State of the State agenda.