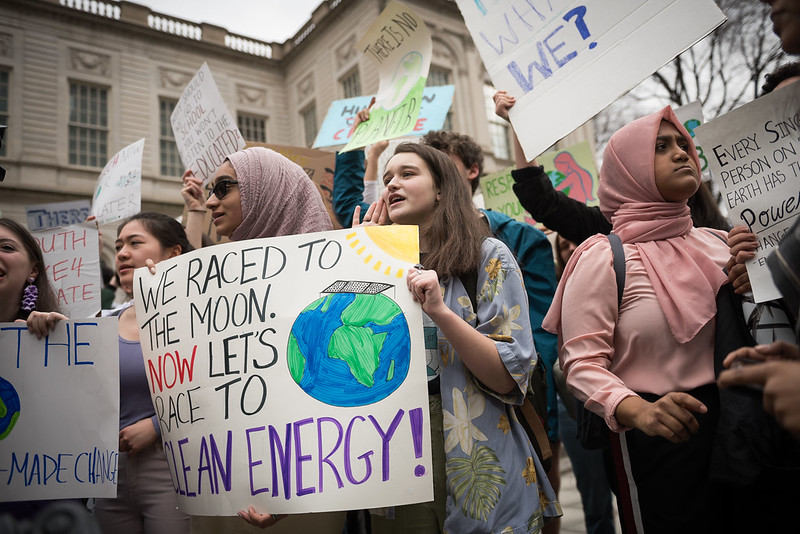 Climate march (photo: Ed Reed/Mayoral Photography Office)
---
The Democrat-led state Legislature ended its session over the weekend without passing any additional major pieces of climate-related legislation that some legislators and activists had been pushing for months. The failure to act has provided renewed vigor to several candidates running in the primaries this year who had already been centering climate action in their campaigns, many of them challenging incumbent Democrats.
They say that the state must take immediate and extraordinary action as the adverse effects of climate change continue to worsen, especially to meet the green energy requirements in the state's landmark 2019 Climate Leadership and Community Protection Act (CLCPA). 
The candidates and activists they are aligned with say the most egregious failure at hand is the Build Public Renewables Act (BPRA), which picked up serious momentum as climate activists and elected officials rallied for it as the session was coming to a close.
The bill would allow the New York Power Authority (NYPA) to own and build new renewable energy projects, along with mandates for phasing out fossil fuel power plants by 2030, and being the sole provider of renewable energy to state-owned properties by 2030 and municipal properties by 2035. Its supporters say it is crucial to achieve the goals of the CLCPA, which they say is the last major climate legislation approved in New York, requiring the state to reduce economy-wide greenhouse gas emissions by 40% by 2030 and by 85% by 2050 from 1990 levels. 
The BPRA passed the State Senate but ultimately didn't get a vote in the Assembly, despite activists insisting that they had corralled enough support for it. The backlash, particularly against Assembly Speaker Carl Heastie, was swift and many of those activists say it will be felt at the ballot, where several progressive candidates are running with a focus on climate action in this year's primaries — June for the Assembly, August for the Senate.
In a suprise statement on Monday, two days after the session ended, Heastie announced a hearing on the BPRA scheduled for July 28, a month after the Assembly primary. "We agree with the goals of the Build Public Renewables Act," he said of the Democratic supermajority in his chamber. "The final version of the bill – amended two days prior to the scheduled close of our legislative session – had support in our conference, but not enough to move forward at this point." 
He said the hearing would examine various aspects of the bill including, "capacity needed to meet goals, potential costs of needed infrastructure, impacts on consumers and taxpayers, acquisition costs, and siting and eminent domain criteria."
"I think it was a real eye-opener for a lot of people," said Aaron Eisenberg of the Public Power NY coalition, which was advocating for the BPRA. "I think, especially…recognizing that 'vote harder' or 'vote blue only' is not enough in this case, because seemingly with 105 Democrats out of 150-member body and 83 confirmed yeses, that was still not enough to bring substantive climate legislation to the floor for a vote." 
He said the Assembly's failure to vote on the bill was "a damning indictment of failed climate leadership and climate denial because it's saying that we don't need to do anything when every single alarm bell should be going off." 
The New York Democratic Socialists of America is backing a slate of candidates this year who are running largely on the issue of combating climate change. They include Illapa Sairitupac, who is running for an open seat in Assembly District 65 in Manhattan; David Alexis, who is challenging State Senator Kevin Parker in District 21 in Brooklyn; Keron Alleyne, who is running against Assemblymember Nikki Lucas, who won Brooklyn's District 60 seat in a special election in February; Sarahana Shrestha, who is challenging Hudson Valley Assemblymember Kevin Cahill in District 103; Vanessa Agudelo, who is running for an open seat in District 95 in northern Westchester and Putnam Counties; Samy Nemir Olivares, who is challenging Assemblymember Erik Dilan in Brooklyn's District 54; and Kristen Gonzalez, who is running for an open newly carved State Senate seat in District 59 covering parts of Queens, Brooklyn and Manhattan. U.S. Rep. Alexandria Ocasio-Cortez and The New York Working Families Party have endorsed all of those candidates as well – the WFP endorsed Sairitupac on Thursday, June 9. (DSA has also endorsed all six incumbent legislators in its slate.)
"For us as organizers, we're furious, we're upset, we're disheartened," said Sairitupac of the BPRA's failure, "and it further bolsters our commitment to talk about primarying more Assembly people and to literally replace them with champions for the working class because they gave us no other recourse. This is class warfare…It further validates that we should be running more organizers to replace these dinosaurs who don't care about us." 
The BPRA wasn't the only climate bill that failed to make it across the finish line during the state session. Activists from the Climate Can't Wait coalition had pushed for a series of bills that would have taken a multi-faceted approach to climate change including banning gas hookups in new construction, raising revenue to fund the implementation of the CLCPA, energy efficiency measures for utilities, repealing tax exemptions for the fossil fuel industry, divesting the state teachers pension fund from fossil fuel producers, banning new major electricity generating facilities powered by fossil fuels, and more.
There was one apparent victory, however, in the form of a two-year moratorium on certain kinds of energy-intensive cryptocurrency mining in the state, though it is unclear if Governor Kathy Hochul will sign the bill. The state is moving ahead with a series of renewable energy projects of various kinds including wind, hydro, and solar. This year's $220 billion state budget included $500 million for offshore wind energy infrastructure, a $400 million Environmental Protection Fund, and the $4.2 billion Clean Water, Clean Air, Green Jobs Environmental Bond Act, which is headed to a ballot referendum in the November general election. 
David Alexis said his opponent, Senator Parker, who is lead sponsor of the BPRA, wasn't fully committed to it as was evident from his absence from the Senate floor when the bill was debated. "This bill has always been about life or death for millions of people across this state suffering from climate change…For Parker, he only began to move on it when it meant the life or death of his job in politics," Alexis said.  
Parker's office did not respond to a request for comment.
"Because of this failure, climate activists are going to move. This is going to yield real momentum that I think will have impacts at the end of this month for the June primaries, but also for our primaries in August," he added. 
"There should be a backlash at the ballot," said Alleyne, who is running against Assemblymember Lucas, criticizing the Democratic supermajority for disappointing the people who put them in power. 
If Alleyne and his fellow insurgent candidates win their respective races, their voices will become harder to ignore, he said. "It's going to make a huge difference because that drum is going to be beat well before we get into office," he said. "The thing that changes immediately when we get to Albany is that this is not going to be put on the afterburner. Leadership is not going to be able to hide behind bills that don't make a difference truly in the lives of our neighbors."
The BPRA may still be in play. Assemblymember Robert Carroll, the Assembly sponsor of the bill, said it is "the most important piece of climate legislation possibly in the country" and he's hopeful that after the hearing in July, the Legislature will convene for a special session to approve the bill. 
"I think it's common sense," he said. "Untying the hands of the New York Power Authority will only help produce more renewable projects and produce a more competitive market."
According to estimates from Public Power NY, the BPRA would help scale up the New York Power Authority's renewable energy capacity, generating between $48.6 and $93.5 billion in additional economic activity by 2030 and creating between 28,410 to 51,133 green jobs that pay a prevailing wage. 
"The inertia that is happening in Albany for a multitude of reasons, either political cowardice or or the donations of fossil fuel lobbyists, that inertia is just preventing us from taking the steps we need to fight climate change," said State Senator Jabari Brisport of Brooklyn, a democratic socialist backed by the DSA and active in trying to help the slate of first-time candidates win this year.
"A composition change might be an order," he added. "There need to be more people that prioritize climate in the Legislature or else we will be very sad in five to ten years when it is truly out of control."
Note - this article has been updated with the WFP's latest endorsement of Illapa Sairitupac and to note U.S. Rep. Ocasio-Cortez's endorsement of the DSA-backed candidates. 
Note- this article has been updated to mention Kristen Gonzalez, who is also on the DSA slate of candidates.