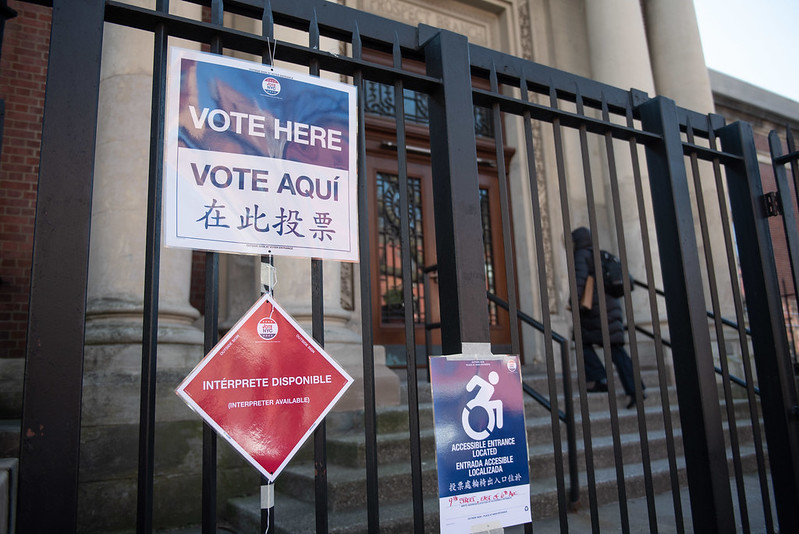 Board of Elections reform on the table (photo: Michael Appleton/Mayoral Photography Office)
---
A package of reforms to the way elections are run in New York State all but died last week when the Assembly adjourned without bringing the legislation to a floor vote after they passed the Senate. That includes a sweeping bill to restructure the membership and executive leadership of the New York City Board of Elections, which has been plagued by political patronage, nepotism, and mismanagement year after year.
While legislators passed a number of voting and election reforms, they did not make changes to the board of elections structure, institute measures to professionalize the New York City Board of Elections, or improve the election day experience.
"So many pieces of this package are truly just common sense national best practices for improving how our elections are administered," said Joanna Zdanys, senior counsel at the Brennan Center for Justice at NYU School of Law, referring to proposals like training requirements for commissioners and staff.
"Going into the next session, we think there is every reason for voters to expect and demand that these measures become law," Zdanys said.
Few elections in New York, particularly in New York City, have been spared from controversy around mismanagement, accessibility, or public information – sometimes disenfranchising voters in the process. Last year, the city Board of Elections released incorrect preliminary vote tallies in the mayoral Democratic primary after mistakenly counting test ballots.
At least 12 bills that would change election administration in New York City and around the state, including by setting professional standards for commissioners, passed in the State Senate earlier this year. None of them made it out of the Assembly Ways and Means Committee and several had not even been introduced in the lower chamber.
The highest-profile piece of the package is an omnibus bill, sponsored by Senator. Liz Krueger and Assemblymember Nily Rozic to reform the New York City Board of Elections. It would impose minimum qualifications on the BOE executive director, reduce the number of commissioners from 10 to 2, and make them more accountable to the public by requiring public hearings before their confirmation. It would also require more stringent budget reporting and delineate some of the roles of commissioners and executives.
The bill won the support of some good-government groups when it was amended earlier this year to remove a provision of the state election law that has been interpreted by the city BOE as requiring bipartisan hiring at all levels of BOE staffing, down to the rank-and-file. Advocates said that interpretation created duplicative roles and enabled patronage and nepotism.
"The Senate did our job by passing my legislation to professionalize the New York City Board of Elections so that we can avoid the fiascos that we have witnessed in several recent cycles," said Senator Liz Krueger, a Manhattan Democrat, in a statement.
"It's disappointing that the Assembly failed to act - now all we can do is cross our fingers that the current BOE gets it right in June, August, and November," Krueger said. "I suppose it's possible - after all, a stopped clock is right twice a day."
The bill's Assembly sponsor, Rozic, Speaker Carl Heastie, and Assembly election committee chair Assemblymember Latrice Walker, all New York City Democrats, did not respond to requests for comment.
Assembly Member Robert Carroll, a Brooklyn Democrat and co-sponsor of the BOE reform bill, told Gotham Gazette he was disappointed it didn't pass.
"We definitely need to professionalize our board and insulate it from political influence. I wish we passed this bill," he said.
"We need to do something about that because it's a real issue," he said of the partisan influence over elections. Carroll gave the example of the Brooklyn Democratic Party, which hand-picks commissioners and has also been accused of forging petition signatures to knock candidates off the ballot.
The Krueger-Rozic bill maintains the current commissioner appointment structure – where county party bosses select commissioners to be confirmed, usually without opposition, by the City Council – with two caveats: the Council would have to hold a public confirmation hearing, which is currently optional and often forgone; and, because each party will have one commissioner on the board instead of five, the Council will have to exert more control over the final selections.
It does not touch the bipartisan make-up of the board, itself, which is enshrined in the state constitution.
"Unfortunately, reform and structural change is not nearly as evocative, sometimes, as some other things," Carroll said. "Especially BOE reform, with some of the transgressions that we're talking about, you have to be an insider to understand what's happening."
Since Democrats gained control of the Senate in 2019, and thus full control of state government, the Assembly has become a bottleneck for many pieces of voting legislation and other democracy and good-government reforms. In recent years, the Legislature has passed significant changes to elections – including early voting, synchronized primaries, and shorter party enrollment deadlines – with Assembly Democrats often trailing their Senate counterparts on the latest frontiers.
It is not fully clear why Assembly Democrats would stand in the way of reforming the dysfunctional Board of Elections. Speaker Heastie has close ties to the Bronx Democratic Party, which he led before becoming Speaker. Meanwhile, Assemblymember Rodneyse Bichotte Hermelyn is chair of the Brooklyn Democratic Party and Assemblymember Michael Cusick is chair of the Staten Island Democratic Party. Former Assemblymember Keith Wright is head of the Manhattan Democrats. (The Queens Democratic Party is led by U.S. Rep. Gregory Meeks.)
The other unpassed bills would have applied to local boards of elections statewide, not just in New York City. They would set professional qualifications for commissioners, prevent them from holding elected office, establish a process for removal by state regulators, and require hearings before confirmations. Others would make the commissioner a full-time position, mandate training for commissioners, staff, and poll workers, and ban financial conflicts of interest for BOE employees.
The bills would also set minimum staffing levels for local boards (something already in place in New York City), allow half-day poll worker shifts, raise compensation for election inspectors, and ensure the added income for poll workers doesn't impact their ability to receive public benefits.
"Voters have demanded change in how we run our elections, and it's important we respond to them. But reforming a system that's largely been in place for over a century isn't easy, and we never expected it to happen in just one session," said Senator Zellnor Myrie, a Brooklyn Democrat and chair of the Senate elections committee. Myrie sponsored a number of the bills after producing a report on election reform last fall following a public hearing tour around the state.
"Our report included over 50 recommendations to improve election administration. I'm proud the Senate overwhelmingly passed many of these recommendations, and there's much more work to be done," Myrie said.
This year, lawmakers passed several measures championed by voting rights advocates, including the John R. Lewis Voting Rights Act, a voter registration deadline extension, and a fix to the so-called "wrong church" problem. Three of the election administration reforms advanced out of the Assembly election law committee only to perish in the Ways and Means Committee, where bills often go when they might have fiscal implications.
While advocates, like good-government group Citizens Union, weren't surprised by the outcome, there was hope the bills that had passed the Assembly election committee would come to a floor vote.
"It was definitely a missed opportunity, and when the next election blunder happens, voters will wonder why nothing was done to fix this antiquated system," said Ben Weinberg, policy director at Citizens Union. "I'm sure senators will continue pushing for it next year and hope the Assembly will join. This package shouldn't be such a hard sell; things like requiring training and setting qualifications are basic standards in any modern government body."