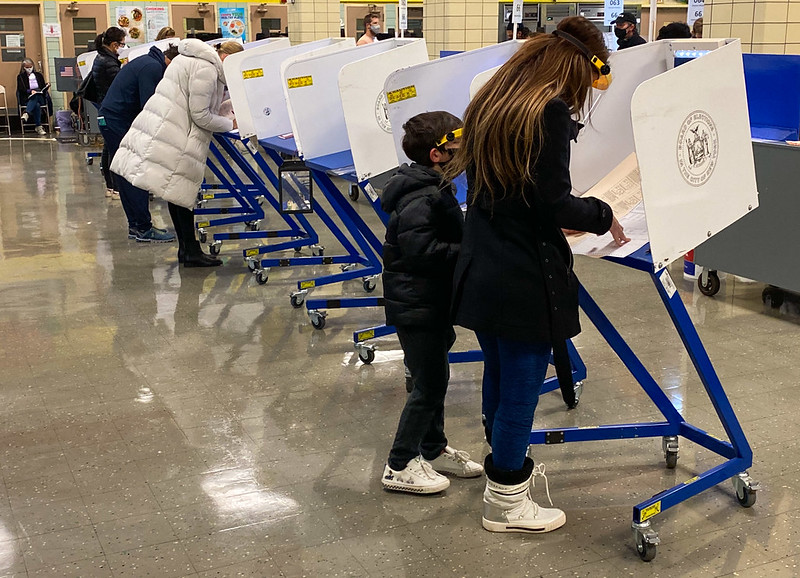 Out to vote (photo: Michael Appleton/Mayoral Photography Office)
---
The likelihood of Albany Democrats getting failed elections reforms back on the ballot in the next two years is dwindling as the end of the state legislative session approaches.
Despite promising to get back on the horse immediately after a surprising referendum defeat last November, Democrats with supermajorities in both houses of the Legislature do not appear to have reintroduced proposed state constitutional amendments to establish same-day voter registration and universal absentee voting. State legislators could still introduce and pass them before the scheduled end of session this week – but time is running out. 
Those are among a wide range of voting-related legislation lawmakers are considering with the final day of session. The last session day is scheduled for June 2 though lawmakers can be called back through the rest of the year.
Lawmakers have already enacted a number of changes this year, including an extension of the temporary no-excuse absentee voting in place since the onset of the pandemic, prepaid postage for absentee ballots, and poll sites on certain college campuses.
A number of other bills are awaiting Governor Kathy Hochul's signature, including one to preserve eligible votes on rejected affidavit ballots. Another to shorten the voter registration deadline to 10 days before an election appears poised to pass both houses and be signed by the governor. Hochul, a Democrat, championed both of these in her State of the State agenda in January.
Another concept she supported, voter protection legislation modeled on the federal Voting Rights Act, appears to have stalled in the Assembly. Hochul has never explicitly backed the bill legislators have advanced, which was set to pass the State Senate on Tuesday.
"Governor Hochul has taken bold action to expand voting rights and is committed to making sure New York State will continue to be a national leader on voting rights protections," wrote Avi Small, a spokesperson for the governor, in an email.
Democrats, including state party chair Jay Jacobs, backed a late-stage push to change local elections to even years in line with federal and state elections to raise voter turnout. Republicans blasted the proposal, which could disrupt voting patterns in a state where they are significantly outnumbered. The bill appears to be shelved for this year.
Lawmakers and election reformers are pushing a number of other bills they hope to pass in the waning days of session.
Those include changes to the way elections are administered at the New York City and county levels, further adjustments to absentee voting, rules for siting polling places, voting rights for incarcerated people, and a ban on touch-screen voting machines, among many others. Like the New York Voting Rights Act, a number of bills have advanced in the Senate but not the Assembly, including a host of board of elections reforms, and in some cases in the Assembly but not the Senate.
State Constitutional Amendments
Lawmakers have not introduced two state constitutional amendments that would make voting easier after New York voters rejected them in ballot referenda last fall. The amendments would allow for same-day voter registration and universal absentee voting. After the surprising defeat Democrats promised to begin the multi-year amendment cycle again when they returned to Albany.
State constitutional amendments must pass in consecutive legislative sessions, which are two years, and go before voters before going into effect. If Democrats fail to pass the amendments in this session, they will have to wait until 2025 at the earliest to try their luck again with voters because of the legislative cycle.
With same-day registration, lawmakers are looking at what some consider the next best option: lowering the voter registration deadline to the 10 days before polls close – the shortest period allowed in the state constitution – from the current 25 days before an election. Hochul supported changing the deadline in her State of the State policy agenda released in January. A bill has advanced out of the election committees in both chambers.
Lawmakers acted quickly in January to extend the temporary statute that authorizes universal absentee voting due to the risk of COVID-19. They also passed a similar bill to allow universal absentee voting in school district elections in 2022. The state budget included $4 million for postage on absentee ballots and ballot applications, the first state funding since the June 2020 primaries.
New York Voting Rights Act

On Tuesday, the State Senate passed a broad voter-protection bill intended to fill holes in the federal Voting Rights Act. This session was the first time lawmakers voted on the John R. Lewis Voting Rights Act of New York since it was introduced in 2020. It remains for the Assembly election law committee to advance, where there appears to be little appetite for the bill for reasons that are unclear. While Governor Kathy Hochul called for a state-level Voting Rights Act in her State of the State agenda, she has not publicly supported the bill.
"Governor Hochul will review this legislation if it passes both houses of the legislature," wrote Small, Hochul's spokesperson. Spokespeople for the Assembly Democratic majority have repeatedly declined to comment on the legislation's status in that chamber.
The New York Voting Rights Act would give the state Attorney General the ability to review and reject proposed changes to voting policy in areas with a history of voter suppression. Before provisions of the federal VRA were stripped away by the U.S. Supreme Court, a similar "preclearance" authority applied to the Bronx, Brooklyn, and Manhattan
The bill requires more expansive interpretation, protections against voter intimidation and deception, and requirements to track metrics that would indicate potential rights violations. The legislation would also lower barriers to suing administrators for violating the voting rights of racial, ethnic, or linguistic groups.
'Wrong Church'
Both houses of the Legislature passed a bill in May that would help preserve votes when a voter casts an affidavit ballot outside their assigned poll site. It now awaits Hochul's signature.
The legislation would eliminate a provision of election law known as "wrong church," which results in thousands of ballots being tossed each year.
If a voter attempts to vote in a polling place that is not their own, poll workers are supposed to direct them to the correct site. That doesn't always happen. Often when a voter's name doesn't appear on the rolls, they are instead handed a provisional affidavit ballot to cast a vote – including in down-ballot local races in which they may be ineligible to vote. Those entire ballots ultimately get tossed – almost always unbeknownst to the voter who believed they were voting in the right place – including for the top-of-ballot races the voter would have been eligible for had they been at the right poll site.
The legislation that passed, would allow those top-of-ballot votes (like for president or governor) to count as long as the voter's Assembly district is on the ballot, even if they are at the wrong site and handed an affidavit ballot. The Senate's version of the bill was originally broader, applying to all poll sites in the voter's county, rather than Assembly district. The passed bill also has a later start date than the Senate's original proposal, becoming effective after this year's general election rather than before.
Advocates applauded the move as an incremental step forward. "This might not be the broadest bill we wanted but we think it achieves a lot of the protection that we wanted," said Jarret Berg, an election lawyer and co-founder of the advocacy group VoterEarlyNY, who has been working with lawmakers to pass the legislation. "We obviously don't know how much but by passing a law like this we can watch it for the next federal cycle."
Other Absentee Voting Bills
A bill to allow local boards of elections to designate absentee ballot drop-off locations passed the Senate in January but remains in committee in the Assembly. The legislation was first introduced in 2020 after concerns about the timely delivery of ballots through the U.S. Postal Service.
Another bill would require administrators to count ballots where a voter's intent is "unambiguous" even if there are other stray marks on the paper, which often result in ballots being thrown out. That bill passed the Senate in January and the Assembly in May. It still needs the governor's signature to be enacted. Time is running out for it to apply to the June primaries for statewide offices and Assembly seats.
Last December, Governor Hochul signed legislation to establish a digital application system to request absentee ballots and another online system to track cast absentee ballots. Hochul also enacted a bill to expedite the counting of absentee, military, and affidavit ballots.
Poll-Site Location
The Hochul administration has enacted two laws intended to increase the number and convenience of poll sites and boost voter turnout.
The "Make Voting Easy Act," signed in December, requires local boards of elections to designate at least one early voting poll site for every 30,000 registered voters in a county. In April, lawmakers also enacted legislation through the state budget that will require poll sites on many college campuses beginning in November.
Other legislation to enact so-called "portable" early voting locations passed the Senate in January and has been stuck in committee in the Assembly. The legislation would allow local elections boards to open pop-up early voting sites for a minimum of three consecutive days in order to increase access in hard-to-reach areas. The portable sites cannot replace existing polling places.
Every county outside New York City allows voters to cast ballots at any early voting site within their borders. In New York City, residents can only vote at assigned sites, sometimes fairly distant from their home or work. Advocates want to see the city Board of Elections move to an unassigned vote center model like other counties have. While there are no proposed bills to require this, the current law mandates administrators establish early vote centers if it is technically feasible, according to Berg of VoteEarlyNY. That question has not been considered by election commissioners since early voting first began in 2019, Berg said.
Election Administration and Board of Elections Professionalization
Each year, New York's elections are marred by technical errors and administrative blunders that disenfranchise voters and dash faith in elections. Voting rights advocates blame Board of Elections' explicitly bipartisan framework that gives party leaders power to make appointments, often rewarding loyalty at the expense of professionalism.
A number of bills have been introduced to improve election administration standards. Few deal with the partisanship underpinning, which is partially a matter of the state constitution.
Legislation on the table include bills that would set standard qualifications for Board of Elections commissioners and employees in New York City and beyond, require more training for commissioners, staff, and poll workers, and make local commissioners more accountable to the public and state regulators. While many bills have seen engagement in the Senate, the Assembly has been less enthusiastic to take them up.
"New Yorkers shouldn't have to wait for another headline-grabbing BOE blunder to get their election system fixed," said Ben Weinberg, policy director at the good government group Citizens Union.
"The Senate has done an excellent job moving these reforms forward, and lawmakers in both houses should pass them this session," he said.
Getting the most attention is a bill sponsored by Senator Liz Krueger and Assemblymember Nily Rozic, two New York City Democrats, that would inject a number of these components into the New York City Board of Elections, one of the country's most notorious boards. While it doesn't change the bipartisan structure of the BOE, which would require a state constitutional amendment, the bill would set other professional standards and modify the makeup the board.
That includes reducing the number of commissioners from ten to two, while leaving them to be chosen by party leaders and confirmed by the New York City Council. It would more clearly delineate some of the duties of commissioners and key officers and require board members to meet certain qualifications, among other provisions.
The bill passed in the Senate on May 17. It has so far failed to gain traction in the Assembly where it remains in committee.
Rights Restoration
After the passage of a bill last year to restore the voting rights of people on parole, advocates are now looking at voting for people in prison and jail as the next frontier in enfranchising the disenfranchised.
A bill was introduced in 2019 to statutorily restore the vote to incarcerated people that advocates feared would be vulnerable to challenge in the courts. Last year, lawmakers drafted an amendment to insert that right directly into the state constitution. Advocates, like the Let New York Vote coalition, supported the amendment but it has garnered little attention this session.
Neither the amendment nor the 2019 bill have advanced out of committee. With days left in session, it is unlikely the amendment will pass in time to be considered for a second time in the next legislative session. If it doesn't, the soonest it could get on the ballot to be approved or rejected by voters is 2025.
Hybrid Voting Machines
Election reform groups areressing lawmakers to ban so-called "all-in-one" touchscreen voting machines, which they say are vulnerable to malfunction, confusion, and hacking. The machines, also known as hybrid voting machines, use a touchscreen to cast a vote and can either print and then scan a machine-marked ballot or submit the vote electronically.
Election security experts have raised concerns about the lack of accountability and integrity having a non-physical ballot would bring. Last year, the State Board of Elections denied certification of an all-in-one machine, the ExpressVote XL, which the New York City Board of Elections was seeking to use.
A bill to prohibit hybrid voting machines is expected to pass in the Senate this session, as it did last year. It has never been voted on in the Assembly. The bill has the support of advocates like the Let New York Vote coalition and Public Advocate Jumaane Williams.
"These hybrid voting machines are expensive, inaccessible, and risky, and we cannot allow them to be used in New York elections," Williams said in a statement. "Albany can pass the hybrid ban bill now before the summer elections, and it absolutely must."
"Our current system is already the current gold standard: voter-marked paper ballots and optical scanners," said Susan Lerner, executive director of Common Cause New York. "Any one-in-all voting machine would be a serious –and expensive – needless step backwards."
Passed the Senate, but not the Assembly
Seven other voting-related bills passed the Senate this year but have yet to move through the Assembly.
One would codify the right of voters to register in the district of a second home. Another would enact the Democracy Preservation Act, which would prohibit political contributions from corporations owned by foreign entities and nationals. A third would change the order candidates appear on the ballot to ensure candidates for executive office appear first, regardless of whether they are federal or state.
On Tuesday, the Senate passed four more bills that have not moved in the Assembly. They include the New York Voting Rights Act and a bill sponsored by Senate Majority Leader Andrea Stewart-Cousins that would make voter suppression and deception crimes and raise penalties for related offenses. The Senate also passed a bill to regulate and create a statewide database of public voting and elections data. The fourth would make interfering with elections electronically a misdemeanor offense. None of them have been advanced out of committee in the Assembly.
Passed the Assembly, Not the Senate
In May the Assembly passed three voting-related bills that have yet to cross the finish line in the Senate. The bills would allow for an additional day of voting during states of emergency; protect the confidentiality of voter registration information of victims of sexual violence; and extend eligibility for party positions to non-binary people.
Mike Murphy, a spokesperson for the Senate Democratic Majority, said Tuesday that the chamber was expected to pass the latter two bills but not the one related to voting during emergencies.