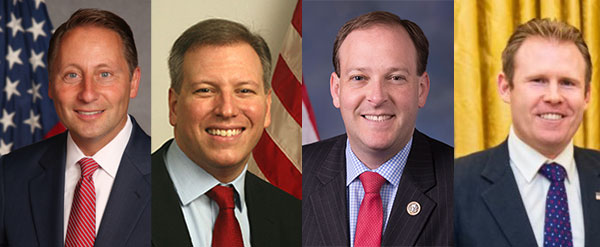 Rob Astorino, Harry Wilson, Lee Zeldin, and Andrew Giuliani (l-r)
---
With under a week until primary day, June 28, and early voting underway, Long Island Rep. Lee Zeldin by most measures appears to be the frontrunner for the Republican nomination for New York Governor in this year's election.
But some experts suggest that the race remains open and hard to predict.
Andrew Giuliani, a former Trump aide, lays claim to certain advantages with the GOP primary electorate, including his association with the former president and name recognition as the son of former New York City Mayor Rudy Giuliani. While the other two candidates in the running — businessman Harry Wilson and former Westchester County Executive Rob Astorino — also have strengths that make them hard to count out.
"Lee Zeldin is the unequivocal frontrunner," said Chapin Fay, a Republican consultant. "He's got virtually the entire state Republican Party infrastructure working on his behalf, and regardless of polling and advertising, that is a massive advantage that will be difficult for the others to overcome."
And Zeldin's status as the perceived frontrunner got a boost Wednesday when former Vice President Mike Pence endorsed him.
To win the four-way primary, one candidate will need to perform especially well among upstate voters – who are likely to cast between 60-62% of the Republican primary vote, according to Gyory's analysis — while attracting some support downstate, in both New York City and its suburbs.
The winner will then face the general election nominees of the Democratic and other parties while likely also appearing on the Conservative Party ballot line in New York's fusion voting system. 
"My sense is this race hasn't gelled yet," said Bruce Gyory, a political scientist, Democratic strategist, and senior advisor at the law firm Manatt, Phelps & Phillips, LLP who closely studies polling, voting trends, and the demographics of the electorate. "I see it as wide open."
Polling
Zeldin is leading the race by double digits in the two most recent polls seen publicly, conducted by Emerson College and his campaign pollster, McLaughlin & Associates. He benefits from strong fundraising relative to the rest of the primary field other than Wilson, who is largely self-funding his campaign, and Zeldin has the longest list of endorsements by far.
"Since getting into this race over a year ago, Congressman and Army veteran Lee Zeldin has amassed support from New Yorkers from all walks of life, including thousands of volunteers, and tens of thousands of grassroots donors," said Katie Vincentez, Zeldin's spokesperson, in an email to Gotham Gazette. "Lee Zeldin is going to win this race, because we need him to win this race, and save our state."
Some polling from May and June suggests that Giuliani could be a force in the race. He is the most well-known candidate among New York Republicans, thanks in large part to his father, the former two-term mayor of New York City turned Trump attorney working to overturn the results of the 2020 election.
Andrew Giuliani is viewed favorably by Republicans by a margin of 50-28%, compared to 35-21% for Zeldin, according to a Siena College poll released last week (which only tracked favorability and did not do a 'horse race' poll), with many more respondents saying they didn't know enough about Zeldin to have an opinion of him. That difference is larger than it was in mid-April, showing Giuliani's popularity climbing while Zeldin's remained stagnant. 
"Our mission throughout the campaign has been to connect with as many voters as possible on a grassroots level, which has translated to high favorability in the polls for about a year now," said Maria Sliwa, Giuliani's campaign spokesperson, in an email to Gotham Gazette. Struggling to raise money, Giuliani has been running his campaign on a shoestring budget, but traversing the state with his famous father and appearing at a wide variety of events.
Gyory said that the favorability polling shows Giuliani's name advantage over Zeldin, who is less known among voters despite leading him in fundraising and endorsements. "In the absence of others being known, people could vote for the name," Gyory said.
"His last name and likeability as a candidate make him a wildcard in this race," echoed Fay of Giuliani, though he maintained Zeldin as the frontrunner. 
Fay added that persistent attacks on Zeldin from both Wilson and Astorino may also help Giuliani, who largely avoided either being attacked or attacking others when the four debated on television for the first time last week (which Giuliani attended virtually after failing to meet CBS' vaccine requirement to be in the studio). The volume of attacks on Zeldin certainly made it appear that Wilson and Astorino consider the congressman the frontrunner. In the second televised debate, Monday on Spectrum News, Giuliani went after Zeldin for having called Donald Trump's 2016 criticism of a judge based on the judge's Mexican heritage racist.
Zeldin and Giuliani exchanged harsh words at debates on Monday and Tuesday nights, indicative of a competitive race heading into its final days.
The former Trump aide also led Zeldin 35%-25% in a late-May survey conducted by John Zogby Strategies and funded by Unite NY, a new initiative backing Wilson and Astorino. The poll, which was conducted with a sample of 408 likely voters and is an outlier given Zeldin's strength in other polls, found Astorino with 17% of the vote and Wilson with 12%, while 17% of voters said that they were undecided.
Giuliani trailed Zeldin in the McLaughlin and Emerson polls, however, tying in second with Astorino and then placing fourth (last), respectively. 
Zeldin's campaigns dismissed the Zogby poll when asked for comment. "The Zogby poll is a fake, wildly inaccurate poll paid for by an entity that has been desperately trying to take down Lee Zeldin at any cost," said Vincentez.
While Unite NY, which funded the poll, has endorsed Astorino and Wilson, its poll showed them behind the other two candidates. But Gyrory said he found the Zogby poll to be the most reliable of the surveys available, though he maintained that they were all subject to error. 
The Emerson poll, which was conducted with a sample of 500 "very likely voters" found Zeldin with 34% of the vote, Giuliani 13%, Astorino 16%, and Wilson 15%. When undecided voters – which accounted for 22% of the respondents – were asked who they were leaning towards, Zeldin's share of the vote increased to 40%, Astorino's to 23%, Wilson's to 20%, and Giuliani's to 17%. 
In the most recent McLaughlin poll from Zeldin's campaign, released Tuesday, June 21, Zeldin had 38% of the vote, Giuliani 17%, Astorino 17%, and Wilson 16%, while 12% of voters said they were undecided. The poll's results are similar to its findings in late May, though they show Zeldin dropping three points and Wilson gaining three points. 
Gyory cautioned against the findings of Zeldin's internal pollster, but noted that while they may reflect a bias toward Zeldin, it is in McLaughlin's interest to correctly predict the race. "Just because McLaughlin is Zeldin's pollster doesn't mean his polling is wrong, but it also doesn't mean it's right," he said.
Astorino has polled evenly throughout May and June, averaging 17.5% of the vote across the Emerson, Mclaughlin, and Zogby surveys. When asked to comment on Astorino's trailing position in the surveys, his campaign dismissed the data, specifically targeting the bias of internal pollsters like Mclaughlin.
"Internal campaign polls that have been leaked so far have been largely nonsense; they're not so thinly veiled PR releases masquerading as genuine surveys," said William F. B. O'Reilly, Astorino's campaign spokesperson. "What's happening on the ground is far more telling, and we like what we're hearing."  
Wilson has climbed some in the polls of May and June, which may reflect his campaign's sharp increase in spending in the last weeks of the race – he has pledged to spend $12 million of his own money ahead of the vote. Between the Emerson Polls conducted in early May and June, he climbed from 8% to 15%. 
Gyory agreed that Wilson's spending could push a breakthrough. "The fact that his poll numbers haven't really risen yet doesn't mean they're not," he said, despite maintaining that the polls  are imperfect indicators of the race. "I haven't seen where he's made a breakthrough, but I can't dismiss it."
Wilson's campaign said that as primaries tend to shape up in their last weeks, it is optimistic. "All Republican primaries nationwide are breaking late as voters tune in, so we are focused on the dynamics over the final 2-3 weeks," said Alex Wilkes, Wilson's campaign spokesperson. "With Harry's momentum, massive and growing financial advantage and the growing realization he is the only candidate running with the skills and the guts to truly fix Albany – not just manage the decline -– the late breaking voters will disproportionately support Harry and his Turnaround Plan for New York."
Experts added that while polling can be a helpful way to gauge the race, it is often subject to error. Gyory said that he is skeptical about polling based largely on a sample of "very likely voters" weighted based on expected turnout demographics. "That highly subjective criteria for creating a sample is not in my mind empirically reliable," he said. "To be charitable, it is interesting but not dispositive."
Gyory said that he trusts Zogby's polling the most but believes that none of the surveys are conclusive, adding that the broad inconsistencies among them will eventually be reexamined. "Somebody will have egg on their face," he said.
Political consultant Jonathan Greenspun cautioned against relying too heavily on pollsters' often dizzying findings, emphasizing how challenging it can be to predict voter turnout among Republican voters. "Pollsters can attest to how difficult it is to predict what the Trump base is thinking and how many will actually turn out," he said, noting their failure to accurately predict and explain the results of Presidential and Statewide elections in 2020. 
Fundraising
Zeldin has led fundraising in the race – aside from Wilson's self-funding. Zeldin has raised about $10 million and transferred another $1.2 million from his congressional campaign account), and has spent about $9.2 million, leaving him with $2 million in cash on hand as of June 22. 
Astorino and Giuliani trail the other candidates in fundraising and spending.
Wilson, a multi-millionaire who is CEO of the advisory firm MAEVA group – previously serving as CEO at Genesis HealthCare and partner at hedge fund Silver Point Capital, among other business roles – has had the most money to spend among the Republican candidates, due to his decision to self-fund a large portion of his campaign.
Wilson has raised about $2.1 million in total contributions and also loaned his campaign almost $11 million, allowing him to spend more than $11.1 million in total as of June 22. He had just over $2 million in cash on hand as of the latest filing. He previously pledged $12 million of his own money earlier this year when he jumped into the race late.
"Harry has a massive advantage in primary election cash (over 5 to 1) to bring this message to all primary voters at the time most are beginning to focus on the race," Vincentez told Gotham Gazette. "As a result, we remain confident we will win upstate voters comfortably and win enough support in the NYC market to prevail statewide."
The majority of Zeldin's ad spending has been downstate. His campaign told Gotham Gazette that as of early June it had spent nearly $5 million on television and radio advertisements since February.
Astorino, who was the 2014 Republican nominee for Governor, could still attract support on his record as a veteran politician with executive experience and connection to the suburbs, Gyory said, despite falling behind Wilson and Zeldin in spending and fundraising. He has raised about $3.4 million and transferred another $811,000 from a previous campaign account. He has spent about $3.3 million and has about $747,000 in cash on hand as of June 22. 
Giuliani has the least money of the candidates but has what it usually buys: popularity. "He'll need less money to win," said Fay.
Giuliani raised just over $922,000 in total since entering the race and has spent about $570,000. He had about $320,000 in the bank as of the latest filing. "NY for Giuliani is a grassroots movement, not the product of a backroom deal or political cronyism," Giuliani said in a statement to Gotham Gazette. "The red wave we've all been hearing about consists of everyday people who are tired of being mandated, taxed, and regulated — or seeing their children indoctrinated. I'm one of them, and that's why I'm leading in the polls."
Endorsements
Zeldin has been designated as the choice of both the Republican and Conservative state parties, boasting a wide range of endorsements, including former VP Pence, many elected officials and The New York Post editorial board. The other candidates have few endorsements or institutional support.
Zeldin has also received support from several labor unions, especially in law enforcement, among others.
"Lee Zeldin is the clear frontrunner because he has proven he has what it takes to win," said New York Republican Party Chair Nick Langworthy, who has endorsed Zeldin, in a statement to Gotham Gazette about the state of the race. "He has won the support of more than 90% of Republican and Conservative leaders in every corner of this state and has raised the most money from grassroots supporters of any candidate in 20 years. I am confident that he will not only deliver a resounding victory in the primary but that he will be elected to serve as our next governor to save New York State." 
Harry Wilson notably has the backing of the New York Daily News editorial board and good government group Citizens Union, which called Wilson ​​"an outsider who wants to clean up Albany" with "a proven track record as a turnaround specialist, something our state surely needs."
Giuliani has the support of his father, Rudy Giuliani, as well as the Whitestone Republican Club, the largest party organization in Queens.
But Gyory noted that while Zeldin's endorsements from party officials across the state is an advantage, he may struggle to translate that support into votes. "There are not a whole lot of Republican primaries year in and year out," he said. "I just don't think these county leaders who got behind him very early have much experience in turning out the vote." 
There is still time left for an endorsement from former President Donald Trump that could shift the race. The prevailing belief is that Trump will stay out of the primary to avoid damaging a relationship with either Zeldin or the Giulianis, but some believe that he could enter the race late because Republican voters are more likely to vote in person on primary day than in early or absentee voting.
"A last-minute Trump endorsement will move mountains for the candidate who receives it," said Greenspun.
Zeldin, Giuliani, and Astorino all have ties to the former president, though Astorino has distanced himself from him by recognizing President Joe Biden and condemning the Capitol riots of January 6, 2021, and saying at the first televised debate that Trump bore some responsibility for what happened that day.
"The GOP primary for Governor will serve as a bellwether to see if the party of 'MAGA' is alive in New York," said Greenspun, himself a former Republican. 
Trumpism is still the dominant force among New York Republicans, and not necessarily choosing the candidate with the best chance to win a general election in Democrat-heavy New York. If the nomination goes to Giuliani or Zeldin, who have both aligned themselves with the former president and further Trump's lies about the 2020 election, it will signal that the former President's influence on the party remains robust.
A win by Wilson — who worked with the Obama Administration and is the only candidate in the race who supports abortion rights and readily admits Joe Biden won the 2020 presidential election – would show that it is ebbing. 
Gyory notes, however, that while far-right policies may be popular among primary voters, they are hard sells in statewide elections where Republicans have to win over independents and even Democrats. "I don't see a Republican candidate out there, with the possible exception of Harry Wilson, who shows any potential to be able to unite both the Republican bases and independent voters," he said. 
But as voters become increasingly concerned about high rates of violent crime, the Republican candidates' law and order-focused campaigns are in a better position to win statewide than in past election years. "There's palpable anger among the entire electorate right now," Greenspun said. "As we head into the November elections, the Democrats are likely to see one of the closest margins for Governor in over a decade."