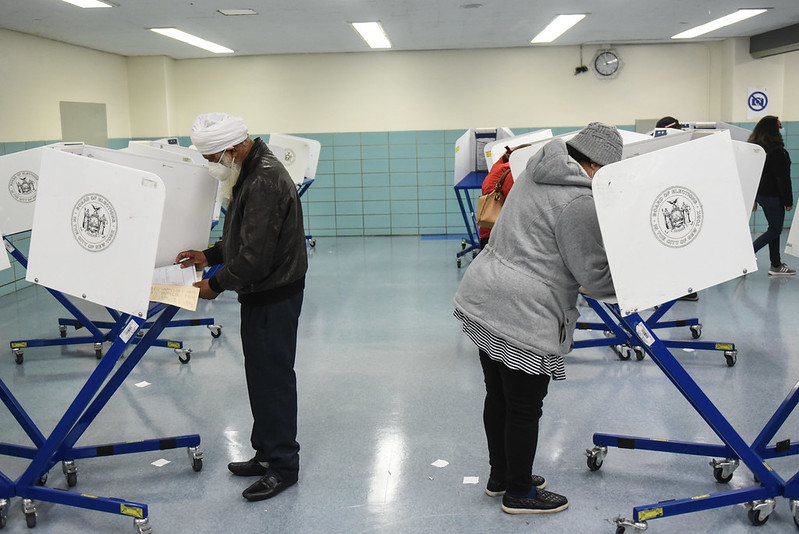 Voters at the polls (photo: Michael Appleton/Mayoral Photography Office)
---
The August primary election for congressional and State Senate races in New York saw significantly low voter turnout, barely topping single digits in many districts across the state. It was the predictable outcome of an unprecedented election that resulted from a tumultuous redistricting process that unfolded this year, all adding to New York's voter turnout crisis. Despite many competitive races, several of which were narrowly decided, New Yorkers again showed little enthusiasm to cast their ballots.
The party primaries, mostly on the Democratic side in heavily-Democratic New York, was the second that New York held this year, following a June primary for statewide and Assembly races. That first primary was also a low turnout affair, despite competitive races for Governor among both Democrats and Republicans. Turnout among Democrats statewide fell by nearly half to about 13% compared to the 2018 gubernatorial primary while Republicans voted in similar numbers compared to the last competitive gubernatorial primary they had in 2010.
[Read: Voter Turnout in New York Gubernatorial Primary Drops Sharply from 2018 Surge]
This latest election, however, draws no easy comparisons. New York has never held a primary in August before, nor has there ever been a combined election only for the House of Representatives and the State Senate (in 2020, the June primary also had Assembly races on the ballot). The state previously had separate primaries for state and congressional races up until 2018, after which they were consolidated to be held on the same date.
All the primaries were set for June, but amid controversy over the redistricting process this year the courts struck down Congressional and State Senate lines drawn by the Democrat-led State Legislature and ordered new maps and another primary election for those seats. Some advocates urged Governor Kathy Hochul and the Legislature to move all the primaries to August to meet the court mandate for the House and State Senate primaries, but they declined to take such action.
Most voters who cast ballots in the August primaries did so in-person on primary day, August 23, but a relatively small number – 148,331 across the state – voted in-person during the nine-day early voting period preceding primary day. And many tens of thousands of voters cast absentee ballots, mostly by mail.
Though winners have been declared in virtually every race across the state, results are still preliminary. Local election boards are still opening and tallying the final absentee ballots, which had to be postmarked by August 23 and received by August 30.
As of August 25, there were 48,231 absentee ballots returned outside New York City and another 52,439 outstanding absentees (sent to voters but not returned), according to the State Board of Elections. In New York City, as of August 19, there were 36,890 absentee ballots cast, and those that were canvassed through that date were included in the unofficial election night results. The City Board of Elections did not respond to multiple requests for the latest absentee tally.
Congressional Races
After losing another seat based on national population trends tallied in the 2020 Census, New York is going from 27 to 26 seats in the U.S. House of Representatives, meaning a lot of shifting district lines and 26 races for the fall ballot.
First, there were 16 Democratic congressional primaries across the state, with over 4 million registered Democratic voters in those districts eligible to vote. Just over 546,000 Democrats, or 13.4%, cast a ballot in those races through in-person voting and absentee ballots that had been counted as of primary day.
There are tens of thousands of more absentees that have yet to be included in the tally, which means turnout will eventually be slightly higher once the election is certified.
As expected, turnout was higher in certain closely watched races.
The 19th Congressional District saw the highest turnout of any congressional primary, with 25.5% of registered Democrats voting. There was an open race in the new district, which covers parts of the Southern Tier, Catskills, and Hudson Valley. The seat has been vacant since Democrat Antonio Delgado was appointed lieutenant governor and two Democrats ran to replace him: attorney Josh Riley and small business owner Jamie Cheney. Riley won the primary.
Turnout there may have been boosted by the fact that in the somewhat overlapping current 19th Congressional District there was a concurrent special election open to all voters to fill Delgado's vacated seat for the rest of this term (through the end of 2022). In that special election, Democrat Pat Ryan, the Ulster County Executive, won the race against Republican Dutchess County Executive Marc Molinaro. The district is home to 549,184 registered voters overall and 129,328 voters cast a ballot, about 23.5%, with some absentees still being counted. 
Ryan also ran for and won the primary nomination for the new 18th congressional district and is running in the November election there to try to win a full term in Congress. Molinaro, on the other hand, is the Republican nominee for the new 19th district in the fall general election.
Turnout was similarly high in the 12th Congressional District, where longtime Democratic Rep. Jerry Nadler emerged victorious against three other candidates, including fellow Democratic Rep. Carolyn Maloney. The new district combined much of the East and West Sides of Manhattan, from roughly 13th Street to 110th Street, pitting Nadler and Maloney against each other.
Roughly 24.5% of Democrats voted in the district, with additional absentee votes likely to push that number higher. The district saw by far the highest number of absentee ballots requested and returned of any congressional district in New York – the 19,565 absentees returned through August 19 accounted for more than half of all absentee ballots returned in the city till that time.
In the crowded Democratic primary for the 10th Congressional District, covering Lower Manhattan and a big stretch of Brooklyn, about 19.4% of registered Democrats voted. That number will likely tip over 20% when all the absentees are counted.
Former federal prosecutor Dan Goldman, who led the first impeachment inquiry of former President Donald Trump, won the race. The moderate Democrat defeated a slew of progressive competitors including U.S. Rep. Mondaire Jones, Assemblymember Yuh-Line Niou, and City Council Member Carlina Rivera, as well as other candidates. The new district covers Lower Manhattan south of 14th street and parts of western Brooklyn including Downtown, Gowanus, Park Slope, Sunset Park, Red Hook, and Borough Park.
The 4th, 7th, and 8th Congressional Districts primaries saw the lowest turnout at about 8% of Democrats voting in each. There was an open race in the 4th, where Democrat Laura Gillen won against three other candidates to be the party's nominee for the Long Island seat. The 7th and 8th Districts are represented by incumbent Democratic Reps. Nydia Velazquez and Hakeem Jeffries, respectively, and they both won their Brooklyn-based primaries.
Two other districts had slightly higher turnout at about 9%, while the other eight districts saw turnout between 10-17%.
Among Republicans, there were eight congressional primary contests. Those districts were home to 1.2 million registered Republicans, but only 177,930 voted, about 14.6%.
The 23rd Congressional District, anchored in Western New York, saw the highest turnout at 23.7% in a two-way contest between Nick Langworthy, the State GOP chair, and former gubernatorial candidate Carl Paladino. Langworhty came out on top. The new district covers parts of the Southern Tier and parts of Erie, Chautauqua, Cattaraugus, Allegany, Steuben, Chemung, and Schuyler counties.
The lowest Republican turnout was in the 14th District, where only about 7% of registered Republicans cast a ballot. The new district covers northern Queens and the eastern side of the Bronx. Business owner Tina Forte won the race against Desi Cuellar and will face Democratic Rep. Alexandria Ocasio-Cortez, who did not face a primary challenge.
In the other six Republican primary races, turnout ranged between 11-15%.
State Senate Races
In State Senate districts, of which there are 63 across the state, there were another 16 Democratic primaries this year. Of the roughly 2 million registered Democrats in those districts, 272,948 voted, or about 13.6%. Those numbers will increase slightly as final absentee ballots are tallied.
In Manhattan's District 47, turnout was the highest at 25.6%. Democratic State Senator Brad Hoylman won the primary, defeating challenger Maria Danzilo. The new district covers the West Side of Manhattan from the Meatpacking District to the Upper West Side and overlapped with the highly-competitive 12th Congressional District primary that surely helped drive turnout.
Turnout was also high in State Senate District 52, where 21.3% of registered Democrats voted. Former Binghamton City Council Member Lea Webb won the primary against attorney Leslie Danks Burke. The new district covers Cortland, Tompkins, and parts of Broome counties.
State Senate District 4, which covers the southern parts of Suffolk County on Long Island, saw the lowest turnout at just 6.5%. Former State Senator Monica Martinez won that primary against Assemblymember Phil Ramos.
Turnout was similarly low, at just under 7%, in District 15 in southwestern Queens, where State Senator Joseph Addabbo Jr. won the primary, defeating two challengers.
In three other races, turnout was also in single digits. In the remaining nine, turnout ranged from 10-18%.
Several Democratic incumbents fought off particularly active primary challenges in low turnout affairs. In District 21 in central and southern Brooklyn, where State Senator Kevin Parker won against two challengers, turnout was about 11.8%. In District 31, which covers parts of Manhattan and the Bronx, State Senator Robert Jackson defeated three challengers, including one backed by many Democratic officials, with 11.2% of registered Democrats voting. In District 33 in the Bronx, State Senator Gustavo Rivera defeated Miguelina Camilo in a high-stakes race that saw 9.5% turnout.
Republicans clashed in just four State Senate districts with 239,492 eligible voters, of whom just 33,980 or 14.1% voted.
In District 51, where Republican State Senator Peter Oberacker defeated his challenger, Terry Bernardo, about 25% of registered Republicans cast a ballot. The new district includes Delaware, Otsego, Schoharie, Sullivan, part of Broome, part of Chenango, and part of Ulster counties.
In the remaining three races, turnout was about 8-9%.
Special Elections
Besides the special election in the 19th, there was another in the 23rd congressional district, under the current district lines that will soon become obsolete. Special elections are general elections and all registered voters can cast a ballot, in these two cases to select members of Congress to finish the terms through the end of this year for representatives who resigned mid-term.
The race for the 19th Congressional District, a "purple" swing district, was being closely watched at the national level as a bellwether for the midterms and Democrats celebrated Pat Ryan's victory (discussed above).
In the 23rd District, Republican Rep. Tom Reed resigned his seat, kicking off the special election where Republican Joe Sempolinski, the Steuben County Republican chair, defeated Democrat Max Della Pia, a retired Air Force lieutenant colonel. There were 527,403 registered voters in the district and 73,331 of them voted, just under 14%.