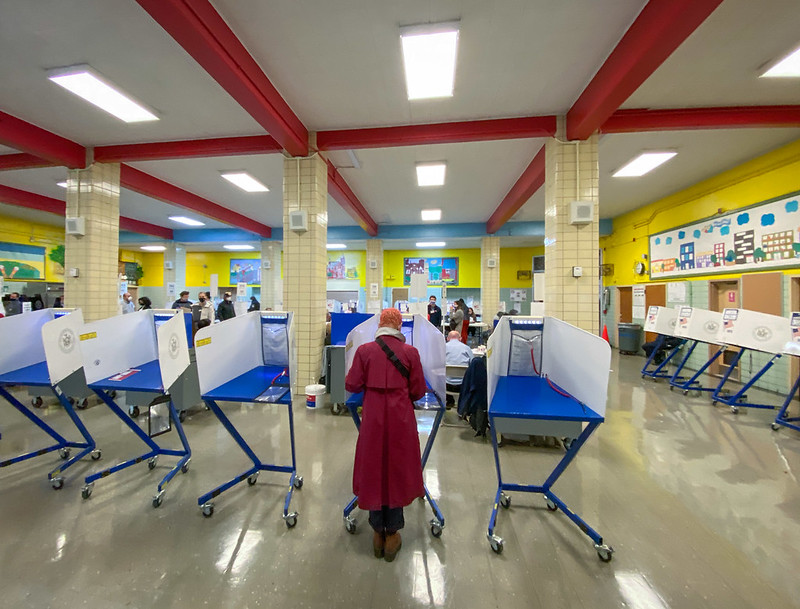 Out to vote (photo: Michael Appleton/Mayoral Photography Office)
---
With Election Day arriving, the tightening race for governor of New York has been one of the 2022 election cycle's biggest surprises.
In the long-time calculus of New York elections, any Republican would need stars to align across the map to win statewide, where registered Democrats outnumber Republicans two to one. Even party-unaffiliated voters are now a larger group in New York than registered Republicans. 
The math includes running up the score upstate, winning by a sizable margin in the New York City suburbs, and getting above 30% of the vote in the five boroughs. It means juicing GOP turnout and hoping many Democrats stay home, while pulling conservative Democrats and a large share of independents.
Though it's been 20 years since a Republican won statewide, the whimsy of that prospect has diminished significantly in recent months as Democratic Governor Kathy Hochul's sizable polling lead, and to a lesser extent her funding lead, over GOP U.S. Rep. Lee Zeldin has narrowed.
Experts say Zeldin has a chance of eking out a victory based on several factors: public attention largely focused on crime and inflation, pandemic era frustrations with government, and tepid enthusiasm for Hochul. The state's first female governor is running for the first time for an office she has held for little over a year, but did limited campaigning until the race's final weeks.
This appears to be the closest a race for governor has been since 1994, when Republican George Pataki – the last of his party to hold statewide office in New York – beat three-term Democratic incumbent Governor Mario Cuomo on a platform of restoring the death penalty and cutting income taxes amidst a Republican wave around the nation. That year Democratic turnout was low and Republican turnout was high, more independents voted Republican, along with a crucial number of registered Democrats.
The state has become more Democratic in enrollment since then, or even Pataki's third and final win in 2002, but Zeldin's proximity to Hochul in the polls and the strength of Republican support throughout the country has rattled Democrats.
Democrats now make up nearly half of all New York State registered voters. Independent voters account for 23% and Republicans just 22%.
Most recent polling shows Hochul with a lead somewhere between four and eleven points over Zeldin in the final weeks of campaigning. In the most recent three gubernatorial elections, Andrew Cuomo beat Republicans by 23, 14, and nearly 30 points, respectively. In the final two races, Hochul was his lieutenant governor running-mate, but she has never been at the top of the ticket herself, and does not have Cuomo's name recognition or deep ties to voters, especially in New York City.
Election experts typically divide New York State into three distinct regions: upstate, New York City, the city's suburbs – Long Island and Westchester and Rockland counties. New York City, which makes up nearly 40% of the state's registered voters and where Democrats enjoy a seven-to-one voter enrollment advantage, is sure to go for Hochul. Long Island and the Hudson Valley are toss-ups, and upstate typically favors the Republican.
The questions that will determine the race are: to what extent voters in each region will turn out and which direction the swing voters swing. The turnout question is also one of which constituencies each party and its state standard-bearer can motivate to the polls — part of the reason that Hochul has called in help from a long list of major Democratic Party figures in recent weeks, including Joe Biden, Kamala Harris, Barack Obama, and Bill and Hillary Clinton. Zeldin has also called in Republican governors Ron DeSantis of Florida and Glenn Youngkin of Virgina for rallies.
For Zeldin to win, experts say he would need a trifecta: strong turnout upstate, low turnout in the city while pulling his weight there, and a suburban sweep.
Observers typically say that in order to win the governor's race, a Republican needs to win a share of the New York City vote roughly proportional to the city's share of the statewide vote. That usually means around a third of New York City voters, who typically come far short of turning out in a representative share of their percentage of registered voters.
"Zeldin has to do much better than the last few Republicans have done in the city," said Jerry Skurnik, a longtime political consultant. "Plus he has to hope that there's less enthusiasm for the Democrats and the city represents a lower percentage of the vote than they normally do."
In 2018, when then Governor Andrew Cuomo, a Democrat, ran against Republican Dutchess County Executive Marc Molinaro – who now finds himself in a tight race for Congress that will contribute to the battle for control of the U.S. House of Representatives – New York City accounted for 35% of the statewide vote. Cuomo won handily in the boroughs and won a third term with 60% of the overall vote. Molinaro received less than 15% of the New York City vote that year, a wave election for Democrats in the first major Trump era election.
Zeldin is hoping to win over 30% in the city, in part based on pulling moderate and conservative Democrats to his side, with a particular focus on Orthodox Jewish, Latino, and Asian voters. Even if he overperforms recent GOP nominees in the five boroughs, Zeldin will need to carry upstate New York and the suburbs by a sizable margin if he is going to combat his likely losses in the city. "Not as much as he's going to lose the city by, but he has to hope [upstate voters] outvote the city by enough of a margin to make a difference," Skurnik said.
Experts think Hochul has a chance of buffering some of Zeldin's runaway lead upstate, with the Buffalo native having a slight homefield boost and months of headlines for pumping major state and federal funding into regional development projects. That puts more pressure on Zeldin to take the suburbs, and by wide margins, and even try to gain ground in New York City, where he has held many campaign events.
For Hochul to stem his late-stage momentum, she needs to boost turnout in New York City and temper his lead upstate.
"A Democrat statewide can do very well even if they don't carry Erie, Monroe, Onondaga counties, as long as they can win big in Buffalo, Rochester, Syracuse and keep those counties close," said Steven Greenberg, Siena College's lead pollster, in an interview.
While greater turnout upstate relative to New York City is widely seen as a boon for Zeldin, higher turnout on Long Island – where Democrats have an enrollment advantage even as Republican candidates tend to get an outsized share of votes – and in Westchester, which has trended more Democratic recently, could be a toss-up. 
"More turnout is still a Democratic advantage," said Gerald Benjamin, founder of the Benjamin Center for Public Policy Initiatives at SUNY New Paltz, in an interview. "Republicans as a general matter need smaller electorates to win."
In the suburbs, Republicans "need to turn out their voters but real increases in turnout don't benefit them," he said.
Turnout in New York City and the swing of the suburbs may hinge on how well each candidate engaged key constituencies in the run-up to Election Day.
"Her path to victory is clear, should she choose to take it – and that means building a coalition that spans Latino voters being courted by Zeldin, progressives disenchanted after [the] primary and voters who refuse to be treated as a monolith," wrote Camille Rivera, a progressive Democratic strategist, in a recent City & State op-ed. "That also means standing firm on issues that appeal to the entirety of the Democratic tent, from passing a universal fair wage for tipped service workers to expanding health care access across the state."
But this race differs from 2018, when Democrats saw record turnout, a response to the Trump presidency and the competitive midterm elections that year. While the first midterms of a new presidency historically yield gains to the opposing party, Democrats have held out hope they could hold onto their slim majority in one or both houses of Congress, particularly given outrage over the Supreme Court ruling overturning federal abortion protections. But the election comes at a time when Biden's approval rating is low, amid frustration over inflation and questions about whether Democrats have sold their major accomplishments. And the impact of Trump as a foil appears to have dimmed without him in office.
"Is anyone suggesting voters are eager to pull the lever for Democrats this year? Absolutely not," wrote Republican City Council Member Joe Borelli, a major Zeldin supporter, in a companion City & State column. According to Borelli, Hochul has failed to keep the conversation focused on her priority issues and lacks the name recognition, "political acumen," and New York City-origin that Cuomo had.
Polling from mid-October shows strong support for Hochul among women, Black voters, and to a lesser extent, Latino voters. Zeldin is polling better among men and party-unaffiliated voters. White voters and suburban voters are more evenly divided, the polling shows.
But polling does not necessarily equate to turnout at the ballot box. "That's a completely different question. Thus campaigns have the imperative to find their supporters and get them to the polls," Greenberg said.
That could come down to several factors but elections experts are watching one in particular: how well the candidates engaged voters on the issues they care about.
"I'm not looking for waves, I'm looking for riptides and these riptides could hit different parties in different ways in different regions," said Bruce Gyory, a long-time political consultant at Manatt, a major lobbying firm, in a recent Gotham Gazette podcast, forecasting less a wave year for Republicans and more localized outcomes based on certain issues, candidates, and voter pools.
With a national, pandemic-era increase in crime, Zeldin and Republicans appear to have successfully made crime the top issue of the race in New York and beyond.
Republicans do better when crime is on the ballot and this race appears to be no exception. Voters' anxiety over reproductive rights and the integrity of democratic institutions that dominated summer primaries and some special elections, and which Democrats were counting on, has largely ceded to crime and the economy, according to polling.
Some polling has continued to show "threats to democracy" as a key issue for many voters, and no one on either side of the aisle is discounting abortion rights as a major issue in this election.
Messaging on crime and economic woes appear to resonate among suburban voters. Whether it will be enough to win over key constituencies – like suburban white women, who have been a particular target of Democrats nationally in recent election cycles and could be essential to a Hochul victory – is an open question.
The Siena College poll of likely voters in mid-October showed Hochul leading women 61-32% and trailing overall in the suburbs 45-49%. Another Quinnipiac University poll from the same time had Hochul up among women 57-39% and nearly tied in the suburbs. The suburbs are not monolithic, which is why the race there is not a game of boosting or lowering turnout but of reaching partisans and swing voters who could be swayed by the right message.
Voters in the Hudson Valley have trended more Democratic in recent years. Long Island, home to Zeldin and a large population of law enforcement officials from New York City, Nassau, and Suffolk, disproportionately votes Republican compared to its balance of registered Democrats.
In New York City, turnout may come down to enthusiasm for Hochul in traditional Democratic strongholds, particularly communities of color. While the Siena College survey has Hochul polling 92-2% among African Americans, there are questions about how well she has made inroads in Black communities where her predecessor, Cuomo, enjoyed reliable support.
"A lot of African Americans did like Andrew Cuomo. They thought he was tough, he was a solid leader at a time of crisis," said Basil Smikle, a longtime Democratic strategist. "They might just not like the fact that he is gone and not necessarily be energized to go out and support Kathy."
He questioned whether the candidates, and Hochul in particular, have made enough of an effort to engage Black voters on critical issues.
"Have any of the candidates gone into those communities and really talked about how their rights are going to be protected going forward, what they're going to provide to provide more safety and security for those neighborhoods?" he said, adding, "Black folks care about crime, too, we care about the economy, too."
"My gut tells me that if you don't have strong Black turnout in New York City she's going to have a huge problem," Smikle said.
Some potential primary challengers to Hochul "convinced themselves that she was unbeatable because she controlled the executive branch, she controlled the budget, she could attract enormous campaign contributions," said Benjamin. "She turns out to be a candidate who doesn't come in with relationships in the population centers…And maybe there's a reason why we never nominate people from upstate – it's just harder for them to win."
Latino and Asian American voters are another factor in New York City turnout and the swing in the suburbs. While Latinos, in particular, have historically been a reliable part of the Democratic base, Democratic watchers are concerned the party is losing ground.
In heavily Latino sections of the Bronx and Queens, in particular, Trump won a larger share of the vote in 2020 than he did in 2016.
"If Zeldin can get 40% of the Hispanic vote like Pataki did against [State Comptroller Carl] McCall in 2002, that's a huge factor," Gyory said, of Pataki's last election, when he won a three-way race with 49% of the vote. "If it's closer to 70-30 in favor of Hochul, that's a major factor." 
Recent polling indicates Hochul may be less popular than Cuomo among Latinos. "It may be the case that Latinos are not happy with Hochul's handling of crime, which typically hits communities of color harder than other demographic groups," wrote political analyst Eli Valentin in a recent Gotham Gazette column.
Her potential challenges with some Latino voters may also be the result of a lack of "sustained retail politics" in Latino communities throughout the state, Valentin wrote. He also argues Hochul has not invested enough in Latino communities in her time as governor (something Democratic City Council Member Diana Ayala disputed in a response column), and that there are far too few Latinos among State Democratic Party leadership.
"She may win their vote," Valentin wrote, "but it'll likely be with a smaller margin than that of any of her Democratic predecessors."