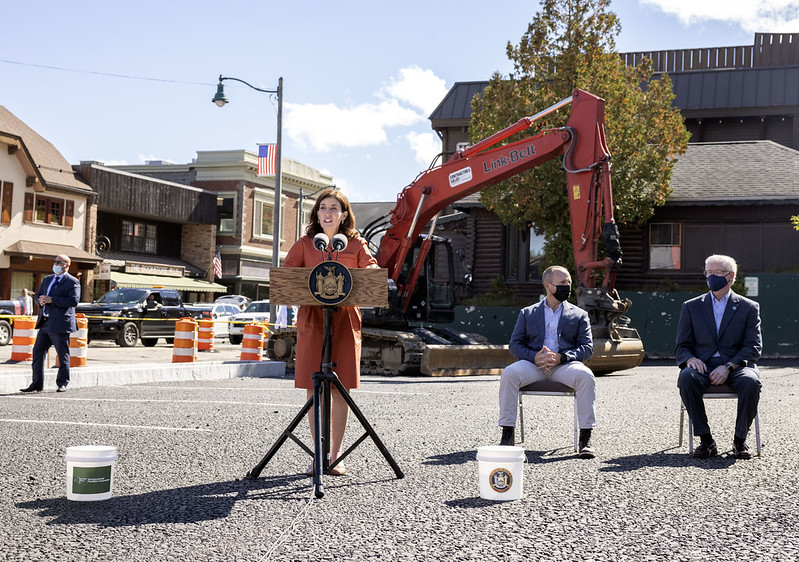 Gov. Hochul at a climate action announcement (photo: Mike Groll/Governor's Office)
---
Voters across New York have approved $4.2 billion in state borrowing proposed by Governor Kathy Hochul and the State Legislature to pay for major projects environmentalists say are key to developing a more robust response to climate change and pollution.
In numbers sure to shift as more votes are counted, initial election night tallies showed about 68% of voters approving the measure, 28% disapproving, and 12% of voters not weighing in at all. The Clean Water, Clean Air, and Green Jobs Environmental Bond Act authorizes the state to take on the debt in the coming years to pay for flood risk mitigation, clean water infrastructure, land conservation, emissions reduction, and other climate initiatives.
"New Yorkers had a historic opportunity to invest in clean water, upgrade our infrastructure, and create good-paying jobs — and they took it!," Hochul tweeted on Wednesday. "Our expanded #NYBondAct will help build a greener, brighter future for all."
The only statewide referendum on the ballot this year, the bond act may serve as a litmus test for voters' anxieties over the environment and state spending.
The outcome is a win for Hochul and other Democrats who pushed for its passage in the state budget earlier this year. A smaller $3 billion bond act was first proposed by then-Governor Andrew Cuomo before being shelved during the turmoil of the early pandemic. The bond act had wide support from climate activists, labor unions whose members will benefit from green jobs and prevailing wage requirements, and many others. New York City Mayor Eric Adams expressed his strong support for passage as well.
Even Republican gubernatorial nominee Lee Zeldin said he would vote for the bond act. It faced limited opposition from other conservatives and no organized effort to see its defeat.
"We built a diverse and engaged coalition of over three hundred environmental organizations, unions and business groups that propelled this measure to success," said Jess Ottney Mahar of the Nature Conservancy, in a Tuesday night statement on behalf of the Vote Yes For Clean Water & Jobs Coalition. "Thanks to the work of this coalition, who handed out tens of thousands of palm cards, window signs and lawn signs, and enthusiastic New Yorkers, we have delivered the first environmental bond act in a generation."
"The passage of this measure will pay for projects that protect clean drinking water, tackle climate change and conserve natural resources while creating jobs and delivering environmental justice across New York State," she said. "Now we start the important work of implementation. Onward!"
The act allows the state comptroller to sell bonds to pay for: $1.5 billion for climate change mitigation projects like energy efficiency upgrades, greenhouse gas sequestration, and pollution reduction; $1.1 billion for flood risk mitigation; $650 million for water quality infrastructure; and another $650 million for land rehabilitation and habitat conservation. The state has flexibility to spend another $300 million that is not specifically earmarked.
At least 35% of the total funding must go to underserved communities, which are typically disproportionately impacted by the effects of pollution and environmental destruction.
The act is seen as a tool to help the state meet ambitious climate goals adopted by state lawmakers in 2019 and leverage federal grant funding for state- and locally-backed projects. The 2019 Climate Leadership and Community Protection Act (CLCPA) sets targets to reduce greenhouse gas emissions 40% of 1990 levels and generate 70% of electricity from renewable sources by 2030. By 2040, all electricity must come from renewables, and by 2050 the state must reach an 85% emissions reduction.
This is the first time an environmental bond has been on the ballot since 1996, when voters approved a $1.75 billion bond act ($3.3 billion in inflation-adjusted dollars) supported by Republican Governor George Pataki.
This is the second year in a row New Yorkers approved an environmental ballot referendum. Last year, residents voted 62-26% to create a new state constitutional right to clean air, water, and a healthy environment. Roughly 12% of voters left the question blank.
The bond act had the support of a coalition of hundreds of organizations, local leaders, and Democratic officials throughout the state. Its primary opposition came from fiscal conservatives and the New York State Conservative Party, which opposed the state taking on new debt for the environment. It was also opposed by Republican and Conservative comptroller nominee Paul Rodriguez, who lost his campaign to unseat Democratic Comptroller Tom DiNapli, who supported the bond act.