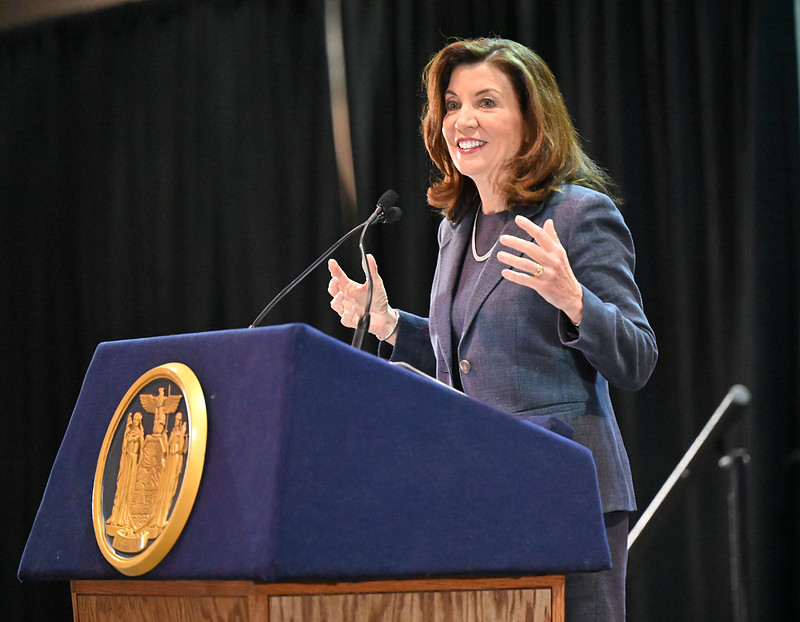 Gov. Hochul (photo: Kevin P. Coughlin/Governor's Office)
---
Kathy Hochul made history last week, becoming the first woman to be elected governor of New York. Hochul, a Democrat who took over in August 2021 after Governor Andrew Cuomo resigned in disgrace, will now serve a full four-year term with the opportunity to more fully craft her agenda. But she already has a lengthy set of priorities either in motion or that she has promised to pursue, and there is more that others expect her to address, whether they voted for or against her. 
Though Hochul had a far more extensive campaign platform than her Republican opponent, U.S. Rep. Lee Zeldin, she did not propose a broad vision for the next four years beyond continuing the work already underway in the state and the agenda that she pursued over her initial year-plus in office. Indeed, some have criticized her for not offering more of a forward-looking vision during the campaign, with new ideas to excite voters, but Hochul has promised a broad agenda in the new year, when she will unveil just her second State of the State policy plan and $200-plus billion Executive Budget.
In her initial tenure, Hochul launched major health care workforce initiatives, invested heavily in childcare, increased local education funding, signed into law new gun regulations and abortion protections, expedited planned middle class tax cuts, restarted or reimagined infrastructure projects, and more. She's promising to build on those accomplishments and go further, especially on affordable housing, which she has repeatedly cited as a top priority moving forward.
"I'm committed to continuing to focus our efforts on driving down costs and making things more affordable, everything from housing to the cost of gasoline to utilities," Hochul said in an interview with News 4 Buffalo, her hometown station, the day after the election. "We've been focused, but we're going to continue that effort intensely, as well as continuing our efforts to improve public safety all across the state…We can make progress in certain areas, but as long as there's a single crime, that's one crime too many." 
What Comes Next
As she heads into the new year, Hochul still has a Democratic Legislature to collaborate, or contend, with. Hochul appears set to further address top issues from the campaign where Zeldin made inroads with voters, particularly public safety and cost of living. It remains to be seen how much further action she will take on crime, or whether she will largely focus on ensuring implementation of a variety of moves she has already made, including changes to the state's controversial bail law that she insisted on during her first budget but has questioned whether key stakeholders, especially judges, are utilizing.
Many conservatives and some moderates, including Democratic New York City Mayor Eric Adams, are calling for more changes to the bail law, without acknowledging the changes Hochul already achieved (which she declined to say much about during the campaign). She has expressed an openness to revisiting the subject, but also stressed the importance of first seeing the results of the most recent changes, especially in conjunction with other public safety policies and funding she has moved ahead.
Hochul is also likely to face pressure from progressives who want to see more robust movement on issues like climate action, tenant protections, criminal justice reform, and more. And underpinning it all, Hochul and the Legislature face a precarious fiscal future, as pandemic-era federal stimulus funds are running out and revenue streams remain uncertain.
First and foremost, Hochul will start a new year and four-year term as the head of New York state government and the New York Democratic Party with a different stature than she had in the short period after ascending to the governorship toward the end of a term won by Cuomo. While she has newfound power and the cushion of a full term, she also won her race by the smallest margin any Democrat has achieved since a Republican last won the office in 2002.
One of the major variables in New York politics right now is what lessons Hochul and other Democrats take from a disappointing but mostly victorious election.
Democrats lost a number of House and state legislative seats, and fingers are being pointed in all directions, with conservatives, moderates, and progressives all calling on Hochul to heed their political and policy priorities. Her relationship with other party big-wigs, state legislative leaders, Mayor Adams, and others all take on new dynamics now, and Hochul will in large part be able to set the tone given the immense powers of the Governor. As promised in the wake of Cuomo's notorious tenure, she has brought a new era of respectful collaboration to state politics, but she now must heal divides and produce progress for the state.
"Hochul has a choice to make," said Bruce Gyory, a veteran Democratic consultant, "and that is, she can either allow the divisions in the Democratic Party between the left and the center to consume her administration and hurt her and drain her administration and the Democrats or she can…reconfigure, refresh the argument, bring the two wings of the party together behind a program that works." 
Hochul's Priorities
In the News 4 Buffalo interview, Hochul said she did not have "new priorities" but rather the same she has already been focused on: "protecting public safety, also affordability overall with people's high cost of living, and increasing more housing stock…Those are the top areas we're going to focus on, as well as protecting our environment."
In an interview with Politico New York last month, Hochul did promise that she will present a "bold vision" in her State of the State address early next year. "The basic lens is that we're going to do everything we can to focus on making New York state a place people want to live, want to come to, can afford to live in, can get a job in, where they can build a business and raise their families. So everything we do is through the framework of what's going to meet those objectives," she said, promising a focus on public safety and housing policy.
Some of Hochul's most ambitious policy proposals from this year dealt with housing, but were not part of agreements reached with the Legislature. Most, if not all, appear likely to be back on her 2023 agenda in some form.
The New York Daily News Editorial Board had plenty of advice to offer the governor: keep the state budget under control while socking away money for a rainy day, ensure the voter-approved $4.2 billion in environmental bond act money is spent wisely, reevaluate the state's plans for the Penn Station area overhaul, push to give judges flexibility in determining a defendant's dangerousness when deciding bail, review the state's response to the COVID-19 pandemic, spur the creation of affordable housing, quickly roll out (and regulate) legalized marijuana, support the State Board of Regents' push for secular education at yeshivas, potentially rewrite the state's concealed carry law, and resist the overtures of campaign donors and progressive legislators.
"For the good of the state, with principle and pragmatism, Hochul must chart her own course. It's her time now," the editorial board wrote. 
Sochie Nnaemeka, political director of the New York Working Families Party, believes Hochul should very much listen to progressives, especially after they helped save her election, as the WFP also fought successfully to keep its ballot line. She said Hochul should take a lesson from how Democrats performed in other states and nationally, by focusing on a positive vision that improves people's lives.
"The governor has an opportunity to lead on a bold vision that addresses the rising costs that working families are facing," said Nnaemeka, advocating for a massive increase in affordable housing, universal child care and health care, bold climate action, and higher taxes on the wealthy to pay for much of it. "This is a moment for the agenda that will animate the base and lead people to a real sense that state government is leading with clarity, with urgency, with a sense of purpose," she said. 
As Hochul has indicated, she seems intent on addressing chief concerns repeatedly expressed by voters in polls ahead of the election: crime and inflation. Republicans capitalized on the two issues to hammer away at her and other Democrats, successfully parlaying those concerns into a series of down-ballot victories even as the top of the GOP ticket failed to win. Even New York Democrats admitted that they ceded the public safety conversation in particular to the Republican Party, largely leaving them playing defense.  
"The question for Hochul is, can she come up with a defensive strategy on crime that builds armor, while on issues like health care, economic development, and education, can she come up with a positive program that people will look back on and say, she used the opportunity to the benefits of New Yorkers," said Gyory.
Hochul does have policies in motion on all those fronts, including major recent deals for a new Buffalo Bills stadium, an immense Micron microchip plant near Syracuse, the ongoing Penn Station area redevelopment plan, the planned Interborough Express connecting parts of Brooklyn and Queens, and more. But those big-ticket items, efforts to reduce crime, and many other policies and programs will require implementation, negotiation, and funding. While federal pandemic relief is being used up, more funding is on its way via the massive infrastructure law and other federal policies passed under President Joe Biden and the Democratic Congress, in part led by New York's Chuck Schumer, the Senate Majority Leader who appears set to retain that position but could be working with a Republican-led House.
Hochul's agenda won't necessarily be easy to accomplish, Gyory added. "You need political skill, you need energy to do that, and you need a little bit of good fortune. She has to put her imprint on the policy direction of her administration. That's gonna take energy. It's gonna take skill to get it through the Legislature. And then, it's like, where's the economy in four years?"
Hochul has said she will continue to address public safety by deepening efforts to get illegal guns off the streets, investing greater resources in law enforcement and in crime interruption programs. She has insisted that changes made this year to tighten state bail laws will work, given time. "We're gonna give those a little bit of time to work, but I'm always open to improving laws," she said on News 4 Buffalo in her first post-election interview. "Whenever we want to take another look at it again, I'll work with the Legislature, but my number one priority is keeping people safe."
Housing affordability is at the core of addressing the cost of living in New York and Hochul has made it a top priority. This year, she committed to a $25 billion five-year housing plan to create and preserve 100,000 units of affordable housing, including 10,000 supportive housing units. But she has admitted that it falls well short of the state's need for between 500,000 to 1.2 million homes over the next ten years, an estimate she has repeatedly mentioned. (According to the National Low Income Housing Coalition, New York has a shortage of more than 615,000 rental units for very low-income households that have a maximum income of $26,200 for a family of four).
"That is the number one issue," she said in the Politico interview. "It's apartments. It's that housing stock is not what it should be, nowhere near what it should be. It is half of Boston's, the building that's going on [in New York City per capita]. We're not building enough new housing, we're not doing conversions, and I directed my team to find all the barriers at the local level, at the state level, and to find what policies are in place that are holding back the growth that we need."
Hochul has promised to revisit several proposals that did not pass the Legislature this year including legalizing accessory dwelling units, and has pledged to address administrative barriers to affordable housing creation across the state. Another proposal that failed this year would have removed the Floor Area Ratio cap for New York City, allowing for taller buildings with more housing, and a plan to incentivize more transit-oriented development, especially in the suburbs, which have allowed little new housing.
Hochul did successfully advance a measure to allow hotel space conversion to housing, but it has accomplished little, and she has since turned her eye to easing office space conversions. A joint panel assembled by Hochul and Mayor Adams focused on reimagining the city's central business districts is due to release recommendations in the coming weeks.
Crucial to Hochul's housing plan will be a replacement for the expired 421-a housing subsidy. In the budget session this year, Hochul proposed a new 485-w program to replace it, making minor adjustments that would have mandated more affordable units in exchange for the large tax benefit, but the measure failed after facing opposition from legislators who called it a giveaway to wealthy real estate developers.
Another major question that remains is whether the Legislature will pass a "good cause eviction" bill that is designed to create strong tenant protections, including limits on annual rent increases, and if Hochul will support it in some form. The legislation could be among the most hotly-debated policies of the coming session, along with the fate of the 421-a program, several criminal justice reforms, and climate policy, including but not limited to the Build Public Renewables Act.
State Senator Andrew Gounardes, a Democrat from Southern Brooklyn, where the party saw Assembly losses and a tighter than expected State Senate race in a new neighboring district to his, said the governor has the opportunity to build on the work that she began in her first budget this year.
"I think we had a really good budget overall. I think we put some good pieces in place to kind of build on," he said, pointing to funding for child care in particular. "I think when we're talking about affordability and we're talking about some of the biggest costs that people face, childcare is definitely high on that list, and we can do a lot more to help support childcare. We can have universal childcare," he said. 
Gounardes also said a major concern for the state is the future of the MTA. "That's going to be a huge issue that I think we're all going to face a reckoning with next year," he said. "I think we have a lot of work to do to help permanently stabilize the MTA operating budget." 
"I think the big takeaway here is that people are feeling a pinch in their pockets and we should do everything we can to make healthcare more affordable, college more affordable, childcare more affordable, housing more affordable," he added.  
A Democratic consultant, who requested anonymity to speak freely, said Hochul is, and should be, focused on housing, public safety, and climate action. 
"I think she and her team are likely going to be visible and engaged around questions of public safety," the consultant said. "I think they learned a lot through this campaign about the importance of speaking to the issues. Even if you think your policies are doing the job that they're intended to do, you have to keep reminding people about your vision, your engagement and that it's something that is top of mind."
As governor, Hochul inherited the responsibility of overseeing the state's implementation of the landmark Climate Leadership and Community Protection Act of 2019, a sweeping legislative package that sets the state on a path of reaching net-zero emissions by 2050. But the plan for implementation was not spelled out and instead kicked to the Climate Action Council that the law also created and is in the midst of completing a scoping plan that will in large part inform how the governor and Legislature are expected to advance climate policy.
Voters in this election also approved the $4.2 billion Clean Water, Clean Air, and Green Jobs Environmental Bond Act, a ballot measure first proposed by Hochul's predecessor but increased in value at her behest. With the federal Inflation Reduction Act set to also provide billions in funding for climate action, New York has an opportunity to invest heavily in green energy, jobs, and infrastructure.
Hochul has already taken several actions in her time in office to advance major clean energy projects and has pledged to continue her efforts, even as climate activists have said that she hasn't moved with the urgency required by the global climate crisis. There are several proposals that she has promised to pursue while others may be foisted on her by progressives in the Legislature. There is the All Electric Buildings Act, which she supported but did not get passed, to ban oil and gas hook-ups in all new building construction starting in a few years.
Activists have also pushed her to support a slate of climate measures, chiefly the Build Public Renewables Act, which would allow the New York Power Authority to own and build new renewable energy projects, among other things. And they are pushing her to sign a two-year moratorium on new fossil-fuel crypto-currency mining, on which she has repeatedly vacillated and must make a decision by the end of this year. 
The Democratic consultant said Hochul's agenda, and the respective priorities of moderates and progressives, aren't necessarily mutually exclusive. And that Hochul now has more power relative to the Legislature, particularly in a state that has a strong executive. "What happens when a new governor gets elected is everyone is seeking to set the agenda. Everyone is seeking to decide what issues she could and should pay attention to," the consultant said. "And the thing that I think people often forget is when you have a new elected chief executive, whether it's a mayor or governor or president, they tend to hold a lot of the cards."
As the new power dynamics are sorted out, Hochul's relationship with Mayor Adams will be among the most important. Both have shown and stressed a productive, collegial relationship in stark contrast to that between their predecessors, Cuomo and Mayor Bill de Blasio. Adams has credited Hochul for working together on a number of issues from taking on illegal guns to childcare funding, an expanded earned income tax credit, the new NYCHA Preservation Trust, and more.
But he has also continuously undermined her efforts and messaging on public safety, especially with regard to the bail law, not acknowledging the changes she did get made in her lone state budget, which focus on repeat offenders, property theft, and gun possession cases. While Hochul has occasionally touted the changes and called for better implementation and patience, Adams has called the law flawed and pledged to seek the overhaul he wants in the next session. Having already frustrated legislative leaders, it is unclear how much Adams has aggravated Hochul, who had to face Zeldin repeatedly citing Adams during his campaign attacks on her. While the new governor needed Adams' political support as she quickly faced election for the position, the power balance between the two has at least somewhat flipped now that she has won a term.
There is plenty for the two top Democrats to work on together.
Besides housing and climate investments, Hochul has also put her weight behind major infrastructure projects that will be closely observed by those watching her administration, many in New York City.
She ushered through the $1.3 billion Buffalo Bills stadium deal, with $600 million in state subsidies, and will have to prove that it was worth the bill to taxpayers. Her administration is also moving ahead with the controversial redevelopment of Penn Station and its surrounding neighborhood, a project that has questionable finances and design, with a heavy emphasis on new office space. And the state, under her watch, is overseeing other projects that will take months or years to complete including East Side Access, the next phase of the Second Avenue Subway, the rehabilitation of the Gateway tunnel, the Bronx MetroNorth expansion, and implementing congestion pricing in New York City.
Hochul has also proposed a new "InterBorough Express" connecting Brooklyn and Queens via existing freight rail lines, a project only in its early planning phase.
Ben Max contributed to this story.