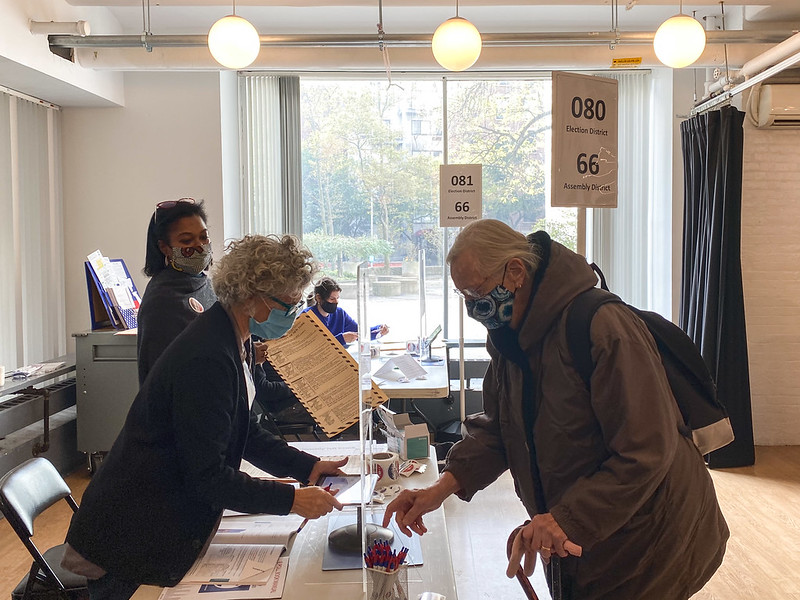 At the polls (photo: Michael Appleton/Mayoral Photography Office)
---
Democrats in the New York State Senate announced plans to pass a package of voting and election reforms on Monday, marking the fifth year in a row since taking the majority that they have highlighted the issue at the top of the legislation session.
Since 2019 Democrats have ushered in a new electoral landscape, including early voting, automatic voter registration, and the New York State Voting Rights Act, among many other shifts. The latest package in the Senate sets the tone on election issues ahead of Governor Kathy Hochul's State of the State address Tuesday and tees up negotiations with the Assembly, which has in many instances partnered on democratic reforms but in recent years has also trailed the Senate on legislation to make voting easier, reform the New York City Board of Elections, and more.
The slate announced and passed Monday would make voter suppression a crime; allow counties to establish "portable" polling locations for early voting; set-up absentee drop boxes and a statewide elections database; and allow voters to receive refreshments while waiting on line to vote – currently a prohibited form of electioneering. A sixth bill would make it harder to select a preferred court jurisdiction when filing a legal challenge to state election law. The practice, known as "forum shopping," sparked renewed interest last year when Republican challenges to new legislative district lines went before a sympathetic Republican judge in Steuben County who threw out Democrats' chosen boundaries.
"We've worked hard to cut away red tape and to eliminate unnecessary barriers that not only discourage voters from casting their ballots but sometimes even penalizes them in the process," said Senate Majority Leader Andrea Stewart-Cousins in a press conference in the State Capitol on Monday, flanked by members of her conference.
On Tuesday, the Senate is expected to continue the push by passing, for the second year in a row, a bill to restructure and professionalize the New York City Board of Elections, which has been subject to chronic failure in recent years, Stewart-Cousins said. In the past, that has been a tough pill to swallow for the Assembly Democratic conference, whose leaders tend to operate in lockstep with party bosses who currently control election administration.
Asked what discussions senators have had with the Assembly and about their confidence in getting the bill to the governor's desk this year, Senate Election Chair Zellnor Myrie of Brooklyn noted that the bill had previously gone through a number of iterations after discussions with Assembly members. "I think we will continue to work with the Assembly the same way we work with them on many other issues," Myrie told reporters, without getting into a forecast about support in the Assembly.
"We'll continue to work with the other house," he repeated when pressed on whether Senate Democrats have gotten a commitment from Assembly leaders on the bill.
Assembly Speaker Carl Heastie made no mention of voting or election legislation in his first major address of the session Monday, in which he discussed an agenda focused on housing and homelessness, economic recovery, environmental preservation, and factors associated with poverty that contribute to crime.
Asked by email to comment on the Assembly's response to the Senate package and its approach to voting legislation this session, a spokesperson for Heastie simply replied, "No."
The full package expected to pass Tuesday will include new standards for election commissioners and employees including prohibitions on holding public office and other conflicts of interest, according to Stewart-Cousins' office. It will also establish new training requirements, make election commissioner a full-time position, and create new channels for removing commissioners. The package would also raise the wages of poll workers and allow poll-site inspectors and clerks to split up grueling day-long shifts.
The Senate will likely also revisit discussions to extend the pandemic-era provision of no-excuse absentee voting, which had allowed all voters to request an absentee ballot before it expired in 2022. "Last year we faced a similar situation where it was expired and then we passed a bill to extend it," Myrie said. "Obviously subject to the leader, I suspect we'll have a similar conversation this year."
Lawmakers are also strategizing around the reintroduction of a state constitutional amendment to make 'no-excuse' absentee voting permanent, after voters rejected a previous amendment in a statewide referendum in 2021.
"I think that's certainly part of the discussion," Myrie said of a potential new amendment.
"I think, again, it just makes [voting] easier and I don't know why New Yorkers should be deprived of the opportunity to send in a ballot," Stewart-Cousins said. "So it is certainly something to discuss."
Good government and civil rights groups applauded the Senate for keeping up the drumbeat of incremental changes to the state's election law in the first weeks of session. "Senate Democrats have consistently advanced critical voter access laws, and we urge the Assembly and Governor to do the same," said Susan Lerner, executive director of good government group Common Cause New York, in a press release issued by the Senate majority.
"Continued improvement to our state's democracy is contingent on policymakers, scholars, and the public having easy, equitable access to voting and election data," said Perry Grossman, Director of the Voting Rights Project at the New York Civil Liberties Union, in a statement commending legislation to create a database of voting information. That bill would establish the New York Voting and Elections Database and Institute, a centralized public repository of state voting data maintained by local governments in partnership with SUNY and CUNY. The database would include district-level voting information related to race and language minority groups, allowing advocates to more easily track violations of New York's Voting Rights Act.