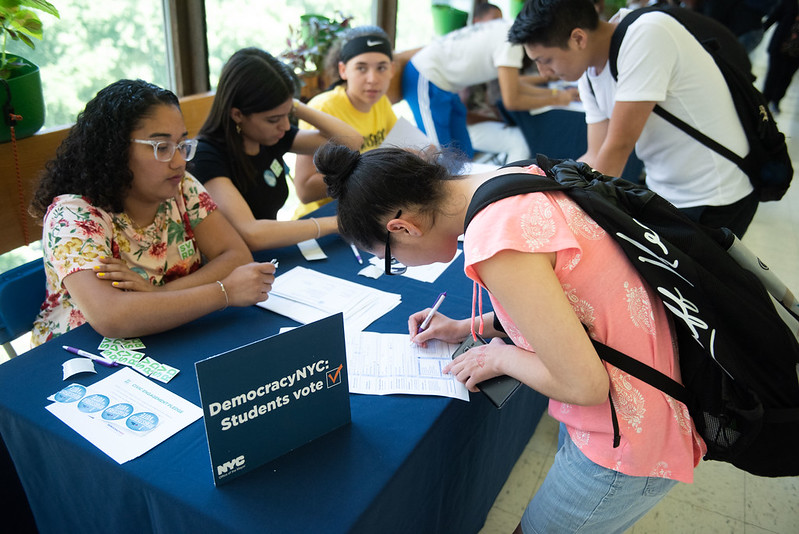 Students registering to vote (photo: Michael Appleton/Mayoral Photography Office)
---
The state's new automatic voter registration system was meant to launch New Year's Day, but officials with the State Board of Elections claim emergency voting measures associated with the pandemic have forced the timeline back. The program is intertwined with an electronic registration system, meant to usher in widespread online voter registration, that is even further delayed – currently more than two years behind scheduled April 2021 launch.
State election administrators are now eyeing a May start date for online enrollment.
Sometime after that, the Department of Motor Vehicles will establish an automatic registration system, according to a spokesperson for the State Board of Elections who did not give a timetable.
The DMV is the first agency required by law to adopt automatic voter registration, or AVR, which will enroll eligible voters when they file personal information with what will be a series of participating agencies (unless the individual opts out). According to state law signed in December 2020, the DMV was supposed to launch on January 1 of this year, with a number of other participating agencies required to roll out the service beginning in 2024. That timeframe is still on track, according to the State Board of Elections.
"Unfortunately, due to unforeseen issues related to the pandemic, the plans for the rollout of both OVR and AVR have been impacted," wrote a State Board of Elections spokesperson in an email, referring to online voter registration and automatic voter registration and citing a number of laws and executive orders meant to limit the spread of COVID-19 at the ballot box.
"Many of those changes remained in place for the 2021 and 2022 elections and, as a result, required a reprioritization and refocusing of significant technical resources and staff time which would have otherwise been devoted to the implementation of Automatic and Online Voter Registration," the spokesperson wrote. "We are doing everything possible to ensure that appropriate measures are taken to expedite implementation of both Automatic and Online Voter Registration."
A big sap of resources was the need – first under executive order and then temporarily under law – to rapidly create an accessible universal absentee balloting portal with the capacity to handle applications from virtually every active voter in the state. That took staff away from building the online voter registration and automatic voter registration systems, the spokesperson told Gotham Gazette.
The State Board of Elections had already blown the April 2021 deadline to stand up a fully electronic registration portal, blaming a hold placed on state funds by then-Governor Andrew Cuomo in the first months of the pandemic.
The board now has that money, $16.6 million, according to a spokesperson for Governor Kathy Hochul, who referred further inquiries to the board. The board is working with a vendor to build the internal system that transmits voter enrollment information to county election boards under both online and automatic voter registration. The State Board of Elections spokesperson said they could not release the vendor's name because the procurement process was not completed.
"These important electoral reforms are already behind schedule and need to be implemented as soon as possible," said State Senate Deputy Leader Michael Gianaris, a Queens Democrat who sponsored the automatic voter registration legislation in 2019, in a statement to Gotham Gazette. "I've made it clear to the Board of Elections that I will work with them to get this done soon and done right."
Under the law, participating agencies must integrate voter registration applications into applications for other services, which agencies will then transmit to county boards of elections. The idea is that as long as eligible voters are interacting with and providing their personal information to government agencies, they could also be automatically enrolled to vote. That would help boost registration rates, which have lagged. Individuals can opt out and agencies are prohibited from transmitting applications from people who are ineligible to register.
In the 2022 general election last fall 588,000 New Yorkers were eligible to vote but not registered, based on estimates of the vote-eligible population by the U.S. Elections Project, run by University of Florida political scientist Dr. Michael McDonald. Every year, New Yorkers who turn 18, gain citizenship, or are re-enfranchised post-incarceration become eligible to vote. Eligible teenagers will be automatically pre-registered under a recent state law that allows 16- and 17-year-olds to submit enrollment information in advance of their eighteenth birthdays.
Agencies are required to come to a rulemaking agreement with the State Board of Elections about how they will implement automatic voter registration, which is then subject to public comment. It is unclear if the DMV or other agencies have completed this process.
Under the law, the DMV's system must have an AVR system by the start of 2023. By January 1, 2024, the Department of Health; Office of Temporary and Disability Assistance; Department of Labor; Office of Vocational and Educational Services for Individuals with Disabilities; county and city departments of social services; New York City Housing Authority; and "any other agency designated by the governor" must all have AVR systems in place. SUNY must launch AVR by January 1, 2025.
Hochul's spokesperson said once the required agencies have implemented AVR the governor will evaluate whether to expand it to other agencies.