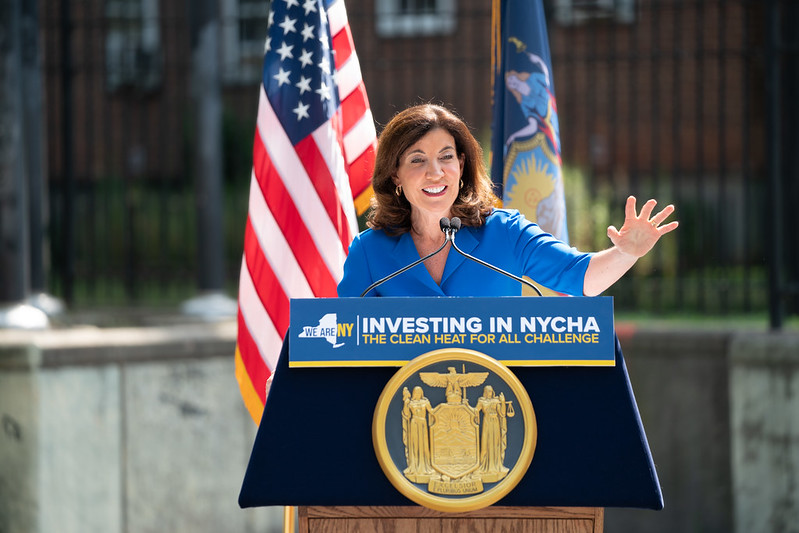 Governor Hochul makes a NYCHA announcement (photo: Governor's Office)
---
After decades of neglect and underinvestment at every level of government, the New York City Housing Authority (NYCHA) continues to struggle to fund its annual operating expenses and massive infrastructure repair needs.
While the city and state have made some recent investments in the public housing authority's capital infrastructure needs, the pandemic blew a hole in its operating budget as rent revenue plummeted and its roughly 500,000 residents were last in line for the state's rental assistance program. To the tune of $454 million, the major rent arrears issue that developed has created annual deficits forcing NYCHA to dip into reserves and putting it in particularly precarious financial position.
Now, as the annual state and city budget processes unfold, NYCHA residents, housing advocates, and like-minded legislators are pushing for a new $2 billion eviction prevention fund for residents of public housing and affordable housing development with city and state regulatory agreements.
This year presents a marked shift away from a focus on the authority's capital needs given recent movement on that front and the emergency that has grown around unpaid rent. Notably, after the current state budget included a number of important NYCHA-related measures, Governor Kathy Hochul's executive budget for next fiscal year, which begins April 1, does not include new operational or capital support for NYCHA.
"Governor Hochul's Executive Budget makes transformative investments to make New York more affordable, more livable and safer, and she looks forward to working with the legislature on a final budget that meets the needs of all New Yorkers," said a spokesperson for the governor, in a statement in response to the governor's lack of NYCHA-related proposals in her budget and policy agenda.
Focus on Capital Repairs
As of 2020, NYCHA had a roughly $40 billion, five-year capital need for repairs, maintenance, and upgrades, with those costs expected to rise by $1 billion annually. That year, NYCHA released "A Blueprint for Change" that was meant to put the authority on a path toward reaching a significant percentage of its capital needs, stabilize its overall finances, and reform its management after years of crises. 
The transformation plan has since been put into motion and the city has made major strides to fund infrastructure improvements at NYCHA's 175,000 apartments. Repairs at about 62,000 apartments are being achieved under the Permanent Affordability Commitment Together (PACT) program, which places developments under private management and makes them eligible for federal funds through the Rental Assistance Demonstration (RAD) program.
The remaining roughly 110,000 units required $18 billion in repairs – at the time that the blueprint was published, NYCHA had about $3.3 billion in capital towards that goal. The agency also estimated that another $7 billion would be needed for improvements to grounds, community centers, and more.  
Mayor Eric Adams won significant victories in last year's state budget to fund NYCHA's infrastructure. Governor Kathy Hochul launched a five-year housing plan that included $350 million in capital funding for NYCHA. That budget also secured another $300 million for elevator replacements at 20 NYCHA developments through an agreement with the Dormitory Authority of the State of New York – the first planning phase of that funding launched in January this year.  
The governor and State Legislature also approved the creation of the new Public Housing Preservation Trust, which will allow NYCHA to potentially raise billions for repairs and maintenance. 
The Trust is a separate public entity, which will lease developments from NYCHA on a long-term basis. The trust will be able to receive Tenant Protection Vouchers (TPVs) from the federal government, and leverage those to issue bonds and raise billions more. The state has so far only authorized NYCHA to turn over 25,000 apartments to the trust, which will be able to raise up to an estimated $3.4 billion as a result. The trust could raise up to $15 billion if all 110,000 apartments are brought under its management, though that would necessitate an expansion of the threshold in the state law as well as, per the current trust law, the approval of the residents of the individual developments according to voting standards developed by legislators and NYCHA.
There are several risks to the untested trust model. As the Independent Budget Office noted in a recent report, the city would need almost $500 million in Tenant Protection Vouchers from the federal government for 25,000 units, and up to $2.2 billion for 110,000 units – the federal omnibus spending bill only allocates about $337 million for TPVs across the country. Even under Democratic control of the White House and both Houses of Congress throughout 2021 and 2022, NYCHA did not receive a major capital allocation, though some members of New York's congressional delegation continue to try to make it a priority.
The New York City Council is also considering a non-binding resolution, sponsored by Council Member Alexa Avilés, chair of the Council's public housing committee, calling on the state to fund half of a roughly $3 billion annual capital funding increase for NYCHA. 
[Read: Preservation Trust and Beyond: Report Assesses NYCHA's Progress and Challenges in Executing 'Blueprint for Change'] 
Rent Arrears, Operating Budget In Focus
Though major questions remain about capital funding, advocates say the state and city urgently need to turn their attention to NYCHA's operating budget, which was thrown into disarray by the pandemic. 
NYCHA's fiscal year follows the calendar year, unlike the state fiscal year, which begins April 1, and the city fiscal year, which starts July 1. At a December 22 meeting, the NYCHA board released its latest financial plan for 2023-2027, painting a dire financial picture.  
NYCHA's operating budget for 2023 is expected to be about $4.4 billion, the same as 2022, but with a $35 million deficit despite dipping into reserves to the tune of $65 million. It will also leave the authority's reserves severely depleted. The agency will have only about $145 million left at the end of 2023, less than the $254 million that would constitute just one month of reserves – HUD recommends that public authorities like NYCHA should have at least three to four months of reserve funds. NYCHA currently has about $211 million in reserve after using $100 million to cover 2022 costs.
According to the document, the agency's rent arrears reached $454 million from 73,028 households as of November 30, 2022, up from $125 million in 2019 prior to the pandemic. The authority is only collecting about 65% of rent it is owed, down from more than 90% annually before the pandemic.
The Community Service Society, an anti-poverty group with a focus on public housing, estimated in a recent report that by June 2023, more than 50,000 public housing households across the state will owe about $589.4 million in rental arrears. 
"The problems facing NYCHA can seem overwhelming, but helping tenants pay rent arrears is a right-sized, money-saving step that will have a direct, immediate impact," wrote Courtney Bryan, executive director of the Center for Justice Innovation, in a February 28 op-ed at Gotham Gazette. CJI provides housing assistance to low-income New Yorkers through its Red Hook Community Justice Center. "Not only will it forestall a crisis for thousands of families, but it will give NYCHA an essential infusion to prevent its problems from getting worse. If federal money isn't coming, that means devoting city and state dollars to solving it. The health, safety, and well-being of hundreds of thousands of vulnerable New Yorkers is at stake."
NYCHA has submitted applications to the state's Emergency Rental Assistance Program (ERAP), created in response to the pandemic and using federal funds, for 31,330 households, worth about $120 million. When ERAP was created, NYCHA tenants were placed low on the priority list, and none had received any ERAP funding as of December. 
"I do think the more immediate issues we face right now are arrears in both public and affordable housing," said Rachel Fee, executive director of New York Housing Conference, a nonprofit advocacy organization. "I do think that's something the Legislature and the governor are going to have to grapple with." Besides NYCHA tenant arrears, NYHC released a policy brief on March 9 which showed that tenants in 31% of 49,121 affordable housing units with regulatory agreements have rent arrears totaling $145 million. 
"I think the last thing anybody wants to see is a massive wave of evictions, and we know that the only place these people will have left to go is going to be homeless shelters. That's not an outcome that anybody wants," she added. 
On Wednesday, March 8, State Senator Brian Kavanagh, chair of the Senate Housing Committee, and Assemblymember Grace Lee, member of the Assembly Housing Committee, rallied at the  State Capitol to call for $389 million in funding for the ERAP to cover rent for tenants of public housing and subsidized housing. The Senate and Assembly are expected to release their one-house budget resolutions next week in response to the governor's budget. 
The drop in NYCHA's rental revenue is also threatening NYCHA's ability to abide by the terms of a 2019 agreement with the federal Department of Housing and Urban Development to implement repairs at NYCHA apartments over five years. The agreement, which also installed a federal monitor over the authority, stemmed from the settlement of a lawsuit brought by the U.S. Attorney for New York's Southern District over living conditions in NYCHA developments. 
"NYCHA has worked diligently with our elected partners to make them aware of the Authority's capital and operating needs, as well as our current budget challenges due to significant rental arrears," said a NYCHA spokesperson, in a statement. "We look forward to outlining our budget priorities for the fiscal year." NYCHA leaders are expected to testify at a City Council budget hearing on March 13. 
Mayor Adams, who regularly touts last year's passage of the Preservation Trust as key to NYCHA's future, did not bring up new NYCHA needs during his February state budget testimony to the Legislature in Albany. The mayor's office did not respond to a request for comment for this story.
The New York State Association for Affordable Housing (NYSAFAH), a trade group, and Legal Aid Society have proposed a new $2 billion Tenant Fund for Affordable Housing (TFAH) to cover the cost of rent arrears for tenants in NYCHA and in affordable housing developments that have regulatory agreements with the city and state. Of the $2 billion fund, $500 million would be set aside for NYCHA alone.
Jolie Milstein, president and CEO of NYSAFAH, bemoaned the "unforeseen consequences" of ERAP and said that the rental arrears issue threatens to create an eviction crisis while jeopardizing affordable housing developments that desperately need rent revenue. "We helped inform the ERAP program, we never liked the way it actually turned out," she said. "We have always argued that there should be a wholesale application to pay arrears" for tenants of affordable and public housing. 
The Tenant Fund for Affordable Housing would give both tenants and housing operators relief – it would cover all rental arrears for tenants with a disability, documented unemployment, or individuals who applied for ERAP and would have been eligible before it ran out of funds; it would cover two-thirds of the rent for other applicants; and it would allow landlords to independently apply for assistance.
"Our clients and all low-income New Yorkers who are facing eviction and were left out of the Emergency Rental Assistance Program (ERAP) deserve protection from displacement," said Judith Goldiner, Attorney in Charge of the Civil Law Reform Unit at The Legal Aid Society, in a statement. "ERAP put the most vulnerable tenants last in line and left them at risk of eviction and homelessness. The Tenant Fund for Affordable Housing would solve this challenge by finally eliminating arrears in a way that makes sense for everyone."
Note – This article has been updated.