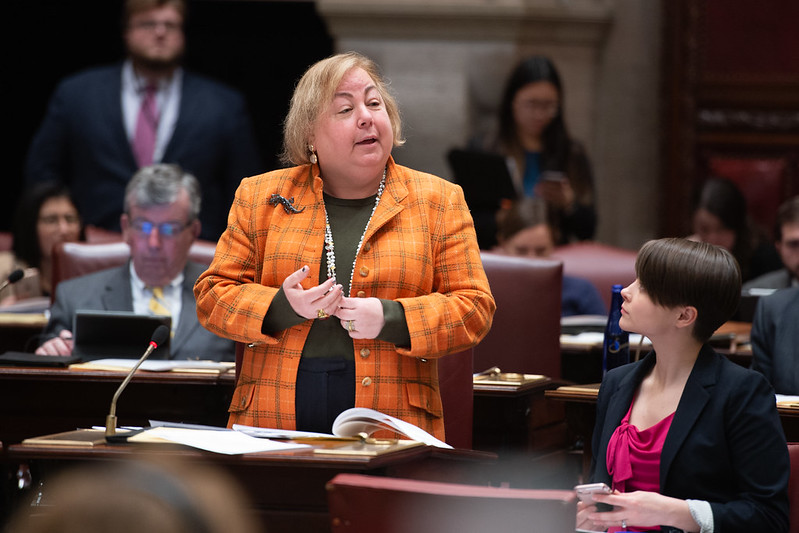 Senator Liz Krueger (photo: NY Senate)
---
Lawmakers in Albany are in the midst of crafting a new budget, with negotiations now stretching beyond the April 1 start of the new fiscal year. Democratic Governor Kathy Hochul and the two houses of the State Legislature, both with Democratic supermajorities, are likely to pass a budget "extender" so the state can pay its bills, especially payroll, as they continue negotiations this week.
State Senator Liz Krueger, a Manhattan Democrat who leads the Senate's finance committee, has been at the center of the budget process, co-chairing weeks of legislative hearings on Hochul's $227 billion executive budget and helping to craft the Senate's one-house budget resolution, which was passed mid-March.
Just after both houses passed their one-house budgets and negotiations with Hochul's office were set to intensify, Krueger joined Gotham Gazette's Max Politics podcast to discuss Senate Democrats' priorities, negotiations with the Governor, and more.
Hochul's executive budget, released February 1, and building upon her January State of the State policy agenda, set the stage for the process. The governor, who just won her first term in the role but is negotiating her second budget since ascending from lieutenant governor, included many proposals in her budget, taking on a wide range of issues and offering several measures controversial with the legislative majorities. They included a sweeping and ambitious housing plan, a push to increase the cap on charter schools in New York City, further changes to the state's bail law to allow for more pre-trial detention, a plan to fund the Metropolitan Transportation Authority (MTA), major climate and energy policies, and much more.
On the podcast, Krueger offered a broad response to the governor's agenda, in large part through the lens of the Senate's one-house budget. She stressed that while lawmakers are opposed to a number of Hochul's ideas, there's agreement on many others, and room for negotiation on key areas where there is disagreement.
"It's quite the challenge to narrow that down into an actual sort of summary of what our budget would support and not support in the governor's budget, what we would add, what we would subtract, and what we would replace," Krueger said of the process of crafting the one-house budget resolution, which is non-binding and more of a negotiating document. "It's fairly complex, and we come out with a very long laundry list of things we agree and disagree with."
Of the final stretch of budget negotiations, Krueger said, "It's the staff of a governor, the Assembly, and the Senate in rooms together saying, 'OK, this is what my house wants. This is what my house wants. This is what the governor wants. Can we come to an agreement? Can we agree to throw it away because we're never going to come to an agreement? Can we negotiate something we can all live with?,' And we build toward a final set of budget bills that need to pass both houses."
Of the potential for budget negotiations to go into April, past the start of the new fiscal year, as they now have, Krueger said, "I've been here 20 years, and I always tell everyone, 'Bring extra underwear.'"
On the podcast, Krueger touched on many of the Senate majority's priorities and responses to Hochul's proposals, the status of budget negotiations at the time in mid-March, and what she expected to come.
Criminal Justice
On the issue of criminal justice and how it fits into this year's budget, Krueger said legislators have "a much longer list than we think the governor does." While bail reform has been a controversial and dominant issue for years and is again this year, Krueger said there is little appetite for revisions again this year.
"We've done bail reform several times," Krueger said on the podcast. "We've done hearings already this year looking at the data that's coming out. I don't think there's much room in either house of the Legislature to take on bail again."
"There's criminal justice issues we would love to come to agreement on, but we don't think the actual problem of growth in crime was caused by bail or that it's creating a new problem, so we would much rather focus on the other issues in crime," Krueger continued. "We'll see whether the governor's willing to do that." Indications before and after those comments are that Hochul is insistent again this year that changes to toughen the bail laws must be made in the budget, and like last year, it is proving key to why the budget is late.
Krueger, who was the lead Senate sponsor of the law that legalized adult use of cannabis in New York, also discussed efforts she's leading that could be part of a budget deal to increase penalties on businesses selling illegal cannabis products, as well as for those who knowingly lease commercial space to the rapidly proliferating illegal smoke shops.
"The bill would significantly increase penalties on the illegal shops, because right now they don't really think they face any penalties except an occasional sheriff coming through and pulling the stuff off their shelves — no other penalty, and that's not working," Krueger said. "What they're selling is illegal product coming in from other states, that we don't even know what it is, and the testing shows that some of it is pretty crappy stuff."
There appears to be alignment among Hochul and the Legislature on taking some such measures, but the final details as yet to be seen.
Although she said that she does not intend to re-criminalize cannabis by means of fines, Krueger said she wants police departments across the state to understand that they have more authority than she currently sees them enforcing against the shops selling illegally, which has been a point of contention in New York City where Mayor Adams, the NYPD, and the Sheriff have performed limited enforcement. She said the bill would allow law enforcement to revoke tobacco and CBD licenses for good if sellers are caught peddling illegal cannabis products.
Education
In light of Governor Hochul's controversial proposal to raise the cap, which has been hit, on charter schools in New York City, allowing for around 100 more of the privately-run public schools to be authorized.
"The city of New York doesn't seem to want the expansion of charters, and the Legislature doesn't want the expansion of charters, so I just don't think there's a lot of room there for any negotiations," Krueger said on the podcast.
She acknowledged that Mayor Adams may be supportive of charter schools but noted that during his state budget testimony to the Legislature he said the city does not have the money to spend on rent for more charter schools, which by state law must be given school space at the city's expense, whether in public or private buildings. Krueger said that the Legislature does not intend to allocate the roughly $1 billion the mayor asked for to pay for charter school rent if the cap is raised.
Krueger also noted that it's a priority for the Legislature to pass and fund universal free school meals — meaning all children across the state could access free breakfast and lunch every day at school.
"Everyone seems to recognize the importance of children having nutritious meals," she said. "They learn better, they have better IQs, they're healthier. It's a very low-cost option to really address the issues for so many children in the state."
Housing
On housing and the governor's major 'Housing Compact' plan, Krueger said Hochul's language in her proposal "did not seem to be satisfactory to almost anyone."
Hochul's plan would add 800,000 new homes to the state in the next 10 years through the use of mandatory local growth targets, zoning mechanisms, and many other planks.
"Housing is absolutely critical, but there was so much disagreement with almost every one of the governor's proposals," Krueger said of how the Senate crafted its one-house budget, which stripped out most of Hochul's proposals but did keep the growth targets, albeit not required, and additional incentive money for infrastructure for localities that do welcome housing production to meet the state's massive need. "We don't want to leave Albany this Spring without dealing with the housing crisis, but most of the governor's proposals were not the ones that were going to go."
Krueger's mention of Spring was indicative of her belief that much of housing policy could potentially be dealt with in the legislative session after a budget, given that the session runs into June. But other legislators and members of the Hochul administration insist housing must largely if not fully be dealt with in the budget.
Krueger added that the Legislature's priorities on housing include significant rent-arrears funding for the New York City Housing Authority (NYCHA), funding for the Homeowner Protection Program, which provides legal assistance and resources to homeowners facing eviction, and other policies that are not focused on housing production.
On growth targets and mandates, Krueger said there are localities where many officials say they want to build more and they can now do so, without state action, even if there is less will other places. "When you look at the City of New York, we have elected officials who say they want all this to happen," Krueger said on the podcast. "When you look at other counties, they don't always say they want this to happen, as you've pointed out with Long Island. So that's why I'm trying to point out that maybe different carrots and sticks work differently in different parts of the state."
Krueger indicated that the Senate's budget was not a final offer in negotiations, but a starting point from the majority's perspective, and that on growth targets, transit-oriented development, and more, there is room for discussion.
Krueger said she is open to Hochul's proposal to convert commercial buildings to residential spaces, but added that she is pushing for mandatory affordable units as part of any shift in regulations. She also said that she is not against the governor's proposal to authorize legal basement units in New York City, and believes that the city has a lot of potential to build in that direction.
Taxes and Tax Breaks
The senator added that despite Hochul's pledge not to raise any income taxes this year, legislators in both houses have proposed a small income tax increase for those who make $5 million or more each year.
"We believe that the amount we've proposed increasing, on $5 million and up, would not impact people picking up and leaving and stop doing business in New York, but that money can go an incredibly long way to help us pay for the priorities that make the state a great state," Krueger said.
Krueger asserted that people are more likely to stay in New York or locate their residences and businesses here if budgets invest in bolstering infrastructure, and bettering quality of life, rather than focusing on minimizing tax rates.
"We have money to invest in education because what do businesses want? They want an educated workforce to work for them, they want access to utilities, and we're heading rapidly to a green economy of green utilities," Krueger said. "Those are the things that keep states strong, and actually help them pull out of bad economic times quicker."
Krueger maintained that she is against Governor Hochul's proposals to increase the state's film and TV tax credit program to $700 million per year, but said that she was overruled by other legislators and the Senate budget supported the increase.
"If I was queen for a day, I probably would not be including that in the budget, but I have total respect that I am one legislator who needs to negotiate with my own conference as well as the Assembly and the governor," Krueger said on the podcast. She said she is, overall, against various tax credit programs and other business deals, and against the governor's proposed state loan for a complete renovation of Belmont race track, which was also supported in both legislative houses' budget resolutions.
Other Issues
The interview also touched on MTA funding, cost-of-living increases for workers at nonprofits the state contracts with, climate policy, and more.
"We put a lot of proposals in for our commitment to a green system of energy and the economy, and some revenue sources," Krueger said on the podcast. "I keep telling everyone: If we don't get climate change right, it doesn't really matter what else we do, because we won't be around to deal with it."
Listen to the full discussion here.