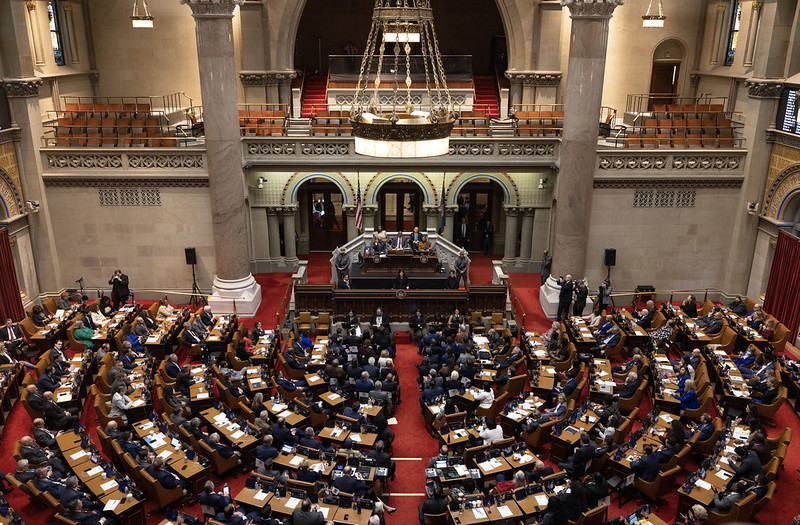 Inside the State Legislature (photo: Mike Groll/Office of Governor Kathy Hochul)
---
Despite funding in the executive and legislative budget proposals, lawmakers have not ruled out shelving the state's fledgling public campaign finance system for the upcoming election cycle.
Rumors that lawmakers were considering delaying the new small-dollar matching program as part of budget negotiations have been swirling since such talks were first reported by Spectrum News in late February. A few weeks later, however, the State Senate and Assembly one-house budget resolutions each met Governor Kathy Hochul's proposed $39.5 million for the new system – including $25 million for matching funds and $14.5 for administration.
But the apparent accord on the program has not been enough to assuage fears among reformers that the long-sought public financing system will be postponed in the adopted budget. A spending and policy plan is due by the April 1 start of the new state fiscal year, though budgets in Albany are often late.
Passed by Democrats in 2020, the system applies to candidates for statewide and state legislative seats, lowering individual contribution limits to candidates and establishing a public matching fund that multiplies low-level in-state or in-district contributions. Proponents, including many of the Democrats who currently make up supermajorities in the Senate and Assembly, argued the system would help reduce the impact of deep-pocketed donors in elections, encourage candidates to engage more voters, and make elections more competitive.
The public funds, offering a 6-to-1 match or greater to donations up to $250, are set by law to begin being paid out in the next state election cycle — the 2024 races for all 213 seats in the State Legislature. The Public Campaign Finance Board that is administering the program has already been appointed and for the past few months has been hiring staff, holding trainings, and setting out regulations for the system.
Despite the progress (and $20.6 million already allocated by lawmakers last year), the program's fate remains uncertain. Last week, Senate Majority Leader Andrea Stewart-Cousins avoided ruling out the possibility of delaying the implementation of the matching funds program when asked about it on The Capitol Pressroom.
"I have no idea," she told host David Lombardo of the chances of postponing the program in the adopted budget. "Both of our houses had campaign finance as does the governor's, so I have no expectation of anything falling off the table but we'll see."
Stewart-Cousins is one of three top officials, along with Hochul and Assembly Speaker Carl Heastie, all Democrats, who are leading negotiations of a roughly $230 billion state budget.
A coalition of advocates for campaign finance reforms and the public matching system are in Albany this week pushing to make sure the funding is in the final budget with no postponement.
"As the budget is finalized, our state's leaders must cement their commitment to this groundbreaking program – not only by funding it, but also by ensuring that it remains available to candidates for the 2024 elections, some of whom have already started opting in," wrote Joanna Zdanys, senior Counsel at the Brennan Center for Justice and a member of the coalition, known as Fair Elections NY.
"Recent news pieces have reported rumblings that some lawmakers want to see the program delayed. There is absolutely no reason to do so," Zydanys told Gotham Gazette. "The program is ready to go, and this reform – which New Yorkers have long called for, and support by large majorities – is an essential way for everyday voters to have a greater say in our state's politics."
Asked to respond to Stewart-Cousins' remarks, a spokesperson for Hochul pointed to the governor's commitment in the executive budget.
"Governor Hochul's Executive Budget makes transformative investments to make New York more affordable, more livable and safer, and she continues to work with the legislature to deliver a final budget that meets the needs of all New Yorkers," wrote the spokesperson, Hazel Crampton-Hays, by email.
Lawmakers have expressed to advocates that part of the concern is over the expected price tag of the public match in the next state elections – estimated at $100 million, a majority of which would need to be included in next year's state budget if it is not included in the upcoming plan. But few have spoken publicly on the record about the status of talks.
On Thursday, a group of advocates and legislators spoke against defunding or delaying the program at rally in the State Capitol hosted by Fair Elections NY.
"For people who want to stop it, we are here to say you can't," said Assembly Member Harvey Epstein, a Manhattan Democrat. "We passed it because we're going to fight for it and are going to ensure that the money stays in the budget [and] there is no delay. There is no reason to delay."
"I'm hopeful as budget negotiations continue that we can get what we fought for," said Assembly Member Linda Rosenthal, another Manhattan Democrat, who also spoke at the rally.
Democratic Senator Rachel May of Syracuse said she "desperately" wanted to see the system in place for the 2024 state elections. "I'm proud that our majority leader supported putting the money in the budget this year and I will work with her to make sure that it stays," she said.
Spokespeople for Stewart-Cousins and Heastie did not provide statements in response to requests for comment. Nor did the chairs of the Legislature's finance and elections committees.
Senator Jessica Ramos, a Queens Democrat and longtime proponent of a public campaign finance system, defended the program but didn't rule out a delay. "I maintain that public matching is an important tool for the health of NY's democracy," she said in a statement provided by a spokesperson when asked if she was open to postponing. "The budget process is moving forward and we will see what the final language looks like as it progresses."
Reached by phone, Assembly Member Jeffrey Dinowitz, a Bronx Democrat, was not unsettled by the idea of postponing the system and painted the start-date of the campaign finance program as a question of preparedness.
"I don't think it would make a big difference," he said of a potential delay. "We have to make sure it's ready to be up and running."
Some lawmakers are still looking to make changes to the program even with Board operations underway.
A day after Hochul announced her $227 billion executive budget, Dinowitz introduced a bill that would eliminate the requirement that only funds from small donors (below $250) would be matchable; instead the first $250 of any sized contribution, up to the maximum limit, would be eligible for matched dollars. Some advocates are concerned the change would eliminate the advantage of seeking small donations and nullify a key feature of the legislation: to limit the influence of big election spenders and encourage candidates to focus on a broad swath of voters and donors.
"People are going to give what they want to give, what they're able to give. I think if the intent is really to force contributors not to give more than $250 then that's almost coercive," he said, noting that the purpose of the bill is to bring the state system in line with New York City's lauded campaign finance program, which matches contributions over the small-dollar threshold.
The bill has the co-sponsorship of a number of progressive Assembly members including Rosenthal and a number of democratic socialists. But it has no counterpart bill in the State Senate.
"That's probably a post-budget discussion and we have plenty of time for that," Dinowitz said of getting one. "Plenty of time."