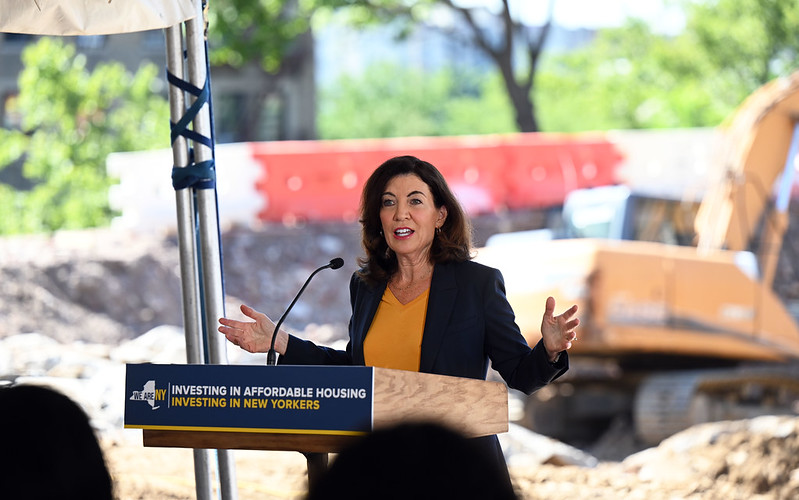 Gov. Hochul talks housing (photo: Kevin P. Coughlin/Governor's Office)
---
Governor Kathy Hochul is attempting a major course correction in New York's approach to housing creation in this year's state budget and the stakes couldn't be higher. For the governor, weakened after a tighter-than-expected election that won her a first full-term, it could be a major legacy-making achievement even if its effects aren't felt immediately. And for New Yorkers, it could be the first meaningful step towards truly easing the state's acute housing shortage and reducing the atmospheric cost of housing in the state.
Though it faces some opposition in the Legislature, Hochul's focus on housing supply also meets legislators' prioritization of tenant protections, laying the ground for a potentially seismic compromise that incorporates significant elements of both.
"A lot is at stake," said Rachel Fee, executive director of the New York Housing Conference (NYHC), a nonprofit advocacy group. "This is a framework for housing supply, which is the core issue impacting housing affordability in New York," referring to Hochul ambitious plan. 
In the decade before the pandemic, New York State created more than 1.2 million jobs but only about 403,000 units of housing. Housing production in the state lags far behind many other jurisdictions. New York City, for instance, created only 27 new homes for every 1,000 residents between 2011-2020, a slower rate than many major cities including Los Angeles, San Francisco, Washington D.C., Miami, Seattle, and Austin. New York's suburbs are even worse, with the lowest rates of new housing permitted between 2010 and 2018 compared to suburbs in Massachusetts, Connecticut, Southern California, New Jersey, Pennsylvania, and Northern Virginia.
Hochul has proposed a "Housing Compact" designed to fulfill the state's need for 800,000 homes across the state in the next ten years. It involves three major elements – requirements for regional and local housing growth (3% in each locality downstate and 1% upstate over three years) along with enforcement mechanisms; and major rezonings around MTA transportation hubs to encourage more housing density near mass transit.
Third, the plan also includes easing environmental review regulations that have often slowed housing development, a property tax exemption for localities that allow accessory dwelling units, and several proposals specific to New York City including eliminating the floor-area ratio (FAR) cap in the city to allow more dense buildings, allowing conversions of underused office space to housing (along with a proposed tax credit to encourage set asides for affordable units in those developments), and allowing the city to provide amnesty to existing basement apartments as well as a pathway toward safe, legalized units.
To support localities in their housing efforts, Hochul also allocated in her budget proposal $250 million for an infrastructure fund and $20 million for planning and technical assistance.
"I'm leaning hard into this idea of building more housing simply because other states are far ahead of us," Hochul said in the city of Cohoes last month. "We're losing people to our neighboring states because they have more supply, therefore the prices are cheaper. Again, it's real simple economics here. So that's what I'm focusing on. I'm supporting communities that have their own vision. I'm encouraging others who don't have the same vision to understand that this is a matter of survival. Building more housing and creating housing - all levels of housing."
"I want people 150 years from now to look back and say, 'What we did in 2023, investing in these communities, building the housing people need, was a catalyst for a future, which was absolutely unstoppable,'" she added.
Though some believe they could be doing more, the governor and her team have made significant efforts to raise support for the Housing Compact since she first announced it in her State of the State speech in January. The governor held roundtables on the housing crisis in every region of the state, and she has touted the Compact, and local support for it, in Syracuse, Albany, Rochester, Rye Brook, Patchogue, and White Plains, the governor's office said.
RuthAnne Visnauskas, the Hochul-appointed state housing commissioner who helped craft the Compact, has also held 75 meetings on the issue with state lawmakers, mayors, town supervisors, county executives and community groups, according to the governor's office. More than 100 organizations and nonprofit groups have announced support of the Compact.
A Slingshot Strategies poll, commissioned by the pro-development group Open New York and released March 1, found that 64% of registered voters support the governor's overall housing agenda, which also had 66% in support in Westchester and Putnam Counties — two of the key suburban battleground areas where the push for more housing can be particularly fraught.
A Siena College poll released March 27 found that 90% of New Yorkers said that affordable housing is a serious problem in the state, coming in close behind the 92% who said the same about crime. Nearly half, 45% of voters, supported the housing target mandates proposed by Hochul while 37% opposed them. Support and opposition were also split along party lines – 67% of Democrats support the idea while 63% of Republicans oppose it.
The Democratic majorities in the State Senate and Assembly, however, did not embrace it – in their one-house budgets, both chambers instead proposed voluntary growth targets with $500 million in incentives for localities through infrastructure funding. Both Democrats and Republicans have pushed back against the proposal's enforcement mechanism, which would override local control over housing and zoning.
While promoting the Compact on Long Island last month, Hochul said that building more homes is essential to ensure that the state's economy can keep growing and that people can find an affordable place to live throughout the state. "We've created so many more jobs than ever before, but we've not kept pace with building the housing," she said. "And communities large and small all have a capacity to just grow a little bit more. Some want to grow big; some want to keep their small character. I understand that and they should. But we have to open up the doors so we can get people to be able to live here."
"I think [the Housing Compact] was one of the most bold and courageous proposals that she had this session," said Neal Kwatra, founder of Metropolitan Public Strategies, a consulting firm. Kwatra said that the governor's plan was naturally bound to receive some opposition as she attempts to deal with an intractable issue, but he has "honestly been really troubled" by the response to the governor's plan from her own party.
He also noted that while a majority of Republican voters have rejected the governor's plan, Democratic voters are on board. "If Democrats stuck together, this is a no-brainer because there is widespread statewide Democratic Party primary voter support. There is independent voter support for this concept," he said.
"I don't want to be hyperbolic about it but this to me is not dissimilar to fights we've had throughout this country's history, on issues like bussing, on school desegregation," Kwatra added, echoing those who see Hochul's plan in part as an opportunity to advance fair housing goals. "Anytime we decide to bring more people to the party, namely all of society, all of our citizens, we have this kind of tension."
Housing experts and advocates say that the Housing Compact could be a historic reset to housing policy in the state with the appropriate eye on the future, but that it can only work if there are growth mandates in place. Exclusionary places unfavorable to change, they point out, are not going to be easily swayed by the offerings of infrastructure funding to accompany new housing that current homeowners do not welcome.
As Visnauskas and others have said, New York took lessons from other jurisdictions where an incentives-only approach has repeatedly failed to produce the necessary level of new housing. There's also broad agreement that the governor's best opportunity to get approval for the compact is in the budget, since it contains fiscal incentives tied to housing targets and because she will lose the major budget process leverage she has in the post-budget legislative session.
Carrots and Sticks
The proposal to set mandatory targets for housing creation is seen as the most essential to progress but has proven to be the most controversial aspect of the Housing Compact. Under Hochul's plan, if localities either fail or refuse to meet growth targets or take any zoning actions to encourage new housing to be built, real estate developers would be able to use a fast-track method to get approvals for projects by appealing to the courts or a new state-level Housing Review Board.
"We feel very strongly about the mandate, and that without that this is not really a policy that is going to have a lot of impact," said Visnauskas, in a recent appearance on Gotham Gazette's Max Politics podcast. "And frankly, that we don't have a lot of time to do what other states did, which is work this out over the course of the next decade and maybe get to a mandate then, because the housing crisis is too real and too severe for too many people."
As Visnauskas and Hochul have explained it, the Compact gives localities a great deal of say in how they grow, but they must grow their housing supply, before any enforcement or overrides kick in.
Republicans and some Democrats, particularly those representing the suburbs, have broadly criticized the mandate, insisting on maintaining "local control, not Hochul control."
"Certainly, her proposal of having a statewide board that would overrule local government is inappropriate and probably unconstitutional," said State Senator Patricia Canzoneri-Fitzpatrick, a Nassau County Republican, in a phone interview. "Her proposal would, in essence, nullify the votes of all of my constituents to elect intermediate levels of government and overrule them and say, 'We don't really care what your local zoning says.'…That kind of dictator edict is not well received by anybody."
Speaking to reporters on Monday, Assembly Speaker Carl Heastie, a Bronx Democrat, said any local zoning overrides were a tough sell for the Legislature. "As a state legislator, deference to local control is something that…you try to be respectful of," he said. But he did concede that localities, particularly in the suburbs, need to build more housing and eliminate outdated regulations that have restricted new development. "I do think that you can try to deal with all of those things but you just have to try to figure out what's the best way to accomplish this," he said.
Senate Majority Leader Andrea Stewart-Cousins, a Westchester Democrat, similarly said that every aspect of the Housing Compact was up for negotiation, even the growth mandate. "I'm not opposed to the 'stick,' as they say, but I don't like to start with sticks. I want to start with 'carrots' and community engagement so that we can get to the end that we'd like," she said.
She insisted that Senate Democrats are looking at housing "holistically" and that there are issues that also need to be addressed, including the Housing Access Voucher Program, "good cause eviction" protections, and tenant rent-arrears funding. "I've always said our conference looks at it holistically. We know that we need to build more housing in New York. And we also know that we need to keep tenants in their housing," she said.
Supporters of the Compact say the governor should not budge on the mandate, even if other aspects of the compact are dropped which could be addressed in the future.
"The governor really needs to hold the line and stay very strong on the proposal for the housing compact," said Annemarie Gray, executive director of Open New York and a former New York City housing and planning official, in a phone interview. "[W]e need a statewide framework that has to be real, required, enforceable, permanent; that actually really makes sure every part of the state adds housing opportunities. And that has to be at the center of the proposal."
Gray and others like Fee do say that the Compact could be improved and negotiated in different ways, and perhaps there could be more flexibility in the density requirements and local control.
"I think we do have to push localities to do their part, but I think we also have to be listening to what are some real concerns on how to fix this," said Fee, who recently wrote an op-ed recommending areas of potential compromise. And the governor's team is listening to feedback. Visnauskas said on the podcast that the proposal could be changed, for instance, to give some relief to localities that have already been steadily building housing or passing zoning reforms towards that goal.
But Fee insisted that the mandates should remain, instead of the incentive-only proposal floated by the Legislature. "What's on the table right now is an incentives-only approach which we feel will be totally ineffective," she said. "And I think the Governor has been clear that she's not going to go for that and part of the reasoning is, we don't have time to waste. We've seen that this has failed in other states."
'It Has to Get Done in the Budget'
Asked about whether a housing deal needs to get done as part of the state's massive budget agreement, Visnauskas pointed out that the growth targets are linked to the infrastructure and planning assistance funds proposed by the governor and Legislature.
"All those things, from my perspective, seem very much tied up in a budget conversation. These housing policies are very much related to the dollars that are in the budget. So I think it has to get done now," she said. Some legislators have floated the idea of negotiating housing policy in the post-budget legislative session. Most experts and advocates agree that for Hochul to pass something truly transformational for the state's future, it should be done in the budget, where the governor's leverage is strongest and the opportunities for grand bargains are biggest.
"It has to get done in the budget," said Fee. "The governor has no leverage to do this outside the budget process."
There are also tax incentives that Hochul and others, like Mayor Eric Adams, have argued are crucial to the success of the plan. Both Adams and Hochul have insisted on the need to replace the 421-a affordable housing tax credit, which expired last year. Hochul had proposed and later abandoned an alternative 485-w proposal, which she did not revive this year. Instead she proposed an extension on the completion deadline for buildings to receive 421-a credits, and has put the onus on the Legislature to come up with a new replacement program.
But it's not just the fiscal implications that matter. Hochul came into her first full-term after a bruising election. She bested her Republican opponent, then- U.S. Rep. Lee Zeldin, by just six points, the closest governor's race in decades. Then, she expended significant capital when she unsuccessfully nominated Hector LaSalle as the state's next chief judge, rebuked by the State Senate, which rejected his nomination. Hochul is also now, for a second year in a row, insisting on changes to the state's bail law in order to move ahead on the budget overall, frustrating many legislators and leading to questions about whether she will be able to get as much of her housing plan passed as she could have if she made it the top priority in negotiations.
While Hochul appears to have the most on the line politically, there's also the imperative for legislators to act, as the housing crisis has continued to become more acute, deemed by many as a leading cause of the state's population loss over the years.
"I don't think there's any point in kicking this can down the road. It's been kicked several times already," said Fee, who has met with many legislators and others to pitch the Compact and potential compromises. "Coming out of this pandemic, it feels like we have really such intensity around our housing crisis right now. There are so many households with significant arrears at risk of eviction. There are so many migrants coming to New York and we have no housing to offer them. Between rents and home prices, both have gone through the roof. And all of that, to me, points to, we need to add more housing."
Gray from Open New York echoed that concern. "We absolutely have to do this in the budget," she said. "We don't have time to waste with people sleeping on the street, with people getting displaced right now, and with people just really not nearly having enough housing opportunities. And we're really supportive of tenant protections as part of a package as well, but it's just the act of taking meaningful steps to solve the housing crisis. You can't wait another year."
'A Real Legacy for Her'
While the conversation around bail reform has sucked all the oxygen out of the room in early final-stretch negotiations between the governor and the Legislature, her housing agenda has the promise of becoming a major legacy item of her tenure.
"If the Housing Compact is enacted, this will be a landmark legislation for the governor," said Fee, "and it's a politically brave move and one that she knew would be faced with resistance, and she's moving forward anyway, because she thinks that's the right thing to do in New York, and one that's going to help solve our affordability crisis."
"This is the first governor that has prioritized housing in the way she has, prioritized zoning reform and really started to tackle these issues in the way that she has," Gray said. "I absolutely think that this has all of the ingredients to be a real legacy for her."
"Certainly, yeah, it's a legacy project," said Queens Borough President Donovan Richards, who has been supportive of housing and economic development in his borough and beyond. More housing supply is particularly necessary as Queens feels the squeeze from neighboring Long Island communities that have failed to grow, he said. But he did say that the success of the Compact will depend on implementation and investment. "Even if it passes, there's no magic wand that all of a sudden increases housing tremendously," he said. "Different tools need to be put in place that would enable things to actually be built."
Richards is among several borough presidents who are eager to see more housing built in their boroughs and who have praised Hochul's proposal, as has Mayor Adams, who sees Hochul's plan as potentially very helpful to his own plan to build 500,000 units of new housing over a decade.
"No New York governor has ever tackled this the way she's proposing to," said Sean Campion, Director of Housing and Economic Development Studies at Citizens Budget Commission (CBC), a nonprofit group that has examined New York's slow pace of housing growth and the impediments to fixing it. CBC, like Open New York and New York Housing Conference, is supportive of the Housing Compact.
He noted, however, that other states have already gone down this road and are building far more housing than New York. "Yes, it would be truly part of your legacy if it passes," he said of Hochul, "and succeeds at increasing production, but this is just a basic thing that almost every other state in the country acknowledges is the problem and is trying to do something about."