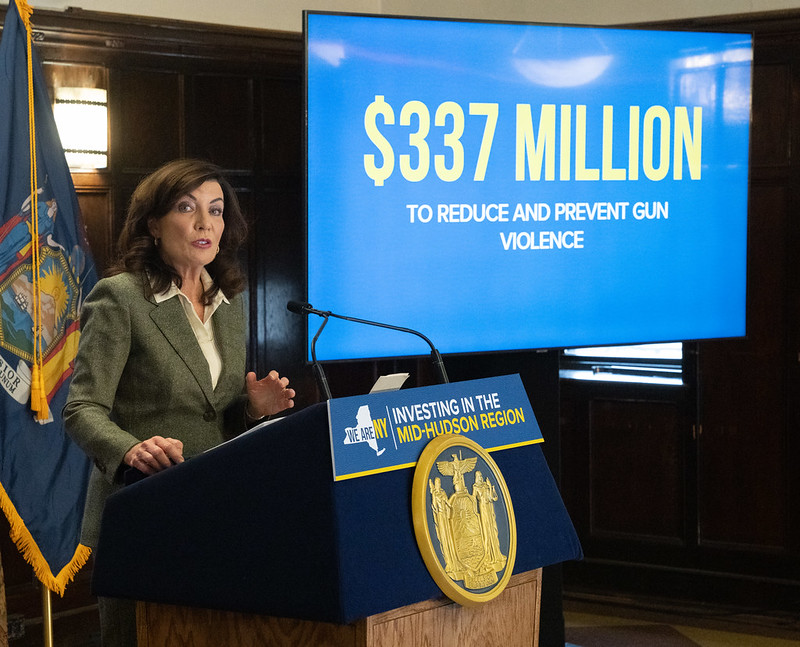 Gov. Hochul discusses gun violence prevention funding plans (photo: Governor's Office)
---
Acrimony in state budget talks over bail and discovery reform belies broad agreement between Governor Kathy Hochul and the Legislature on putting more than $330 million toward combating gun violence.
Shootings have always plagued New York's cities but became a major public focus in recent years amid a pandemic-era spike in gun violence following decades of decline. Four out of five shooting victims in New York City are Black, most of them young men, and officials have been pursuing a suite of solutions to prevent violence and human losses that reverberate throughout communities.
A cornerstone of the governor's criminal justice agenda is a proposed $337 million for violence prevention and intervention – money that will go to new police units and task forces, youth employment, and local organizations focused on stemming the factors that lead to crime and gang-involvement. The "historic investments" include a $110 million increase from last fiscal year's budget at a time when gun violence remains above pre-pandemic levels despite recent drops that followed jumps in 2020 and 2021.
The roughly $230 billion state budget is more than two weeks late as Hochul, Senate Majority Leader Andrea Stewart-Cousins, and Assembly Speaker Carl Heastie, all Democrats, wrangle over the governor's insistence on further watering down bail reforms passed in 2019, among other high-profile issues. Drawn out negotiations have forced the parties to pass two state budget extenders to ensure state bills are paid, with a third on the way this week.
But on the flip side of the policy debate is a question of resources to mitigate gun violence, and on that front there is little daylight among negotiators.
Both the Senate's and Assembly's budget resolutions included the same $337 million allocation that Hochul had in her February executive budget (with an additional $10 million from the Assembly, and $20 million from the Senate, for a "violence interrupter" program called SNUG Street Outreach).
In total, their gun-violence plans contain a mix of police, social service, and unspecified funding, according to a Gotham Gazette analysis of line items provided by the Governor's Office.
Tucked in the governor's executive budget was roughly $126 million earmarked for gun violence prevention with few spending requirements and not subject to competitive bidding laws or review by the New York State Comptroller. That means, if passed, the governor would have the discretion to spend many millions of tax dollars on favored programs and groups, whether law enforcement or community organizations, or funnel it to other entities under the broad purpose of reducing gun violence.
"We're going to keep investing in our communities, those that are most under siege from gun violence and redeploying our State Police to be that extra help on the ground that the cities are asking us for," Hochul said when she announced her executive budget February 1.
"We cannot rest until every single New Yorker feels safe in their homes, in their streets, on the subway, their places of work," she said the next month, at a March 22 press conference announcing a drop in shootings and homicides after two major election cycles, in 2021 and 2022, dominated by crime. She used the opportunity to again tout the $337 million allocation.
Where the Money May Go
In Hochul's budget, the total anti-gun violence agenda skews toward law enforcement, with at least $120.2 million earmarked for state and local police and correction agencies, prosecutors, and crime task forces. That funding comes on top of hundreds of millions more from other state funding pots.
Of the $120 million, more than $58 million would go directly to the state police operating budget. According to a spokesperson for Hochul, that money includes personnel, equipment, and supplies to support gun trafficking interdiction units, gun tracing, social media analysis, and participation in federal task forces. The largest portion is to the State Police's "community stabilization units," which provide those resources to local police departments.
Upwards of $36 million would go to a homicide reduction strategy known as Gun Involved Violence Elimination, or GIVE. In her State of the State agenda, Hochul said the funding will be used to hire 150 local police officers and prosecutors focused solely on guns in the jurisdictions with the highest shooting rates outside of New York City.
Hochul is also looking to establish a new "Crime Analysis Center" in New York City, which, along with the 10 existing centers, would provide further state aid to police and prosecutors.
Earlier this year, the governor also announced the expansion of a pilot program known as "Supervision Against Violent Engagement," or SAVE, run by the state's Department of Corrections and Community Supervision, to step up its surveillance of people on parole who are suspected of being at a high-risk of reoffending.
A smaller chunk – $92.6 million – is for non-law enforcement services, including $65.1 million for youth employment, $25 million for community-based violence interrupter groups, and Hochul's Office of Gun Violence Prevention, now in its second year. Violence interrupters deploy outreach workers and resources in low-income communities to divert individuals, particularly young people, from gangs and criminal activity.
"People who are truly trying to get to the right answers want to look at the data and they want to figure out what we can do to help community actually stem this tide of violence, whether it's investing more resources…trying to deal with the proliferation of guns," Senate Majority Leader Andrea Stewart Cousins told reporters this week in response to questions about bail in the budget.
"Follow the data, meet the community needs where they are and be honest with ourselves that there are a lot of things we can do," she said.
Another $105.1 million is for nonspecific "crime reduction." That allocation, along with another $21 million for SNUG Outreach ($31 million in the Assembly's resolution, and $41 million in the Senate's), includes language that exempts it from competitive procurement and the independent review of the Office of the State Comptroller, which are in place to ensure tax dollars are spent efficiently and in the public interest. In total, Gotham Gazette found more than a third of Hochul's gun violence proposal is not subject to competitive bidding or full comptroller oversight, particularly the ability to review decisions on selecting vendors before contracts are signed.
Spending in the Shadows
Mark Johnson, a spokesperson for Comptroller Thomas DiNapoli, condemned the maneuver, which is used to circumvent laws in place to prevent politically-motivated decisions and is part of a much larger "lump sum" pattern.
"Exempting these funds from a competitive process that is required by state law is not in the public interest and undermines the state's ability to ensure the best value is achieved and taxpayer dollars are protected," Johnson said in a statement to Gotham Gazette.
A spokesperson for Hochul defended the noncompetitive spending as necessary to expedite urgently needed funding for what Hochul and others have identified as a crisis. The spokesperson noted that the State Comptroller retains audit authority. Heastie and Stewart-Cousins' offices did not respond to Gotham Gazette inquiries.
That untethered money includes Hochul's signature $70 million allocation for communities to rebuild after gun violence. The governor has touted it as an investment in neighborhoods like Buffalo's East Side, which has some of the highest rates of gun violence in the state's second largest city and was devastated by a mass shooting at a supermarket last year. The pot is subdivided into $20 million for government-nonprofit partnerships to "serve the needs of communities and residents" and $50 million in capital funds for "innovative crime-reduction strategies."
"This was a city that was traumatized, but you realize this happens not just in the aftermath of a mass shooting, but it's the day-to-day-to-day," Hochul said in March of the $70 million included in her executive budget.
"We're also focusing on $31 million for crime reduction, youth justice, and gang prevention programs," she said, calling it "a holistic approach" to driving down shootings. The budget gives the executive branch latitude to spend this money on a wide range of law enforcement or social programs with little specificity.
Gotham Gazette cross-referenced these pots against a database of lump sum funding included in a recent report from Citizens Budget Commission and Reinvent Albany. The government watchdogs identified $14.8 billion such funding across Hochul's entire executive budget.
Despite spreading hundreds of millions of state dollars on dozens of programs, there is little evidence of how these initiatives impact communities beyond the broadest measurements of shootings and other crime.
Support for the Agenda
Hochul received praise for her agenda from public safety advocates and local elected officials, including Mayor Eric Adams, who has centered gun crimes and quality-of-life in his first year-plus on the job.
In a February statement responding to Hochul's executive budget, Adams called the public safety agenda "robust" and praised the governor for including money "that would protect New Yorkers by investing in upstream solutions, helping to address the problem of recidivism, and making commendable investments to hire more lawyers to reduce case backlogs."
In addition to the $318 million gun violence spending, Hochul included another $87 million for prosecutors, including to implement 2019 changes to the state discovery laws. The Senate and Assembly each included more funding, along with a significant boost to public defenders, who were left almost completely out of Hochul's spending plan.
"The city is committed to fighting for additional resources to ensure we can address the ongoing bottlenecks in our criminal justice system," Adams added.
When asked to comment on the full scope of the governor's anti-gun violence  proposal, a spokesperson for the mayor referred Gotham Gazette to the February statement.
"The Governor's budget is well-crafted," said Richard Aborn, president of the Citizens Crime Commission, a nonprofit public safety advocacy group. "By spreading funds over a wide range of activities - from community based interventions to forensics to law enforcement, the budget acknowledges and supports the notion that reducing gun violence is a complex, multi-faceted, challenge requiring a comprehensive approach."