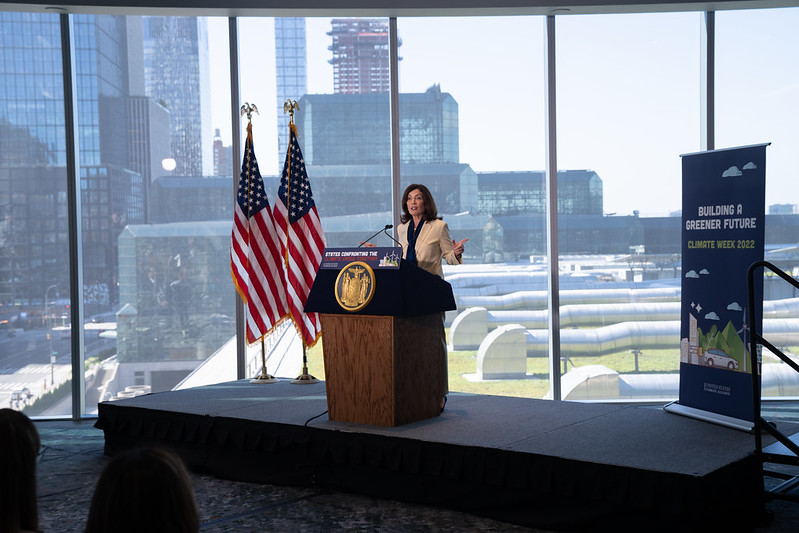 Gov. Hochul talks green energy (photo: Governor's Office)
---
As Governor Kathy Hochul and the Legislature continue to hammer out the details of the overdue $230 billion state budget, there are major climate and energy policies at stake that environmental advocates say are crucial to meeting New York's climate goals.
Already about three weeks late, the state budget has been held up over the governor's insistence on further changes to the bail law and wrangling with the Legislature over her ambitious "Housing Compact" agenda. But there is also unresolved debate about many other important topics, including climate and energy policies. The governor, two houses of the Legislature, and advocates have expressed various priorities, some of which may be accomplished in a grand budget deal with other issues that could wait for the post-budget legislative session.
Hochul's Marquee Climate Proposals
In her executive budget, Hochul proposed several major climate policy items including, chiefly, a "cap-and-invest" program that sets declining caps on greenhouse gas emissions and requires major greenhouse gas emitters and fuel distributors to purchase allowances for their emissions.
The revenue raised from the program would be reinvested in the green energy economy, job creation, and a minimum of 35% into disadvantaged communities that have historically suffered from environmental injustice. About $1 billion of the revenue raised by the program would go to providing a Climate Action Rebate to New Yorkers to cover higher energy costs.
The cap would be reduced every year, in order to meet the state's overarching emissions goals set by the Climate Leadership and Community Protection Act (CLCPA) of 2019. The act requires a 40% reduction in statewide emissions by 2030 and an 85% reduction by 2050 compared to 1990 emissions levels. It mandates that 70% of the state's electricity should come from renewable sources by 2030 and that 100% of the state's electricity should be emissions free by 2040.
In December, the state's Climate Action Council, created by the CLCPA, approved a mandated Scoping Plan with recommendations for meeting the targets set by the law. That plan informed Hochul's policy agenda released in January and her subsequent executive budget in February. But questions remain whether the governor and Legislature will take strong enough action to scale up renewable energy projects and whether the state will have the ability to produce enough clean energy, particularly in the face of political opposition from Republicans, lobbying by the fossil fuel industry, and criticism from everyday New Yorkers who may face higher energy costs.
"We have the nation's most ambitious plan. We're proud of it. But I am never one to rest on our laurels. Not now, not ever," Hochul said of the state's climate plan in her executive budget presentation in February. "We'll continue to ensure a cleaner, healthier environment for future generations. We'll make those investments today that promote energy affordability, reduce emissions and invest in clean air and water. And one of those ways is to implement a nation-leading Cap and Invest program. This will limit greenhouse emissions, it prioritizes health and it's established to ease the financial burden on hardworking families, homeowners and renters, especially our seniors who are so worried and struggling to pay their utility bills, especially during this brutally cold winter."
Earlier this month, as Politico New York first reported, the governor proposed a change to the CLCPA that would have revised the timeline for measuring methane emissions, essentially weakening the law. But she quickly walked back the proposal in the face of widespread outrage from Democrats and environmental advocates.
However, Basil Seggos, commissioner of the state Department of Environmental Conservation, indicated to Politico that the attempt to rewrite the law may not be entirely off the table. "The other other elements that we've discussed recently may take time to get done. We may get it done during the budget. That may happen during the session; it may take the course of a year," he said. "The fundamental takeaway is it's full steam ahead for cap-and-invest with the climate action rebate and any other elements we'll take up as soon as we can."
In a separate interview earlier this month with News 10, he said, "We need to develop a program that will work for New York. We want to remain at the vanguard of climate action nationally, right? But it must be affordable."
"Governor Hochul's Executive Budget makes transformative investments to make New York more affordable, more livable and safer, and she continues to work with the legislature to deliver a final budget that meets the needs of all New Yorkers," said a spokesperson for the governor, in a statement.
Hochul also put forth an all-electric buildings proposal to ban fossil fuel hookups in new construction starting in 2025, a phased-in ban on the sale and installation of fossil fuel heating equipment in existing buildings, and a version of the Build Public Renewables Act (BPRA), allowing but not requiring the New York Power Authority to build public renewable energy projects.
She also included other major investments in her proposed budget, such as $500 million in clean water infrastructure funding, $400 million for the Environmental Protection Fund, $400 million to provide relief to New Yorkers with high energy bills, and $200 million to improve state parks. The state is also set to move ahead on implementation of the $4.2 billion Environmental Bond Act that voters approved this past fall.
The state has already completed many renewable energy projects – including eight major ones in the last six months – and has several others underway or in the offing including wind, solar and hydroelectric infrastructure. Last year, Hochul also approved two new pipelines, the largest transmission projects in the state in 50 years, that will deliver renewable energy from upstate New York and Canada to New York City.
Negotiations Between the Governor and Legislature
Between the governor's proposal and the Senate's and Assembly's respective one-house budget resolutions, there are various points of difference which are now being negotiated.
For instance, the Senate embraced the cap-and-invest program, with stronger guidelines, while the Assembly did not. The Senate also endorsed a full-strength BPRA after passing it last year and again this year, while the Assembly has not acted on the proposal at all. The Senate also backed the Waste Reduction & Recycling Act proposed by Hochul, while the Assembly did not.
Both houses have supported the All-Electric Buildings Act that would ban gas hookups in new construction but with faster timelines than what the governor proposed.
The Senate called for $500 million for the Environmental Protection Fund, while the Assembly allocated $435 million. And both houses proposed $600 million clean water infrastructure funding, surpassing the executive budget by $100 million.
Democrats in the Senate seem more focused on ensuring that climate policy is included in the budget, while the Assembly has shown some reluctance to expeditiously pass complicated non-fiscal items, with Speaker Carl Heastie repeatedly saying over the years that he does not like to do policy in the budget.
Among the other major proposals floated in the Senate include the Climate Change Superfund Act, which would collect $75 billion over 25 years from oil and gas producers to fund infrastructure projects, and the NY HEAT (Home Energy Affordable Transition) Act, which would ensure that families don't spend more than 6% of their income on energy bills.
Perspective from Key Legislators
"We in the Senate believe we need to work with the governor to put guardrails around the cap-and-invest program and how that money is going to be spent, especially. So we are engaging on that," said Senator Pete Harckham, a Westchester Democrat who chairs the Senate's Committee on Environmental Conservation. Harckham has sponsored the Climate and Community Protection Fund bill, which was included in the Senate one-house budget, and which would ensure that funds raised by the cap-and-invest program are spent on the goals of the CLCPA including improving building efficiency, energy infrastructure and public transit, job training for impacted workers, energy affordability rebates, and more. "We're talking about billions of dollars annually so it's important that that money does not go to the general fund," he added.
Harckham did say that certain extended producer responsibility (EPR) proposals aimed at packaging reduction and recycling – which Hochul has also voiced support for – will be addressed after the budget is approved. "That will be the big lift after the budget," he said of taking on waste.
He also didn't preclude the possibility that major proposals like the All-Electric Buildings Act or the Build Public Renewables Act would be on the post-budget session agenda (the Legislature is in session through June). "We'd do them as standalones after the budget, but my personal hope is we get a nice package done in the budget," said Harckham.
Assemblymember Deborah Glick, chair of the Assembly's Committee on Environmental Conservation, agreed that those policies are likely to be on the post-budget agenda. "Generally speaking, the Assembly's position has always been that we don't put big policy issues in a budget, and that is why the budget is late," the Manhattan Democrat said in a phone interview.
State Senator Kevin Parker, a Brooklyn Democrat who chairs the Senate's Committee on Energy and Telecommunications, said in a phone interview that some version of cap-and-invest, All-Electric Buildings, and Build Public Renewables are likely to be approved in the budget.
After the budget, he said one of his top priorities will be to "continue to battle against the cost of energy," considering that New Yorkers are still struggling with utility arrears because of the pandemic. "We really need to find ways to lower those costs and get them under control…it doesn't make sense to have sustainable energy that you can't afford," he said. 
Additional Voices
Regardless of whether environmental policies are approved in the budget or before the Legislature concludes it works for the year, legislators and advocates say it's vital that major action should happen this year to follow the state's climate scoping plan established under the CLCPA. The state will also have significant resources at its disposal with the $4.2 billion bond act approved last November and the federal Inflation Reduction Act, which makes major climate investments, among other funding and policy advancements.
The NY Renews coalition of more than 300 groups, including environmental organizations, labor unions, community groups and faith communities, has been pursuing a three-part Climate, Jobs & Justice Package to push the state on the various policies currently under consideration. The coalition supports the cap-and-invest program, and is urging its passage along with the Climate Change Superfund Act and the Climate and Community Protection Fund in the budget.
"The climate crisis is an existential crisis, which is already impacting every single worker," said Katherine Nadeau, NY Renews steering committee member and program director of Catskill Mountainkeeper. "And we need the governor and the legislature focused on not only responding to climate impacts but also working to reduce our greenhouse gas emissions."
"There is an ecological clock ticking that is far bigger than Albany," she said, insisting that the state needs to hold polluters accountable while investing in the communities that have been hardest hit by climate change. "If the governor and the Legislature let the budget clock run out without setting up the framework that will allow us to keep New Yorkers safe from the worst impacts of the climate, this will be a tremendous missed opportunity."
Pat McClellan, policy director of New York League of Conservation Voters (NYLCV), a nonprofit group, said the cap-and-invest program must be included in the budget. "We're concerned that if they don't do it as part of the budget, they're not going to get to it post-budget and we've lost another year of making enough climate progress," he said.
NYLCV is also part of the Upgrade New York coalition, including labor unions, the building industry, and climate justice advocates, pushing the state to decarbonize all state facilities by 2040. "The state should be leading the way and putting its money where its mouth is," he said.
Republicans have broadly pushed back against the governor's and Legislature's climate agenda, arguing that the rate of transitioning to clean energy will drive energy costs higher for New Yorkers already struggling with utility bills, make it harder for businesses to operate and drive an outmigration to states with lower costs and friendlier policies.
"No one can tell us how much [the CLCPA] will cost," said Senator Rob Ortt, the Republican minority leader, pointing to the governor's own attempt at revising the law as evidence that even Democrats believe it is flawed.
Ortt – who dubbed the governor's major climate idea the "cap-and-tax" proposal – argued that Democrats have turned to taxing job-creating businesses to fund the state's climate goals instead of the politically unpopular decision to tax consumers. "It's going to drive these companies out of New York," he said.
But his biggest objection was that the rush to move away from fossil fuels will leave the state with an unreliable energy grid. "My argument is the State of New York should be working on a diversified energy portfolio," he said. Without a mix of energy sources including fossil fuels and renewable energy, he said the state would suffer more power outages at crucial moments that can affect health and safety such as during the major snowstorm in Buffalo in December.
"Even if you think this is the most important thing facing the country and the state, there's got to be a smart way to do this. It might be a slower way, it might be less coercive, and that's probably the better way," said Ortt.
He did seem resigned to accepting that some form of the All-Electric Buildings Act would get approved, since there seems to be three-way agreement among the governor and legislative majorities on the proposal.
Democrats have, of course, said they are working to protect businesses, and that climate action will also be good for consumers and the economy.
"We're trying to put some guardrails in place to protect those low- to moderate-income [New Yorkers] and small businesses from any impacts," Harckham said.
"Consumers are eventually going to be paying less on their utility bills, because energy will be less expensive," he added. "We'll lower our health care costs and we'll be creating 130,000 high-paying union jobs. So there are a lot of upsides to this as we go forward."
Note - this article has been updated to reflect that the new proposed Climate Change Superfund Act would raise $75 billion over 25 years, not $30 billion over ten years.