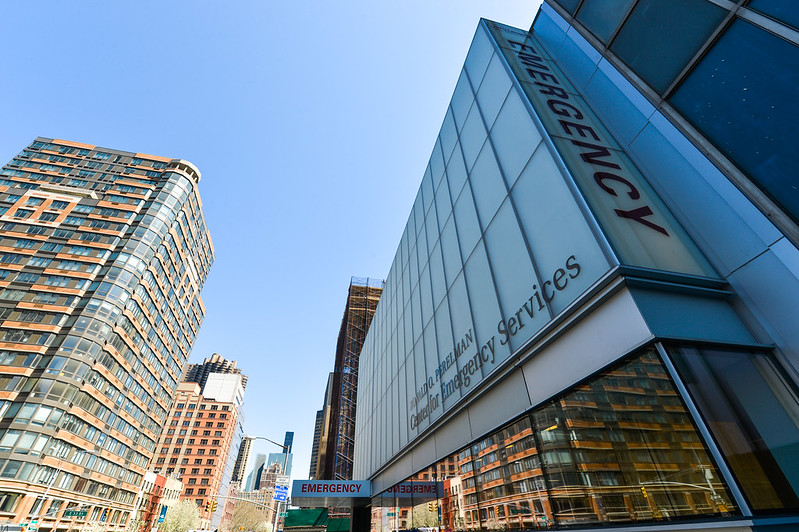 Hospital services (photo: Governor's Office)
---
Hospital leaders are "disappointed" to see the state budget include new penalties for hospitals that fail to reopen shuttered psychiatric beds as part of a $1.4 billion plan to beef up New York's mental health care infrastructure.
Hospitals around the state have been struggling to bring over 1,000 psychiatric beds back online after closing them during the height of the pandemic due to severe staffing shortages and lack of funding.
The $229 billion budget passed by Governor Kathy Hochul and the State Legislature last week included language sought by Hochul to allow the state to fine hospitals $2,000 per day for each psychiatric bed listed in their operating certificate that is not in service.
"It's fair to say we were disappointed to see the provision about civil penalties in the final budget," said Alison Burke, vice president of regulatory and professional affairs at Greater New York Hospital Association, which represents hundreds of hospitals in the northeast.
"But our hospitals are working very closely with the Office of Mental Health and there have been no fines issued because everybody is communicating," she added.
Hochul, a Democrat, has made opening the beds a priority since early in her tenure as governor, part of a renewed focus on the state's mental health crisis, particularly for those with untreated serious mental illness. The psychiatric beds, located in general hospitals, are meant for short-term treatment for people experiencing acute mental health crises, and often serve as an entry point into outpatient services or long-term institutionalization.
There are 5,780 inpatient psychiatric beds in use in general hospitals (known as "Article 28" facilities) and private clinics across the state, and another 3,300 long-term beds in state-run institutions.
Last year, Hochul pushed for $55 million in one-time state and federal funds to incentivize hospitals to restore psychiatric beds. That funding received federal approval in February and was paid retroactively to hospitals.
But by this spring, fewer than 450 beds had been restored – a result hospital administrators blame on greater capital needs and a statewide dearth in psychiatrists, nurses, and other mental health clinicians.
This year, Hochul turned from incentives to sanctions, seeking the ability to impose greater fines on delinquent hospitals.
The State Office of Mental Health (OMH) is in "active conversations with Article 28 hospitals on how best to achieve compliance" with their licensed capacity, wrote OMH spokesperson James Plastiras in an email.
No hospitals have been fined under the new penalties or a previous ultimatum issued by the Office of Mental Health and State Health Department threatening fines to hospitals with closed beds, according to Plastiras.
The governor was in Buffalo on Monday to tout the state's mental health spending plan as part of efforts to bolster the "continuum of mental health care."
"We also put in some tougher language," Hochul told reporters after her event of the effort to establish new psychiatric units, without explicitly mentioning the penalties.
"We put in strict language that said we're going to be monitoring this and we expect you to bring them back online," Hochul continued. "The problem is some hospitals spent money dismantling the security features" needed to open units in line with safety regulations, she said, referring to the mass conversion to COVID-19 medical beds.
New York's mental health care system came under greater scrutiny last week after Jordan Neely was strangled to death by Daniel Penny on a Manhattan subway. Neely was homeless and in apparent emotional crisis, with reports that he yelled about being hungry, thirsty, and "ready to die." Neely was in and out of hospitals and treatment programs in recent years and was known to outreach workers in the weeks before he was killed, according to news reports.
"There's long waits in hospital beds and people fall through the cracks. Sometimes they're visible, sometimes you see them," Hochul said at the Buffalo event, calling Neely's killing tragic.
"His death is clear evidence that we need support. We need alternatives for these individuals, so they're not relegated to that kind of life," she said.
Gaps in the availability of post-discharge services, residential treatment programs, and other outpatient options mean patients are often held in psychiatric beds for long stays, in some cases spilling into emergency departments for admittance. In many cases, patients are discharged with limited follow-up or program placement.
Mayor Eric Adams has also highlighted the importance of reopening psychiatric beds as part of the city's broader subway safety efforts, including a directive last fall to increase involuntary police removals of people in crisis. "This is what highlights what I've been saying throughout my administration," Adams said in response to questions about Neely's killing on Thursday. "People who are dealing with mental health illness should get the help they need and not live on the train."
New York City Health + Hospitals, the city's public hospital system and largest inpatient behavioral health provider, has plans to reopen 200 psychiatric beds by the end of the year but faces severe full-time staff shortages. Spokespeople for Adams and Health + Hospitals did not provide comment on the new potential state penalties.
As part of the effort to restore psychiatric beds, Hochul secured $14 million in loan forgiveness for psychiatrists and other mental health clinicians, after calls from hospital administrators for aid. The funding represents an increase of $5 million from last year's budget and applies to a wider range of personnel. Hospitals, which have been struggling to find nurses and other technical and support staff, were "very happy" to see that expansion, said Burke of Greater New York Hospital Association.
The mental health budget also includes additional funding to expand long-term inpatient beds in state-run psychiatric institutions, and close to $200 million for outpatient and mobile treatment programs. Hochul and the Legislature also passed a 4% cost-of-living workforce pay increase, which will largely go to outpatient providers, according to Burke. That increase was less than the 8.5% some human services providers sought but more than the 2.5% Hochul included in her executive budget.
The bulk of the mental health care funding, $1.1 billion, will go to the construction and services of 3,500 supportive housing units for people with mental health needs. Another $30 million will go to school-based programs, and $60 million will support the 988 suicide and crisis hotline. And $42 million over two years will go towards reimbursing family providers preventative mental health treatments.