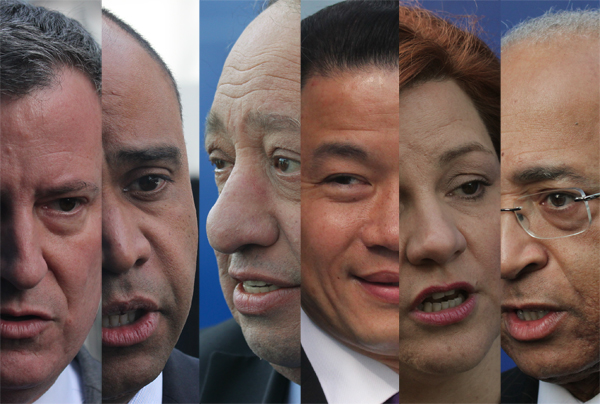 NEW YORK — The hard-earned lessons of Superstorm Sandy shaped a mayoral forum yesterday where candidates fielded questions on waterfront development, expanding ferry service and creating a new agency to oversee the city's vast coastline.
While there was little consensus on a range of topics, most of the candidates agreed that ferry service and renewed infrastructure investments were critical to the future of a working, sustainable waterfront.
The forum was held on a boat moored off of Pier 40 in lower Manhattan for a conference organized by the Metropolitan Waterfront Alliance. Six candidates were asked to respond to a policy proposals put forward by the alliance that touches on everything from docks to land use, as well as questions that were submitted by the public. Chris Ward, the former executive director of the Port Authority of New York and New Jersey, hosted the forum.
Unsurprisingly, the discussion kept turning back to Hurricane Sandy and its aftermath.
"Make no mistake," said Democratic candidate and City Council Speaker Christine Quinn, "you get to say once, 'It was an unprecedented storm.' You don't get to do that again."
Quinn has long described Sandy reconstruction efforts as the single "most important infrastructure project of our time," also telling the audience that she has worked to be a waterfront speaker and would be a waterfront mayor.
She said that the first mass transit service to come back after Hurricane Sandy hit in October was the East River Ferry, which came about during her time as speaker. Quinn, like many of the other candidates, said that her long-term vision is to incorporate cross-borough ferries into the existing mass transit system that includes subways and buses, partially funded by city subsidies not unlike the East River Ferry.
"That's how mass transit works," she said. "It's about the greater good of the city."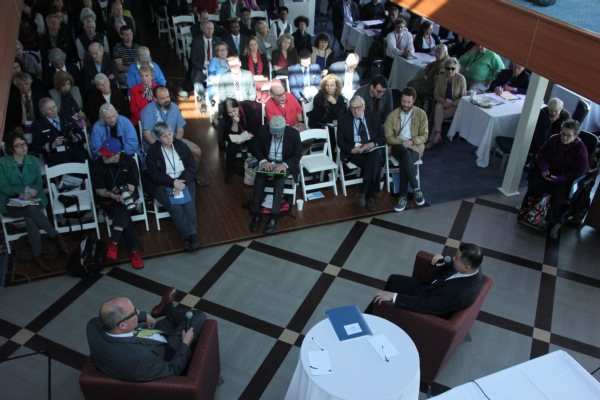 Most of the candidates also said that they saw expanded ferry service as an answer to the city's growing population, a problem that Comptroller John Liu said most cities would love to have. He, along with fellow Democrats Public Advocate Bill de Blasio and former Comptroller Bill Thompson praised Mayor Michael Bloomberg's work on a blueprint for the city's long-term sustainability, PlaNYC 2030, and recognized the future mayor's role in further sustainable development.
Thompson also repeated his call for the creation of a deputy mayor for infrastructure, who he said would focus on overseeing a comprehensive plan and timetable for development projects, including those related to Sandy recovery and others that may be in the path of future storms.
"The challenges of Lower Manhattan aren't the same challenges in Staten Island, aren't the same challenges in the Rockaways," he said. "That deputy mayor for infrastructure has to coordinate that, has to work in conjunction with the mayor to assume that leadership role."
Thompson was the only Democratic candidate to plainly advocate the creation of a new seat at the new mayor's table. Liu and Quinn both dismissed the idea of a new city agency devoted specifically to the city's waterfronts. Both said such an agency would duplicate responsibilities already given existing agencies affected by Sandy, such as the city's Housing, Education or Homeless Services departments.
Supermarket mogul John Catsimatidis, a Republican, called the idea of either a waterfront department or czar a great idea in unspecific terms. But only former Bronx Borough President and Independence Party nominee Adolfo Carrión declared a waterfront-devoted agency to be a smart solution.
"I know that bureaucracy is a bad word," he said, referring to such a department as a "sledgehammer" to be use for waterfront development.
A former regional director for the U.S. Department of Housing and Urban Development under the Barack Obama administration, Carrión said that the next mayor needs to works across the various levels of government to secure investment in the city's transportation infrastructure.
"I think, without risk of offending too many people, we're kind of dysfunctional in this region," Carrión said, adding that the job of the mayor is to educate the State Legislature about the city's economic force as it doles out federal money for development.
De Blasio also emphasized the idea of a stronger relationship between levels of government, specifically pointing to the mayor's relationship with Washington D.C., and calling the current dynamic unsustainable.
De Blasio, who served as a regional director for HUD under President Bill Clinton, said that the next mayor needs to use his or her bully pulpit to spotlight infrastructure issues on a national stage, not unlike how Bloomberg has dealt with gun control and climate change.
"If you can do Mayors for Gun Control," he said, referring to Bloomberg's effort to organize mayors across the country to fight for more limits on guns, "you can do mayors for infrastructure investment."
Part of the public advocate's argument for responsible development, he said, is economic realism. He invoked said pragmatism in response to a question about the ongoing Brooklyn Bridge Park project. The proposed development plan for the park's expansion received criticism from a number of elected representatives and residents who opposed the inclusion of private housing development as a means to pay for the park.
"The purists who were concerned about private investment," de Blasio said, "their concern could have led to no park for all those people who needed it."
The balance between public need and private investment came up again when Liu promoted the idea of mandatory inclusionary zoning for waterfront properties. The comptroller disagreed with de Blasio on the development of luxury housing at the park. However, Liu said he sees great value in public projects subsidized by private investments.
Those types of projects, Liu said, should require that any new construction offer affordable housing for residents with low to moderate incomes.
"I want to emphasize that we're talking about public-private partnerships," Liu said, with a heavy emphasis on the former. "Not," he continued, "where the privates get all the increase in the economic value."
Economic value of the city's waterfronts was just as important to Catsimatidis, who said he was the only candidate with actual investment in waterfront development, having recently purchased a petroleum terminal along Long Island's northern shore. He added that he's the only candidate to create hundred of thousands of jobs.
The lone Republican to speak at the forum — organizers said former Metropolitan Transportation Authority chief Joe Lhota was unable to attend — Catsimatidis said that he sees waterfront development and ferry expansions as a means to bring about new jobs. In turn, he said they would be boosted by one of his main economic development proposals: bringing back the World's Fair.
Catsimatidis also suggested introducing a bond issue to for capital expenditures, especially for the waterfronts. He speculated that raising an extra $100 billion dollars — a concept that appeared to take moderator Ward by surprise.
"I remember when I built my first store, I said i'm going to raise $50,000 to remodel it," Catsimatidis said. "People thought it was fantasy. No; you have a vision and you do it."
The Democratic candidates also recognized the potential jobs that waterfront development could bring the city, both in term of tourism and port activity. For her part, Quinn recognized the city has historically counted on waterways for economic growth and should do so again.
"We owe the 21st century immigrants the same opportunities that my relatives had when they came here and worked on the docks on the Westside," Quinn said. "They'll be different jobs, but they can be waterfront jobs that are sustaining families and helping them move into the middle class."
___
Images by Emily Field.