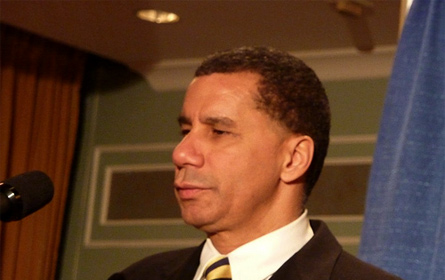 At first it sounded like a stump speech. Gov. David Paterson, with his wife, Michelle Paige Paterson by his side, stood before the press gathered at his Manhattan office on Friday afternoon. Paterson listed his accomplishments in public office, saying he "improved the quality of life of all New Yorkers."
But very quickly his tone changed. There was a hint of finality, everything said in the past tense. "This is his 'You won't have Nixon to kick around anymore' moment," said one press observer.
Aides had told the press Paterson was going to announce the end of his campaign, but his words also rang for the moment as a final farewell.
"There are times in politics when you have to know not to strive for service but to step back. And that moment has come for me," he said.
Paterson, though, did not resign Instead he vowed to remain in office for 308 days until his term expires and said he would spend the time fighting for the people of New York.
The governor's statement on Friday, therefore, left New York in a state of limbo as high-stakes budget negotiations begin.
While some Democrats were glad to see Paterson bow out, a great many express concern that, at such a critical time, New York has a governor who is under investigation and completely without political capitol. They believe that, as the lamest of lame ducks, Paterson will not be able to corral legislators into tough but needed budget cuts. The state is facing an $8.2 billion deficit by spring of next year, according to the state budget office.
Some legislators and officials have called on Paterson to resign and hand over the reins to Lt. Gov. Richard Ravitch. The lieutenant governor, based on his past performances, is seen as a financial wiz and a crack negotiator. Others have come to Paterson's defense. They say the state does not need yet another governor to resign, especially during critical budget negotiations. And some legislators have simply called on Paterson to let Ravitch head negotiations, while Paterson remains in office.
Off With His Head
Despite what Paterson said on Friday, some believe the governor is simply delaying the inevitable.
For weeks, rumors about the contents of a New York Times investigation had floated around the capital. The Times eventually ran three articles about Paterson and his aide David Johnson, the last of which detailed how state troopers pressured a woman who had allegedly been assaulted by Johnson not to seek an order of protection against him. The day before her scheduled court appearance, Paterson allegedly phoned the woman. The woman failed to show up for the hearing and her case was dismissed.
As the final Times story broke, Paterson called for Attorney General Andrew Cuomo to investigate his, his aides' and the state troopers' involvement in the case. Cuomo, Paterson's chief political rival, agreed. Quickly pressure mounted on Paterson to exit the race, even to resign. For months, Paterson had been facing pressure to exit the race from Democrats who wanted to see Cuomo as the Democratic nominee for governor. On Friday, they got at least half of what they wanted as Paterson halted his campaign.
For some, though, that was not enough.
Perhaps the most striking call for Paterson's resignation came from the man who holds Paterson's former Senate seat, Bill Perkins. "He knows what he did, who he talked to," Perkins told WNYC. "He knows under whose order the state troopers contacted this woman. If the investigation turns out the way many suspect, his resignation is almost inevitable. If that is the case then it is in the best interests of the people of New York for him to cut bait now."
Having Paterson remain in office will only make it harder to move forward, U.S. Rep Michael McMahon said Friday. His "staying in office as a lame duck is a distraction," McMahon said to the Staten Island Advance. "There could be impeachment proceedings."
City Comptroller John Liu also called for Paterson's resignation Friday, citing the best interests of the city. "We have a $4.1 billion budget deficit to grapple with in New York City and cannot make real progress until the state budget is resolved on time one month from now," said Liu. "In order for this to happen, we need Gov. Paterson to step down now. Richard Ravitch has an abundance of integrity, experience and creativity. As governor, Richard Ravitch would be the person most able to steer clear of politics, bring people together, and bring about a balanced, on-time state budget.
A Pass to Ravitch?
While stopping short of calling for Paterson to resign, Liu's state counterpart, Comptroller Thomas DiNapoli agreed about the handling of budget talks. "The governor has made a wise choice to end his election campaign," DiNapoli said, according to the Village Voice. "Now he needs to make another wise choice and designate Lt. Gov. Ravitch to negotiate the budget with the legislature."
Even before the final Times story damned Paterson's campaign, Albany Sen. Neil Breslin was calling on Paterson to allow Ravitch to take the reins in budget negotiations.
"If the governor let the lieutenant governor negotiate on his behalf, he would be very well served," Breslin told Gotham Gazette last Tuesday. After the scandal broke, Breslin was more frank. "I think of this as the straw that broke the camel's back," said Breslin. "If the story proves to be true this will be the last in a lot of missteps for the governor. It is just too much, and a resignation should follow."
Sen. Liz Krueger also supports having Paterson put Ravitch in control of budget negotiations. "Somebody's got to get this budget negotiated," Krueger told Business Week, saying that Ravitch, "has an experience in government budgeting and negotiating under complex circumstances. He is a very skilled public finance person."
Even without the scandal, some legislators had worried Paterson was too politically weak to negotiate the budget. The latest revelation only reinforced that. " "I don't know if he can find a way to walk himself back into the room and be part of the process," State Sen. Diane Savino told the Advance. "I don't know if he can find a way to walk himself back into the room and be part of the process."
Many legislators had hoped Paterson would draw on Ravitch's expertise during deficit reduction negotiations late last year; nevertheless Ravitch was isolated. It has been reported that Ravitch and Paterson haven't spoken in months.
Ravitch is working on a long-term plan for the state's finances. He wasn't willing to share much about the plan during a recent interview with Gotham Gazette and said he was unsure how it would be received by the legislature. "There are several possibilities," said Ravitch, "One is there will be a lot of screaming, yelling and people saying it's the dumbest idea they have ever heard. My guess is some people will be polite, and I think some people will think the ideas are good, but I really don't want to talk about it yet."
Ravitch indicated that he would be willing to take the lead on budget negotiations if he was asked to. "I'm fully prepared if it's useful to do that. I don't think that David Paterson has a problem communicating I think the problem is, as I suggested, is it's very, very difficult [to cut the budget].
Hold Your Horses
Others argue that Paterson may now be in a better position to negotiate the budget than he was, say, a month ago. He, like Ravitch, who has said he has no plan to run for office in November, does not have to worry about poll numbers and can propose and push for unpopular cuts.
Bronx Democratic Chairman Carl Heastie supports this idea. "I join many of my colleagues in government asking that others refrain from calling for Gov. Paterson's resignation," said Heastie in a statement. "We are on a definitive clock with the state's budget, and I believe that having another transition at this time would put our state government in greater jeopardy of not meeting its obligations to the people of New York [i.e., with an on-time budget]."
Heastie said he respects Ravitch, "who is a man of great intellect and integrity. However, the people of the state of New York would be better served by a higher level of stability at this time. We accomplish that by having Gov. David Paterson lead us through this year's budget process."
"Great crises also sometimes bring about great opportunities," Assemblymember Adriano Espaillat told the New Times. He said that, without the distractions of running for office, Paterson would have more time to devote to crucial legislative business."
Critics of this idea say that Paterson is so politically damaged by scandal that legislators have no reason to listen to him. Nevertheless, some say Paterson should be left alone until Cuomo concludes his investigation.
"The calls for his resignation at this point are premature and I would urge everyone to cease and desist," said Assemblymember Hakeem Jeffries in a statement. "The governor, like every other individual, is entitled to a presumption of innocence and should not be hounded out of office unless a comprehensive investigation establishes clear evidence of wrongdoing."
If nothing else, some say, the calls for resignation represent another distraction from the real issues facing the state. "It makes it worse for all of us in terms of trying to put our agenda forward," said Assemblymember Keith Wright, the Manhattan Democratic chairman and one of Paterson's staunchest allies, said. "It weakens the agenda."
Of course, the governor's future hinges to some extent on the finding of Cuomo's investigation. The more damaging information that comes out, the more difficult it will be for him to hold on to his office until January.
Remember When
Ironically, when Paterson became governor in 2008 following the scandal that sent Spitzer running from office, many legislators saw Paterson as a breath of fresh air. Spitzer had been cantankerous and unwilling to conform to Albany's backroom style. Paterson, as the Senate Minority leader, knew how to play the game. He had a great relationship with then Republican Senate Majority Leader Joe Bruno, where Spitzer's relationship with Bruno was venomous. Observers saw Paterson as a cordial negotiator.
"David will sit down with Sen. Bruno and Speaker Silver, and he will be able to be, in part, a facilitator, and he will not be a lightning rod," said Breslin during a 2008 interview immediately following Spitzer's resignation. "It will be much easier for the three of them to agree on basic principles of a good, on-time budget." Assemblyman Ron Canestrari was a bit more guarded about Paterson's prospects at the time, but optimistic nonetheless. "Paterson has a reservoir of good will on both sides of the aisle," said Canestrari. "He worked as a member of the Senate with Sen. Bruno and this could only help getting his agenda enacted into law. But we have to be realistic. The year of good feelings only goes so far, and strong philosophical differences with the Senate cannot be overcome with a smile and a wink. Our expectations, unlike when Spitzer was elected, should be more realistic this time around."