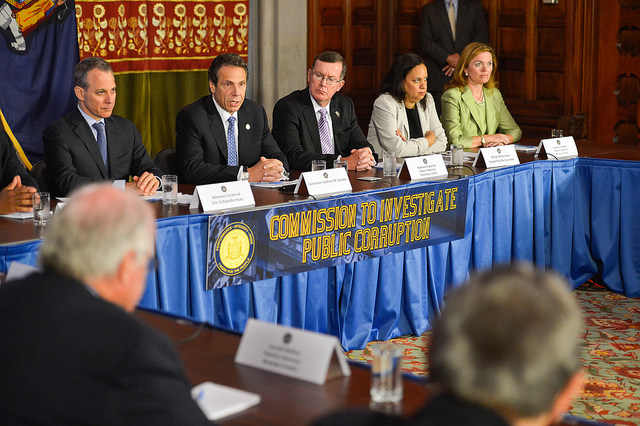 The Moreland Commission on Public Corruption is scheduled to hold its first public hearing today since facing questions about its independence and intentions.
While today's hearing will focus on public financing of campaigns and other matters, the larger theme will be on rebuilding the credibility of the commission.
Convened by Gov. Andrew Cuomo in response to a series of scandals that rocked the state Legislature earlier this year, the commission has been in full damage control for weeks.
Reports have shed light on the Cuomo administration's role in influencing the decision-making of the commission and raised questions about whether it pulled back from scrutinizing real estate interests because of pressure from the executive branch. One report indicated that a subpoena to the Real Estate Board of New York had been killed.
Cuomo has denied directly ordering subpoenas be killed but danced around questions about whether his staff had any influence over the panel.
The hearing, at Javits Convention Center (1E Hall Rooms 12-13), begins at 5 p.m. Doors open at 4 p.m. Webcast here.
CONTINUE READING OUR PREVIEW OF THE HEARING.
GOTHAM GAZETTE EXCLUSIVE: City Promises 'Broad-Based Outreach' To Communities To Prepare For Future Storms — The city has decided to reconvene two community advisory task forces that weighed in on Mayor Michael Bloomberg's multi-billion dollar plan to protect the city from future extreme weather and the effects of climate change in the wake of Superstorm Sandy, the city's resiliency director told the Gotham Gazette/AdaptNY in an exclusive interview. By Sarah Crean. READ
On Today's Agenda: The City Council's committee on economic development holds a hearing on a bill that would establish "training and transparency requirements for certain city development projects receiving city financial assistance." 10 a.m., 250 Broadway. ... Rebuild by Design, an initiative of the President's Hurricane Sandy Rebuilding Task Force,unveils 10 proposals from "architecture and planning firms for strengthening the region's ability to withstand major storms and flooding."
---
Other Stories We're Following
Sources: State Legislature To Argue Cuomo Abused Power (Daily News)
Poll: De Blasio Poised To Win Mayor's Race By Historic Margin (NY Times)
AG Takes Step To Open Records Of Attica Uprising (Democrat and Chronicle)
De Blasio Takes Advantage Of Campaign Finance Loophole (NY Post)
Campaign Finance Board Reschedules Mayoral Debate (Capital)
NY Establishes Emergency Gas Reserve (Reuters)