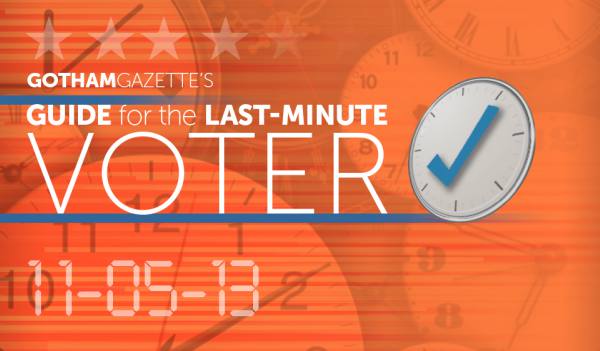 The post-Bloomberg era of city government is beginning to take shape.
Although the general election on Nov. 5 will decide the first new mayor in over a decade, much of how City Hall will look in 2014 was set in party primaries.
Nevertheless, a handful of City Council seats are still up for grabs, there is a mild battle over the comptroller's office and the Brooklyn district attorney's office is being fought over by the same two candidates who battled in the primary.
New Yorkers will also have the opportunity to approve or reject six ballot measures this year. Voters are being asked to decide on upstate land disputes, whether to approve an extension for how long certain state judges can serve on the bench and whether to allow up to seven casinos to be built.
Here's our guide to the candidates, issues and races you need to know before you head to the polls on Election Day.

Table of Contents
---
FIND A RACE
Citywide Races
Borough Races
City Council
State Assembly
The two leading candidates to take over the helm at City Hall — Democrat Bill de Blasio and Republican Joe Lhota — have whittled their messages to the starkest of themes: safety versus fairness.
On the one hand, Lhota, the cerebral, bureaucratic former transit chief credited with steering the city's subways system nearly intact through Superstorm Sandy, has promised to maintain low levels of crime and spur job creation by lowering taxes.
On the other hand, de Blasio, the current public advocate and longtime left-leaning political operative, has built his campaign on a laser-focused message of a "tale of two cities" — the indisputable social and economic disparity that has made the city painfully unaffordable to most New Yorkers.
Lhota has dismissed his Democratic rival's message as class warfare, opting to portray de Blasio's vision for New York as one with racially charged rioting and police handcuffed from doing their jobs.
But less than a week away from the elections, that message has yielded mixed results and Lhota is no closer to convincing New Yorkers than he was a month out. No poll has given the former transit chief less than a 40-point spread between him and de Blasio, and Lhota trails with almost every demographic group despite a majority of respondents seemingly agreeing with him on his key safety and education policy proposals.
Lhota's uphill battle is nothing new for Republican candidates in a deep-blue city, and yet the seemingly overwhelming odds don't preclude a win for the former chief of the Metropolitan Transportation Authority — there hasn't been a Democrat in Gracie Mansion in 20 years. At the same time, De Blasio is riding the wave of a progressive message that hit a crest with his primary win and invigorated the Democratic base.
There are a handful of clear differences between the two candidates on the key issues of public safety, education and affordable housing.
PUBLIC SAFETY: The most contentious moments between Lhota and de Blasio have centered on public safety. Lhota infamously dropped the rhetorical bomb on de Blasio with a visceral television ad that portrayed a de Blasio administration as the catalyst for reverting New York City back to the era of the Crown Heights riots and graffitied subway cars.
Dismissive of de Blasio's community policing approach, Lhota favors singular mayoral oversight over the police department and the continued use of stop-and-frisk without any of the modifications recently handed down by the courts. He's argued that the problem isn't stop-and-frisk but communities not understanding how stop-and-frisk works.
It's a stark contrast to de Blasio's support of the Community Safety Act, which made its way through the Council this year. The laws, which Bloomberg vetoed and were nonetheless overturned by the Council, created an inspector general and broadened the city's existing ban on racial profiling. Both play a role in de Blasio's support for a community policing model for NYPD.
Regardless, neither candidate has argued for eradicating stop-and-frisk, even if de Blasio would reform it.
EDUCATION: On education, de Blasio has been hit in almost every single debate — through both the primary and general seasons — for his universal pre-K proposition, which would require a tax on New Yorkers making $100,000 or more. With little taste for the idea of higher taxes in Albany, especially ahead of next year's election, Lhota has argued that de Blasio is bloviating on the plan, and that de Blasio can't come through with his promise.
Beyond pre-K, Lhota has come out as an ardent supporter of the city's charter school system and accused de Blasio of wanting to "annihilate" it by charging rent and capping the number of schools. While de Blasio has never said he'd destroy charter schools, he has suggested he wouldn't prioritize growing the number of schools and would charge rent for wealthier, more successful schools.
Lhota has argued for lifting the cap on charter schools and would not stop the closures of failing schools, a practice that Bloomberg has often come under fire for. Unsurprisingly, de Blasio disagrees on both counts. But both do want to keep one of Bloomberg's biggest education legacies in place: Lhota and de Blasio support mayoral control of schools.
AFFORDABLE HOUSING: On affordable housing, which both men argue is central to addressing the city's growing inequality, the two offer disparate views. Lhota has consistently said he would announce a housing emergency on day one, and has vowed to drive $8 billion of public capital into the housing sector.
De Blasio, on the other hand, sees mandatory inclusionary zoning, whereby developers are required to make a certain percentage of their proprieties affordable in order to qualify for tax breaks, as the way to solve the city's housing ills. The idea doesn't sit well with Lhota, who previously called it "unconstitutional."
ON OTHER ISSUES, both candidates have a tendency to be oblique about certain issues weighing heavily on some voters' minds. Neither is willing to negotiate in public the idea of retroactive pay for municipal employees who have worked for as many as five years without contracts, nor are either of the candidates any closer to explaining how they would reform Bloomberg's overhaul of the city's taxi system.
The contrast between de Blasio and Lhota can also be nuanced. Both want to wrestle control of the transportation system back from the state, and both commend Bloomberg's resiliency plan post Superstorm Sandy. And as Lhota was apt to point out in his first general election ad, both he and de Blasio support same-sex marriage, women's right to choose and decriminalizing marijuana.

Just a few months ago, the contest for comptroller was grabbing as many headlines as the mayoral race. Disgraced former Gov. Eliot Spitzer's failed bid for the seat of New York's chief financial officer left outgoing Manhattan Borough President Scott Stringer the Democratic nominee in what's reverted once again to a sleepy race.
It's not to say that Stringer doesn't face a challenger: Republican John Burnett has toiled to make sure voters know that the Democratic candidate's win is anything but presumed.
The office of the comptroller, while more limited in powers than the mayor, oversees the performance of $139.2 billion in pension funds for retired teachers, police officers, firefighters and other municipal workers. The office also plays a role in auditing contracts and can be a key weight against the mayor.
A veteran of Wall Street, Burnett has suggested combining the city's pension funds into a single comprehensive plan, and has prioritized job creation and increasing the city's investment in minority- and women-owned small business. Stringer also wants to drive more city money into supporting MWB projects but hasn't suggested any overhaul of the pensions system.
Instead, Stringer has focused his message on improving accountability with the city's contracts and increasing transparency on how the city invests its money, notably proposing that the office track money spent on recovery from Superstorm Sandy.

The race for the office of Brooklyn district attorney was supposed to have ended on Primary Day when longtime incumbent Charles Hynes conceded the Democratic Party's nomination to former federal prosecutor Kenneth Thompson.
But all that changed in a matter of days after Hynes decided to go back on his concession at the urging of supporters and run on the Republican and Conservative lines for re-election. With that, it was as if someone had hit a replay switch on the race, with Thompson and Hynes trading some of the same attacks from the primary anew.
For his part, Thompson has slammed the six-term, 78-year-old incumbent for his office's record of wrongful convictions, allegations of prosecutorial misconduct and "silence on stop-and-frisk."
Thompson, 48, has said that as district attorney he would not prosecute arrests involving small amounts of marijuana, emphasize gun buybacks to combat street violence and create a labor unit to protect workers' rights.
Hynes has argued that under his watch the district attorney's office has been more innovative and effective. He said Thompson was too inexperienced to run an office with 1,200 people that serves millions of people in the borough.
He also alleged that ex-Brooklyn Democratic Party Boss Clarence Norman was working closely to get Thompson elected, calling the former power broker's role in his opponent's campaign a major reason fueling his re-election. Hynes' office successfully prosecuted a corruption case against Norman.
Thompson denied that Norman had a role in his primary win, calling the accusation by Hynes a desperate move to keep his job.

Conventional political wisdom in New York holds that the Democratic primary decides what the following four years of Council business looks like. In a post-Bloomberg, post-Christine Quinn era, that seems to hold true.
Of the 51 seats on the ballot, most are essentially reserved by Democratic primary winners. Fewer than 10 of those races are competitive in the general election, mostly pitting Democrats up against Republicans in politically purple-hued, if not outright red, districts.
Most of the seats still in play for the general boil down to the hyperlocal quality of life issues and the age-old Republican versus Democrat fights in battleground districts. Queens currently has two Republicans sitting on the Council: Eric Ulrich and the embattled Dan Halloran, who announced he wouldn't seek reelection as a result of the federal investigation into his time at the Council.
A wide-open seat, the race for the 19th district is left to Democrat Paul Vallone — son of former Council Speaker Peter Vallone Sr and term-limited Councilman Peter Vallone Jr. — and Republican Dennis Saffran. The district has flipped between parties, leaving some to question if Halloran's tainted legacy will have any influence over which party the voters trust more.
In September, Vallone won the Democratic nomination by a margin of 193 votes. Saffran's last bid for office was a close one, too: he lost the same seat to Democrat Tony Avella in 2001 by a nail-biting 1 percent.
Nearby, outgoing Democratic Councilman James Gennaro's seat in the 24th district is also up in the air. Former Assemblyman Rory Lancman might keep the seat with the Democratic Party, but that's only if he can obliterate Republican candidate Alex Blishteyn's chances like Lancman did in the primary against his Democratic counterparts.
Councilwoman Elizabeth Crowley of the 30th district is the only Queens Democratic incumbent having to defend her seat from a Republican challenger. Up against first-time candidate Craig Caruana, Crowley's bid for a second term is complicated by a tense relationship with Speaker Quinn that afforded Crowley little support from the Council. Caruana's counting on dissatisfaction with Crowley's last four years in Council to bring back the district back under Republican control
A few miles south, Brooklyn has been solidly Democratic territory for the Council. That might change with the 48th district race. Currently held by term-limited Councilman Mike Nelson, the district saw a heated Democratic primary end with the nomination going to former Nelson aide Chaim Deutsch.
In a district still recovering from Superstorm Sandy, Deutsch has tried to make the race about his ability to provide constituent services, taking every opportunity to remind constituents that he is always available on cell to take their calls. He faces Republican stalwart and former state Sen. David Storobin, who won the party's nod unopposed, as well as primary rival Igor Obermann on the Working Family Party line.
Greg Davidzon, a local Russian radio personality and power broker, also announced his own last-minute write-in campaign.
Often considered the most conservative borough, Staten Island currently has one Democrat and two Republicans in the Council. That might change with Republican Councilman Jimmy Oddo trading City Hall for Borough Hall. His move leaves his 50th district seat open for either Republican Steven Matteo or Democrat John Mancuso to take the seat in a district also rebuilding after Superstorm Sandy.
There might even be a race to keep an eye on in Manhattan in the general election. In the 5th district, Councilwoman Jessica Lappin left the Council for an unsuccessful run at the Manhattan Borough presidency. That left the door open for Democrat Ben Kallos, who has been endorsed not only by Lapping but also a crew of heavy hitters in the party. He even bested state Assemblyman Micah Kellner in the controversial primary. But a loss didn't stop Kellner from announcing a run on the Working Families Party ticket, which has since disavowed their endorsement.
And the two still also face David Garland as he vies to become the only Republican City Council member from Manhattan.
Unlike the primary, which brought back the controversial lever machines to supposedly turn around the vote counts in a timely matter for the runoff, the optical scanners are back for the general election.
While New Yorkers won't be using the old crank-and-lever booths again, they might struggle with some of the fine print on this year's ballot. In a struggle to fit every race and ballot proposal on a single sheet of paper, the city's Board of Elections opted to use a 6-point typeface.
As a means to help decipher the tiny type, the Board will provide giant, quad-fold posters of the ballots for every polling site. Voters are also encouraged to request the use of its ballot marking devices, or BMDs. Typically offered to disabled voters who require assistance in casting their vote, the board offered it as an option for anyone who might need a little help reading the ballots.
Once in the booth, the Board instructs New Yorkers to:
1. Get a ballot at their designated polling site, which can be found by visiting the Board of Elections website, where you can also download a sample ballot.
2. Mark your paper ballot by filling in the ovals below the names of the candidates and proposals. Fill in the oval, don't checkmark or "x" it in, and don't make any stray marks on the ballot. If you are writing in, fill in the blank oval and write in the candidate's name.
3. Scan your paper ballot in the designated area, and insert the marked ballot into the scanner to cast your vote.