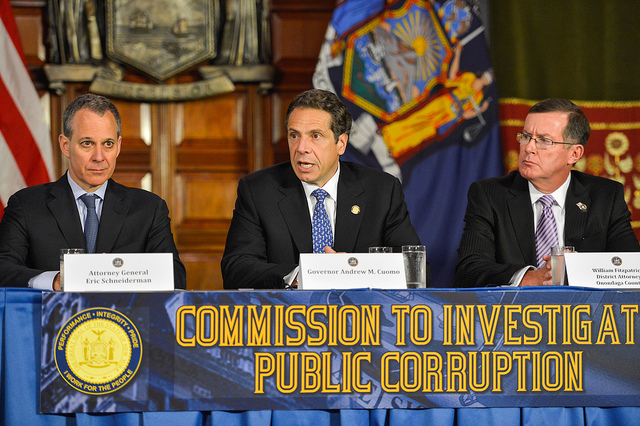 Scheiderman, left, & Cuomo, center (photo via The Governor's Office on Flickr)
---
More than a month after Governor Andrew Cuomo announced that Bart Schwartz, a former federal prosecutor, would head an "independent investigation" into the Buffalo Billion economic development program, it remains unclear whether Schwartz has begun his work and the governor has repeatedly said that his contract with the state is still being finalized. The Buffalo Billion project and other pieces of Cuomo's economic development programs have drawn scrutiny from the U.S. Attorney and Attorney General Eric Schneiderman due to allegations including bid-rigging that favored large Cuomo donors.
This past week, the State Inspector General's office issued a report on the source of a leak about an investigation into Mayor Bill de Blasio's fundraising practices at the State Board of Elections. By all accounts the investigation was conducted expeditiously.The Joint Commission on Public Ethics is also involved in a de Blasio matter as it probes his allies' lobbying practices. These matters, not to mention the existence of the Attorney General and Comptroller, make it clear that state government already has a number of investigative bodies that would not have required extended contract negotiations and monetary compensation to conduct an investigation of the Buffalo Billion. But, Cuomo decided not to call on an existing investigative body to look at all aspects of his major economic development programs.
Gov. Cuomo's office did not respond to questions about why an existing agency was not selected. Schwartz's office declined to respond to questions about whether he had a contract and how many staff he would bring to his review of state economic development programming.
Schwartz's role is murky given that the U.S. Attorney and Attorney General are now both pursuing widespread investigations. It is unclear what he can do investigatively that won't interfere with active probes. Government watchdogs say that Schwartz's appointment would have had an impact when concerns about the bidding process were initially raised, but at this point many believe Cuomo is simply trying to obscure the scope of the federal probe and claim high ground as state integrity is questioned.
"Schwartz's investigation was triggered by a criminal probe. If he had been brought in years ago, that would have been a different thing," said John Kaehny, executive director of Reinvent Albany.
Jennifer Rodgers, a former federal prosecutor and head of Columbia Law School's Center for the Advancement of Public Integrity sees value in Schwartz's hiring. "There are two things Bart Schwartz brings to the table: independence and resources," Rodgers said.
"JCOPE is constantly tagged as not independent, and the state IG is ostensibly independent although appointed by the Governor," noted Rodgers, adding that Schwartz's firm, Guidepost Solutions, "has all the experts he might need to examine such a complex system: lawyers, former law enforcement officials, computer people - people with a set of skills that the IG and JCOPE would be hard-pressed to bring together."
While Cuomo has said Schwartz will take a soup-to-nuts approach to his review, no one will know exactly what he is tasked with and how his work will be done until his contract is finalized and made public.
Schwartz's firm details its approach to internal investigations on its website:
"Guidepost Solutions is frequently called upon by businesses to conduct internal investigations into allegations or suspicions of corrupt or fraudulent conduct by employees. We rely upon our full-time staff of attorneys, forensic accountants, research analysts, field investigators and computer forensics experts to staff these assignments, and we work collaboratively with our business clients to develop an investigative plan that is appropriate to the suspected misconduct...Since most of our investigative professionals have had experience in federal, state and local law enforcement—as prosecutors, auditors and agents—our investigative strategies are developed with an understanding of the evidence that may be needed to support an eventual criminal prosecution."
The section goes on to state that the team is "equally sensitive to matters of confidentiality and public perception."
Blair Horner, legislative director of the New York Public Interest Research Group (NYPIRG), said that Gov. Cuomo had a full menu of options to choose from before even considering Schwartz. "The governor had a toolbox he could have gone to to review this, but instead he went out and bought a new hammer." Critics of the state's approach to economic development, including the Buffalo Billion, have repeatedly said that the state Comptroller should have more oversight of contracts and spending - something Comptroller Tom DiNapoli recently addressed in a series of proposals.
Horner said that the arrangement with Schwartz could technically allow Cuomo to address issues faster than if the IG's office was investigating.
"Schwartz reports directly to him, so in theory it would all happen faster, although the IG did just turn a report around in a few weeks," said Horner, referring to the investigation of the BOE leak. "The IG would have to issue a report and the IG would have to act."
In other words, if the IG's office was investigating the case the governor wouldn't be able to fix anything until after a report was released, and the IG would have to recommend actions to be taken, which could include civil cases or referrals to law enforcement agencies for violations of the law, according to New York Executive Law section 53.
The Cuomo administration has said Schwartz will have the ability to review contracts and control cash flow, while also looking for larger fixes to the system, giving him a more proactive role than standard investigators. In an April 29 statement announcing his impending hire, Schwartz said that given the investigation and the administration's desire to keep the Buffalo Billion program running, "they have asked me to commence an immediate review of all grants and approvals – past, current and future – in certain programs and operations,including the Buffalo Billion/Nano Economic Development Program."
"It's belt and suspenders, but I'd rather have it that way," Cuomo told reporters in New York City last week, referring to redundancy and noting that he will consider making changes to economic development programs depending on the findings. Cuomo aides have periodically reminded reporters that Schwartz will also have direct approval of contracts and cash allocations. No one has confirmed whether Schwartz has indeed begun his work.
Last week, when asked if Schwartz's report would be made public Cuomo appeared less sure of what Schwartz would be doing and admitted he had yet to secure a contract with him. "He is being hired as an independent to do an independent review," said Cuomo. "I don't know what his standard protocol is. I wouldn't have a problem with [making his findings public], but I don't know how he operates."
Cuomo's aides later clarified Schwartz's report would be made public if it didn't interfere with the U.S. Attorney's investigation. It is unclear if there has been communication between Schwartz and U.S. Attorney Bharara's office.
Kaehny of Reinvent Albany said he finds it a "stretch of the imagination" to think the governor could appoint someone to investigate the Buffalo Billion matter when the crux of the federal investigation appears to hinge on whether contracts were exchanged for major donations to the governor's campaign.
"He could have asked the Attorney General and Comptroller to jointly choose an investigator and signed an MOU [memo of understanding] that would give them access to the documents they need. It would have been highly credible, people would believe it." He noted that "most observers don't think of the IG or JCOPE as independent" and so wouldn't have the ability to "give the governor a clean bill of health."
Rodgers said a joint investigation by Attorney General Eric Schneiderman and Comptroller Thomas DiNapoli, both Democrats like Cuomo who are known to have strained relationships with the governor, could have appeared independent but the relational friction could have prevented the governor from wanting to hand them the keys to his signature economic development program. She noted both offices would have the resources necessary for an investigation the scope of the Buffalo Billion.
The main question surrounding Schwartz's usefulness in the matter remains exactly what Cuomo has tasked him with investigating. Cuomo has repeatedly said that Bharara's investigation focuses on two men, longtime associates Todd Howe and Joseph Percoco, something disputed by those familiar with the investigation.
On Thursday Cuomo was asked whether he has been told by the U.S. Attorney's Office that its probe focuses on only a few people. Cuomo said that he hadn't but that he believes the actions of a few people are at issue.
"Our investigator will talk to hundreds of people, but it's about the actions of several people," Cuomo said, adding that he would consider changes to economic development practices if Schwartz's indicates they are necessary.
"There are major question marks around the scope of his engagement and the access he will get," Rodgers said of Schwartz. "He has the tools and independence, but what was he asked to do with them? That is why it's so important we see a contract."
While Schwartz's role has remained unclear, U.S. Attorney Preet Bharara's investigation into alleged bid-rigging in Cuomo's economic development initiative appears to be quickly expanding; last week the U.S. Attorney's office and Attorney General Eric Schneiderman's office conducted a joint raid on the headquarters of SUNY Polytechnic, the organization that oversees Buffalo Billion contracting. The raid appeared partly targeted at the office of Howe, a Cuomo ally and lobbyist, who has lobbied the administration while also representing semi-governmental entities and remaining close with key players in the Cuomo administration.
A recent Wall Street Journal story revealed emails showing that Howe, someone Cuomo himself has said is a target of the probe, had a close hand in guiding SUNY Poly head Alain Kaloyeros as well as directing conversations with the governor's top aides about how to do so. Cuomo insisted last month that he wasn't close friends with Howe. On Thursday he said otherwise, telling reporters "I know Todd Howe. I've known him for many years. He worked for nano, he's worked on a lot of these projects. But it's also irrelevant. If anyone does anything improper, they will be punished to the fullest extent of the law, period."
Kaehny said that Schwartz's appointment has in a way already failed the administration. "The problem Schwartz faced from the very first moment is that his client is the governor, and the people targeted by subpoenas are extremely close to the governor," said Kaehny, adding that it is hard to have faith in an investigation launched by the governor himself. However, it won't be clear exactly what kind of investigation Schwartz is undertaking until his contract is made public, if one is indeed signed.