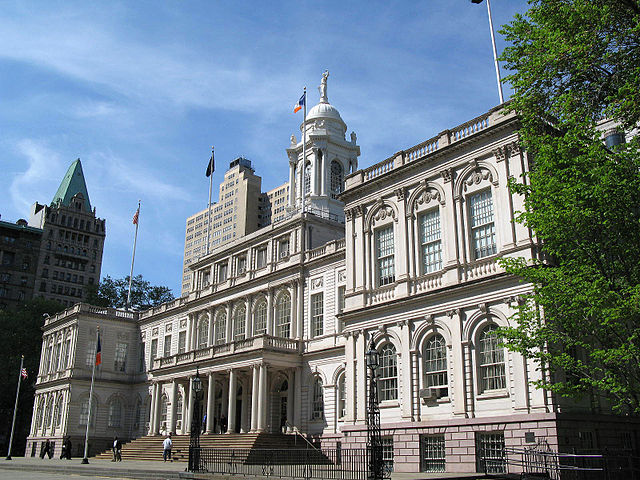 New York City Hall
---
What to watch for this week in New York politics:
All eyes are on Philadelphia this week as the Democratic National Convention takes place there, Monday through Thursday. Last week saw the Republican National Convention in Cleveland, where Donald Trump was formally nominated for President, and Mike Pence for Vice President. This week, Hillary Clinton will be officially named the Democrats' presidential nominee, with her recently-announced running mate Tim Kaine for Vice President.
Though there was some drama (a minor push by anti-Trump delegates to have a roll call vote; host-state delegates from Ohio showing their displeasure with Trump; the Melania Trump plagiarism uproar; and the Ted Cruz non-endorsement debacle), proceedings went fairly smoothly at the RNC, and things were surprisingly peaceful outside, with some protest, little violence, and relatively few arrests. Trump gave a long, angry acceptance speech on Thursday night, diagnosing and promising to fix America's wounds, and quickly, and to thus "Make America Great Again."
In Philadelphia, both New York Gov. Andrew Cuomo and New York City Mayor Bill de Blasio will speak. Cuomo is the head of the New York delegation to the DNC. Other New York speakers - along with the nominee herself, Clinton, a former Senator from the state calls New York home - will be Senators Charles Schumer and Kirsten Gillibrand, Reps. Joe Crowley and Nita Lowey. On Sunday, The New York Times reported that former Mayor Michael Bloomberg will speak at the DNC on Wednesday, endorsing Clinton and warning of the dangers of electing Trump. [Read our preview of the DNC here]
Before leaving for Philadelphia, de Blasio will hold a press conference Monday morning with NYPD Commissioner Bill Bratton "to make a law enforcement announcement." It will be at 10:30 a.m. at the 84th Precinct in Brooklyn.
Because most prominent New York officials are Democrats and they'll be at the DNC, it will be another fairly quiet week in New York City and around the state in terms of political events - but there are several to be aware of - see our day-by-day rundown of those and DNC proceedings below.
***Do you have events or topics for us to include in an upcoming Week Ahead in New York Politics?
e-mail Gotham Gazette editor Ben Max: This email address is being protected from spambots. You need JavaScript enabled to view it.***
The run of the week in detail:
Monday
On Monday at 10:30 a.m. at John Jay College of Criminal Justice, City Council Members Helen Rosenthal and Inez Dickens and the New York City Economic Development Corporation will host a Request for Proposal (RFP) access workshop; "We are expanding our outreach efforts to make sure that emerging and established developers like you - including M/WBE firms - know about the opportunities at NYCEDC and how to submit an RFP." A second workshop will be held on Thursday.
On Monday at 1 p.m. in Manhattan, the City Planning Commission will host a Review Session meeting.
At 6:30 p.m. Monday at the Museum of the City of New York, the Museum and the Municipal Art Society will celebrate the 100th anniversary of the city's Zoning Law with an event focusing on the law's impact "with an eye towards the future." Carl Weisbrod, Director of the New York City Department of City Planning and Chairman of the New York City Planning Commission will give remarks, and a panel of experts will discuss "the hurdles and potential improvements to zoning for the century to come."
After his Brooklyn press conference Monday morning, Mayor de Blasio will leave for Philadelphia, where he will be until Friday. De Blasio will deliver remarks at the "Democratic National Convention Immigration Forum" at the National Museum of American Jewish History in Philadelphia Monday afternoon. He'll then attend a welcome reception held by the DNC. In the evening, de Blasio will appear on NY1 in the 7 o'clock hour before attending the evening session of the DNC -- The Democratic National Convention kicks off Monday at the Wells Fargo Center in Philadelphia. [Read more about the DNC here]
Tuesday
At 8:30 a.m. at the Greene Space at WNYC & WQXR, the Center for an Urban Future will hold a symposium on "the power and potential of women entrepreneurs in New York City." The forum will feature a keynote speech from Deputy Mayor Alicia Glen and two panel discussions focusing on the challenges women entrepreneurs face in the five boroughs and how to boost their success, specifically in the technology sector. The event will build upon the Center's March 2016 report, "Breaking Through: The Economic Impact of Women Entrepreneurs."
At 11 a.m. Tuesday, the Commission on Legislative, Judicial & Executive Compensation will hold a public meeting at the New York City Bar Association in Manhattan. [Read about the commission's work toward making recommendations about pay for state officials here]
The Democratic National Convention continues Tuesday in Philadelphia. Mid-day, Mayor de Blasio is scheduled to participate in a National League of Cities panel discussion at Philadelphia City Hall.
Wednesday
Wednesday at 10 a.m. in Manhattan, the City Planning Commission will host a public meeting.
On Wednesday at 6 p.m., the city Panel for Education Policy will hold a public meeting at M.S. 131.
The Democratic National Convention continues Wednesday in Philadelphia. On Wednesday afternoon, Mayor de Blasio is scheduled to deliver remarks at a Democratic National Committee Labor Council Panel discussion at the Pennsylvania Convention Center.
Thursday
On Thursday morning in Philadelphia, Mayor de Blasio is scheduled to participate in "City Solutions: Income Inequality" panel discussion.
At 8 a.m. Thursday, City and State Reports will host Awards in Sustainability, honoring "outstanding corporate citizens for their work in sustainability - from the construction, energy, transportation and food industries and beyond." The event will feature keynote remarks by Daniel A. Zarrilli, Senior Director of Climate Policy and Programs and Chief Resilience Officer, Office of the Mayor.
At 1 p.m. Thursday in Queens, the offices of Queens Borough President Melinda Katz, City Council Members Ferreras-Copeland, Miller, and Richards, and the New York Economic Development Corporation will host a second Request for Proposal (RFP) access workshop.
Thursday At 5 p.m in Queens, the Department of Consumer Affairs and Queens Chamber of Commerce will host a seminar for employees on their rights regarding New York City's Paid Sick Leave and Commuter Benefits Laws.
Hillary Clinton will accept the Democratic nomination for President Thursday evening as the Democratic National Convention concludes in Philadelphia.
Friday and the weekend
Nothing on the political calendar as of now.
***
Have events or topics for us to include in an upcoming Week Ahead in New York Politics? E-mail Gotham Gazette executive editor Ben Max any time: This email address is being protected from spambots. You need JavaScript enabled to view it. (please use "For Week Ahead" as email subject).
***
by Amanda Sherwin and Ben Max
@GothamGazette