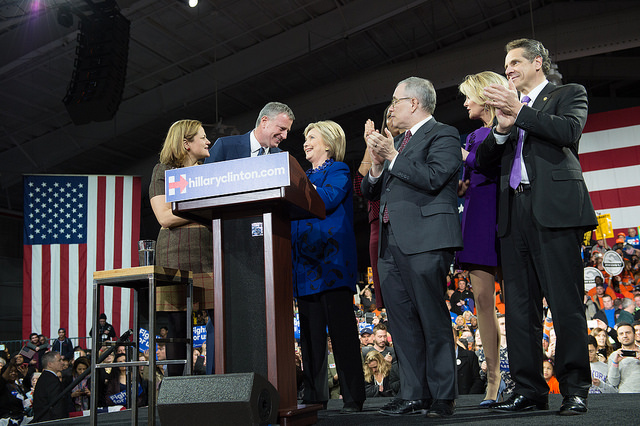 A March Clinton rally in NYC (photo: Barbara Kinney for Hillary for America)
---
New York is heavily Democratic and the state will have a major presence at this week's Democratic National Convention, not least because its delegation will be seated front and center in the Philadelphia arena because the presumptive presidential nominee, Hillary Clinton, calls the Empire State home. It's a similar dynamic, at least in that last regard, to last week's Republican National Convention, where lifelong New Yorker Donald Trump was formally nominated for President.
One key difference between the two conventions is that New York's elected officials are overwhelmingly Democrats, so the political star power from the state at the DNC will be greater than it was at the RNC. While former Mayor Rudy Giuliani spoke passionately at the RNC in primetime, current Mayor Bill de Blasio is on the speakers' list for the DNC, though it has not yet been announced when he will speak, and The New York Times reported on Sunday that former Mayor Michael Bloomberg will endorse Clinton during a primte-time speech on Wednesday at the DNC. Bloomberg, a Democrat-turned Republican-turned independent, had announced earlier this year that he was not pursuing an independent run for the White House in part because he didn't want to risk taking votes from Clinton and giving the presidency to Trump.
Governor Andrew Cuomo and Senators Chuck Schumer and Kirsten Gillibrand of New York will also speak at the DNC, along with Congressional Reps. Joe Crowley and Nita Lowey. State Senator Adriano Espaillat, who recently won the Democratic primary to replace Charles Rangel in Congress and is expected to easily win the general election, will also speak - Espaillat is poised to become the first person of Dominican descent to join Congress. They lead a large -- 345-member -- New York delegation to Philadelphia that includes other elected officials from Congress to the City Council, party operatives, and others.
While the RNC did feature a number of prominent Republicans from across the country like House Speaker Paul Ryan, Senate Majority Leader Mitch McConnell, and Senator Ted Cruz (who was booed by the crowd for refusing to endorse Trump during his remarks), there were many notable Republicans missing, which fit with Trump's reputation as an anti-establishment political outsider. The Bush family was absent, meaning neither former President George H.W. Bush nor former President George W. Bush (nor former Florida Gov. Jeb Bush, who was a main target of Trump during the Republican primary). Neither 2012 Republican nominee Mitt Romney nor 2008 Republican nominee John McCain was present either.
Unlike Trump's convention, Clinton's will feature a "who's who" of major party names - Democratic National Convention speakers will include President Barack Obama and First Lady Michelle Obama, Vice President Joe Biden, former President Bill Clinton, Senators Bernie Sanders and Elizabeth Warren, and others. Bloomberg will take clear aim at independents and even some moderate Republicans in explaining his support for Clinton over Trump.
One clear theme of the RNC was party unity and while that will be much less of an issue during the DNC, newly leaked emails have led to the resignation of Democratic National Committee head Debbie Wasserman Schultz, who will have a very limited role at the DNC and step down thereafter. The emails showed the DNC favoring Clinton over Sanders during their primary contest. When Sanders speaks Monday night, though, much of the division in the party may be put to rest.
Trump's vice presidential running mate Indiana Gov. Mike Pence accepted his nomination and spoke on Wednesday night of the RNC - this week, newly named Democratic vice presidential nominee Virginia Sen. Tim Kaine will do likewise on the third of the four convention nights. As the Republicans did last week, this week the Democrats will adopt their party policy platform.
As the DNC kicks off there is much to know and to watch for - read more below. The close of the convention will also set off the final three-and-a-half months of the campaign, leading to Election Day on November 8: the final stretch of speeches, platforms, polls, ads, debates, and more.
When and Where is the DNC?
The Democratic National Convention will take place Monday through Thursday, July 25-28, in Philadelphia, Pennsylvania, at the Wells Fargo Center. Though Brooklyn was seriously considered to host the convention amid a strong push from Mayor Bill de Blasio and others, Philadelphia won the honor.
The Delegates
There are three types of delegates for the Democrats: pledged delegates, who petitioned in order to get on the ballot and become a delegate, and are legally bound to support a particular candidate; at-large delegates, chosen by the state Democratic Party, who pledge to vote for a particular candidate; and unpledged delegates, otherwise known as superdelegates, who are prominent party leaders not bound to any candidate.
There is no drama expected at the Democratic convention in terms of delegate allocation as Bernie Sanders has conceded and endorsed Hillary Clinton, so the types of delegates are unlikely to be a factor. Sanders supporters are making noise in the streets of Philadelphia already, and are likely to continue doing so all week, inside and outside the convention hall.
As more signs were pointing to a Clinton win by a solid margin, she won her home state of New York on April 19. Throughout the race, Clinton accumulated an overwhelming majority of the superdelegates, known party insiders always supportive of her over Sanders, who has not been an establishment Democrat. This led to some of the calls from Sanders and his supporters of a 'rigged system.' Leading up to the DNC, the conventions rules committee did vote to keep the superdelegate system in place, but also to study that system and very likely adjust it.
The Democratic Party Platform and Speakers
Sanders and his supporters, plus the national Democratic tilt leftward, have had a significant influence on the party platform being adopted this year -- progressive influence throughout the primary season as well as recent, more explicit demands. Three issues are emblematic: calling for a $15 per hour minimum wage, standing against capital punishment in all circumstances, and a vision for debt-free college for all students from families earning under $120,000 annually. The party platform has stepped to the ideological left of Clinton, who has spoken in favor of a $12 federal minimum wage (with states going higher per their judgement) and capital punishment for certain crimes.
Dr. David Birdsell, a professor and dean at Baruch College, does not believe that Sanders' endorsement of Clinton is enough to dissipate all of the tension within the Democratic Party - and that was before the recent leak, by Wikileaks, of many Democratic National Committee emails, which show that the committee was indeed biased toward Clinton and against Sanders. DNC Chair Wasserman Schultz will have a very limited role at the convention and has announced she is resigning as chair as of week's end.
"The Sanders endorsement – and he did use the word 'endorse' – of Clinton will go a long way toward reducing contention and controversy in Philadelphia," Birdsell said in an interview. "[However,] there will still be some tension; Hillary Clinton is too polarizing a figure to expect an entirely smooth process. But chances are good at this point that Democrats will come together and unite for the fall campaign - barring further repercussions from the FBI's decision not to prosecute [Clinton, regarding her email scandal], but that's a general election problem, not a convention problem."
Sanders will address the convention in prime-time on Monday night, along with First Lady Michelle Obama, and others. Sanders has been saying that his main goal is to make sure that Donald Trump does not become President, and while he has had some kind words for Hillary Clinton, he is likely to focus his remarks more on the dangers that Trump poses to the country and the key issues that he and his supporters have been fighting for.
While Sanders and Michelle Obama are the featured Monday evening speakers, Tuesday evening's big name is former President Bill Clinton. But Tuesday evening will also have a very New York-centric feel, with other speakers including students from Eagle Academy; Joe Sweeney, who was an NYPD detective on September 11, 2001; Lauren Manning, a severely wounded survivor of the September 11, 2001 attacks; and the "Mothers of the Movement" - mothers of men killed in police encounters, which will include Eric Garner's mother, Gwen Carr.
Wednesday's top speakers will be former Mayor Bloomberg, President Obama and Vice President Biden; and Tim Kaine will accept his VP nomination and speak. On Thursday, Chelsea Clinton and Hillary Clinton will speak.
It is not yet clear when Mayor de Blasio, Gov. Cuomo, or Sens. Schumer and Gillibrand will speak.
The New York Angle
Basil Smikle, executive director of the New York State Democratic Committee, is excited about the amendments to the party's platform. Smikle sees them as an expansion of New York values to the rest of the nation. "I think New York has been in this conversation and led it for a long time," he said.
"I think the state and the party has had a tremendous impact on the platform itself, and going to the convention with the leadership of the governor is certainly carrying the work that Hillary Clinton has done for New York and the Senate, and what she's been able to accomplish and discuss on the campaign trail," Smikle continued. "Those are New York values, and we are thankful that they've been able to influence other states, other delegates, and certainly the platform itself."
Cuomo has been selected to chair New York state's delegation at the DNC - a choice that caused Sanders supporters to protest.
Other notable New York Democratic superdelegates include former President Bill Clinton, Schumer and Gillibrand, and Mayor de Blasio. While Cuomo and de Blasio are set to speak at the convention, it does not look like the same will be true for City Council Speaker Melissa Mark-Viverito, who has been a frequent Clinton surrogate and campaigner this election season and will be part of the delegation to Philadelphia. Mark-Viverito will be active in Philadelphia this week, including an event on Wednesday afternoon with the Latino Victory Project. She is also expected to be on the campaign trail on Clinton's behalf this fall, especially in states like Florida with large Hispanic populations (Mark-Viverito is Puerto Rican and the first Latina to be Speaker of the City Council).
Other members of the New York Democratic delegation to the DNC include Attorney General Eric Schneiderman, Lieutenant Governor Kathy Hochul, State Comptroller Thomas DiNapoli, Assembly Speaker Carl Heastie and a variety of Democratic Assembly members and state Senators; much of the state's Democratic House delegation; city Public Advocate Letitia James; city Comptroller Scott Stringer; Queens Borough President Melinda Katz; Manhattan Borough President Gale Brewer; Bronx Borough President Ruben Diaz Jr.; and City Council Members Jumaane Williams, Vanessa Gibson, Corey Johnson, Richie Torres, Ydanis Rodriguez, and others. (A complete list of the 345 New York DNC delegation is available here, courtesy of the State Democratic Committee.)
According to Smikle, this year's delegation "brings a tremendous sense of pride for us as New Yorkers." He cited work New York leaders have done to move progressive policy and their impact on national politics.
"I think what New York broadly and the delegation specifically brings is that a lot of what's in the platform has been discussed and implemented in New York for quite some time, so I do think members of our delegation have had an incredible impact," he said.
***
by Amanda Sherwin, Rebecca Oh, and Ben Max
@GothamGazette