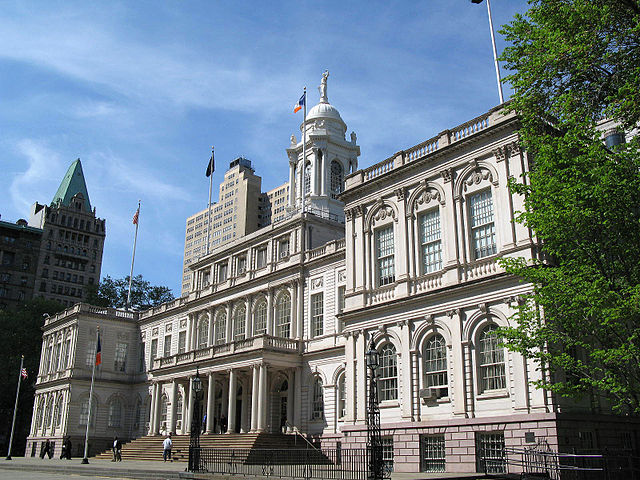 New York City Hall
---
What to watch for this week in New York politics:
This pre-Labor Day weekend week is looking like a fairly quiet one in New York politics, though there are a few things to watch for. Mayor Bill de Blasio is due to return Sunday evening from a vacation week traveling throughout New England with his family and could have an active week. The mayor starts the week with one public event on his schedule: he'll be in Queens Monday evening to deliver remarks at the opening ceremony for the 2016 U.S. Open.
One certainty for the week ahead is that much attention will be turning to the fist of three scheduled legislative hearings on water quality and the Cuomo administration's response to water quality problems in Hoosick Falls and elsewhere - the initial hearing is Tuesday in Hoosick Falls.
That first hearing on "drinking water contamination" is being held by two state Senate committees. The other two hearings scheduled - on September 7 in Albany and September 12 on Long Island - will be joint hearings of the Senate and Assembly.
Neither Gov. Andrew Cuomo nor city Comptroller Scott Stringer nor Public Advocate Letitia James has any public events scheduled for Monday. City Council Speaker Melissa Mark-Viverito did not release a public schedule as of Monday morning at 8 a.m.
At noon on Monday, Lieutenant Governor Hochul will address students and faculty about Governor Cuomo's Enough is Enough initiative to combat sexual assault on college campuses, at SUNY Geneseo. At 1:15 p.m., Hochul will highlight state investment in state parks at Letchworth State Park Nature Center.
The City Council is silent this week in terms of hearings, returning to action after the Labor Day weekend.
On Monday evening on NY1's Inside City Hall there will be a debate between the two candidates in the Democratic primary for the 10th state Senate district in Queens: incumbent Senator James Sanders and challenger Adrienne Adams.
A few Tuesday events:
At 8:30 a.m. on Tuesday, the New York City Food Policy Center is hosting its Food Policy For Breakfast Series with Naomi Starkman, the founder and editor-in-chief of Civil Eats who will discuss food policy with executive director of the Food Policy Center, Charles Platkin.
On Tuesday at 11 a.m., "State Senator James Sanders Jr. will host a press conference...at the Sutphin Boulevard / Archer Avenue train station to announce that $7.65 million in state funding has been allocated for improvements to the Jamaica Transportation Center Station Plaza. This money was set aside in the 2016 budget for a multi-year state transportation plan agreed upon by Senator Sanders along with his colleagues in the legislature and Governor Cuomo."
"On Tuesday, Mayor de Blasio will host a roundtable discussion regarding tenant protections...After the roundtable, [at 12:30 p.m.] the Mayor will host a press conference to make an announcement regarding legal representation for tenants in housing court."
On Tuesday evening, NY1's Inside City Hall will host a debate between incumbent Bronx State Senator Gustavo Rivera and his Democratic primary challenger City Council Member Fernando Cabrera (Cabrera also challenged Rivera in 2014). Read our latest coverage of this race.
On Thursday:
NY1's Inside City Hall will host a debate between incumbent Brooklyn Assembly Member Pamela Harris and her Democratic primary challenger Kate Cucco.
On Thursday evening, at 6:30 p.m. at the Sikh Cultural Society in Queens, "Deputy Mayor for Strategic Policy Initiatives Richard Buery will lead a panel discussion on ThriveNYC, the City's mental health roadmap for all. He will be joined by Vishavjit Singh, creator of Sikh Captain America and Sikhtoons; Dr. Muninder Kaur Ahluwalia, an associate professor at Montclair State University; and Arvind Kaur, clinical psychologist and host of Jus Galbaat. This event is organized by Mayor Bill de Blasio's Community Affairs Unit and Office for Immigrant Affairs, in conjunction with the Sikh Cultural Society and United Sikhs."
***
Have events or topics for us to include in an upcoming Week Ahead in New York Politics? E-mail Gotham Gazette executive editor Ben Max any time: This email address is being protected from spambots. You need JavaScript enabled to view it. (please use "For Week Ahead" as email subject).
***
by Libby Wetzler and Ben Max
@GothamGazette